I quit using coupons a couple years ago because they took up too much of my time. I also felt that as we transitioned to real food, there weren't a lot of coupons that fit our lifestyle.
For a long time I didn't do any "active" saving on real food. I just consistently meal planned and didn't waste food whenever possible.
Then I discovered Ibotta and my whole world changed!
Let me just say that I've tried no less than FIFTY different apps as I was developing my course Grocery Budget Bootcamp. I included an entire lesson on grocery shopping online and another section on apps, and I wanted to make sure I knew how the apps and stores worked for myself, before offering them as an option to members.
In the process though, I discovered some really great apps that save you money AND are crazy easy to use – perfect for a busy mama just trying to do the best she can with what she has!
One of my favorite apps is Ibotta. Not only is it FREE to use, but they make it SO easy to save money. I know many of you might be on the fence when it comes to coupons and apps in general, so I'm sharing my own honest thoughts on Ibotta and how I make it work for my family.
What is Ibotta – the Chips and Salsa Version
Ibotta is a FREE app that allows you to get cash back for items you purchase. Here's a quick rundown of the app works:
Download the Ibotta app for free. Click HERE to do that (it works whether you're on the computer or on your smart phone).
Open the app and browse through the available rebates, unlocking any rebates for things you were going to buy anyway. (You unlock the rebate by tapping the plus sign.)
Shop at the store like you normally would.
Upload your receipts.
Get paid.
And that's it! Really truly, is SO easy to use and you can start earning money right this moment!
Better yet, join Ibotta through this link and you can get a bonus $10 for FREE! At any given time there are rebates available at over 300 stores – I bet there's a rebate for something on your grocery list right now!
What is Ibotta – the Whole Enchilada
Ibotta works at TONS of different stores… grocery stores, pharmacies, clothing stores, restaurants, convenience stores, home improvement stores and even shopping online. It works for brand name, store brand AND "any brand" items too!
Honestly, I was surprised at how many different stores Ibotta has rebates for. So much so, that anytime we shop, I check to see if there's a rebate before we leave the house!
I use it regularly for grocery shopping and save anywhere from $2 to $5 each week, but I've used it for non-grocery items too.
In fact, just last month I used a rebate at Cost Plus World Market (save $5 when you spend $30) to get the baskets for newly remodeled mud room.
Before that I redeemed a rebate to Jet.com (5% cash back) while researching grocery shopping online. Then around Christmas I redeemed a rebate to Groupon (40% cash back) for photo canvases to give as gifts.
Here's how easy it is to earn with Ibotta – I'm up to $15 in the past 30 days alone and I haven't even done much shopping. I'll hit $180 by the end of the year if I keep going at this rate!
Hands down, Ibotta is my favorite way to save on almost everything I buy. It's SO easy to use and it works for things I was already going to buy.
It gets better though – I can help YOU earn because you earn additional rebates from your teammates.
There are bonus rebates available each month and to get the bonus, your "team" has to redeem rebates too. At the rate I'm going, I'm pretty sure I'm a good person to have on your team – join my Ibotta team HERE.
How does Ibotta work – Step by Step
Okay, so that's the high level overview of Ibotta. Here's exactly Ibotta works in a daily or weekly routine.
By the way, if you haven't signed up for Ibotta, some of this might not make sense. I recommend downloading the Ibotta app for free (and claiming your extra $10!) and then following along.
First, I make my meal plan and shopping list just like I normally would.
I normally shop on Fridays, which means I'm making my meal plan and shopping list on Thursday. This is perfect, because Ibotta typically releases new rebates on Thursdays.
Second, I open Ibotta and scan the rebates.
I start with the "grocery" category and then I look at the major stores in my area. For me, that's Kroger, Publix, Sprouts and Walmart.
There's also a Target, Ingles and Whole Foods in the area, but I don't shop at these store regularly. I shop at Costco about once a month, so if that's part of my shopping plan for the week, I'll check the rebates there too.
It's important to check the rebates at multiple stores because sometimes a rebate will only be available at one particular store.
For example, I've found great produce deals at Publix that aren't available anywhere else. I normally don't shop at Publix because their prices are on the higher end, but I literally drive by Publix when taking the kids to/from school. So if there's a good rebate available on produce, I'll swing in.
Once I've chosen the store, I immediately scroll all the way to the bottom and work my way up. I've found that it's faster to go through the specific categories that apply to me, than it is to go through "What's Hot" or "What's New" categories at the top.
From start to finish, it probably takes me about 5-7 minutes to check all the categories for all the stores in my area.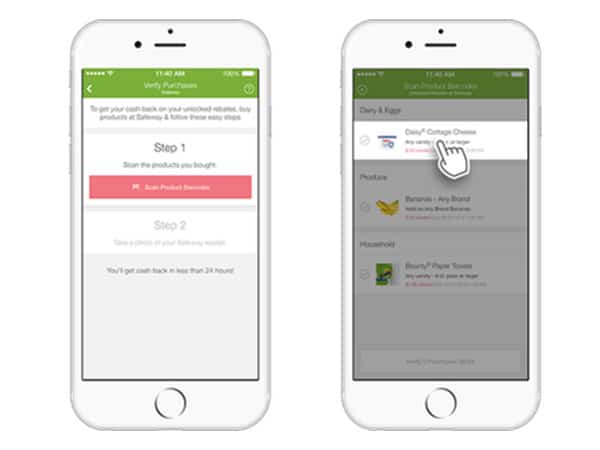 Third, I add rebates to my list as I find them.
You can do this by clicking the plus sign that's on the rebate itself.
Sometimes you have to take a short quiz to get the rebate, and sometimes you have to "watch" a 15-30 second video. (I don't watch it though – I turn the sound down and do something else.)
When the quiz/video is over, you click the "Unlock" button and the rebate is saved to your list!
Fourth, I shop like I normally would.
I always shop with a grocery list and aim to get in and out as fast as I can. There are ways to use Ibotta while in store to save money too, and I'll talk about those soon along with my other Ibotta hacks (trust me – you won't want to miss it that post either if you use Ibotta!).
Fifth, I upload my receipts as soon as I get home.
I actually upload my receipts as I'm unpacking groceries.
To verify your receipt, you go into Ibotta and find your store. Click the "Verify" button at the bottom and follow the prompts. You'll have to take a picture of the barcode for each item (with most produce being the exception) and then either a picture of the receipt OR scanning the QR code on the receipt.
That's it! The rebates are added to my account within 48 hours and I've just earned free money!
Ibotta makes it super easy to withdraw the money you've earned too. You just expand the profile link and click "withdraw cash."
You can get cash back via Paypal or Venmo, or choose a gift card. Cash out with as little as $20 earned!
If you work it right, you can even MAKE money using Ibotta!
My Ibotta Review: Pros and Cons to Using Ibotta
Pros:
There are rebates for generic and/or store brand.
Every week there is some sort of rebate for "any brand" items. Right now as I type this, there are 9 rebates for "any brand" items, saving a total of $2.25 for things you'd never see a coupon for. Even if there's just $2 of savings on the typical week, that's $104 in just one year.
There are rebates for healthy food.
Again, as I type this, there are currently 8 rebates available for fresh produce. There are 4 available for fresh meat and a handful of others for things I'd normally stock in my pantry, like yogurt and cheese. That's another $5 saved on things you'd buy anyway and wouldn't have a coupon for. Over a year, that's another $260!
Here's a tutorial on how I find healthy food on Ibotta.
There are rebates for household items.
Toilet paper, paper towels, cleaning products, trash bags… you buy some of these items too, right? So do I, and it's always nice to save some money whenever I can on these things.
You can save on things that are harder to save on.
Rebates for wine, liquor or diapers?! Yep, Ibotta has these too. We like wine, and I use vodka for homemade vanilla extract. My kids aren't in diapers anymore, but if they were, I sure wouldn't pass up a $4 rebate when I saw it!!
Cons:
There's a temptation to try new things.
This might not be a bad thing for everyone, but it's fun to try new things and Ibotta makes it too easy to offer a rebate for doing it. They often have "seasonal" rebates that align with holidays or big events (like the Super Bowl) and it's VERY tempting to give in! At the same time though, I can't blame Ibotta for my lack of self-control!
In the end, Ibotta is one of the few apps that I've tried and that I've still kept on my phone. I don't have a ton of storage space either, so that says a lot to how much I really like Ibotta!
Sign up for Ibotta HERE!
Use this link to join my team on Ibotta. Save $360 on groceries without coupons!
Do you use Ibotta? How much have you earned in rebates so far?