I Quit Couponing and now I save even more – using a rock solid system to get the best deal on real food. It's super easy to follow and works week after week! For more on saving money on real food without coupons, sign up for my Grocery Budget Bootcamp!
Do you remember the extreme couponing era? I sure do, and I don't hide the fact that mastering coupons helped us pay off our debt.
I originally started couponing for necessity – two kids in diapers on one income in California doesn't leave a wiggle room for much else.
But a few years later, I quit coupons… for several reasons.
I'm betting that there's at least one person who is trying with all their might to pinch pennies for a greater cause. To pay for college, or medical bills, or to bridge the gap through a season of unemployment.
It's been on my heart lately to share why I quit coupons with you, so that's what I'm doing today. It's a deviation from the typical real food recipe or natural living tutorial for sure (which you can find plenty of those here and here respectively), but it feels right.
If you wonder whether it's worth your time and effort to clip coupons and learn how to use them – this post is for you.
(By the way, it's okay if your story is different. You might want to use coupons for a variety of reasons and there's nothing wrong with it. I'm just sharing my experience.)
I Quit Coupons Because of Guilt
After couponing for several years, I knew that coupons and sales went hand in hand.
It's a marketing strategy for brands to issue coupons about the same time as a sale through grocery stores. Consumers (you and me) would see the coupon and think, "Oh cool, here's a coupon for such-and-such. I've always wanted to try that."
Then we'd flip through the grocery ads and see that same item on sale. Suddenly, we feel compelled to have that item because a) it's on sale, b) we have a coupon and c) we want to try it anyway.
Coincidence? Nope. It's a carefully crafted plan and it works.
I also learned that sales are cyclical. Just about everything goes on sale at the grocery store every 6-8 weeks. If something isn't on sale this week, wait a few weeks and it will be.
Combine these two concepts together and my brain knew that just about everything could be purchased on sale at some point in time, and when I used a coupon for it too, I could get it for a VERY low price.
This led to me feeling guilty for buying something without a coupon. As silly as it may sound – even if the item was on final markdown for just 50¢ and it was something I used on a daily basis, I couldn't justify buying it because of the guilt I placed on myself for not using a coupon.
This guilt led me to create a stockpile of unhealthy portions.
I Quit Couponing Because I Became a Glutton
It didn't matter if I had 20 bottles of shampoo, if I could get more for free, I did. The same went for shampoo, body wash, deodorant, hair dye, cleaning supplies… just about anything you could find at a drugstore.
Because I knew I COULD buy items for incredibly cheap, I did. Whether we actually used the items or not, it didn't matter. I bought them anyway.
I had an entire closet dedicated to my stockpile. Two sets of shelves similar to these were filled to the brim with all sorts of toiletries and goodies that drugstores have to offer.
My kids were little at the time, so their use of the stockpile was negligible. Somehow though I thought it was necessary to have 20+ sticks of deodorant for my husband and myself when WE DIDN'T EVEN WEAR DEODORANT.
"But what about food Tiffany? You can't do that with food that goes bad."
Oh friends, yes you can. I applied couponing to grocery stores and stocked every cabinet in the kitchen with umpteen boxes of cake mix, tuna, canned soup, crackers, salad dressing and pasta, just to name a few.
I'm the only one in my family that likes tuna and I can only eat it once every few weeks, but did that stop me from buying several cans when it was super cheap? No.
We had lots of kitchen storage in our townhouse – 10 cabinets and a very large pantry – and every ounce of space was full. I also had two more sets of shelves, just like the ones for my stockpile, which I kept in a closet under the stairs. Those too, were filled to the brim with food.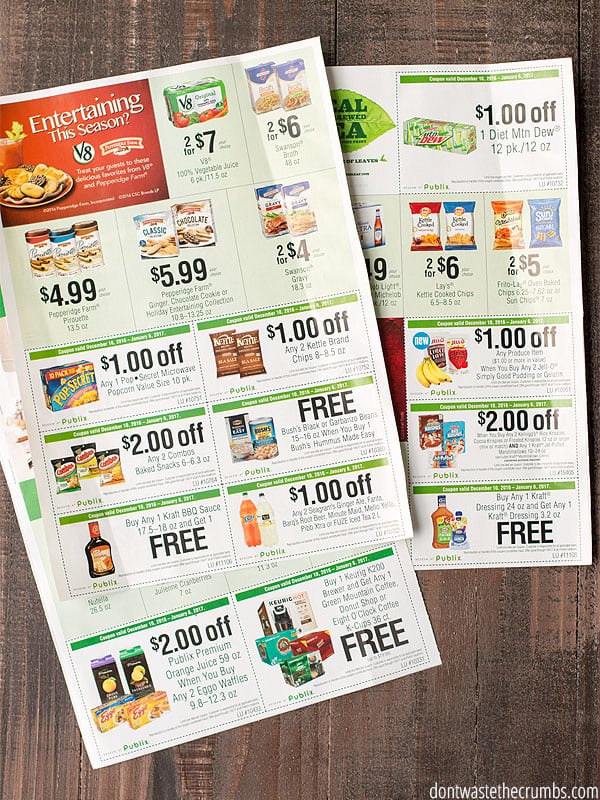 I Quit Coupons Because I Was Addicted
The coupons themselves aren't an addiction. Yes, I find enjoyment flipping through the circulars and seeing what items were on sale. It brought me joy to match a coupon up to a sale at the store.
But going through checkout was an adrenaline rush. Having the conveyor belt completely full with food, while handing over a wad of coupons, carefully matched up with the items in the cart. To watch the total gradually get lower and lower. To see the look on the cashier's face at the new total after all coupons had been scanned through. I liked watching the reaction of the person behind me when they saw I was getting three times as much food as them yet paying only a fraction of what their bill was going to be. To come home, proudly display my loot on the kitchen table and declare to my husband that I got ALL THIS for ONLY THIS MUCH.
Few things can describe it, and it was addicting.
Woe be to the cashier who said I couldn't use a coupon because I didn't meet the requirements.
Don't you dare miss that 25¢ coupon – I know exactly how much my total should be and I'll know it if you skip it.
Couponing Took Up Too Much Time
I'm sure there's a way to use coupons responsibly, but as I mentioned, I was addicted and I didn't know how.
I had a big binder like this one filled with coupons, organized with dividers and baseball card holders. Planning a shopping trip took several hours worth of clipping, organizing, making lists, double checking sales and even a check-out strategy to ensure I paid the lowest out of pocket as possible.
I did this at least twice a week, and this doesn't include the time it took to shop or keeping up with the binder (i.e. throwing away expired coupons, keeping them organized, etc.)
When my responsibilities at home started slacking – laundry not getting done, late starting dinner and not doing such-and-such activity with the kids – my husband asked me how much time I spent couponing.
I don't remember the exact answer, but I'm pretty sure I skewed it so it didn't sound as bad as it was. That was one sign that it was time to stop.
I Stopped Using Coupons Because Our Food Goals Shifted
Shortly after I scored an incredible deal for cake mix at just 25¢/box (I bought 12), my husband gently put his foot down. He was tired of eating out of boxes. Tired of foods with directions to "just add water" and wanted to start eating healthier. For our sake, and for our kids.
With the shift towards real food, I found myself couponing less and less. My husband and I watched food documentaries on Netflix (Fork Over Knives and Food, Inc) and I bought the book Nourishing Traditions.
I learned how to decipher labels and read ingredients and became skeptical of everything that came in a box.
When I flipped through the coupon booklets with glasses of suspicion, very few items, if any, made the cut. There just weren't any coupons for the food we wanted to eat.
I Quit Couponing Because it Encouraged Me to Buy Boxes
Not all food in boxes is bad, but in my experience, buying boxes leads to relying on boxes, and that is a slippery slope.
It's easy to buy one box of Annie's macaroni and cheese to have "just in case" for a busy weeknight (although my 15 minute homemade mac and cheese is WAY better). But before you know it, that box is part of your weekly shopping list.
Just to be clear – I'm not judging you if you buy boxed food. I've done it myself and I still do on occasion.
But our real food goals were to cook more food from scratch, and buying boxes didn't help that goal.
There are VERY Few Coupons Available for Real Food
I can almost hear it now – folks are going to chime in and say they use coupons all the time for real food. That their grocery store has coupons for produce each week and they use rebate apps…
Here's the thing. E-coupons were fairly new when I quit coupons. In fact, I'm pretty sure I knew more about e-coupons at the time than store employees did.
To be honest, e-coupons back then were nothing more than glorified paper coupons. 95% of the time they were the exact same thing that came in the weekly newspaper. It was a waste of time to look at the store's site because I knew what I'd find. And since the paper coupons in the newspaper weren't aligning with our real food goals, knowing I'd see the same thing online, I stopped looking at the store sites altogether.
The couponing system as a whole has changed nowadays, and it's true that some stores do offer coupons for products that are NOT identical to the ones you find in the weekly paper.
But of all the coupons that are offered as a whole – store, paper, digital – there are probably less than 5 each week for real food. And frankly, that feels generous.
I'm sure there are some people who could flip through a coupon booklet in 2 minutes flat. They could scan the store's coupons and in 5 minutes, have a great game plan for using coupons on real food.
That's not me. I study coupon inserts like it's my job, because at one time, it was. The time it takes me to review the inserts, look at store coupons and then compare it all against weekly sales wasn't worth the $2 I *might* save on that shopping trip.
It still isn't.
Since Quitting Coupons, I Found a Better Way to Save Money
In the years since I quit coupons, I refocused my energy into meal planning better and shopping smarter. I now have a rock solid method in place for getting the best deal I can on real food and it works every week.
In fact, I tested it recently just to make sure it really was a good system and I wasn't missing any savings by not using coupons.
I spent a month of Sundays, inspecting the coupon inserts, reviewing store sites for digital coupons, digging up rebates in Ibotta and comparing it all to the weekly sales.
I made a grocery list of items that meet two criteria:
They were 100% real food
I had a coupon and/or a rebate
After a month of preparing, my grocery list had three things listed. THREE.
canned green beans: 40¢/4 coupon + 20¢/4 rebate
chicken stock: 50¢/2 coupon + 50¢/2 rebate
diced tomatoes: 55¢/2 rebate
If I went shopping for these three items at the designated store to get the rebates, I would have paid $7.27.
I had three problems with this turn out. First, a shopping list with 3 items isn't worth a special trip to a local store for, especially in Atlanta traffic. Second, I didn't need 4 cans of green beans. I could have used 2 cans at the most, but you had to buy 4 to use the coupon. Third, I didn't need chicken stock because I always make homemade chicken stock in my slow cooker.
Using these few coupons for real food meant I was buying things I didn't need and spending money that wasn't necessary.
To compare, my tried-and-true method for getting rock bottom prices would have given me a checkout total of only $1.76.
Essentially, coupons were making me spend more than I needed to.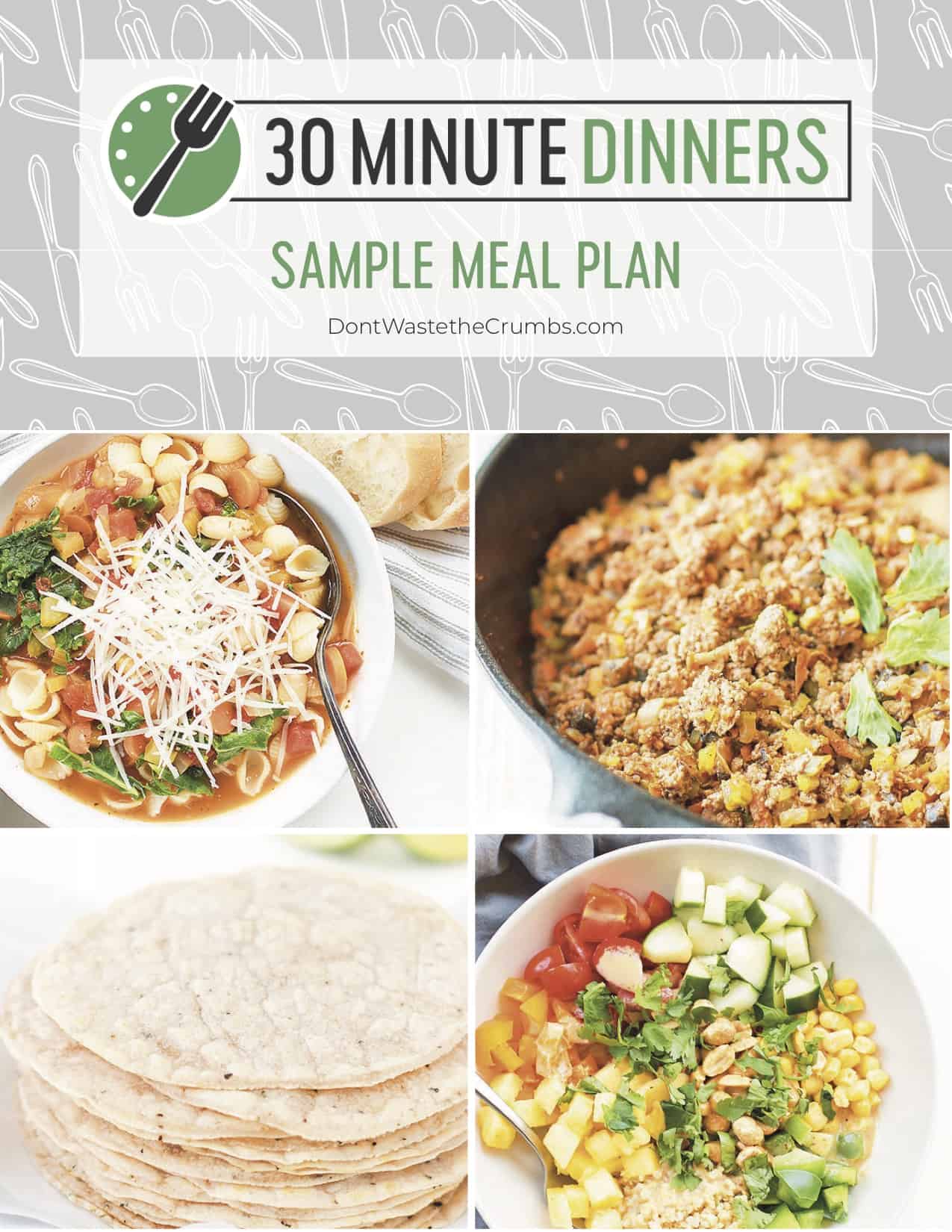 30 Minute Dinners Sample Meal Plan
Sign up to get instant access to my
30 Minute Dinners Sample Meal Plan
, complete with recipes and step-by-step instructions!
How to Save Money on Real Food Without Coupons
I still use a few mainstream techniques for saving money on real food without coupons, like finding rebates on Ibotta and shopping in bulk.
But what has REALLY helped hone in my savings is a technique that I teach in my online course, Grocery Budget Bootcamp, that will be open for enrollment soon.
Would you like to learn more? Sign up HERE to join the waiting list and you'll get an email when enrollment is open. You'll also get a 3-part video training series called Simple Ways to Save. It's all about practical ways to stretch the food you already have at home, helping you eat more and shop less!
Do you use coupons or have you used them in the past? What's your experience with using coupons on real food?