Simple and practical tips for hosting company on a budget and ideas for feeding them well without going broke or sacrificing quality.
Everything You Need to Know About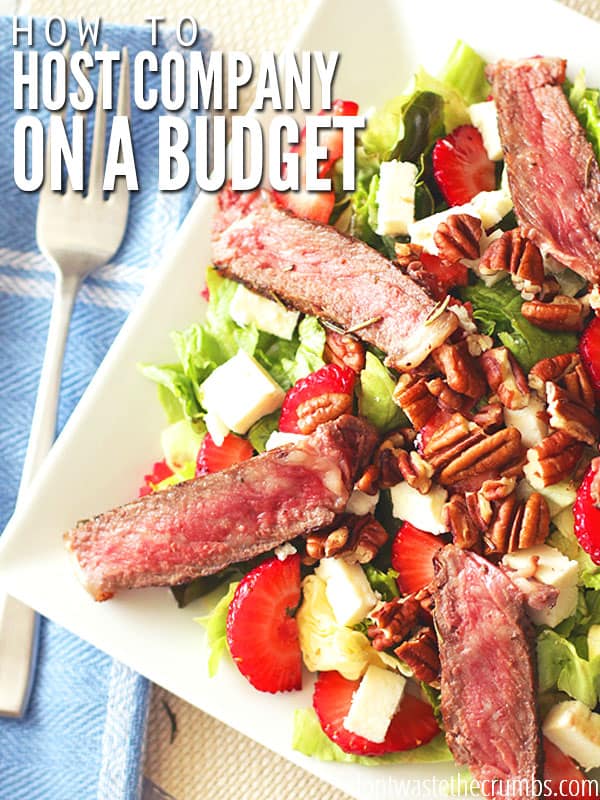 One of the most common questions I get from my Grocery Budget Bootcamp students is, how do I budget for feeding a crowd?
Whether it's a holiday meal, company coming into town, or a family & friends dinner after church, I keep all our meals within our regular monthly budget.
I love having company come over though, and if I'm not careful I could easily blow our budget. 
But over the years, I've learned a few tricks that save my food budget and keep my crowd full of good food (instead of relying on processed finger foods like hot dogs and tater tots.)

Why should I feed company with my grocery budget? 
Simply said, because it's still food! 
In my mind, it doesn't matter who you're feeding or how many, it still comes from your kitchen and uses some of the ingredients you have on hand. Those ingredients were paid for out of your budget and any additional food should also come out of your budget. 
There's definitely a time and place to have a special "party budget" if the need arises. But most often, the food I use for feeding company comes from our regular budget. 
How to Feed a Crowd on a Budget
1. Keep the Meals Simple
There's ALWAYS something to do around the house to prepare for company.  Planning easy-to-make meals will free up your time to straighten the house or dress the kids.
Easy to make can be defined in a few ways:
I'm already thinking of my favorite Freezer Meals: Dump Dinner Recipes!

2. Meal Plan to Feed a Crowd
If you know ahead of time your guests are coming, make a meal plan for the meals you'll be cooking for them. It will allow you to focus more time on them and be well prepared for their visit. 
It is important to seek a balance between hospitality and "treating" when choosing meals to serve. By making meals that use inexpensive ingredients in the first place, you can save on your grocery budget. 
If you're new to meal planning and grocery budgeting:
3. Choose meals that are palate-pleasing

.
This should be a given, but the night of your dinner party is not a prime opportunity to test out your first attempt at using curry. Company dishes should taste good – hands down.  
This means that it passes the kid test, the picky test, the spicy test and the strange-ingredient test (i.e. the ingredients should be well known, not strange).  
If your dish doesn't pass these tests, save it for another night when you aren't hosting company. 
Here are 13 Cheap Dinner Ideas for Hosting Company for some meal inspiration.
4. Choose meals that are made with real ingredients
It's easy to whip up a casserole with a can-of-this and a can-of-that, but you'll be missing out on a lot more than nutrition.  
Preparing a meal consisting of real food for a family that may not know much beyond cans and boxes could be a life-changing evening. Think of how great it would be to share your personal story of trying to improve your health by incorporate eating healthy food! 
Instead of buying store-bought everything, try making your favorite homemade comfort foods.
Personally, I'm not above feeding family members jalapeno popper casserole or a big batch of spaghetti with fresh tomato sauce. (But even jarred spaghetti sauce works if you're in a pinch!)
Here are some comfort food meal ideas:
5. Use in-season produce and inexpensive meats
In-season produce will help you get the most for your money. In summer, pick corn as a side dish rather than Brussels sprouts. In winter, make some Instant Pot spaghetti squash instead of a tomato salad. 
Don't forget to use produce you already have on hand too. Chop it up and make a salad or stir-fry. Like I said your meals are coming out of your regular budget, so use the food you already have!
Shredded meat goes further than whole pieces and adding a vegetable or beans to the meat will stretch it even more. Bulk prices on meat are more upfront, but are less per serving and will, therefore, last well beyond the one dinner.
In Grocery Budget Bootcamp, I have in-depth lessons on how to stockpile produce and stretch your meat. This has helped transform the food budgets for many of my large families and those who host company often!
Here are some more in-depth ways to save:
6. Have a signature dish.
Pick one or two family favorites using the tips above and create a signature dish. This is a meal you can serve to your guests whenever they come over. It helps you make quick decisions about meal planning for company. You may become famous for your homemade slow-cooked white chicken chili!
We love anything taco related and it's easy for feeding a big crowd: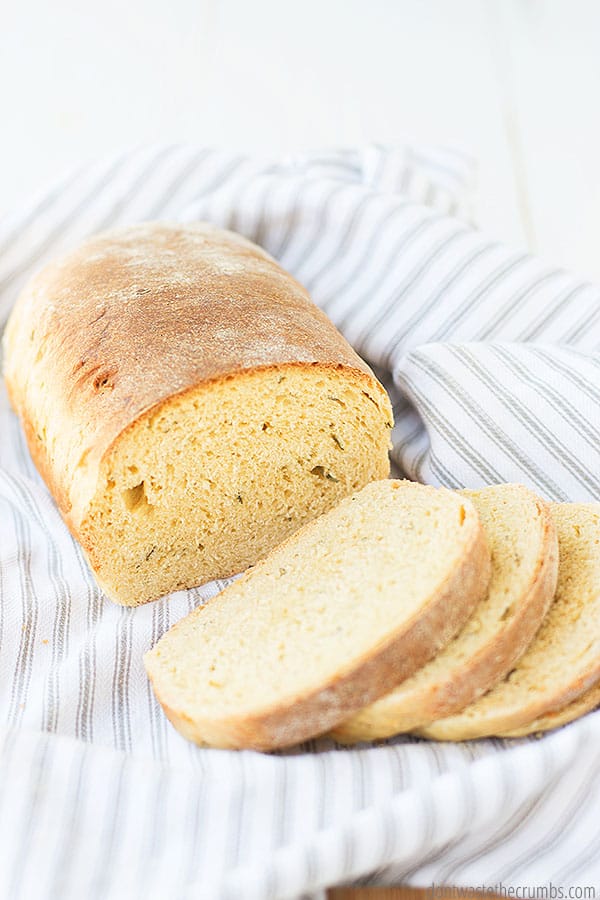 7. Make fresh bread
Homemade bread is a real treat to those who don't typically make it. Plus, the smell of fresh bread is super welcoming as your guests walk in the door!
No-Knead Artisan Bread or Fluffy Dinner Rolls are a great addition to a hearty soup or salad to make the meal go further. It's also good to have on hand for sandwiches when you need to feed a crowd for lunch.
When you have guests staying overnight, breakfast bread and muffins can easily be baked ahead of time. Lay them out with some butter and hard-boiled eggs for breakfast and call it a buffet. Here are some of my favorites:
8. Make two-fer meals to reduce time in the kitchen.
When company is over for a few nights, choose meals that you can cook once and eat twice. For example, make a large crockpot roast to serve over baked potatoes one night and the next night use leftover shredded roast for tacos.
9. Be picky if/when you dine out.
If you plan to go out to eat with your company, have a shortlist of options available that will keep everyone happy. Select your favorite restaurants that are inexpensive, have delicious food and are easy to talk in.
Here are 3 Tips to Reduce the Cost of Dining Out if you choose to do so.
10. Make desserts to feed a crowd
Homemade desserts are an easy make-ahead meal component that will wow your guests. Simple oatmeal chocolate chip cookies or my go-to pumpkin swirl black bean brownies can be made with real food ingredients and still taste amazing. 
Pick a dessert that makes a big batch so everyone can have plenty with extra for later. Even if you don't typically eat dessert, it's a fun way to cap off a good time of fellowship with friends and family.
11. Choose meals that makes clean-up easy

.
When you're cleaning up after dinner, what is it that makes the task difficult?  The number of dishes? The type of dishes? The food that won't come off the dishes?
Take these things into consideration when hosting dinner.  You want to be able to spend the post-meal time with your company, not with the kitchen sink and dish scrubber.
Don't be afraid to use your appliances either. Back to keeping meals simple, I love to utilize my Instant Pot and slow cooker for company dishes. This means I can do the messy cooking ahead of time and then be able to visit when friends arrive!
Here are my favorite tools: