Perfect for Thanksgiving, these light and fluffy homemade dinner rolls are so much better than store-bought Hawaiian rolls! You'll be making these easy yeast rolls all year! Also great with my Thanksgiving dinner menu.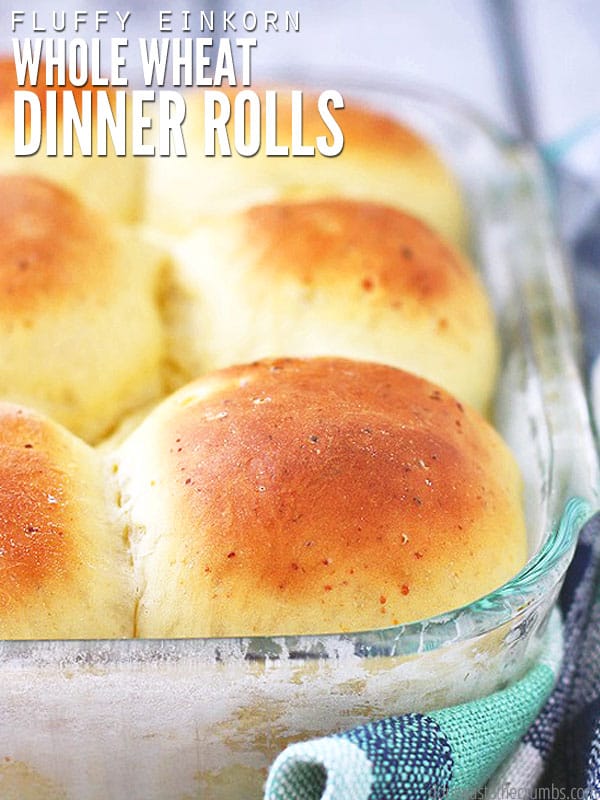 Butter, gravy and leftover turkey sandwiches.
What do all of these have in common (besides being on the menu a week after Thanksgiving)?
They all require fluffy soft dinner rolls in order to really enjoy them for all their worth!
Please tell me I'm not the only one dreaming about it… the fresh, hot from the oven, pull-apart rolls that melt like butter in your mouth – even when there isn't any butter on them? 
And pie too, but that's for a different post.
Why Make These Homemade Dinner Rolls?
I have been baking up a storm lately in order to bring you a light and fluffy dinner roll that's better than the typical Hawaiian dinner rolls that many families call tradition for their feast. For the die-hard Thanksgiving dinner traditionalists, that's an awfully high bar to meet.
There's the sweetness. The buttery-ness. The softness. The fact that they don't crumble in your hands. 
Homemade dinner rolls need to have all of the good things and none of the bad.
How to Make Homemade Dinner Rolls
This dinner roll recipe calls for a few secret ingredients to really make it stand out. 
Einkorn. Einkorn is an ancient form of wheat that contains all the helpful enzymes to help digest the gluten it naturally contains, making it tolerable for many people who are sensitive or intolerant to modern wheat. Read more about the health benefits of einkorn and why we use it.
Pineapple juice.

Pineapple juice replaces water in this recipe to give a natural form of sweetness. When combined with honey, you literally have a sweet roll on your hands!

Cottage cheese.

This will melt into the dough during the rising and baking, and you won't even notice the cheese in the roll!
It's not just me who thinks they're good either, because Mr. Crumbs ate FOUR rolls for dinner… which pretty much sealed the deal that these were a winner.
In fact, you might want to make a double batch. Actually, make that a triple batch – trust me!
Easy Dinner Roll Tips
To make pull-apart rolls: bake the rolls in a 9×13 baking pan as directed. 
To make stand-alone rolls:

bake them on a greased baking sheet about 2 inches apart from each other. These are better for a sandwich or in a breadbasket. Or place in a muffin tin to make puffy topped rolls.

The vital wheat gluten is optional.

The added gluten doesn't affect our sensitivities, but you can leave it out if you're unsure.

Don't have pineapple juice?

You can also

take a can of pineapple, throw the whole thing in a blender, like this high powered Blendtech, and measure out 1/4 cup of pulp/juice together.
Einkorn makes for a wet and sticky dough.

You'll likely need to use extra flour when handling the dough and shaping into rolls.

If you don't have Einkorn wheat,

you can make this with any combination of wheat flour you have on hand. I've made this with regular all-purpose, whole wheat, whole wheat/spelt combo and Einkorn and they're all seriously delicious. Honestly, you can't go wrong!
If you want to read more about Einkorn and where you can buy it, see my post HERE.
More Delicious Einkorn Recipes:
Fluffy Einkorn Wheat Dinner Rolls
Perfect for Thanksgiving, these light and fluffy homemade dinner rolls are so much better than store-bought Hawaiian rolls! You'll be making these easy yeast rolls all year!
Author: Tiffany
Prep Time:

2 hours

Cook Time:

15 mins

Total Time:

2 hours 15 minutes

Yield:

12

dinner rolls

1

x
Category:

Breads

Method:

Bake

Cuisine:

American
1/4 cup

pineapple juice

3/4 cup

cottage cheese

1/2 Tbsp

active dry yeast

2

–

3 1/2

cups Einkorn Wheat flour*

2 Tbsp

vital wheat gluten (optional, see note)

1/4 tsp

baking soda

1 tsp

salt

2 Tbsp

honey

1

egg, room temperature

1 Tbsp

butter, room temperature
Instructions
In a small saucepan, combine pineapple juice and cottage cheese. Heat on medium low just until 110F. This will take about 2-4 minutes. Meanwhile, add yeast, 1 cup of flour, vital wheat gluten (if using), baking soda, salt and honey in a large bowl or in the bowl of a stand mixer.
When the juice and cheese is at least 105F but no warmer than 115F, add to the flour and stir well with a spoon to incorporate into a thick paste.
Add 1 1/2 cups flour, egg and butter. Knead by hand, or turn the speed of the mixer on low. Allow dough to come together for, kneading for about 10 minutes by hand or 5 minutes with a dough hook in a mixer.
Add remaining flour if needed, 2 Tbsp at a time, until dough is smooth and elastic. You want the dough to mostly pull away from the sides of the bowl, but it will not entirely. It is better for the dough to be slightly sticky than over-floured.
Set bowl in a warm place and allow to rise, about 1 hour. Dough is ready when you can stick two fingers into the dough up to the second knuckle and the holes remain. It should be about double in size.
Generously butter and flour a 9×13 baking dish.
Turn dough into a lightly floured surface and punch down to remove air bubbles. Divide the dough into 2 parts. Divide each part into 6 pieces. Shape each piece into a smooth ball (see shaping tip) and place in the baking dish.
Cover and let rise again, about 1 hour.
Preheat oven to 375F. Bake rolls for 12-15 minutes, or until medium golden brown.
Rolls are best warm out of the oven, but still very delicious leftover too.
Notes
* Whole wheat flour may be substituted if you do not have Einkorn wheat.
Optional Vital Wheat Gluten. Adding it offers a bit extra fluff, but the rolls still come out great without it. If you choose to omit the VWG, add an extra 15 minutes to each rise time and knead/shape into rolls before baking.
Keywords: homemade dinner rolls