Friday night pizza has been our family tradition for over a decade. From buffalo chicken pizza to cast iron skillet pizza to pizza on the grill – we've made them all!
Unfortunately, we stopped having pizza while working through the Whole30 and during re-introduction, we learned that both my husband and my daughter are sensitive to gluten.
Pizza night is truly an event in our house, so we're finding workarounds where everyone can enjoy the night together – starting with this overnight einkorn pizza dough recipe!
If you just freaked out a bit at the idea of making your own pizza, let me reassure you – it's not as hard as it sounds.
Yes there's yeast. Yes there's kneading (just a TEENY TINY bit) and yes there's rising. But aside from my no-knead overnight artisan bread and my husband's foolproof man bread, this is going to be THE EASIEST pizza dough recipe you ever come across.
As I mentioned, my husband and daughter are sensitive to gluten. They're not allergic, but they experience enough side effects that it's just easier to avoid it.
Right off the bat, it means that whole wheat and all-purpose flours are off the table. (At least for now.)
That's one of the reasons I've been baking more with oat flour… peanut butter oatmeal cookies, 5-ingredient banana bread muffins and blender cinnamon waffles are just a few of the "winners" that have come from my non-gluten kitchen experiments.
And while oatmeal has some great health benefits, it's not the best fit for things like fluffy dinner biscuits, homemade birthday cakes and pizza dough.
Enter einkorn.
A Very Brief Lesson on Einkorn
I wrote a thorough article on einkorn here, and I highly recommend clicking over and reading the entire article if you or someone in your family is sensitive to gluten, or if you think there is a sensitivity. The history and research is really interesting!
For the purpose of this einkorn pizza dough recipe though, here's what you need to know:
Einkorn (rhymes with "fine corn") is an ancient grain that hasn't been modified by modern farming techniques.
It has 14 chromosomes and has never been hybridized. To compare, modern wheat (including spelt) has 42 chromosomes.
Those extra chromosomes are the result of farmers adding "traits" to wheat that aren't necessary, like resisting cold weather or resisting spoilage in transport.
This modified DNA structure prevents the body from digesting gluten properly.
This means that because einkorn is not hybridized, many people who are sensitive to gluten can tolerate einkorn.
(Note: I am NOT saying that if you have an allergy diagnosis to gluten, or have Celiac disease, you can eat einkorn. Being sensitive to gluten and being allergic to gluten is not the same thing.)
The only downside of einkorn is that it bakes just a teeny bit differently than the whole wheat and all-purpose flours we're used to. It takes much longer to absorb liquid, and the best way to account for this is to let the batter/dough sit for awhile before baking.
That's what makes this overnight einkorn pizza dough recipe so perfect – the dough comes together overnight, literally while you are sleeping!
Not sure where to buy Einkorn?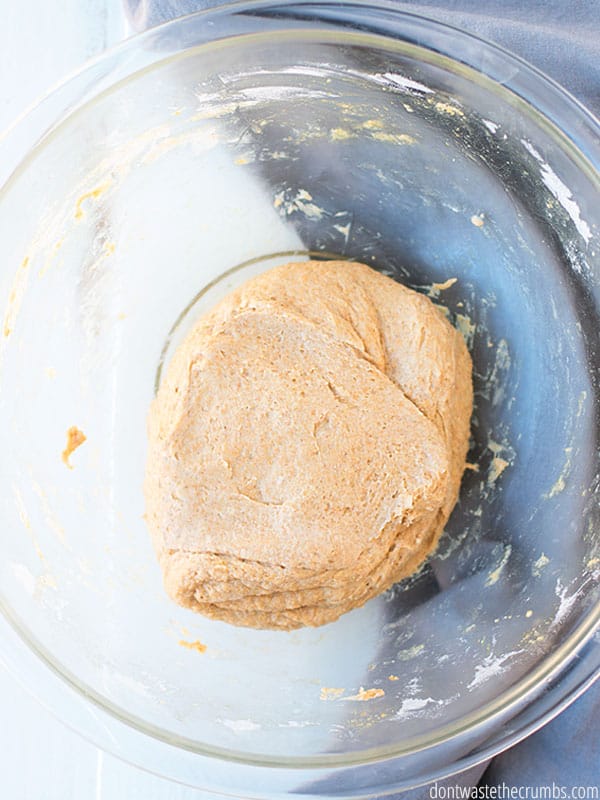 I took the concept behind my super easy no-knead overnight artisan bread, along with pointers from the cookbook Einkorn: Recipes for Nature's Original Wheat, and came up with a delicious, EASY einkorn pizza dough recipe that is rapidly becoming one of our family favorites.
And believe me when I say we don't say this lightly!
My husband grew up in the Northeast, where pizza is called pie and you can buy it by the slice. The slices are triangles as big as your face and they fold in half and it's totally normal to use a paper napkin to mop up the extra grease on top.
When he moved to Texas and realized his pizza choices were Pizza Hut or Dominos, he set out to create a pizza that was as close to New York style as he could get… and he did it!
That pizza dough recipe has been the one we've used every Friday night for all these years, and it's a hard act to follow.
This overnight einkorn pizza dough recipe is holding its own though, and it's allowing us to keep up our Friday pizza tradition!
This einkorn pizza dough recipe is pretty hard to mess up, so it's perfect for anyone who is new to yeast, new to baking or new to einkorn in general. Just read the recipe and follow it as-written and you'll be fine!
A few things to help as you making this recipe:
This dough needs to sit for a minimum of 2 hours, but it can sit for up to 24 hours. It requires just one bowl, so either mix it up before bed and let it sit while you sleep, OR mix it up in the morning before you go about your day.
You need to be gentle with the dough since the gluten structure of einkorn is a little more delicate than modern whole wheat or all-purpose flour. Yes, knead it well and proper, but you don't have to beat the counter with it or even knead for a full 10 minutes like many traditional dough recipes call for.
This pizza dough recipe makes four 8-9" pizzas instead of two 15" pizzas like our go-to pizza dough recipe. It's perfect for the family where every person wants something different on their pizza!
You only need two large cookie sheets to bake an amazing thin-crust pizza, but if you love pizza as much as we do – and bake it as often as we do – you'll want to invest in a few tools to make your job easier. I recommend this pizza stone, this pizza peel and this pizza cutter (because it doesn't rip the cheese across the pie). If you like to grill, this ceramic pizza stone works both in the oven and on the grill, and it doubles as an extra surface when you're making those big 15" pies.
Adding more flour won't make the dough less sticky because einkorn doesn't absorb flour quickly. When you're kneading the dough, try wetting your hands with a bit of water or a tiny drizzle of oil. When you're shaping the pie, then you can use a sprinkle of flour.
The dough is on the wet side, so you'll need parchment paper to move the dough from your work surface (either a pizza peel, or the back of a cookie sheet) to the oven. If the budget is tight, you can re-use the same piece of parchment paper for each pizza. For convenience (and to speed up the topping/baking process), I cut a new piece of parchment paper for each pizza.
Savings Tip: Stock up on parchment paper after the holidays to get the best prices.
Overnight Einkorn Pizza Dough
Easy einkorn pizza dough recipe needs little kneading & sits overnight, like it was soaked. Use all-purpose or whole grain flour for a delicious crust!
Author: Tiffany
Prep Time:

8 hours

Cook Time:

8 mins

Total Time:

8 hours 8 mins

Yield:

4

1

x
Category:

Breads

Method:

Oven

Cuisine:

American
2 ¼ tsp

active dry yeast (

one

packet)

2 tsp

sugar (I use Turbinado)

5 cups

einkorn flour, plus more for dusting (I used freshly milled whole grain einkorn)

2 tsp

salt

1 ¼ cups

warm water (warm, not boiling)

3 Tbsp

extra virgin olive oil, plus more for handing the dough
Instructions
In a large bowl, whisk together the yeast, sugar, flour and salt. Add warm water and using your hands, mix the dough together as best as possible. It will be sticky and shaggy, but that's okay.
Add 3 Tbsp olive oil and knead the dough until it holds together. (Kneading is basically folding the dough over itself, turning the bowl ¼ of the way in between each fold so you're always folding from a different direction.)
Continue kneading the dough until it's mostly smooth, about 1-2 minutes. It doesn't have to be perfect, but it needs to no longer be shaggy.
Cover the bowl with a kitchen towel and let it rest for at least 2 hours, or up to 24 hours.
When you're ready to make pizza, preheat the oven to 500F. Place a large cookie sheet in the oven OR make sure your pizza stone is on the bottom rack, preheating.
Meanwhile, divide the dough into 4 pieces. Shape each piece into a round, cover with a towel and let it sit until the oven is ready, or for at least 15 minutes.
Roll out 4 pieces of parchment paper, each big enough to make an 8-9" pie.
When the oven is preheated and the dough has rested for 15 minutes, place one piece of parchment paper on the back of a large cookie sheet and working with one piece of dough at a time, shape it into an 8-9" round circle on the paper. Be sure to make a raised edge around the outside, if that's how you like your pizza.
Tip #1: I have an 8" cast iron skillet that I turned over and outlined with a pencil on the parchment paper. That way I knew how big to aim for when making the crust.
Tip #2: When shaping the crust, it's best to work starting from the middle of the dough and then outward. I like to use my knuckles to gently press and push the dough outward. If the dough gets sticky, you can sprinkle just a little of flour onto the top.
After you've shaped the pizza dough, top as desired. Carefully move the pizza from the current cookie sheet to the one that's preheated in the oven and bake in the oven for 8-10 minutes.
Remove from the oven and let cool slightly before cutting.