The best peanut butter oatmeal cookies are soft, chewy, healthy & of course, easy! These hearty low sugar oatmeal cookies are flourless and gluten-free with the perfect chewy texture!
With the exception of candy cane cookies at Christmas and pumpkin cookies in the fall, we don't bake cookies in our house very often.  The two main reasons being: sugar and gluten.
Rolled oats are my saving grace this season. Thanks to this great recipe, we can enjoy a healthy treat that is gluten-free AND very low in sugar!
These cookies are everything a peanut butter cookie should be:
Rich and Peanut Buttery

Soft and Chewy

Slightly sandy (thanks to the peanut butter) but without crumbling in your hands

SUPER easy to make

Incredibly Addicting
In fact, my husband said that they're the best peanut butter cookies he's ever had in his life, EVER!
Peanut Butter Oatmeal Cookies Ingredients
The ingredients you need are simple, everyday items you have in your pantry.
Butter.

All great cookies need butter. 

Sugar.

You need only ½ cup of granulated sugar. Blend in a blender or food processor to make the sugar superfine, which helps make the final texture of these cookies SO soft! I used Turbinado sugar, but white sugar will work. I would not recommend brown sugar.

Natural Peanut Butter.

Creamy peanut butter is the way to go for a classic peanut butter cookie. Find one with just peanuts and salt for the best flavor in this peanut butter cookie recipe. If you really love a little extra crunch, I won't be mad if you use crunchy peanut butter. 

Egg + Egg Yolk.

The extra egg yolk is what gives our cookie some structure without turning it into a crumble fest. Peanut butter cookies are sandy by default – the peanut butter is what causes it. But by adding an extra egg yolk to the dough, we can help combat the crumble.

Cornstarch.

This trick is from

Sally's Baking Addiction

. Adding cornstarch to cookies creates a softer dough and a more tender cookie. That's exactly what I was looking for in these peanut butter oatmeal cookies!

Oat Flour.

We're taking old fashioned oats and whizzing them in the blender to make

 

homemade oat flour

. Quick oats will work too if that's what you have on hand. 
Notice what we DON'T need for these cookies:
Lots of sugar.

Have you ever made a batch of cookies that uses just HALF A CUP of sugar?! Me neither. But we're on a continuing quest to quit sugar and it turns out that the less sugar you eat, the less you need to use in your baking recipes.
Take note that these cookies are not going to put you in a sugar coma. With that said, you might think they're not sweet enough if you're used to overly sweet baked goods. 
I encourage you to give it a shot with the ½ cup of sugar and see how it goes. You never know – your family just might like it!
Gluten.

Oats are naturally gluten-free, which makes these cookies great for those with gluten sensitivities and intolerances. If you're Celiac, make sure you use certified gluten-free oats to avoid cross-contamination.
And as a side note, we switched to einkorn flour since we found out my daughter has a gluten sensitivity. We buy whole einkorn berries and grind them into whole wheat using a MockMill grain mill. I also buy all purpose einkorn flour in bulk from Amazon.
If you have gluten issues in your home and cannot tolerate modern wheat, consider giving einkorn a try!
Peanut Butter Oatmeal Cookie Baking Tips
This batter isn't like most cookie batters – it will seem crumbly and dry due to the peanut butter.  But DON'T WORRY. Make this recipe exactly as written AND use the following tips. Then you'll have the most amazing peanut butter oatmeal cookies in no time.
Chill the dough.

As tempting as it is, don't

skip this step. It helps the dough scoop evenly and prevents the cookie from spreading in the oven. Unless you want one big flat super crunchy cookie? I didn't think so.

Use a cookie scoop.

I feel like a broken record with my cookie scoop. I use it for everything from our

favorite chocolate chip cookies

, to

15-minute Italian meatballs

, to

freezing yogurt

.

This is the one I have

and I LOVE it. Using a cookie scoop really helps with the cookie shaping process. They're all the same size, they bake evenly, and the kids don't argue over who gets the bigger cookies.

Use a Silpat mat.

This handy thing makes clean up simple AND it helps the cookies bake evenly without getting too crispy too soon.

This is the set I have

and use ALL the time, including any time I have to knead bread dough. It helps to keep the counters clean!

Use a wet fork to make a criss-cross.

It's SO much easier to make those cute fork marks using a wet fork versus a dry fork. You can mark about 4 cookies before needing to re-wet the fork, so you don't have to worry about spending a ton of time going back and forth. 

Let the cookies cool. Peanut butter cookies tend to be crumbly, again, thanks to the peanut butter. I know it's hard to not eat them straight out of the oven, but if you let them cool for at least 10 minutes on a cooling rack (this is the set I have), they won't fall apart on you!  
My Favorite Tools for Baking Cookies
I just mentioned a few, but here are my favorite tools for baking cookies:
Cookie Scoop. This scoop is about 1 tablespoon. I also have this ¼ cup scoop which is perfect for meatballs, giant cookies and muffin batter.
Silpat Mat. Watch for sales around the holidays. I've had this set of 3 for several years and they're still going strong!
Cookie Sheets. I bought a cheap set of baking sheets when I first moved out of the house and only recently treated myself to this set of USA baking sheets. Oh my goodness, I wish I had done it so much sooner!! The cookie sheet (not the baking sheet) is SO nice, and the large Silpat mat fits it perfectly. Using a good set of cookie sheets makes all the difference in how your cookies turn out. No longer do they get crispy on the edges or burn or bake unevenly!
Cooling Rack. Definitely a must-have, but you can save your money and choose a cheap set of cooling racks. I have this set and I love how it can fold to below, or sit up a few inches off the counter for greater air circulation. All of my cookies cool on the pan, on the rack, for 5-10 minutes before they're moved directly to the rack to cool completely. Plus I use cooling racks to flash freeze pancakes and waffles so that they don't freeze together in one big clump!
Can you freeze peanut butter oatmeal cookies?
Yes! My husband couldn't stop eating these cookies and asked me to put the rest in the freezer so he wouldn't ruin his dinner!
You can freeze peanut butter oatmeal cookies BEFORE you bake them, or after. 
If you freeze the raw cookie dough

, I recommend portioning out the dough on a cookie sheet so that you can pull just as much dough as you need to make cookies that night. Otherwise, you'll be chipping away at a massive block of cookie dough and you won't get very far.

If you freeze baked cookies, make sure you double wrap them so that they don't get freezer burned and start to dry out on you. I recommend freezing in quart-size freezer bags, and then again in gallon-size freezer bags. Remember that you can use plastic bags more than once to keep your waste down.
This recipe makes 30-35 cookies when you use two tablespoons of dough per cookie (that's two small scoops). 
You'll have plenty to freeze if you make a single batch. If you are daring, a double batch will keep you stocked for quite some time!
My Favorite Cookie Recipes
Watch How to Make Peanut Butter Oatmeal Cookies
Peanut Butter Oatmeal Cookies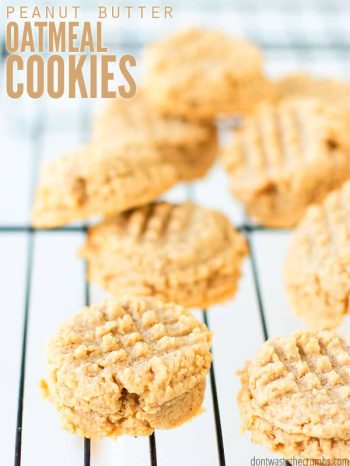 The best peanut butter oatmeal cookies are soft, chewy, healthy & of course, easy! These hearty low sugar oatmeal cookies are flourless and gluten-free with the perfect chewy texture!
Author:
Prep Time:

1 hour 15 mins

Cook Time:

8 mins

Total Time:

1 hour 23 mins

Yield:

30

-

35

1

x
Category:

Dessert

Method:

Oven

Cuisine:

American
Instructions
Measure ½ cup sugar into a blender and process for one minute, until the sugar looks like powdered sugar.
Pour into the bowl of a stand mixer, or a large bowl if you're using a hand-held mixer. (There's no need to wash out the blender yet.) Add 2 sticks butter + ½ tsp salt + ⅔ cup peanut butter and mix until everything is super creamy.
Add 1 egg + 1 egg yolk + 2 tsp vanilla and combine.
Measure 3 cups rolled oats into a blender and process for one minute. Use a spatula to scrape everything into the mixing bowl.
Add 2 tsp cornstarch and mix until you can no longer see dry portions of oat flour, about 2-4 minutes.
Chill in the refrigerator for 1 full hour. You cannot skip this step.
When the one hour is nearly up, preheat the oven to 350F and line your baking sheets with either parchment paper or a Silpat mat.
Using a cookie scoop, measure 2 Tbsp of dough per cookie (this is 2 scoops for my cookie scoop).
Leaving 2″ of space between cookies, fill up your cookie sheet with dough.
Place remaining dough in the fridge if you are baking in batches.
Use a wet fork to make the criss-cross pattern on the top of the cookies, if desired.
Bake for 8-11 minutes, or until the edges of the cookies are JUST lightly browned.
Remove from the oven and let the cookies cool on the pan for 10 minutes.
Gently remove to a cooling wire rack and allow the cookies to cool completely before storing.
Repeat with the remaining cookie dough.