These are the best peanut butter chocolate chip cookies that are so easy to make! Soft, chewy, and super peanut buttery. Healthier than most traditional recipes! You'll also love my healthy peanut butter oatmeal cookies and peanut butter chocolate chip muffins.
I love a good chocolate chip cookie. And I also love a good peanut butter cookie.
So when my husband asked if I could somehow combine BOTH chocolate chip AND the peanut butter flavor… I knew he was on to something good.
And let me tell you this – these peanut butter chocolate chip cookies are amazing!
Peanut Butter Chocolate Chip Cookies
These cookies are everything you want in a cookie:
There are also a few things we're doing to make these cookies HEALTHY:
Ingredients for Peanut Butter Chocolate Chip Cookies Recipe
The ingredients for this peanut butter chocolate chip cookie recipe are pretty standard…
Psst! If you're going to add salt, I highly recommend Ava Jane's Kitchen. You may think all salt is created equal, but unfortunately, 90% of salt produced around the world contains microplastics (gross, right?). Ava Jane's Kitchen is an exception. Their salt is 100% microplastic free, and it's SO GOOD! Plus, you can get a bag for just 1¢!! (Get your penny bag of salt on this page.)
… But I want to specifically call out a few things that are different:
Peanut Butter Chocolate Chip Cookies Instructions
Making these delicious cookies is so quick and easy!
Step 1. Combine all of your wet ingredients and mix well in a bowl.
Step 2. Add your dry ingredients to the mixture JUST until combined.
Step 3. Scoop (I use this cookie scoop) out cookie dough balls, bake, and enjoy!
Allow the cookies to cool on the baking pan for 10 minutes before placing them on a cooling rack. (I use these wire racks)
Questions on Chocolate Chip Peanut Butter Cookies
What makes a cookie chewy vs soft?
I have a few secrets to making a chewy cookie, and I'm using two of them in this u003ca href=u0022https://amzn.to/2xxqr7wu0022 rel=u0022nofollowu0022u003epeanut butteru003c/au003e cookie recipe: Extra egg yolk and under-baking JUST slightly.
Why do you put fork marks on peanut butter cookies?
If made correctly, peanut butter cookies don't spread as others do. Pressing down with a fork helps to create the cookie shape. Plus, the marks make the cookies look pretty!
Should you use parchment paper when baking cookies?
Yes, when you use u003ca href=u0022https://amzn.to/3arGAOIu0022 rel=u0022nofollowu0022u003eparchment paperu003c/au003e it helps to prevent the cookies from cracking or coming apart when they are lifted from the baking sheet pan. It also helps to cook the cookies more evenly. You can also use a u003ca href=u0022https://amzn.to/2YdBYWEu0022 rel=u0022nofollowu0022u003eSilpat matu003c/au003e.
Recipe Tips
After testing several batches and making a few tweaks, here's how you can make sure your easy peanut butter chocolate chip cookies come out perfect every time:
More Healthy Cookie Recipes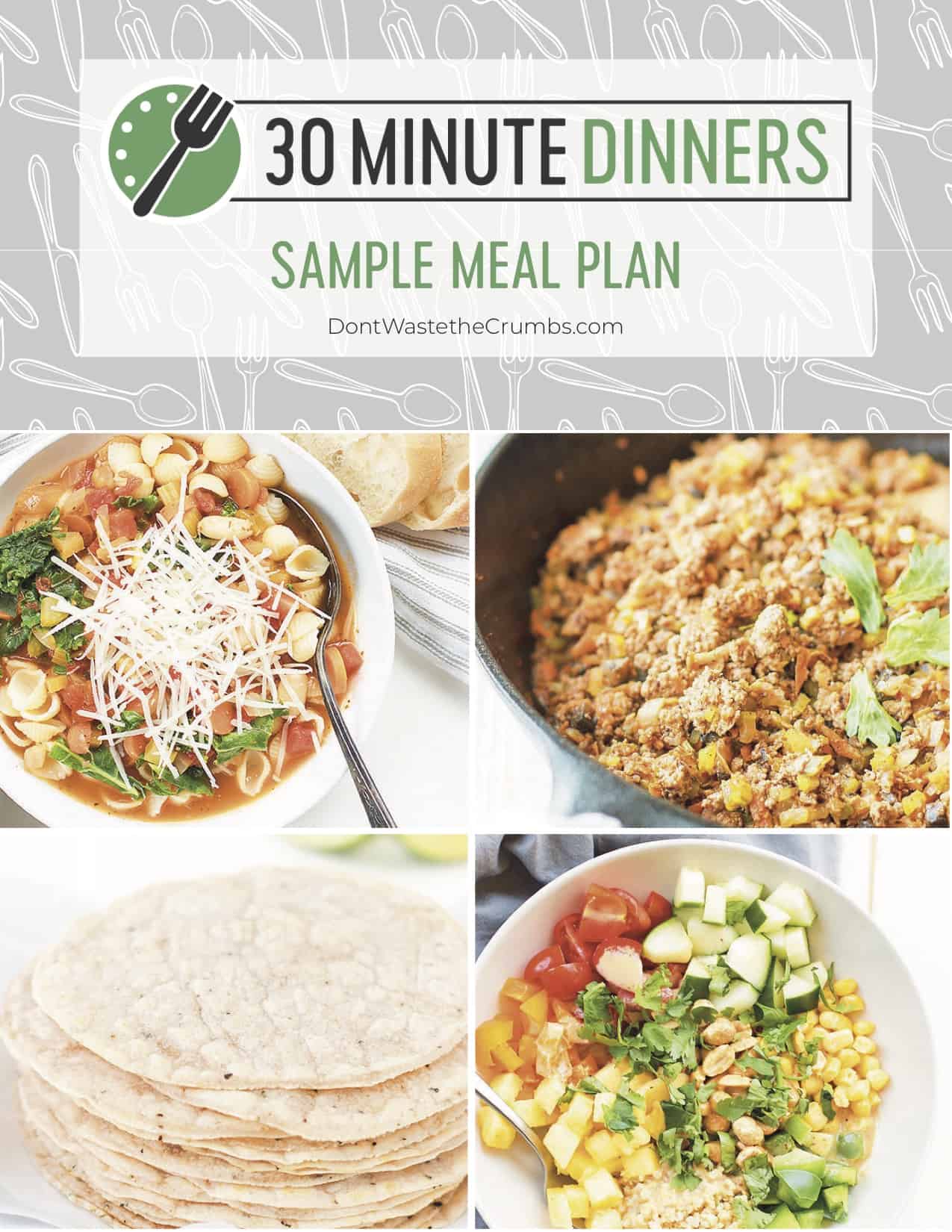 30 Minute Dinners Sample Meal Plan
Sign up to get instant access to my
30 Minute Dinners Sample Meal Plan
, complete with recipes and step-by-step instructions!
Peanut Butter
Author: Tiffany
Prep Time:

10 minutes

Cook Time:

10 minutes

Total Time:

20 minutes

Yield:

20

cookies

1

x
Category:

Dessert

Method:

Baking

Cuisine:

American
Instructions
Preheat the oven to 350F and line a large baking sheet  with a silpat mat.
In a large bowl with a hand mixer, or in the bowl of a stand mixer with a paddle blade, beat together 4 Tbsp melted butter, 1/2 cup peanut butter, and  1/3 cup sugar for 2 minutes. Scrape down the sides of the bowl and the beater/blade.
Add 1 tsp molasses, 1 egg, 1 egg yolk, and 1 tsp vanilla, and beat until everything is well incorporated about 2 minutes. Scrape down the sides of the bowl and the beater/blade.
Add 1 1/2 cups flour, 3/4 cup chocolate chips, 1/2 tsp baking soda, 1/2 tsp baking powder, and 1/2 tsp salt (if using) and mix on low JUST until combined. The batter will be crumbly.
Using a cookie scoop, scoop two scoops of dough per cookie onto the baking sheet. Leave about 2-3" of space between each cookie. (If you're using these USA baking pans and these silpat mats, you'll get 12 cookies per pan.)
When you've scooped all the cookies, working with one at a time, PRESS (not roll) the double scoop of dough into a ball using the palm of your hands. Press the roll slightly into a disc and place it back onto the baking pan. Repeat the process for all the cookies.
Bake the cookies for 10 minutes and allow them to cool on the baking pan for 10 minutes before placing them on a cooling rack to cool completely.
Notes
Check the ingredients of your peanut butter. You may not want to add more salt if your peanut butter already contains salt.
Start with melted butter. Don't cheat…
Stir your peanut butter REALLY well. You can use "regular" peanut butter like Jif or Skippy where they add additional oils and sugar, but I tested with natural peanut butter STIRRED WELL and they were delicious!
Chocolate. I recommend dark, but you can use semi-sweet chocolate chips if that's what you have. I don't recommend milk chocolate chips, as that will make the cookie too sweet (at least for us and our journey to quit sugar).
Keywords: peanut butter chocolate chip cookies, chocolate chip and peanut butter cookies, peanut butter & chocolate chip cookies, chewy chocolate chip peanut butter cookies, chocolate chip peanut butter cookie recipe