This easy recipe for healthy chocolate chip cookies is low sugar, uses whole grains, and is vegan-friendly! Makes irresistible chewy and crispy cookies!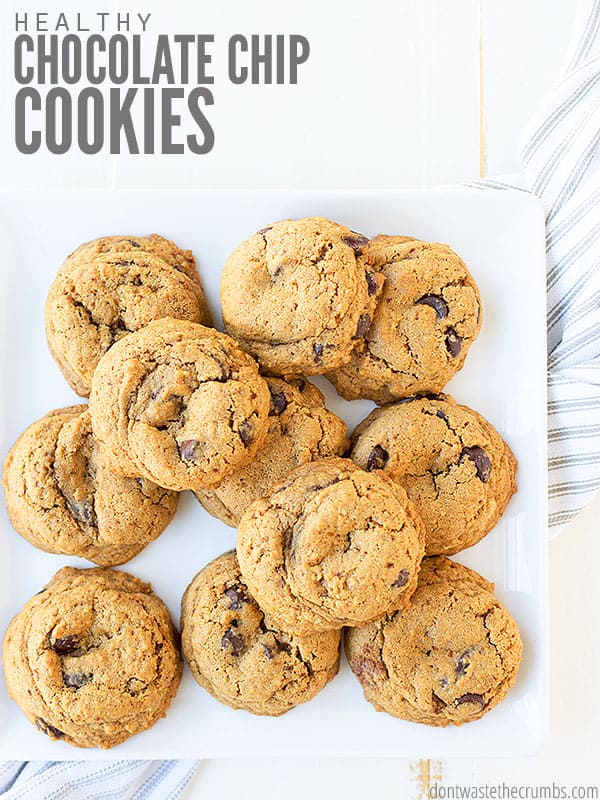 I don't ever want to give up eating cookies.
But I have this thing with cookies, in that I make them, eat them, and then eat more of them. I love them so much, I have a hard time stopping at just one!
That's one reason I created recipes like healthier sugar cookies, healthy peanut butter cookies, and dark chocolate chip oatmeal cookies.
This year, I vowed to make healthy chocolate chip cookies in such a way that they're still irresistible, but not as detrimental to my waistline!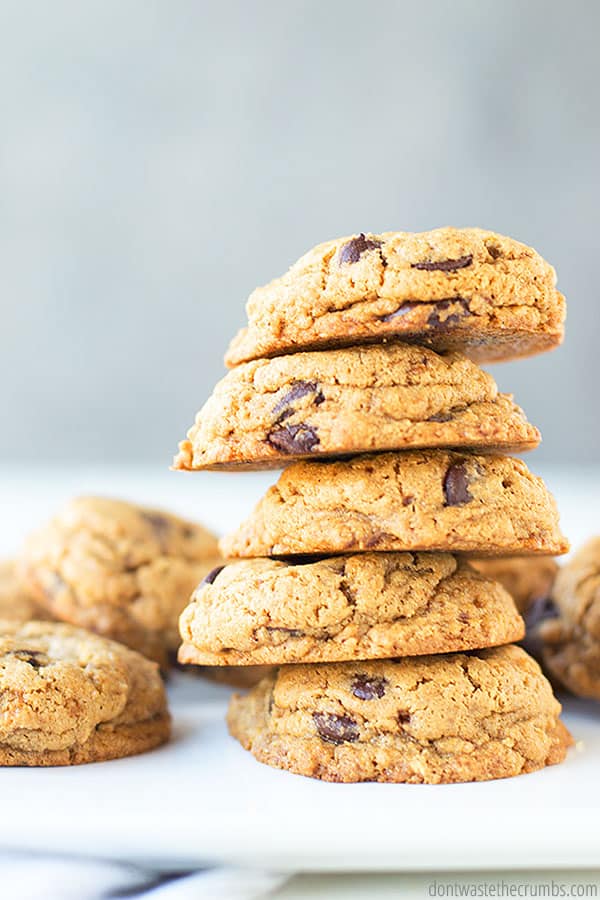 Healthy Chocolate Chip Cookies
If you like cookies as much as I do, you're going to LOVE these healthy chocolate chip cookies. They are:
Soft & Chewy on the Inside
Crispy on the Outside!
Irresistible (yes, it's worth saying again!) My husband said these were the best cookies ever made in our marriage (repeatedly!), and my kids kept telling me how good they were and that they were "the best cookies ever!"
Whole Grain
Still Every Bit Chocolate-y
Low Sugar
Vegan-friendly
I've gone through MANY "healthy" chocolate chip recipes in search of THE BEST recipe, but I've found many of them change the classic chocolate chip cookie into honestly, a completely different cookie.
Some use oat flour, which means you're making healthy oatmeal chocolate chip cookies.
Some call for a teeny tiny amount of chocolate chips (2 Tbsp per 12 cookies). Do you realize that means you're getting TWO chips per cookie? Uh-uh. That ain't happening here.
There are recipes that call for milk… which is just weird to me. Milk AND cookies? Yes, please. Milk IN cookies? No, thank you!
Others call for no sugar and are sugar-free (which means you're using applesauce or banana to sweeten), which is fine if you want an applesauce or banana cookie. But we want a CHOCOLATE CHIP cookie, right?
Are chocolate chip cookies bad for you?
If you're making the recipe on the bag of chocolate chips, I think so. There are LOTS of ways you can make them healthier, including choosing better ingredients and using less sugar. I think you'll find that this recipe is a perfect blend of both goals!
Better than Nestle Chocolate Chip Cookie Ingredients
I grew up on the recipe on the bag of Nestle chocolate chips, so I know how good those are. But I also know how BAD those are for you!
I've made some changes to that classic recipe that I think make the perfect, absolute best chocolate chip cookies!
Butter. Which is essential for chocolate chip cookies. Do not use coconut oil as a substitute – the cookies will spread and not rise.
Coconut sugar. This is the one I use. You can also use other granulated sugar, like turbinado sugar. The cookies will be darker in color if you use coconut sugar, and lighter with white granulated sugar.
Egg. If you want a more cakey cookie, use just the egg yolk. If you prefer a chewy and soft cookie, use the whole egg.
Vanilla. Use store-bought or homemade vanilla extract.
Whole wheat flour. I like to use whole grain einkorn flour for its great health benefits.
Cornstarch + Baking soda + Salt.
Cinnamon. You can't taste the cinnamon – I promise! Cinnamon actually tricks taste buds to thinking the cookie is sweeter than it actually is.
Dark chocolate chips.
Similar to the regular recipe, but just a little bit different, right? According to the Academy of Nutrition and Dietetics, it's just a good idea to bake with healthier ingredients! 
I think you'll find my healthy chocolate chip cookie recipe to be exactly what you're looking for. Every time I make these, they're gone in a few hours. No one can tell they're healthier than any other cookie!
How to Make Perfect Chocolate Chip Cookies that are Soft, yet Healthy!
If you start with the right ingredients, making the perfect chocolate chip cookie isn't that hard. In fact, it's a process that probably sounds familiar:
Cream the butter and sugar. Add the egg.
Add the dry ingredients.
Fold in the chocolate chips.
Bake, let cool, and enjoy!
But as you'll see in the recipe below, there are a few teeny tiny changes you can make to this process that takes your chocolate chip cookies from really good, to absolutely PERFECT!
For a Vegan-Friendly Option…
Swap out the butter for room temperature coconut oil (not melted), but use one less Tbsp of coconut oil than butter.
Substitute the eggs for flax eggs. You will want to use ground flaxseeds (1 Tbsp = 1 egg) mixed with warm water. The ratio is 3 Tbsp of warm water, per Tbsp of ground flaxseeds. I usually mix my ground flaxseed and warm water in a small dish and set aside to gel for about 5-7 mins, while I prep the other ingredients. Give it a stir, it will have the gel-like consistency of an egg.
Note: You MUST refrigerate the dough for 2 hours before baking – or the cookies will not set properly. You can also refrigerate overnight and bake the next day.
Remember that not all chocolate chips are vegan-friendly. A great vegan-friendly brand to use is Enjoy Life. I get them here.
How do you keep chocolate chip cookies soft?
There are several factors that come into play to keep chocolate chip cookies soft.
Start with a good recipe. I recommend the one below!
Don't over mix the dough.
Refrigerate the dough (even if it's just 30 min while the oven preheats).
Add one extra egg yolk (but not the whole egg).
Add cornstarch.
Use brown sugar (or follow my tutorial for how to make brown sugar).
There are some other reasons too, but these are the main ones. The best way to get a soft, chewy and perfect chocolate chip cookie is to follow my recipe!
Other Healthy Dessert Recipes
Watch How to Make Healthy Chocolate Chip Cookies
Healthy Chocolate Chip Cookies