Someone pinch me, I think I'm having another dream. Just like the one I had when my kids were eating chocolate hummus.
It's the dream when the kids are eating beans by the spoonful and claiming "it's the best thing ever" or "it's my very best favorite" or the best one yet – "we're all out? can you make more?"
Oh yes, this dream became real life when I made chocolate hummus, but hold onto your hats folks because there's another contender in town for the best hummus ever: chocolate chip cookie dough hummus.
The crazy part of this dream, is that it's not a dream at all. Those quotes up there are WORD FOR WORD what came out of my 8 year old's mouth, I kid you not.
My 7 year old had some good things to say too, but I couldn't understand her very well as she was stuffing big spoonfuls of chocolate chip cookie dough hummus into her mouth at the time. But she said them with a smile and asked for more when she was done, so I'm thinking she's a fan too.
Watch How to Make Our Chocolate Hummus
Chocolate Chip Cookie Dough Hummus: Just a Dessert?
Technically speaking, chocolate chip cookie dough hummus is considered a dessert hummus. Also technically speaking, dessert is served after you've had dinner.
But here's the thing: I don't really care. My kids are willfully eating beans and begging for more and that makes me a happy camper.
They've eaten chocolate chip cookie dough hummus as a snack (as-is with a spoon and again with apples to dip), in their school lunch (again with a spoon but this time with celery to dip) AND as dessert (with extra chocolate chips – such a rebel!).
This chocolate chip cookie dough hummus is almost as popular in my house as black bean brownies.
IN FACT, just yesterday in the car on the way home from school, the kids asked me to make BOTH chocolate chip cookie dough hummus AND black bean brownies. True story!
Those people who label foods into technical categories may call it dessert, but I call it a win (and a dream come true!).
It's actually what gave me the idea to make snickerdoodle hummus and cake batter hummus too!
You might have heard of chocolate chip cookie dough hummus called something else in previous I-gotta-find-a-healthy-dessert-recipe-to-satisfy-my-craving-stat web surfing sessions… healthy cookie dough… egg-less cookie dough… edible raw cookie dough…
It's all the same really. It's healthy, it's egg-less, it's edible, it's raw and it tastes like cookie dough.
Oh yeah, and it's made with beans!
There's chocolate too of course, but to quote my daughter (the younger one), "I think you put too many chocolate chips in mine mom; I can't taste the cookie dough."
Wait. What just happened here? Did you just say TOO MUCH CHOCOLATE and NOT ENOUGH BEANS and you're 7 YEARS OLD?
All moms across the world need to sit for a moment and bask in the glory of what just happened and realize that THIS CAN BE YOUR LIFE.
You just need a can of beans. (<– yes, it's strange to say that and yes, it sounds weird but the kids have eaten 2 batches in 2 days and keep asking for more. THAT's how I know a can of beans will rock your world.)
Tips for Amazing Chocolate Chip Cookie Dough Hummus
Before I offer the recipe, let me share a few random thoughts that have crossed my mind about this life-altering chocolate chip cookie dough hummus:
It's perfect for a peanut-free school lunch.
Serve it plain with a spoon, with fruit to dip, rolled up in a tortilla… however you want. But my kids took it for lunch and brought home a container that had been finger-licked clean, I can tell you that much.
I prefer this hummus after it's been chilled in the fridge a few hours.
You certainly don't have to do that – my kids eat it right out of the blender (this is the one I have and LURVE) – but cold chocolate chip cookie dough hummus reminds me of the times when I used to sneak into the fridge and cut myself a "slice" from that log of raw cookie dough.
Did you ever do that? Try this hummus cold. Do you still do that? I won't tell.
I used my Blendtec, a high-powered blender that makes cooking and prepping a million times easier. 
I used to have a big food processor and if you have one of those, that will probably work too. I honestly got rid of mine because I just kept using my blender instead (you can find it here).
The container for my small food processor/immersion blender combo broke during our move from California to Georgia, so I don't know if that will work or not. However, I think the container itself might be too small.
If you have a regular nothing fancy blender, that should work too. You just might have to blend it longer.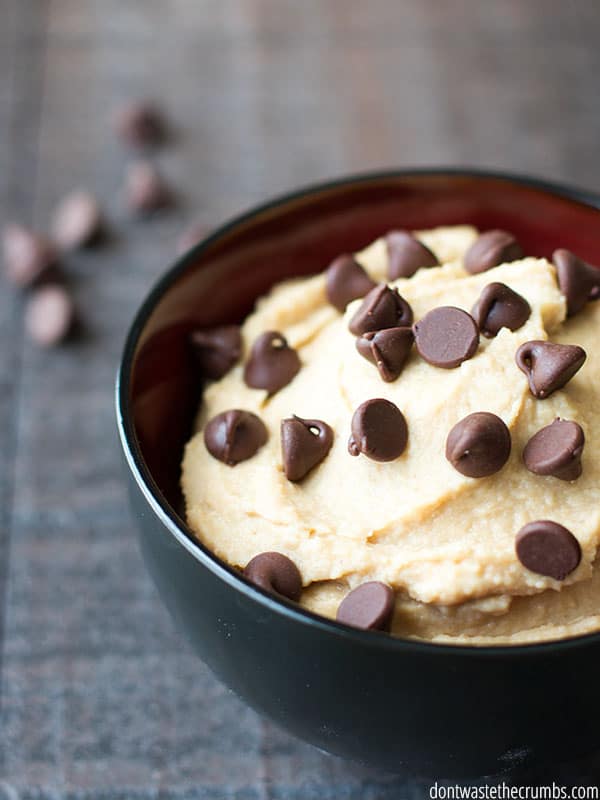 You can use either canned beans or cook dry beans from scratch.
If you use canned beans, I have two thoughts to share.
First, in my recipe testing I noticed that organic beans have less (if any) additives and preservatives compared to conventional beans.
Second, I also noticed that they didn't cause as many issues with digestion and flatulence as conventional beans.
Now, I don't know if there is a direct correlation there, but if you're going to use canned beans, I recommend organic for the flatulence issue alone. This recipe is too good to not make because of excess toots!
Canned beans tend to be just a bit higher in price than dry. However, you can find good prices on canned and stock up for those times you need to make dessert hummus STAT. ALDI carries organic garbanzo beans for a good price, but they're also available on Amazon.
Whether you buy organic or conventional, rinse the beans them at least 3 times before making this recipe. To rinse, drain the beans into a colander. Pour them into a bowl and cover the beans with water. Swish the beans around the water for about 10-15 seconds and drain into the colander. Repeat the process a total of 3 times.
If you're cooking beans from scratch, I highly recommend cooking beans in a slow cooker (or the Instant Pot). Not only is it CRAZY easy, but you can make a ton of beans at one time and freeze them in 1 1/2 cup portions. That way you'll have beans ready to go when the kids (or you) want more chocolate chip cookie dough hummus. Which will happen (heads up).
Just about any type of chocolate is a great topping.
Dark chocolate, semi-sweet chocolate, milk chocolate… chips, chunks, mini-chips, cut up bars, leftover Halloween / Easter / Valentine's Day / Birthday Party candy… Whatever you have will work.
Folding in the chocolate at the end is the classic method, but you can also portion out plain cookie dough hummus and top with chocolate too. I actually prefer this method of serving because it allows me to control the amount of chocolate I want the kids to have.
I've found that about 1 Tbsp of chocolate to 1/4 cup of hummus seems to be the sweet spot. (PS – my kids say mini M&Ms are the best and earned them "cool mom points" at school.)
Do you think we could use it in ice cream?
Maybe scoop out small balls onto a cookie sheet, freeze them and then cut them if necessary before folding into homemade vanilla bean ice cream batter at the last minute? Not a bad idea. Let me know if you give it a try, okay?
Chocolate Chip Cookie Dough Hummus
My kids cannot get enough of this chocolate chip cookie dough hummus. They've eaten 2 batches in 2 days & don't even care that it's made with beans!
Author:
Prep Time:

5 mins

Cook Time:

5 mins

Total Time:

10 mins

Yield: about

2 cups

1

x
Category:

Desserts

Method:

Blender

Cuisine:

American
Scale
Ingredients
1

can of garbanzo beans, drained and rinsed well (or homemade beans from scratch)

1/4 cup

cashews (level if pieces, slightly heaped if whole)

1/4 cup

+

2 Tbsp

maple syrup*

2 tsp

vanilla extract (homemade vanilla extract)

3 Tbsp

rolled oats

1/8

–

1/4

tsp salt*

1/4

–

1/3

cup chocolate chips
Instructions
Combine all the ingredients except the chocolate chips in a blender or food processor. See notes for the maple syrup and salt.
Blend or puree the ingredients until everything is smooth and combined well, about 2 minutes.
Fold in the chocolate chips and serve; alternatively, store the hummus plain and add chocolate chips just before serving.
Notes
* Maple Syrup: Adjust the amount of maple syrup to your liking. You might be able to get away with less, but we've found that this amount is just enough to counteract the "bean" taste that kids seem to struggle with. You also might find yourself needing less the more times you make it, as your taste buds will adjust.
* Salt: If you're using canned beans and/or salted cashews, start with 1/8 tsp of salt. Taste the hummus when it's done and add more as desired.
Adapted from Chocolate Covered Katie
I'm on a roll with hummus lately – got any other flavor ideas that sound good to you? Share them in the comments!