This cake batter hummus recipe is like a healthy cake batter dip. My kids like it just as much as cookie dough hummus, and they're both so easy to make!
I know what you're probably thinking…
"Two bean posts in one week?! Doesn't she eat anything else?"
We definitely do – my recipes, like homemade chicken nuggets and slow cooker pot roast, are case in point. But when I come across a recipe that my kids ADORE, I can't help but share it with you.
Especially since cake batter hummus is made with BEANS, and the kids keep asking for more!
I swear it's déjà vu from when I first made chocolate hummus, and it's what spawned me to make this cake batter hummus, snickerdoodle hummus AND cookie dough hummus!
I make it.
They eat it.
They ask for more.
It's a cycle I'm happy to repeat over and over again. I mean, my kids are ASKING FOR BEANS! What alternate universe am I living in for this to happen?!
Shake off the shock friends, because welcome to reality.
This cake batter hummus tastes like cake batter, is super low in sugar, and passed the test for BOTH of my kids (including both Picky Eater and Wannabe Foodie).
Plus it's nut-free and can easily be made gluten-free and dairy-free.
And did I mention that it tastes like cake batter?
Here's why – it's made with cake mix! But not your typical boxed cake mix. Oh no…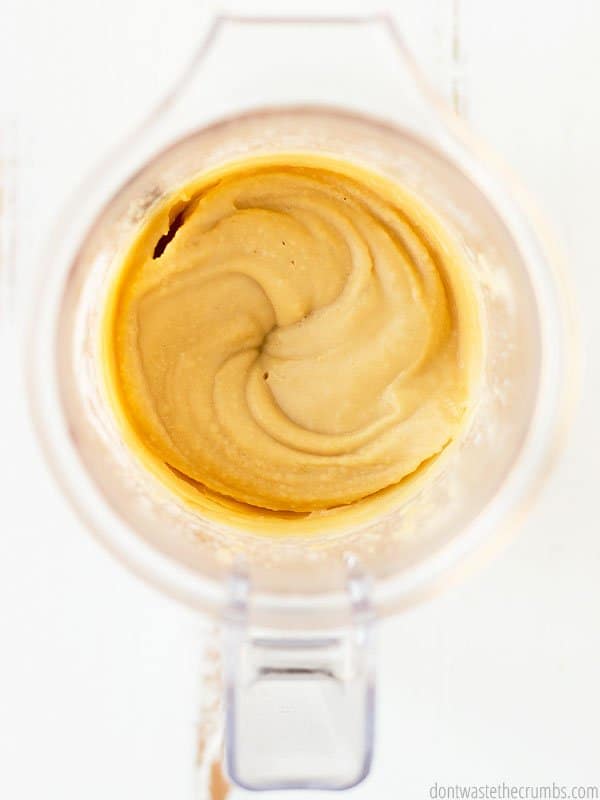 Do you remember being a kid and making cake with your mom or grandma? I do. For me, it always started with opening a box.
I used boxes too when my kids were little, but as we quit sugar and make more things from scratch, the cake mixes had to go.
Primarily, they were filled with hydrogenated oils, a big no-no in our house. (Not to mention many other questionable ingredients!)
But they also were WAY too sweet!
As we decrease our sugar intake, we could taste how sweet processed food really is. And while I want to pass on the tradition of licking the spoon to my kids, I couldn't do it knowing boxed cake was full of ingredients I'm not okay with.
I eventually came up with a homemade yellow cake mix instead, which is WAY too simple to make to ever bother with a box again.
Plus it saves money! In my course Grocery Budget Bootcamp, I teach you how to evaluate which foods are best for you to make from scratch. That way you're not wasting your time making things that really don't help the bottom line. Enrollment is open only 3 times a year, but you can download my free workbook Simple Ways to Save when you sign up for the waitlist HERE!
Oddly enough, it's that jar of homemade yellow cake mix in the pantry that inspires this cake batter hummus!
It's neat how you can start with cake mix, add eggs, butter, vanilla extract, and milk and BAM – you get cake.
Cake batter hummus isn't too far off. Start with cake mix and use garbanzo beans instead of butter and eggs (beans preferably soaked overnight so you can avoid gassy side effects, and cooked in the slow cooker so you can go do other fun things… and if you were wondering if it's cheaper to buy canned beans instead, here's the definitive answer on that.)
So you've got the beans – then add vanilla extract and just a little bit of milk to thin and BAM – you get a DELICIOUS healthy dip that tastes just like cake batter, without excess sugar and without guilt.
So I have just one disclaimer here.
In my other dessert hummus recipes (chocolate hummus, chocolate chip cookie dough hummus, and snickerdoodle hummus), there's no refined sugar at all.
I tried doing the same for this recipe, but the "cake batter" flavor was missing.
In the end, 2 tablespoons of organic cane sugar for some of the sweetener and 1 tablespoon of maple syrup was the perfect balance of sweet yet healthy.
You can really use any type of granulated you want.
Palm sugar would add a bit of caramel flavor.
Plain white sugar is the cheapest, but it's not exactly the healthiest. If you go this route, start with just 1 tablespoon instead of 2. White sugar tends to be sweeter, so you might be able to get away with using less.
Brown sugar would be tasty, but like white sugar, start with less. Brown sugar has a bit of molasses, so that's another level of flavor too.
Honey is an option too, but I personally wasn't a fan of the flavor of honey in this recipe. If you've made another dessert hummus with honey and liked it, then you'd probably like it in this one.
My kids like to eat cake batter hummus with a spoon, but it would be great with a plate of cut fresh fruit or homemade crackers!
Cake Batter Hummus
This cake batter hummus recipe is like a healthy cake batter dip. My kids like it just as much as cookie dough hummus, and they're both so easy to make!
Author: Tiffany
Prep Time:

5 mins

Cook Time:

0 mins

Total Time:

5 mins

Yield: about

1 1/2 cups

1

x
Category:

Snacks

Method:

Blend

Cuisine:

American
1 1/2 cups

cooked garbanzo beans OR 1 15-16 oz can cooked garbanzo beans, drained and rinsed 3 times

1/4 cup

flour (I used all-purpose)

2 Tbsp

sugar (I used organic cane sugar)

1 Tbsp

maple syrup

1 Tbsp

vanilla extract (how to make homemade vanilla)

1/4 tsp

baking powder

1/8 tsp

salt (optional – omit if you're using beans that are salted, but taste at the end and add if desired)

1

–

2

Tbsp milk
sprinkles (optional, for serving)
Instructions
In a blender or in a food processor, combine all the ingredients except milk.
Puree until the mixture is smooth, about 30-60 seconds. Add milk 1 Tbsp at a time to create the desired consistency.
Taste and add salt (if desired).
Adorn with sprinkles, if desired, for serving.
Keywords: Cake batter hummus