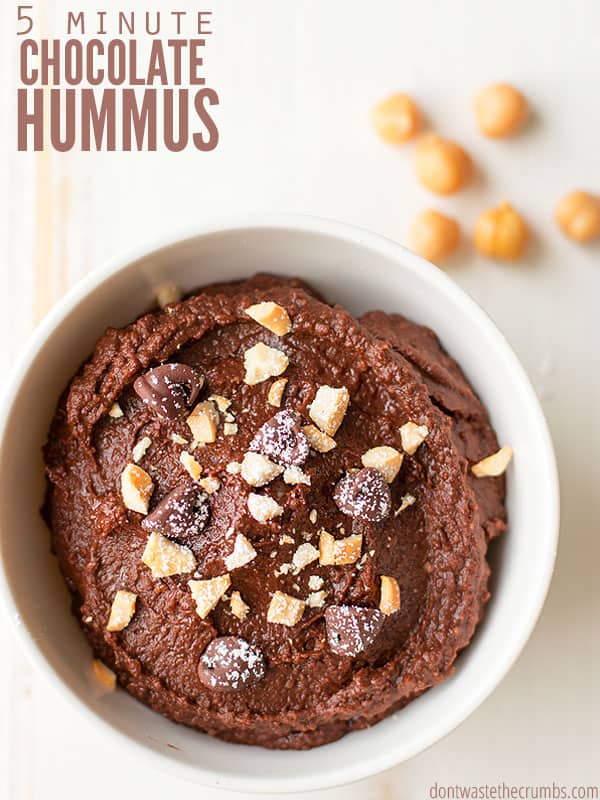 For the longest time, I wished my family wanted to eat beans.
Then one day I made black bean brownies and realized that if I made something with beans, but couldn't actually SEE the beans, my family scarfed it down without a word.
Since this chocolate and bean combination seemed to be a winner, I started to wonder how else I could transform the infamously unappetizing bean into something my family would devour.
Enter chocolate hummus.
There are plenty of ways to put a spin on it (with 10 hummus recipes here), but in the most traditional sense, hummus is a creamy puree made with garbanzo beans (a.k.a. chickpeas), garlic, olive oil, tahini (sesame seed butter) and salt.
In my own little non-traditional corner of the world, hummus is made with whatever bean I have in the pantry (and/or whatever bean my family will eat) and whatever I have to add to make it taste good. And who doesn't like chocolate?
No offense to the traditional folks – just keepin' it real.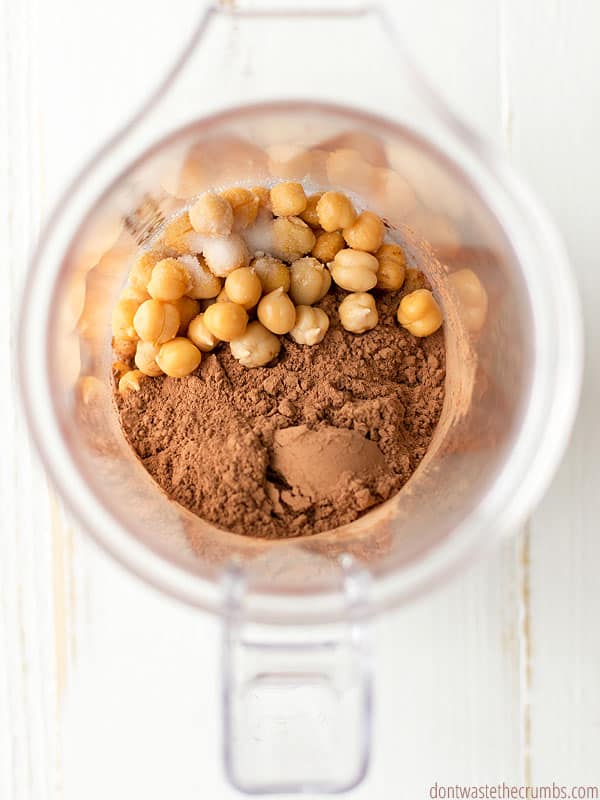 I distinctly remember when the idea to make chocolate hummus hit me. It was a Sunday afternoon and the kids and Mr. Crumbs were eating lunch. I had already finished and while I was cleaning up, the idea hit me like someone had swung a 2"x 4" against my head.
BAM! Just like that, I wanted to make chocolate hummus.
I pulled out my amazing blender, started dumping ingredients into it, and gave a small taste to my kids to see if they liked it.
They didn't.
We repeated this process no less than 4 times, testing different sweeteners with different amounts (natural sweeteners, since we quit sugar) and adding vanilla and leaving it out and more cocoa and less cocoa and thicker and thinner…
Just when I was about to give up – and right about the time Mr. Crumbs started laughing at me because I was bent on making chocolate hummus and failing – I hit the jackpot.
I gave my daughter – the resident picky kid – a try of the latest batch. She closed her eyes, tried to pinch her nose and ate it… and then asked for another spoonful!!
That's good news, yes, but it's not victory… yet.
I still had to ask her the one question that always predicts whether or not a recipe is a success or failure in our home:
Would you eat this if I put it in your school lunch?
Her response: "Oh yes Mom, this is good. It tastes like that other brown stuff that people eat with a spoon."
Me: "Pudding?"
Daughter: "Yes, pudding. It tastes like that. Can I have a small bowl of this with a spoon?"
Was I dreaming? Was this for real?!
Did my daughter just ask me for a BOWL OF BEANS AND A SPOON TO EAT THEM WITH?!
Someone pinch me!
Since the kids' school is peanut-free, I've turned to chocolate hummus as a source of protein for their school lunches. My daughter likes to dip apple slices and pretzel rods into them while my son prefers the chocolate hummus between two slices of bread. He says it's like the chocolate sandwiches that Grandma used to make for him (she used Nutella).
Honestly, whether my kids think it's Nutella, or they eat it with a spoon, or they think it's dessert, I don't care. You can't go wrong with serving dessert hummus any time of day!
In fact, I've started making weekly batches of dessert hummus for the kids, toggling back and forth between this recipe and my cookie dough hummus recipe. They really truly LOVE both of them!
From start to finish, it literally takes 3 minutes to make a batch of chocolate hummus. I call it "5 Minute Chocolate Hummus" just in case you forgot the salt in the cupboard. Or if you need to taste and adjust.
Since my kids are big fans of both chocolate hummus AND cookie dough hummus, (and snickerdoodle hummus AND cake batter hummus), I soak a big batch of garbanzo beans at the start of the month (soaking removes the enzymes that make you toot), cook them in my slow cooker and then freeze them in 1 ½ cup portions. Then I have beans at my fingertips whenever a little person requests them.
Because my fellow wishers know that when someone requests to eat beans, you make them!
Worthy to note…
My husband surprised me several years ago and gave me a Blendtec for my birthday. I admit it's not the cheapest blender in town BUT it's well worth every single penny. We've had it for 4 years not without any issues, and considering we use it on a near-daily basis, that's saying a lot.
If you don't have a high powered blender, I recommend using a food processor to help get a smooth consistency with the hummus.
(Although, I sold my food processor once I realized I kept using the Blendtec instead. Just something to think about!)
Making Chocolate Hummus means my kids will ASK for more beans!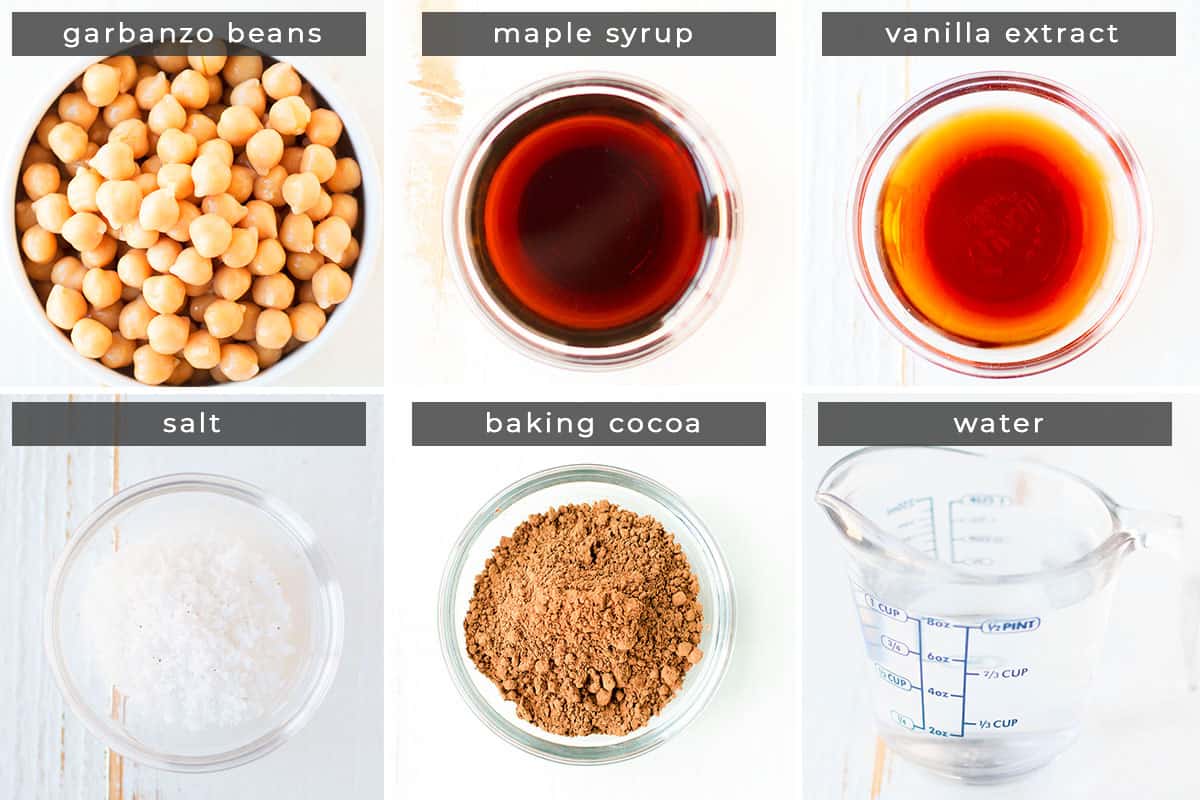 Keeping inexpensive ingredients on hand for homemade snacks like chocolate hummus helps to keep our grocery budget low. I buy in bulk or stockpile at rock bottom prices. You can learn how to do that too in my signature course Grocery Budget Bootcamp!
5 Days to DIY Natural Living
Being healthy isn't just what goes IN your body, it's what goes ON your body too. Download my free guide 5 Days to DIY Natural Living to learn how to save money while getting rid of harmful toxins throughout your home.
Watch How to Make Chocolate Hummus
5 Minute Chocolate Hummus
My family loves this 5-minute chocolate hummus! Sweetened with maple syrup and no sugar, it's a healthy snack or dessert.
Author: Tiffany
Prep Time:

5 min

Cook Time:

0 min

Total Time:

5 minutes

Yield: approx

3/4 cup

1

x
Category:

Desserts

Method:

Blender

Cuisine:

American
1 1/2 cup

cooked garbanzo beans* (how to soak and cook dry beans) OR 1 can of garbanzo beans, strained and rinsed 3 times

3 1/2

–

4

Tbsp maple syrup

1/2 tsp

vanilla extract

1/4 tsp

salt

4 Tbsp

unsweetened baking cocoa

2 Tbsp

water (optional)
Instructions
In a blender or in a food processor, combine all the ingredients except water, using just 3 1/2 Tbsp of maple syrup.
Puree until the mixture is smooth, about 30-60 seconds. Add water 1 Tbsp at a time to create the desired consistency. Taste the chocolate hummus and add remaining maple syrup if desired.
Notes
* I've tested this recipe with great northern beans, garbanzo beans and black beans. I prefer to use black beans since the "bean" flavor is more subtle and they produced a creamier texture, but you can really use whatever you happen to have.
* If you use canned beans and there's salt already added, reduce the salt in this recipe to just a pinch.
** If you choose garbanzo beans, remove the skin from the bean first. You can do this by pinching the bean between your thumb and index finger, and the skin will peel off. This helps to create a creamier texture when using garbanzo beans.
Keywords: Chocolate Hummus
Do you like hummus? What's your favorite way to eat it?