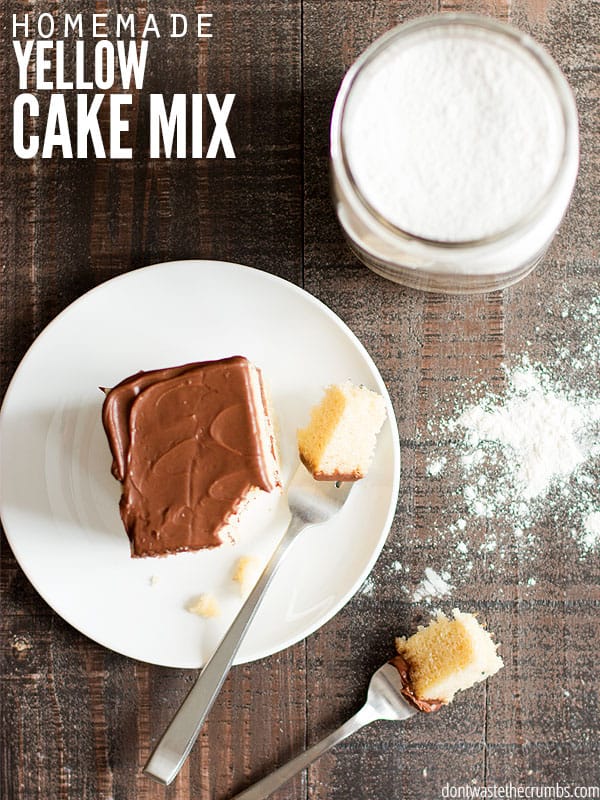 Have you ever found a recipe that had "just 3 ingredients," but one of those ingredients was a box of cake mix? Did you know that there are 26 ingredients in a box of yellow cake mix?
And did you know that 4 of the top 5 ingredients to avoid in food are included in that list?
Did you know you can make your own homemade yellow cake mix instead?
And not only can you make homemade yellow cake mix, but it only requires 4 ingredients AND you likely already have everything you need to make it in your pantry!
Why You Should Consider Homemade Yellow Cake Mix
Before I quit couponing, I had quite the stash of boxed cake mixes. It wouldn't be a stretch to say that there were at least 10 boxes of cake mix in my kitchen, but I have no doubt there were probably several more.
Then the fateful day came when we eliminated hydrogenated oils from the kitchen and the cake mixes (among other processed favorites) went in the trash.
That was nearly 4 years ago, and I can count on one hand the number of times I've bought boxed cake mix since then.
It's not that I don't know how to make cake from scratch. I can read a recipe and my favorite cookbook has PLENTY of recipes to choose from.
But sometimes I don't want to mess with cake flour and separating egg yolks and whipping egg whites. Sometimes I just want to mix up the wet and the dry and call it done, you know what I mean?
Plus, there are tons of really great (and easy) recipes that start with a box of yellow cake mix. I usually have no problem adjusting recipes to use whole foods and to suit our preferences. Minor changes like reducing the sugar or substituting melted butter for vegetable oil have very little, if any effect on the outcome of the recipe.
But substituting a from-scratch cake recipe for a boxed yellow cake mix? Nope. Not going to happen.
There are too many factors that could go wrong there for me to even bother making the attempt. Besides, can you imagine how irritating it would be if you went through all that work and then the recipe didn't turn out?!
Friends, that's when it's handy to have homemade yellow cake mix ready for you in the pantry.
But what if you're gluten-free?
Making Homemade Yellow Cake Mix Gluten-free
One of the biggest issues that gluten-free families deal with is the cost of gluten-free foods.
I'm not talking about items that are naturally gluten-free like eggs, beans, meat and produce. I'm talking about the convenience foods that make life a little bit easier – like a box of yellow cake mix.
I've seen boxes of gluten-free cake mix on store shelves and one word crosses my mind: EXPENSIVE!
I don't think I've seen a single box of gluten-free yellow cake mix that costs less than $4, and most boxes cost closer to $5. I don't know about you, but that's a lot of money to spend on just ONE portion of a recipe. That doesn't include the other things you have to add to turn it into a cake or whatever recipe you're making that calls for a box of yellow cake mix!
Make Homemade Yellow Cake Mix Using Pantry Staples
Fortunately, making a batch of homemade yellow cake mix is just like homemade bisquick – REALLY easy and you probably already have the ingredients in your pantry.
Like mini chocolate chip scones and homemade soft pretzels, this homemade yellow cake mix recipe starts with Bob's Red Mill 1-to-1 Gluten-free flour. This flour is designed to be able to use in lieu of wheat-based flours in your favorite baking recipes and it does not disappoint!
Not only does this gluten-free flour blend make an excellent yellow cake, but it also works wonderfully in recipes that call for yellow cake mix, like slow cooker peach cobbler!
Quite possibly the best part though, is that you SAVE money when you start with Bob's Red Mill 1-to-1 Gluten-free flour and make your own homemade yellow cake mix instead of buying a pre-made box of cake mix.
When you compare to the most popular box of gluten-free cake mix on Amazon, you save nearly 35% when you make it from scratch!
Making a Cake with Homemade Yellow Cake Mix
However you want to use this homemade yellow cake mix is up to you. Either keep this recipe handy and make it on the spot when you need a yellow cake mix, or you can mix it up ahead of time and keep it labeled in your pantry.
You can even make this yellow cake mix right this moment and make a cake!
Homemade Yellow Cake Ingredients
1 batch of homemade yellow cake mix (recipe below)
8 Tbsp butter, softened
2 Tbsp coconut oil, soft
1 1/4 cups milk
1 Tbsp vanilla extract
3 eggs
Homemade Yellow Cake Instructions
In a stand mixer using the paddle attachment, beat the butter and coconut oil in a bowl on medium for 2 minutes. Add the homemade yellow cake mix and mix on low until the mix resembles coarse breadcrumbs. Add the remaining ingredients and mix on low until all the ingredients are incorporated well, about 30 seconds.
Butter and flour your pan(s) and bake at 350F:
The cake is done when a toothpick or butter knife inserted in the middle comes out clean.
Homemade Yellow Cake Mix Recipe
Homemade Yellow Cake Mix
Ingredients
1¼ cups granulated sugar
3½ tsp baking powder
1 tsp salt
Instructions
Layer ingredients in the order listed in a quart-sized mason jar.
Recipe makes the equivalent of one 18.25 oz box of yellow cake mix.
Notes
* You can also substitute all-purpose flour.
What's your favorite recipe that uses a box of yellow cake mix?