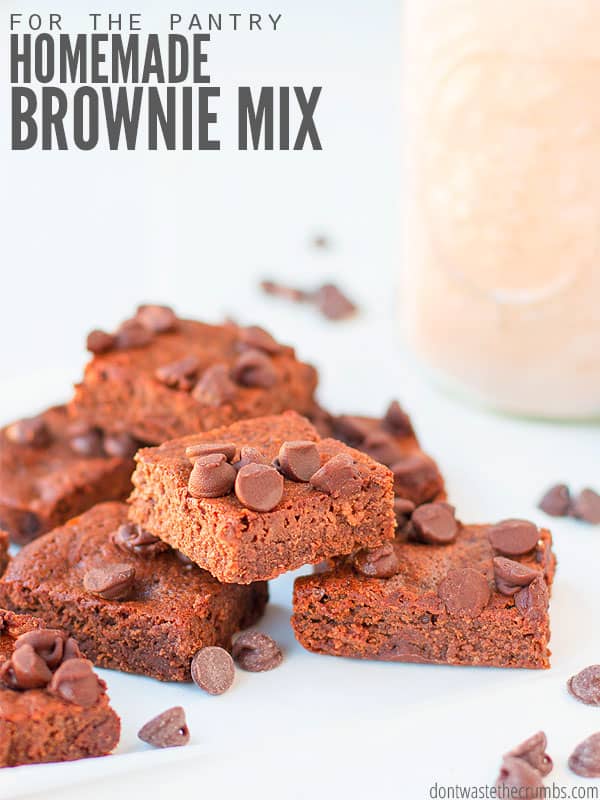 Years ago, when we first started eating real food, we had to learn what all the ingredients were on a label. After much frustration and too many research rabbit trails (thank you Google), we decided that anything with hydrogenated oils or high fructose corn syrup weren't allow in the house.
I was a couponer at the time, and that meant throwing away the 20+ boxes of cake mix and brownie mix I had bought for mere pennies a piece.
Fast forward and I now have a homemade yellow cake mix recipe and a homemade chocolate cake mix recipe that I turn to anytime I want to make a dessert that called for "one box of ___" (like my favorite dump dessert, slow cooker peach cobbler).
And as of today, I have a homemade brownie mix recipe too!
Brownies are one of my husband's weaknesses. That's why I have several brownie recipes on the blog already…
But none of those can be stored in a jar in your pantry for months until you're in a pinch and need to bring something at the last minute to a church potluck.
And none of those can be made ahead of time, wrapped in a pretty bow and tucked into a cute bag and given to teachers or neighbors or to hostesses as a fun gift.
And none of those are quite as customizable as the boxes "with pecans" or "with chocolate chunks" or "with caramel" or "with fudge swirls" we see on grocery store shelves.
While many of those are allergy-friendly, none are 100% customizable without seriously changing the resulting brownie (which may or may not be a good thing…).
And quite possibly most important, none of those can satisfy your chocolate craving as fast as having a box of homemade brownie mix READY TO BE BAKED AT A MOMENT'S NOTICE in the pantry.
That my friends, is why you need to make this homemade brownie mix recipe and keep it in your pantry.
Because you never know when you need to bring a dessert, give a last minute gift, accommodate food allergies or satisfy a dark chocolate with walnuts and caramel craving!
Homemade Brownie Mix Recipe
You're going to be SHOCKED at how easy it is to make your own homemade brownie mix recipe. You probably have everything already in your pantry!
Flour
As with many of my baking recipes (i.e. pumpkin bread or molasses breakfast cookie or zucchini apple muffins or vanishing oatmeal cookies), you can use your choice of flour here. Choose all-purpose or whole grain, choose wheat or spelt or einkorn (my personal preference) or choose your favorite gluten-free flour blend.
Right now, I'm baking with whole grain einkorn. We found that it is ok for our tummies with a gluten sensitivity. Whole grain flour is always better nutritionally than all-purpose (more on that HERE). Although if you're still taking baby steps towards real food eating, unbleached and unenriched all-purpose flour is a great first step!
–> I've also found good prices on Amazon and Thrive Market for ground whole grain einkorn.
The type of flour you pick doesn't matter much because brownies in general don't go "up" much like bread or biscuits do. They bake, but they're dense by nature, and this gives you flexibility in your ingredients.
The only exception here would be to not use oat flour. Oat flour is made from rolled oats (here's how you make it) and there aren't enough ingredients here to overcome the density of oats.
If you use oats, you're basically going to get chocolate baked oatmeal. This isn't necessarily a bad thing, but it's not what we're going for here. Instead, I recommend this leftover oatmeal chocolate cake that is written specifically to use up leftover oatmeal.
Sugar
I'm a HUGE advocate for using natural sweeteners like maple syrup or honey whenever possible, but the whole point of this recipe is to make it shelf-stable… and mixing liquid sweeteners with the dry ingredients will pretty much make that point null and void. So let's not do that.
Instead, I used raw sugar in this recipe (a.k.a. Turbinado or Sucanat or Demerara). It's one step better than typical white granulated sugar. If you're avoiding cane sugar altogether, maple sugar would be a great option! (Here's how we started cutting back on sugar.)
If you only have white granulated sugar on hand, then feel free to use it! That's not a deal breaker in this recipe by any means. In fact, if you're going to be making several jars of homemade brownie mix recipe and you're looking to keep costs low, white granulated sugar would be the route to go.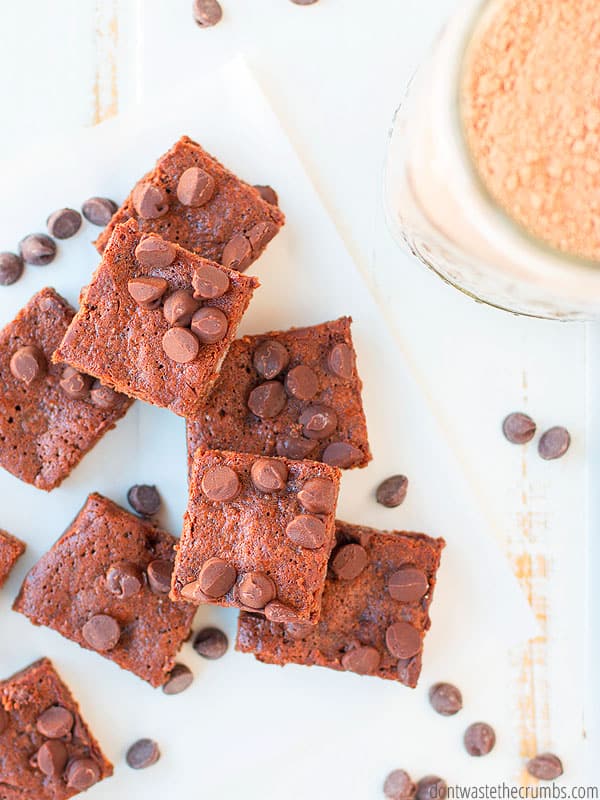 Cocoa
I used natural cocoa (the kind you find at the grocery store) for YEARS so you can certainly use that here too. It would give the same flavor you're probably used to eating in brownies.
However, we switched to raw cacao earlier this year and OH MY GOODNESS GRACIOUS – it is SO GOOD!
Using cacao instead of cocoa makes every chocolate treat richer, darker, more indulgent. It's like upgrading from milk chocolate to dark chocolate. In fact, I'd dare to say it's the grown up, more sophisticated version of cocoa.
And it's amazing!
With that said, the flavor is more pronounced so those who are just switching over to a whole foods diet may find it a bit strong for their liking. If that's the case, use the natural cocoa you have in the pantry.
Plus, raw cacao is pricier than natural cocoa (here is the cacao I use). That's not a big factor for us now since we've been using my system for eating real food on a budget for several years now, but it might be a factor if you're just starting out. And it should be a factor if you're giving these out as gifts.
The whole purpose of homemade gifts is to save money while giving from the heart. You don't want to blow whatever you could have saved on cacao!
Salt / Baking Powder
Two simple yet important ingredients for flavor and leavening.
Chocolate Chips
These are 100% optional and I don't include them when I'm making a mix for my own pantry, but I definitely include them when I'm making a mix for a gift!
Use whatever chocolate chips you happen to have… milk, semi-sweet, white or dark… chunks or cinnamon chips or peanut butter chips or butterscotch… you can even use baking chips leftover from holidays! Peppermint pieces or caramel chunks would be delicious!
Since cacao or cocoa powder don't have any sugar, you can make these brownies sweeter by choosing the type of chocolate that your family would like best. Remember, they do have some sugar already, so if you don't want super sweet brownies go with the less sweet chocolate!
Milk chocolate = most sugar
Semi-sweet chocolate = less sugar
Dark chocolate = even less sugar
Bittersweet baking chocolate = no sugar
Stocking up on chocolate chips?
Start by looking at your local stores. Compare price per ounce and don't rule out chocolate bars! I've found good prices on chocolate at Costco, ALDI, and Trader Joe's. Sam's Club, Kroger, and Walmart may have good prices too!
If you need an allergy friendly option, Enjoy Life chocolate chips are great! As of this posting you can find the best price at Amazon, and for $4.69 at Thrive Market, $3.94 at Vitacost.
Organic, Fair Trade dark chocolate can be found at Healthy Traditions (same place I get coconut oil!), Thrive Market, and Vitacost (check your local stores too).
Homemade Brownies from Scratch
To take this homemade brownie mix recipe and make a batch of brownies, you need:
One batch of homemade brownie mix (recipe below)
8 Tbsp butter (1 stick), soft
2 eggs
1 tsp vanilla (homemade or a vanilla substitute)
Preheat the oven to 350F. Then mix everything in a bowl (the batter will be very thick), spread into your 8" x 8" baking dish and bake for 20-22 minutes. (Psst – slightly underdone brownies are THE BEST!)
More Homemade Dessert Mix Recipes
Homemade Brownie Mix
Healthy brownie mix recipe from scratch is WAY better than a Betty Crocker package and uses just 5 ingredients.
Author: Tiffany
Prep Time:

5 mins

Cook Time:

20 mins

Total Time:

25 mins

Yield:

16

1

x
Category:

Dessert

Method:

Oven

Cuisine:

American
Dry Ingredients
1/2 cup

granulated sugar (I used Turbinado)

1/3 cup

cocoa (I used raw cacao)

1/2 cup

flour (I used all-purpose einkorn)

1/4 tsp

salt

1/4 tsp

baking powder

1/2 cup

add-ins: chocolate chips, chopped walnuts, chopped pecans, caramel pieces (optional)
Wet Ingredients
2

eggs

8 Tbsp

(

1

stick) butter, melted

1 tsp

vanilla extract
Instructions
Combine all dry ingredients except add-ins in a 16 oz glass jar. Fill to the top with add-ins, if using.
Label the jar with the list of wet ingredients and the following instructions: In a mug, melt butter and set aside to cool slightly. Meanwhile, in a medium bowl, whisk the two eggs with the vanilla. Add in the entire jar of brownie mix and stir gently. Pour in the melted butter and mix just until everything is incorporated. Pour batter into an 8" x 8" baking dish and bake for 20-22 minutes at 350F.
Alternatively, store in your pantry for up to 6 months**.
Notes
** Each ingredient on their own is self-stable for much longer than 6 months, but I capped it at 6 months because I don't know what type of add-ins you're using… which may or may not effect the shelf-life of the mix as a whole. If you want the brownie mix to be shelf-stale for longer than 6 months, prepare the dry ingredients and leave out the add-ins. Then incorporate the add-ins when you're ready to bake brownies.
How do you like your brownies? With or without nuts? Chocolate or caramel? Frosting or no frosting?