This easy recipe for Cast Iron Skillet Brownies is so chocolaty, delicious, and versatile! Cook it on the stove, in the oven, or over an open flame! Makes for the perfect dessert any time of the year! Serve with a dollop of homemade whipped cream or my homemade vanilla bean ice cream!
Everything You Need to Know About Cast Iron Skillet Brownie
Lately, I've been thinking of different ways to use my cast iron skillet.
You know, the cast iron skillet that every-so-often sits in the cabinet collecting dust…
The one that you bought because you learned that it's a healthy way to cook, but never quite got to using it because you had no idea how to 'season' it?
Yep, that was me too! (By the way, here's how I learned to season a skillet the right way!)
I've used my skillet to make this amazing cast iron skillet corn bread, and a perfect homemade cast iron skillet pizza…which were SO delicious, and I definitely recommend that you try them!
BUT let me tell you about another recipe that is so rich, chocolatey, and SUPER easy to make…
Enter the cast iron skillet brownie.
Did you know that you can make brownies in a skillet?
I used my homemade brownie mix recipe (free of all the unhealthy ingredients usually found in boxed brownie mixes) and cooked it in the skillet! It's crispy on the outside and soft on the inside, exactly the way a homemade brownie should be! YUM!
My family absolutely loved it and now they ask me to make it for special occasions, especially in the summer or for camping! But of course, this recipe is great for any time of the year!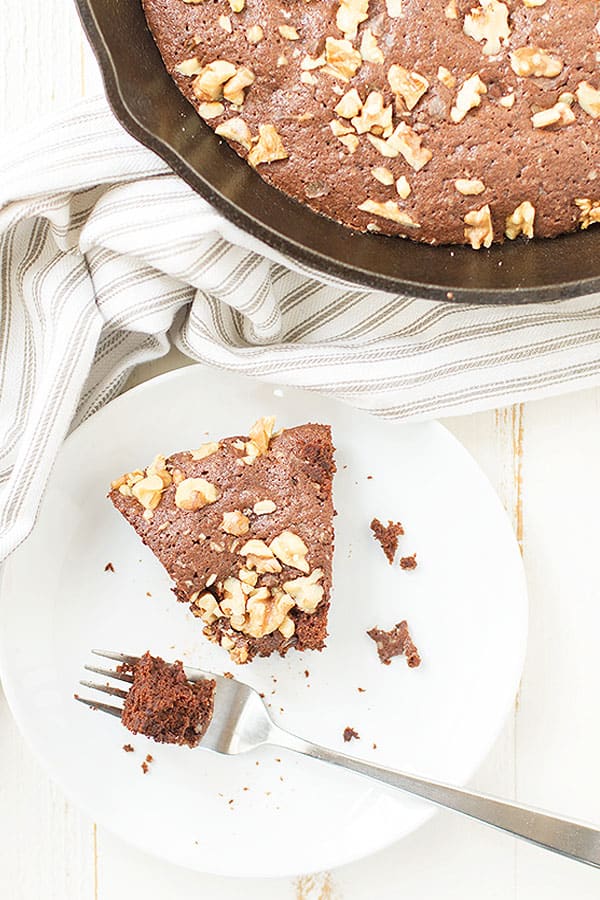 Cast Iron Skillet Brownies
This is the most perfect quick and easy dessert for chocolate lovers. It's also…
Delicious! With a rich, gooey interior and a crispy exterior, these brownies have an amazing texture.
Versatile. Bake, grill, stovetop or campfire cook. You can bake these brownies in the oven during the winter, grill for cookouts in the summer, and there's no better dessert to make on camping trips over a campfire!!!
Healthier! Using a homemade brownie mix makes it much healthier to enjoy without all of the preservatives and weird ingredients in boxed mixes.
Ingredients for Cast Iron Skillet Brownies
Once you make the dry homemade brownie mix, all you need are a few basic additional ingredients…
Remember that you can pre-mix the dry ingredients and store in a glass jar for up to six months! Label the jar with the wet ingredients so you can remember what you need at a glance!
How to Make Cast Iron Skillet Brownies
With so many ways to prepare this easy dessert, you'll be able to make it at home or away…any time of the year!
Preheat cast iron skillet (I like this one).
Combine wet and dry ingredients and pour into a pre-heated skillet.
Place over stove, grill, camp fire or bake.
Allow to cool slightly before serving directly from the skillet.
Note** When you cook over a stove, grill or open fire, the top of the brownie will have tiny holes rather than the typical smooth surface from a brownie baked in the oven. This makes it hard to judge doneness by looks, so follow the timing and use a knife to test.
Should I preheat the cast iron skillet for brownies?
Yes. Whether you are baking, grilling, using the stovetop or a campfire, the skillet will heat more evenly if it is preheated.
You want it to be warm, not hot. A drop of water should barely sizzle when added to the pan. If it sizzles violently, the pan is too hot.
Remove it from the heat/oven and allow it to cool slightly. Be careful when handling the skillet as it will be hot!
How do I cool skillet brownies?
The brownie will continue to cook in the cast iron skillet so be sure to remove it from heat and place on a ventilated spot so air can circulate underneath and cool. Do this as soon as the knife is mostly clean so that you don't over-cook the brownie!
Once cooled enough to touch, yet still warm, serve these decadent brownies in wedges and top with your favorite crunchy toppings such as chopped nuts, chocolate chips, or a dollop of homemade whipped cream or my homemade vanilla bean ice cream!
More Easy Dessert Recipes…
Cast Iron Skillet Brownies
Author: Tiffany
Prep Time:

15 mins

Cook Time:

25 mins

Total Time:

40 minutes

Yield:

8

wedges

1

x
Category:

Dessert

Method:

Mixer

Cuisine:

American
Dry Ingredients
1/2 cup

granulated sugar (I used Turbinado)

1/3 cup

cocoa (I used raw cacao)

1/2 cup

flour (I used all-purpose einkorn)

1/4 tsp

salt

1/4 tsp

baking powder

1/2 cup

add-ins: chocolate chips, chopped walnuts, chopped pecans, caramel pieces (optional)
Wet Ingredients

2

eggs

8 Tbsp

(

1

stick) butter, melted

1 tsp

vanilla extract
Preheat cast iron skillet for a 10 full minutes.
Meanwhile, combine butter, chocolate chips and cocoa in a medium bowl and mash together with a large spoon.
In a separate small bowl, combine eggs, vanilla and sugar. Mix to combine well.
Add egg mixture to chocolate and mix well, ensuring everything is well combined.
Add flour, baking powder and salt to the batter and stir until just combined.
When the cast iron skillet is hot, remove from heat and pour in batter. Cover with aluminum foil and place something heavy on top (i.e. cookie sheet, another pan inverted, lid, etc.).
Allow brownie to sit undisturbed for 20 minutes. Test doneness with a knife inserted until just barely clean. Cook over the open fire or on a stove for another 5 minutes if needed, but be careful to not let pan get too hot otherwise the bottom will burn.
Allow to cool slightly before serving directly from the skillet.
Notes
Be sure that you also have:
cast iron skillet
aluminum foil
something heavy for insulation (i.e. lid, second skillet (any kind) or another pot – not required, but helpful)