This recipe for delicious white bean blondies is so easy to make, and my kids love it! Baking with beans instead of flour adds protein to this healthy, naturally sweetened dessert, just like black bean brownies and maple pecan blondies!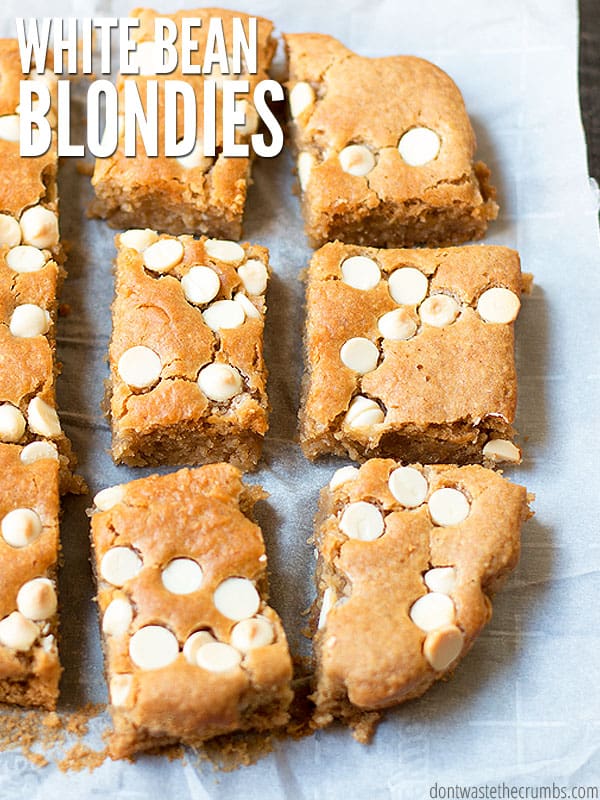 Everything You Need to Know About White Bean Blondies
Remember when I shared that my kids ate a whole pan of black bean brownies in two days?
Um… well… they ate a pan of these white bean blondies in one.
I don't know if the bean gods decided to open up the heavens and drop amazing recipes for baked goods like the aforementioned black bean brownie recipe or chocolate hummus or cookie dough hummus or the below white bean blondies into my lap…
OR, I got wiser and STOPPED forcing my bean-hating family to eat beans in dishes they don't like and STARTED to offer beans in ways they DO like.
I think it's the latter.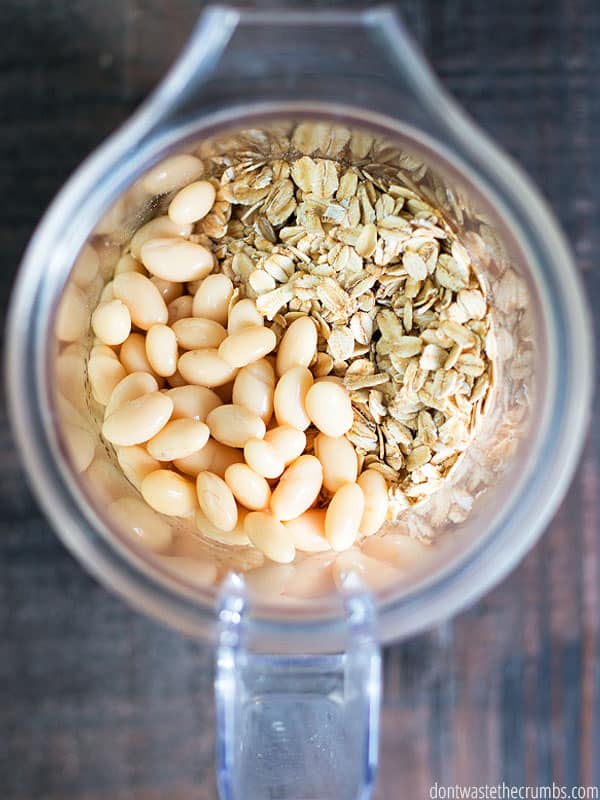 What are White Bean Blondies
Brownies are brown because of the chocolate, right? This means blondies are blonde because of the lack of chocolate.
So If chocolate gives color and flavor to brownies and blondies obviously don't have color, do they not have flavor too?
Thanks to Google, I learned that blondies traditionally have a butterscotch flavor AND that the flavor comes from brown sugar and butter. Mmmm. My two favorite words.
After several attempts at making White Bean Blondies (including one where we did a side-by-side taste test of white chips versus butterscotch chips), I perfected a recipe. My kids ate the whole pan! It didn't taste like beans. It tasted like amazingness (I Love Feeding My Kids Beans And Not Hearing Them Complain About It).
Why make White Bean Blondies
I like making these white bean blondies because they are:
High in Protein.
Healthy.
Easy.
Delicious. My family LOVES them.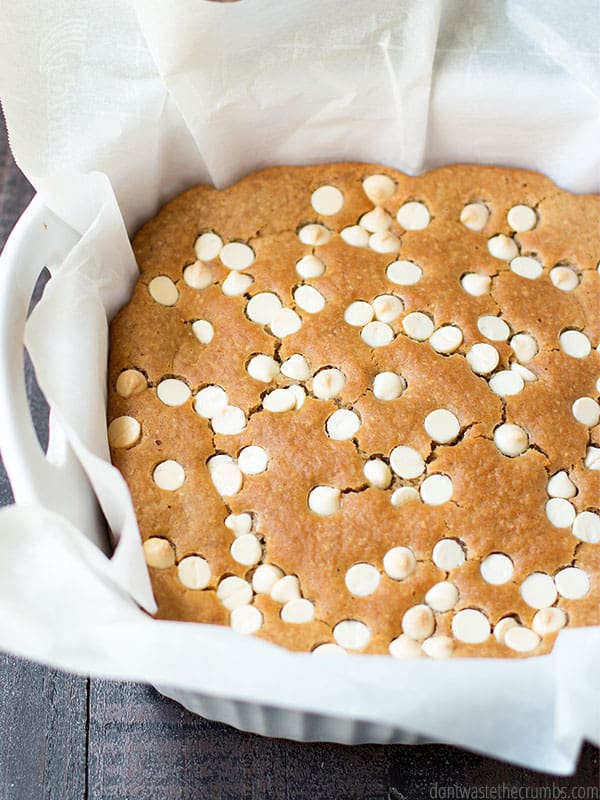 Ingredients for White Bean Blondies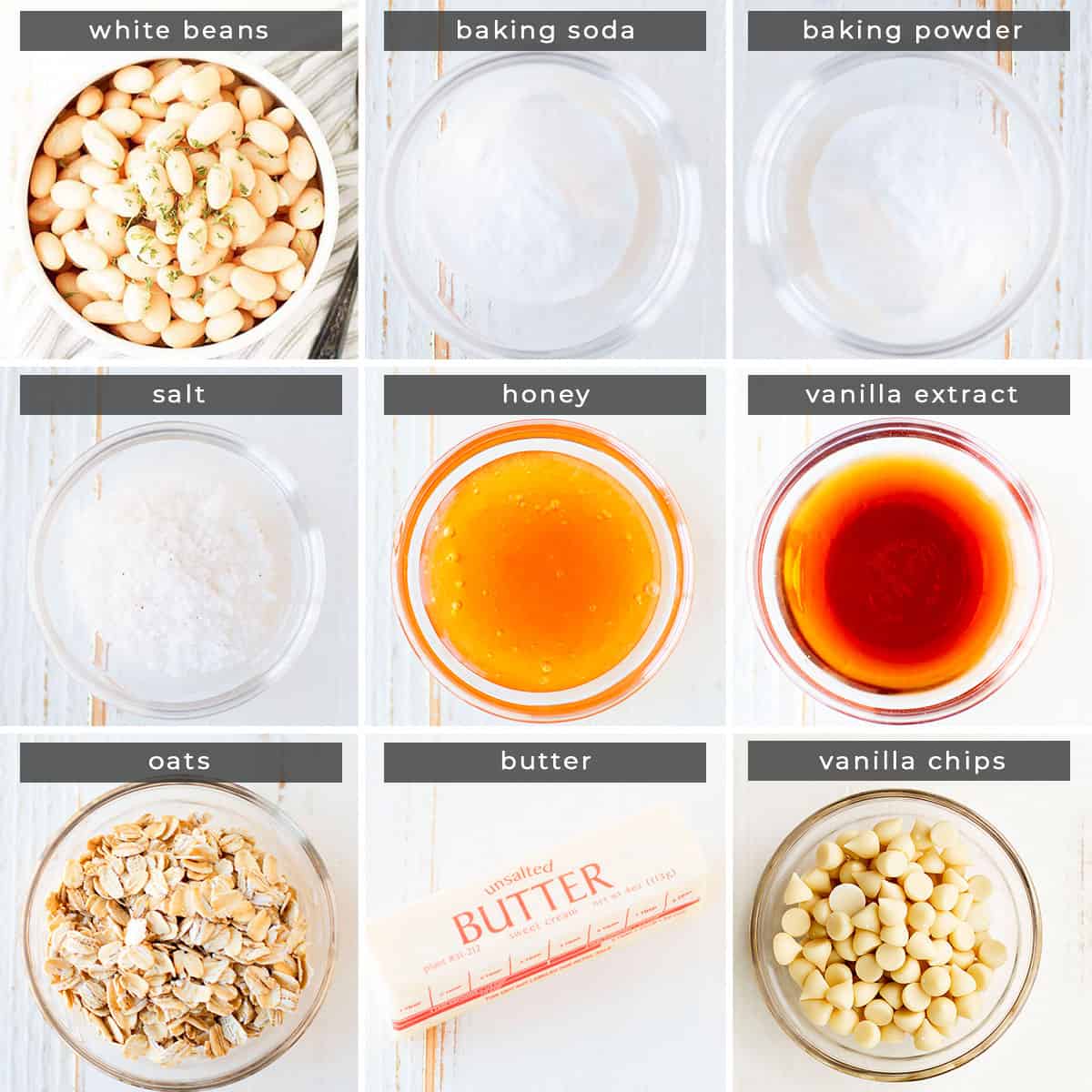 You can make this simple recipe with just 4 ingredients!
Beans. I used great northern beans because that's what I tend to buy (thanks to my belly-warming northern beans and ham soup). You can use navy beans or small white beans too. I don't recommend cannellini beans (a.k.a. white kidney beans) because their flavor is a bit too strong in my opinion.
Honey. I swapped honey for maple syrup because the butterscotch flavor came through better.
Oats. A bit of oats helps to absorb some of the moisture from beans and butter, and in the case of white bean blondies, it's also taking the place of the cocoa.
Butter. Another deviation from the coconut oil but again, HELLO BUTTERSCOTCH. The swap of butter makes these white bean blondies feel a bit more grown-up than I think they do with coconut oil (if you're dairy-free, coconut oil will work).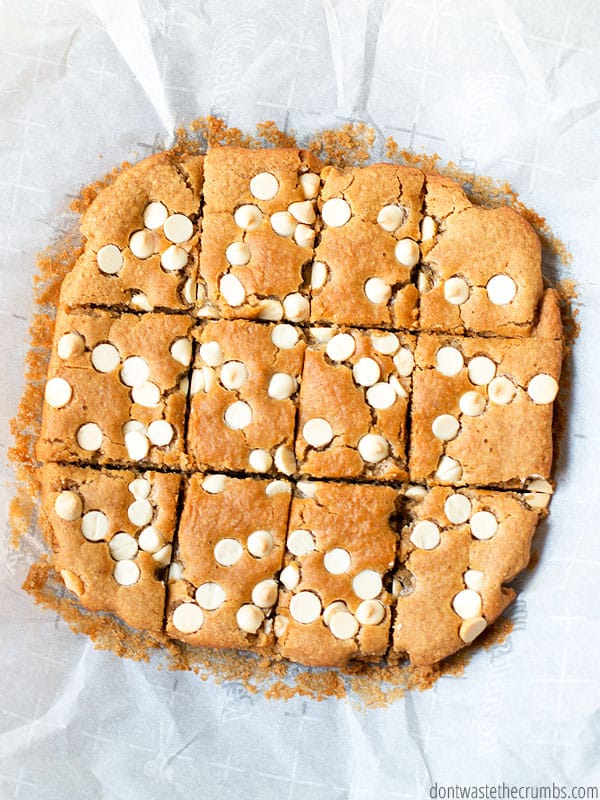 How to Make Easy White Bean Blondies
You can make this recipe in 3 simple steps:
Blend ingredients until smooth.
Pour the batter into a glass pan lined with parchment paper
Bake, cool, and enjoy!
It is that easy.
You can add vanilla or chocolate chips (I think vanilla chips are AMAZING in this recipe), but avoid butterscotch chips. They failed miserably in this recipe, which surprised me. The butterscotch chips had a processed sugar alcohol taste to them, and not only ruined the brownie but melted and left behind burnt sugar holes in their place.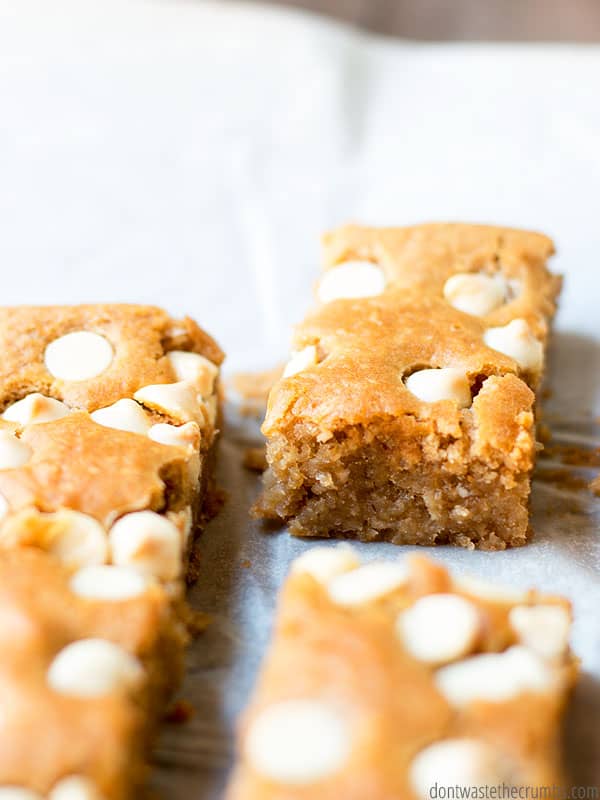 Additional Recipe Notes:
You may be wondering whether to use canned beans or dried beans.
Canned Beans: convenient // still have to rinse // might give you stinky toots
Dried Beans: economical // you can de-gas them to avoid stinky toots // can be cooked in a slow cooker // cost less overall
Your call folks!
Now excuse me while I go eat brownies for breakfast.
More Healthy Dessert Recipes
White Bean Blondies
Naturally sweetened recipe for delicious white bean blondies – my kids love it! Baking with beans instead of flour adds protein to this healthy dessert.
Author: Tiffany
Prep Time:

5 mins

Cook Time:

20 mins

Total Time:

25 minutes

Yield:

9

blondies

1

x
Category:

Dessert

Method:

Oven

Cuisine:

American
1 1/2 cups

cooked white beans (I used great northern)

1/2 tsp

baking powder

1/2 tsp

baking soda

1/4 tsp

salt

1/2 cup

honey

2 tsp

vanilla (make your own here)

1/2 cup

+

2 Tbsp

rolled oats

1/4 cup

butter, melted

1/2 cup

vanilla chips (optional, can use whatever chips you'd like)
Preheat the oven to 350F. Line an 8×8 glass pan with parchment paper.
Combine all the ingredients in a blender and blend until the batter is mostly smooth. You likely will have some oats that are not entirely ground up, but the rest of the batter should be smooth.
Pour the batter into the prepared pan and bake for 15-20 minutes, until the tops are medium golden brown. Careful not to undercook the brownies as the center will remain gooey.
Allow the brownies to cool completely before cutting.