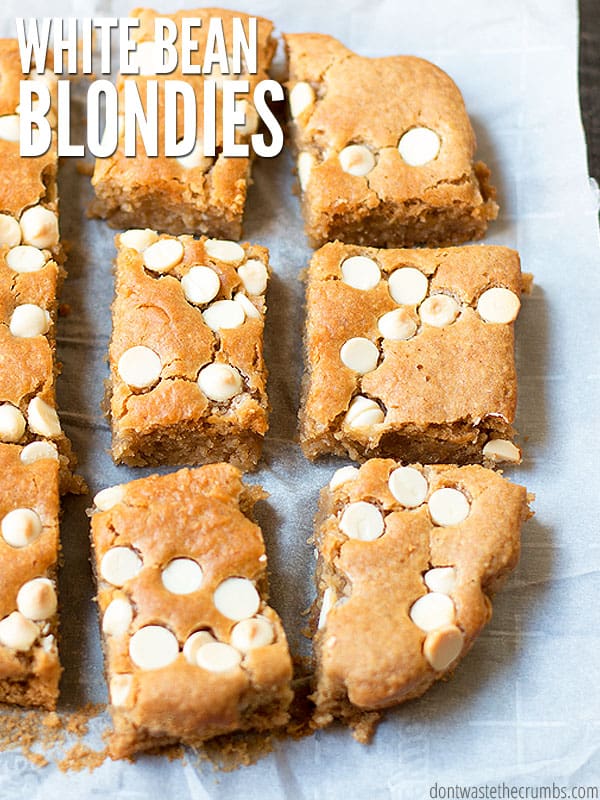 Do you remember when I shared that my kids ate a whole pan of black bean brownies in two days?
Um… well… they ate a pan of these white bean blondies in one.
I don't know if the bean gods decided to open up the heavens and drop amazing recipes like the aforementioned black bean brownies or chocolate hummus or cookie dough hummus or the below white bean blondies into my lap…
OR, I got wiser and STOPPED forcing my bean-hating family to eat beans in dishes they don't like and STARTED to offer beans in ways they DO like.
I think it's the latter.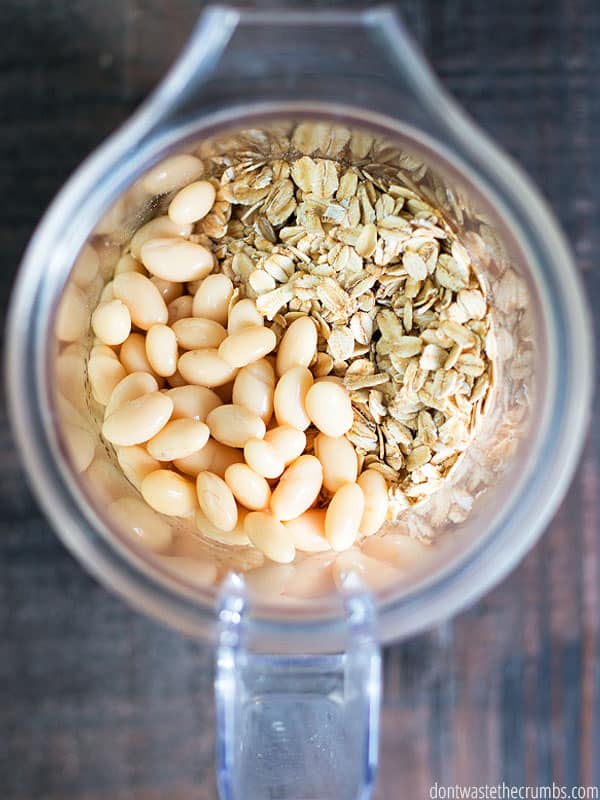 I don't have any funny anecdotes to share about these white bean blondies. We didn't make them for company and not tell them they were made of beans. I could have hidden the bean factor from my kids, except THEY are the ones who asked me if we could make bean brownies again.
When I told them I was going to try a bean blondie recipe instead (and explained it's like a brownie, but minus the chocolate), they asked if we could make them RIGHT NOW.
So we did, and they ate the whole pan.
The End // This Recipe Is Awesome // I Love Feeding My Kids Beans And Not Hearing Them Complain About It
White Bean Blondies
Can I talk foodie talk for a quite minute? Cool.
So brownies are brown because of the chocolate, right? This means blondies are blonde because of the lack of chocolate.
If chocolate gives color and flavor to brownies and blondies obviously don't have color, do they not have flavor too?
I actually looked this up, because what's the point of going through the 2 minute trouble of blending ingredients and making "blondies" if they're really just a bar of baked white beans that tasted like… well, baked white beans?
There's no way my kids are going to eat that, and I might even permanently scar them for life, turning them off of all things bean-related. Which would be a shame, considering we're making serious progress here (see the above mentioned amazing bean recipes for proof).
And cooking food (dessert included) that my family doesn't like and wasting it is equal to throwing away money. I'm sure, like me, you don't have time or money for that either. (Learn more about avoiding food waste and cooking food your family loves in Grocery Budget Bootcamp.)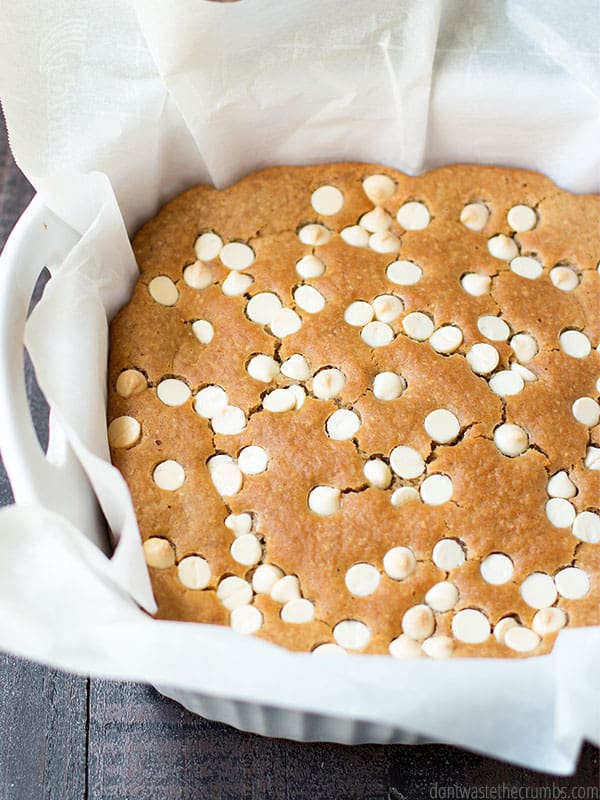 Thanks to Google, I learned that blondies traditionally have a butterscotch flavor AND that the flavor comes from brown sugar and butter. Mmmm. My two favorite words.
I took this idea, went to my original black bean brownie recipe and made some tweaks. That first batch was like white bean mush. It tasted good, but there was no brownie shape. No holding with the hand and maybe eating with a fork if you're trying to not look like a caveman in front of company.
They were purely eat with a spoon in a casserole dish, which is weird because why not just use a bowl with a spoon… Clearly it wasn't as simple as omitting the cocoa powder!
Several amazing batches later (including one where we did a side-by-side taste test of white chips versus butterscotch chips), I've got the secret sauce figured out.
Beans
I used great northern beans because that's what I tend to buy (thanks to my belly warming northern beans and ham soup). You can use navy beans or small white beans too. I don't recommend cannellini beans (a.k.a. white kidney beans) because their flavor is a bit too strong in my opinion.
Also up for a decision is canned beans vs. dried beans.
Canned Beans: convenient // still have to rinse // might give you stinky toots
Dried Beans: economical // you can de-gas them to avoid stinky toots // can be cooked in a slow cooker // cost less overall
Your call folks.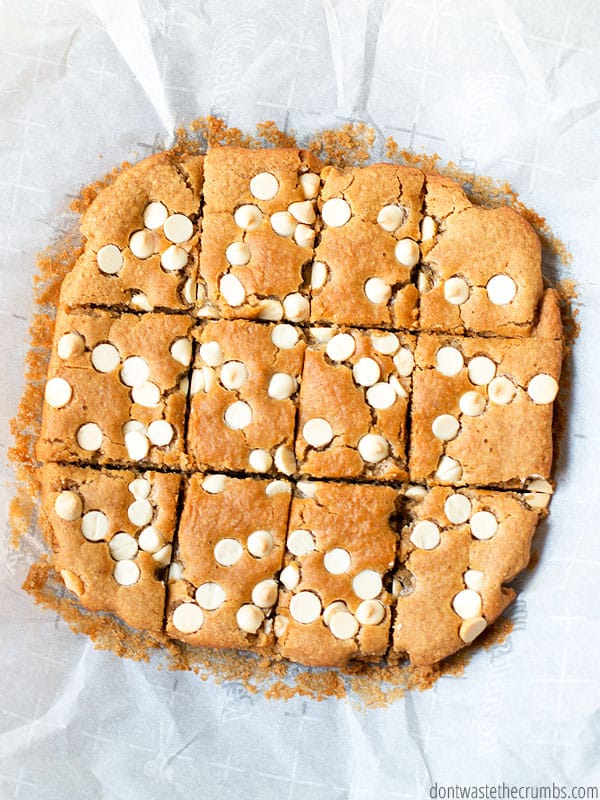 Honey
I swapped honey for maple syrup because HELLO BUTTERSCOTCH. Which I know doesn't make any sense because honey doesn't taste anything like brown sugar, but when I made these with maple syrup, less of the butterscotch flavor came through.
Honey for the win.
Oats
A bit of oats helps to absorb some of the moisture from beans and butter, and in the case of white bean blondies, it's also taking the place of the cocoa.
If you can't do oats, try subbing a type of flour that absorbs. Granted, I haven't tried anything else but oats (why fix something that ain't broken?), but I think you'll be okay.
Butter
Another deviation from the coconut oil but again, HELLO BUTTERSCOTCH. The swap of butter makes these white bean blondies feel a bit more grown up than I think they do with coconut oil.
However, if you lean towards the kids table anyway (or if you're dairy free), coconut oil will work.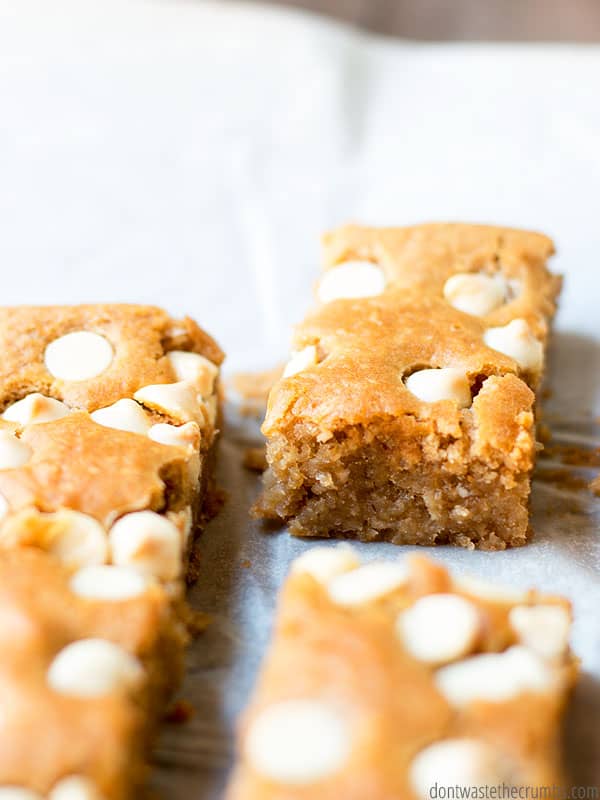 One final thought before I let you loose with this recipe: avoid butterscotch chips. They failed miserably in this recipe, which surprised me because (say it with me) HELLO BUTTERSCOTCH.
The butterscotch chips had a processed sugar alcohol taste to them, and not only ruined the brownie, but melted and left behind burnt sugar holes in their place. Which was gross to look at and kinda gross to eat. (Even the kids avoided that side of the pan.)
Whether you choose vanilla chips or chocolate chips is up to you and your pantry, but I must say the vanilla chips really rocked this recipe. And it's kind of nice having a dessert around that isn't all chocolate.
Now excuse me while I go eat brownies for breakfast.

White Bean Blondies
Ingredients
1½ cups cooked white beans (I used great northern)
½ tsp baking powder
½ tsp baking soda
¼ tsp salt
½ cup honey
2 tsp vanilla (make your own here)
½ cup + 2 Tbsp rolled oats
¼ cup butter, melted
½ cup vanilla chips (optional, can use whatever chips you'd like)
Instructions
Preheat the oven to 350F. Line an 8x8 glass pan with parchment paper.
Combine all the ingredients in a blender and blend until the batter is mostly smooth. You likely will have some oats that are not entirely ground up, but the rest of the batter should be smooth.
Pour the batter into the prepared pan and bake for 15-20 minutes, until the tops are medium golden brown. Careful not to undercook the brownies as the center will remain gooey.
Allow the brownies to cool completely before cutting.
What type of brownie fan are you – black bean brownies or white bean blondies?