Ever since I first made black bean brownies, it's my go-to dessert. White bean blondies come in a close second place, but really, my heart belongs to the original.
Now that it's fall though, my go-to dessert recipe got a slight make-over.
Move over black bean brownies, hello PUMPKIN SWIRL black bean brownies!!
Just take a look at that gorgeousness – isn't it beautiful?
Pumpkin Swirl Black Bean Brownie Recipe
Ok, let's pause this drool session for a moment and let's discuss all things awesome about this pumpkin swirl black bean brownie recipe.
1. The ingredients are in your pantry.
Really guys, we're talking about ingredients that I'm 95% sure you already have on hand:
Oats, black beans (either canned or homemade from scratch – either will work), maple syrup, eggs, cocoa, coconut oil, chocolate chips… you know – essentials.
And since it is fall, I'm guessing you have pumpkin puree and pumpkin pie spice on hand too.
If not, add both to your list ASAP (or make them yourself, homemade pumpkin puree and homemade pumpkin pie spice, respectively) – along with cream cheese – and put this dessert on the menu.
PS – Not sure what to do with the other 4 oz cream cheese? I suggest stove-top mac and cheese or fetuccine with creamy vodka sauce. If you're in the mood for sweets, make a half batch of pumpkin cookies with naturally sweetened cream cheese frosting!
If you don't know what to do with the rest of the pumpkin, here are all my favorite pumpkin recipes.
2. You can make it in a blender.
Guys, nothing screams easy more than a recipe you make entirely with a blender.
(For the record, I've had my Blendtec coming up on FOUR years and I use it at least 5 times a week. It's one of the best decisions I've ever made. Put it on your Christmas wish-list!)
There's no chopping, stirring or anything like that. You have two rounds of "dump and blend," a quick swipe with a butter knife (to make the swirl), a good long bake and BOOM. Pumpkin swirl black bean brownies are on the table.
Here's my "make ahead" tip, which I'm not entirely sure is much of a tip since you're already cutting prep time into mere seconds since you're using a blender… but here goes anyway…
I recommend whipping up this recipe as you're cooking dinner.
You know those minutes you have when you're stirring something, waiting for water to boil or something else is in the oven?
Those are the minutes I'm talking about (and the minutes I help you make the most of in my free mini-course Real Food Fast!).
Whip up the black bean brownie part first, and pour into the pan.
Then blend the pumpkin swirl batter and let it sit in the blender until you're ready to bake.
Before you sit for dinner, swirl the batter and stick the pan in the oven.
Your delicious batch of pumpkin swirl black bean brownies can bake while you're eating dinner, cool while you're cleaning up and everyone still goes to bed on time.
3. This recipe makes a lot (a full 9" x 13" pan)
My original black bean brownie recipe is made in either an 8" x 8" baking pan, or a 9" x 9" baking pan (whichever you have will work). And I took pictures in a smaller pan ONLY because my big pan was dirty.
So don't be fooled. I haven't mastered the art of splitting one egg into two, meaning this recipe makes a full pan of brownies. Not a bad side effect if you love brownies and pumpkin like I do!
Whether you make this for company, freeze half for later or eat half the pan when no one is looking (I won't judge!), this family-size recipe has you covered.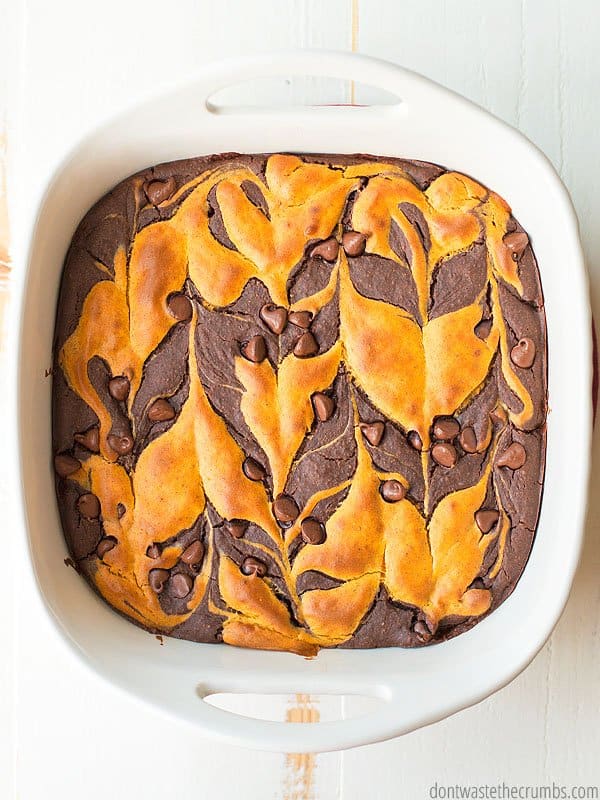 4. This recipe is 100% company friendly AND healthy.
I mentioned earlier that this is my go-to dessert recipe, and that includes when we're hosting company.
In fact, I gave my original black bean brownie recipe to company and THREE PEOPLE didn't even realize it was made with black beans.
That means this season when you're asked to bring a dish to a party, sign up for pumpkin swirl brownies. You'll win them over AND feel good knowing you brought something healthy!
Oh yeah, by the way, these brownies are slightly gooey and fudgy.
I almost didn't say anything, because in my mind ALL brownies MUST be gooey and fudgy. There simply isn't any other way to make them!
But I do have one, single, lonesome friend likes to rebel and prefers cake-like brownies. She's the one who prefers edges because they're the most cooked.
She's also the one whose piece I would steal because these brownies are AMAZING just the way they are – slightly gooey and fudgy and filled with everything good that chocolate and pumpkin can offer.
So heads up if you're in camp cake-like brownies – I'll eat your pieces.
Did I mention that these pumpkin swirl brownies disappeared in minutes?
My husband ruined his dinner with them on more than one night.
The kids asked for them in their lunches AND after school snack.
I ate them for breakfast. #noshame
PPS – Don't forget to stock up on pumpkin while you can!

Pumpkin Swirl Black Bean Brownies
Ingredients
Brownie Base
3 cups cooked black beans (I use homemade, but you can use 2 cans, drained and rinsed three times)
1 cup maple syrup*
½ cup coconut oil, melted
4 tsp vanilla
4 Tbsp cocoa powder
1 cup oats
½ tsp salt
1 tsp baking powder
1 cup chocolate chips
Pumpkin Swirl
4 oz cream cheese, softened
½ cup pumpkin puree (canned or homemade)
1 egg
2 Tbsp maple syrup*
1½ tsp pumpkin pie spice (store-bought or homemade)
Instructions
Preheat the oven to 350F
Grease a 9" x 13" glass baking dish with butter and set aside.
In a blender, combine all the brownie base ingredients except the chocolate chips. Blend until the batter is smooth. Pour into the prepared pan. Sprinkle chocolate chips evenly over the top.
Wash, rinse and dry the blender. Add all the pumpkin swirl ingredients and blend until they batter is smooth.
Using a large spoon, dollop the pumpkin swirl batter on top of the brownie base. Using a butter knife and starting on one side of the pan, run the knife through the batter and all the way down the pan. Move over about 1 inch and repeat the process, this time running the knife in the opposite direction to get the "back and forth" swirls. Repeat until the whole pan has swirls.
Bake for 40 minutes, or until the edges of the brownie start to pull away from the edge of the pan.
The brownie will be gooey and fudgey. For a firmer brownie, store in the fridge.
Notes
* Since my family has diligently reduced our sugar intake, it doesn't take much sweetener for us to taste it. 1 cup of maple syrup is not a lot for an entire pan of brownies, so I encourage you to taste the batter and adjust to your liking.
How do you like your brownies – cakey? Or fudgey? And more importantly, are you the type of person that mixes pumpkin with chocolate?