This Peanut Butter Fudge is so easy, and crazy fast to make! It's creamy, smooth & irresistibly delicious! Perfect as a quick dessert after you've enjoyed the very best slow cooker carnitas, or take it to a last minute pot luck or bake sale!

Have you ever been invited to a party and at the last minute, felt compelled to bring a dish, but had ZERO idea what to bring because you should have left the house 15 minutes ago?
Please tell me I'm not the only one, LOL!
I try to do my best to plan ahead of time and make something simple like black bean brownies or even 5 minute simple guacamole, but sometimes I just forget.
Thankfully this quick peanut butter fudge can be whipped up in less than 30 minutes!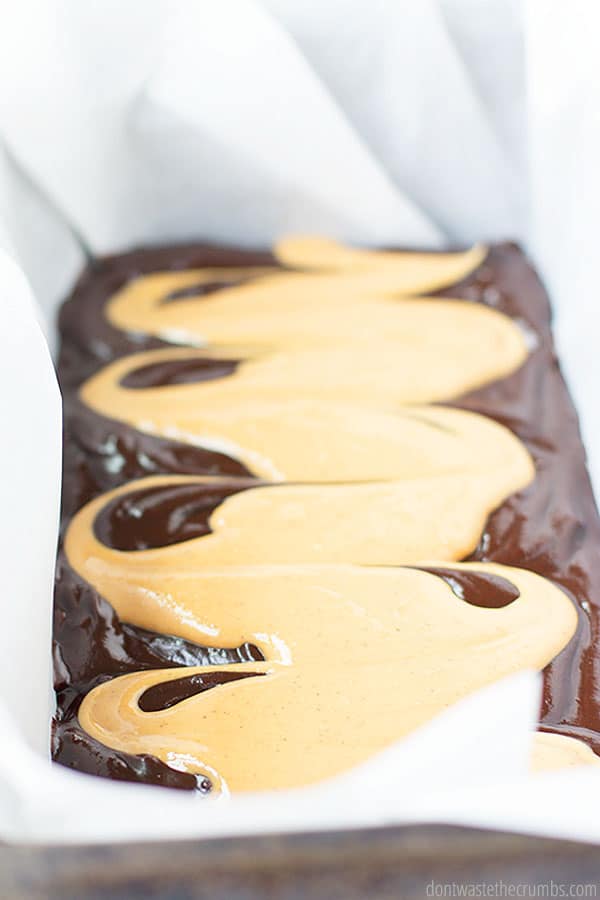 Peanut Butter Fudge
I adore fudge. Growing up, I'd be the kid at the fudge shop, staring at all the flavors.
My white chocolate peppermint fudge and easy pumpkin fudge are two recipes I make at home often, especially during the holiday season, but when you're craving something…
Extra peanut butter-y
Extra Chocolate-y
Crazy easy
FAST!
Creamy and just flat out delicious!
… that's when you make this peanut butter fudge!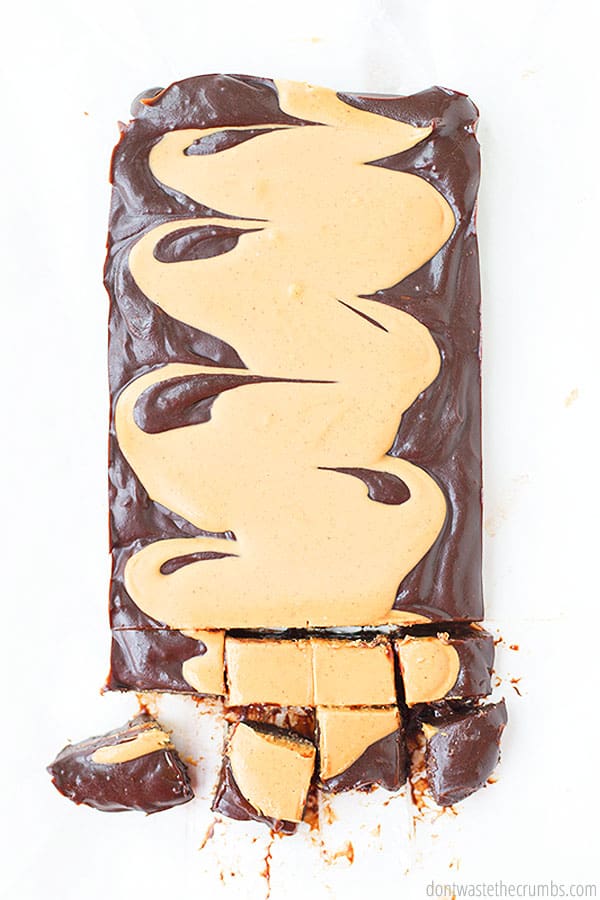 3 Ingredient Peanut Butter Fudge Recipe
You can easily whip up this fudge with just 3 ingredients that you likely have in your pantry:
Peanut butter (creamy or chunky)
Chocolate chips (dark or semi-sweet)
Sweetened condensed milk (store-bought or homemade)
There are A LOT of different ways you can make this, but more importantly, several ways to make it a healthier peanut butter fudge:
Peanut butter. Choose natural peanut butter, preferable one without any added sugar or oils. Just make sure you stir it well.
Chocolate. Dark chocolate chips will give you a rich, decadent flavor. They also contain less sugar! Semi-sweet is also a good option though. Make sure you choose GOOD chocolate. Don't pick the chips that are make with chocolate extract or chocolate liquor.
Sweetened Condensed Milk. Here's my tutorial for making your own sweetened condensed milk using any type of milk, and any type of sweetener. If you have 30 minutes to spare, I recommend making your own. If you don't, store-bought will work. Just remember that store-bought sweetened condensed milk is REALLY sweet, so you'll want to definitely use natural peanut butter and dark chocolate chips.
Psst! Make this a sweet and salty combo with a touch of finishing salt! I love Ava Jane's Kitchen because it doesn't have microplastics (gross, right?) and it's SO GOOD! Plus, you can get a bag for just 1¢!! Just sprinkle on top of the fudge for a mouth-watering finish! (Get your penny bag of salt on this page.)
Can you make peanut butter fudge using sweetened condensed milk?
Yes! Just follow the recipe below!
Does peanut butter have gluten?
No! Peanut butter is naturally gluten-free, making this a great option for allergy-friendly gatherings.
Is peanut butter made from peanuts?
Yes, but some popular peanut butter brands (i.e. Jif and Skippy) contain unhealthy oils and processed sugar. Choose a brand that contains just peanuts and salt, if possible.
How to Make Easy Peanut Butter Chocolate Fudge (stove-top)
Making this easy peanut butter takes just three simple steps:
Melt chocolate and milk in a small saucepan; pour into a mold.
Stir peanut butter well and pour a line in the center of the chocolate.
Swirl the peanut butter, freeze for 30 minutes, cut and enjoy!
How to Make Easy Peanut Butter Fudge (microwave)
The steps for making easy peanut butter fudge in the microwave are very similar:
Melt chocolate and milk in the microwave for 20 seconds; stir and repeat as necessary; pour into a mold.
Stir peanut butter well and pour a line in the center of the chocolate.
Swirl the peanut butter, freeze for 30 minutes, cut and enjoy!
Can you use a cake pan as a mold?
Yes! You can use an 8"x8" glass dish, or you can use a large loaf pan.
Can you use frosting for this chocolate peanut butter fudge?
You can, but it would certainly be very sweet!
Tips for Making Easy Creamy Peanut Butter Fudge
In a cooler house the chocolate will cool quickly so make sure your mold is lined and ready to go.
If you use natural peanut butter, make sure you stir it well!
In order to REALLY save time, just melt all the ingredients together in the saucepan and pour. There's no need to add the peanut butter separately – it's just for good looks!
Other Quick Dessert Recipes
Freezer Cooking: Breakfasts
Sign up to get instant access to my
Freezer Cooking: Breakfasts Plan
, complete with recipes, supply list, and shopping list!
Peanut Butter Fudge