Looking for a substitute for sweetened condensed milk? Try this homemade recipe with 7 different sweetener options! An easy DIY that you can make ahead for the holidays. Plus a dairy-free & lactose-free option!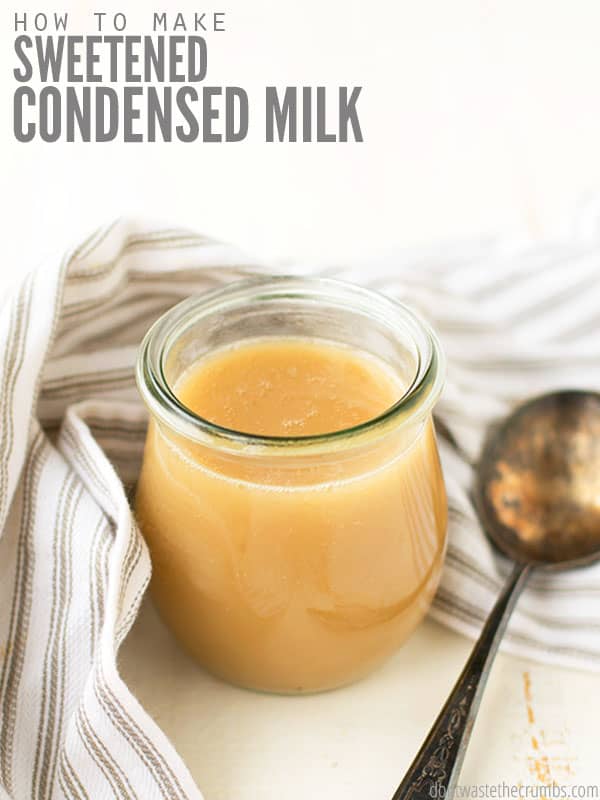 The temptation to buy canned goods and pre-packaged items tends to come in waves.  Right now, with Thanksgiving just around the corner, it's a tsunami.
My half of the Thanksgiving menu is nailed down:  smoked turkey, slow cooker cranberry sauce, healthier sweet potato casserole, homemade cloud rolls, vanilla bean cheesecake apples, and pumpkin pie.  With six dishes to make within a 3-day window (and high standards set for every single one of them), taking the easy route and NOT making everything from scratch sounds really nice…
But this tugs a bit with my real food, make-things-from-scratch side.  I want to take short cuts, but I'm learning more and more about those mystery ingredients.  And what I do know scares me more than what I don't.
So I thought this week would be a good time to make homemade sweetened condensed milk.  
You know, that ingredient you don't add to your grocery shopping list because you think you already have it at home… and then when you go to make a pie or candied yams, you realize you don't have it after all.
Yep, that's the one.
We've got nearly a full week until Turkey Day and with all the hoopy-do going on with the holiday and company coming in town, now is as good as time as any, right?
What is Sweetened Condensed Milk?
Sweetened condensed milk is basically slow-cooked milk. This makes the excess water content evaporate but doesn't scald the milk. Sweetener is added to make it ready for recipes. It doesn't take a long time to make, but it does take longer than it does to open a can.
Why Make Homemade Sweetened Condensed Milk?
Making food from scratch is often the best way to save money on real food. However, you also have to factor in whether it's worth your time to make it. I don't typically make homemade pasta because I can buy it for cheap and it takes way too long to make from scratch.
It's also important to consider the ingredients in store-bought vs homemade foods. Like coffee creamer. We quit coffee creamer a long time ago because the ingredients are just too processed to be considered food. The cost to make homemade vanilla bean creamer is about the same or more than if I bought it at the store. But the health benefits weigh out the time and cost. 
In terms of ingredients, the advantages of homemade condensed milk are huge.  You have COMPLETE control over the ingredients you use and can make it yourself based on where you are in your real food journey, what you have access to, your dietary restrictions and what you can afford.
That's why I prefer to make homemade sweetened condensed milk. 

Sweetened Condensed Milk Ingredients
Sweetened condensed milk is essentially milk and sugar. When you make it homemade, you have the choice of what kind of milk and what kind of sweetener you want to use!
You can use whatever milk you have:
More on the difference between organic milk and conventional milk HERE.
You can use whatever sweetener you have (I tried all of these!):
Honey

Maple syrup

Coconut sugar (aka palm sugar)

Sucanat (aka Rapadura, Demera or Jaggery)

Evaporated cane juice (aka organic sugar, evaporated cane sugar)

Granulated sugar (aka white sugar, we like turbinado)

Brown sugar 
Why did I make 7 different types of sweetened condensed milk?  Well, I was kinda curious if using a different sweetener would matter in terms of taste and color.  The color certainly changed with different sweeteners. But it won't affect the look of your final dish.
The taste, oddly enough, didn't differ much.  You can taste a little difference between maple syrup vs honey, or brown sugar vs. evaporated cane juice, but in the end, they all taste like sweetened milk… and delicious!
How to Make Homemade Sweetened Condensed Milk
Homemade sweetened condensed milk is the ideal multi-task project when you have spare time and the inkling to feel productive.  Kinda like homemade yogurt.  And both offer the "whoa, I just made that from scratch?!" feeling too.
No special cooking skills are required and you only need a few tools:  
A saucepan 

A whisk

A jar (I like

these

) 

And a couple of hours of hanging around the house.
How to Use Sweetened Condensed Milk
The first thing that comes to mind is a traditional pumpkin pie. But there are other desserts like dulce de leche and pound cake. If you need a substitute for sweetened condensed milk, use the homemade version below. Or skip it and try a healthier pumpkin pie!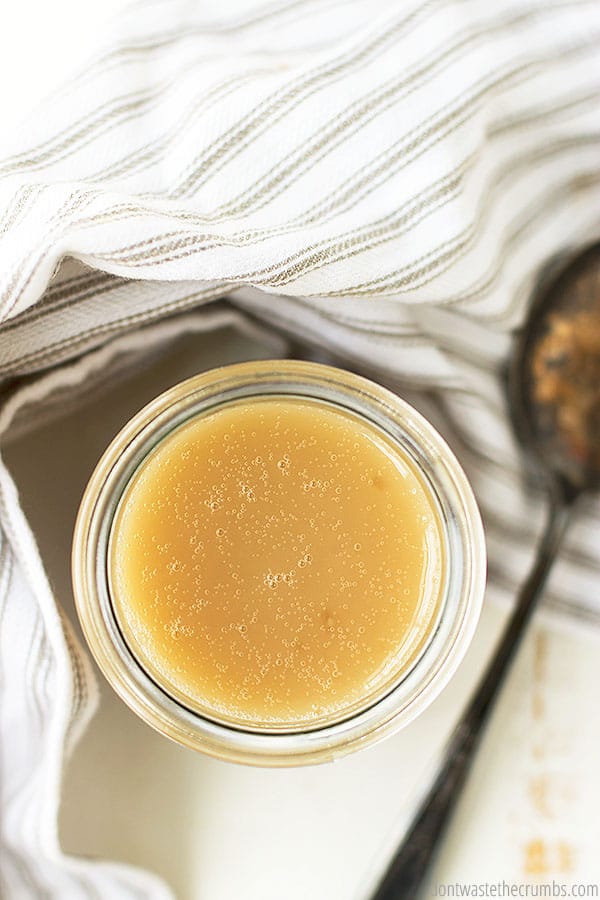 Homemade Sweetened Condensed Milk
Looking for a substitute for sweetened condensed milk? Try this homemade recipe with 7 different sweetener options! An easy DIY that you can make ahead for the holidays.
Author: Tiffany
Prep Time:

5 mins

Cook Time:

2 hours 30 mins

Total Time:

2 hours 35 mins

Yield:

3/4 cup

1

x
Category:

Make it yourself

Method:

Stovetop

Cuisine:

American
Instructions
Combine milk and sweetener in a medium saucepan. Whisk stirring constantly to dissolve sweetener over medium heat.
When the milk begins to steam, lower the temperature to as low as possible.
Dip a straw into the milk and use a permanent marker to draw a line on the straw, just above where the milk hit.
Allow milk to reduce to half in size from what it first was, periodically checking with the straw and stirring. This took approximately 2 hours and 30 minutes for me.
When milk is reduced by half, remove from heat and whisk in butter and vanilla extract.
Pour into a clean glass jar and allow to cool completely. Store in the refrigerator.
Notes
The honey and coconut sugar thickened up considerably more than the other sweeteners, but they also seemed to separate a bit while reducing in size. When using these sweeteners, whisk the milk periodically instead of just stirring.
In general, these milks were thinner than conventional sweetened condensed milk. If this concerns you, allow milk to continue to reduce in size until all the water is removed.
Keywords: homemade sweetened condensed milk