Get the healthy weight loss benefits of a blueberry smoothie recipe that tastes like cheesecake! Make your healthy smoothie with or without almond milk and yogurt. This can be easily adapted to be vegan-friendly.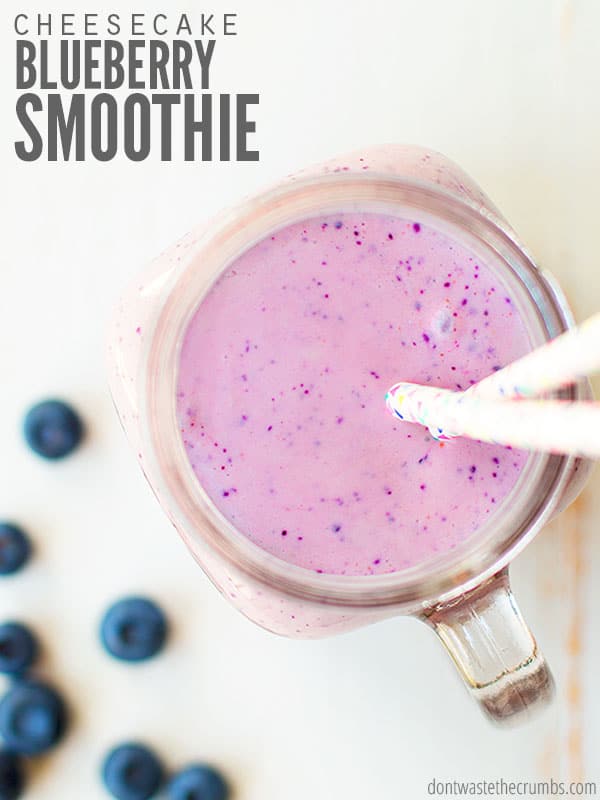 Do you ever crave a healthy dessert? Something that satisfies that sweet tooth without making you feel guilty?
When I want a cookie, I make dark chocolate chip oatmeal cookies. When I want something comforting, I make slow cooker blueberry cobbler. And when I want chocolate, I make my famous chocolate avocado pudding.
But what about when you're craving cheesecake?
That's when you make a cheesecake blueberry smoothie!
You see, as much as I love cheesecake, I really don't like making it.
They're fussy and temperamental to me. They need special mixing and baking techniques, and sometimes even misting the oven with water now and then. All this so your hard work doesn't end with a huge crack down the middle.
Who has time for that?!
Blueberry Cheesecake Smoothie Recipe
I sure don't, which makes me love this cheesecake blueberry smoothie recipe all the more. It's a great recipe for breakfast or a snack in the heat of summer, plus it's:
Plus it literally tastes like cheesecake! Your taste buds won't know the difference!
Ingredients for Blueberry Smoothie
This delicious smoothie recipe requires just 4 simple ingredients:
Yogurt. Use regular or dairy-free – I recommend plain or vanilla. To save money, make your own yogurt! Here's how to make homemade yogurt, and how to make Greek yogurt.
Cottage Cheese. This is what gives our smoothie the signature cheesecake flavor!
Banana. This adds just a bit of natural sweetness and is what makes the smoothie creamy.
Blueberries. What gives this smoothie its beautiful purple color! Use fresh or frozen berries (here's a tutorial on how to freeze blueberries).
Optional Nutrition Boosters for a Blueberry Smoothie
How to Make a Blueberry Smoothie
Smoothie aficionados (myself included since I wrote a book on high protein smoothies!**) will recommend using a high powered blender.
The most important thing to remember when making a smoothie is that the order of ingredients is important! You want to add the ingredients to your blender in this order:
Yogurt
Cottage Cheese
Banana
Blueberries
Doing it this way means having liquid at the bottom, which will allow everything else to blend properly.
Step 1. Add the ingredients in the order listed to your blender.
Step 2. Blend on high for one minute, or until completely smooth.
Step 3. Serve immediately.
How to Make a Blueberry Smoothie Bowl
The only difference between smoothies and a smoothie bowl is the thickness. You want a super thick smoothie for a bowl, which means using frozen bananas, frozen blueberries – everything needs to be frozen.
You can freeze cottage cheese in ice cube trays and use 4 cubes for one smoothie. (Each cube is about 2 tablespoons.)
If you make a smoothie bowl, you will need to add milk one tablespoon at a time, just so the blender has enough liquid to break down the ingredients.
How to Make a Blueberry Strawberry Smoothie
This cheesecake blueberry smoothie was inspired by a blueberry cobbler smoothie and a strawberry cheesecake smoothie, both of which are in my most popular eBook, High Protein No Powder. If you haven't guessed it, I love smoothies!
I recently updated the book to include 194 pages with 29 protein smoothie recipes, 17 protein bar recipes and TONS of charts and guides so you can make protein smoothies and protein bars to meet your nutritional goals WITHOUT relying on processed protein powder!
FAQs
How to make a blueberry smoothie with milk and without yogurt?
Yogurt adds both enough liquid to achieve a smoothie consistency and bulk to the smoothie. I don't recommend skipping it, but you can use kefir or dairy-free yogurt if you can't tolerate regular yogurt.
How to make a blueberry smoothie with yogurt and without milk?
My recipe is written to use yogurt and we can get away without using milk because both the yogurt and cottage cheese are not entirely solid.
What can I use instead of banana in a smoothie?
We're only using half of a medium banana and the banana flavor isn't pronounced in this recipe, so I'd recommend giving it a shot before you skip the banana entirely.
If you try it and can taste the banana, try freezing the banana first AND/OR using an under-ripe banana.
If all else fails, both avocado and mango have the same creamy factor, but both will change the flavor significantly.
More Smoothie Recipes
Here are a few of my other easy healthy smoothie recipes:
And if you're new to smoothies in general:
No Cook Meal Plan
Sign up to get instant access to my No Cook Meal Plan, complete with recipes and shopping list!
Healthy Blueberry Cheesecake Smoothie
Get the healthy weight loss benefits of a blueberry smoothie that tastes like cheesecake! Make it with or without almond milk and yogurt, vegan-friendly.
Author: Tiffany
Prep Time:

5 mins

Cook Time:

0 mins

Total Time:

5 mins

Yield:

1

serving

1

x
Category:

Beverages

Method:

Blend

Cuisine:

American
1/2 cup

yogurt

1/2 cup

cottage cheese

1/2

banana

1/2 cup

blueberries
Instructions
Add the ingredients in the order listed to your blender.
Blend on high for one minute, or until completely smooth.
Serve immediately.
Notes
*Fruit should be frozen for best results!
**Optional Nutrition Boosters for a Blueberry Smoothie: Collagen, Flax seeds, and/or Old-fashioned oats
Keywords: Blueberry smoothie, blueberry cheesecake smoothie, blueberry smoothie bowl