Learn how to freeze blueberries, the right way, so they don't get mushy! Plus I've included tips on how to thaw frozen blueberries. This method works for strawberries and blackberries too!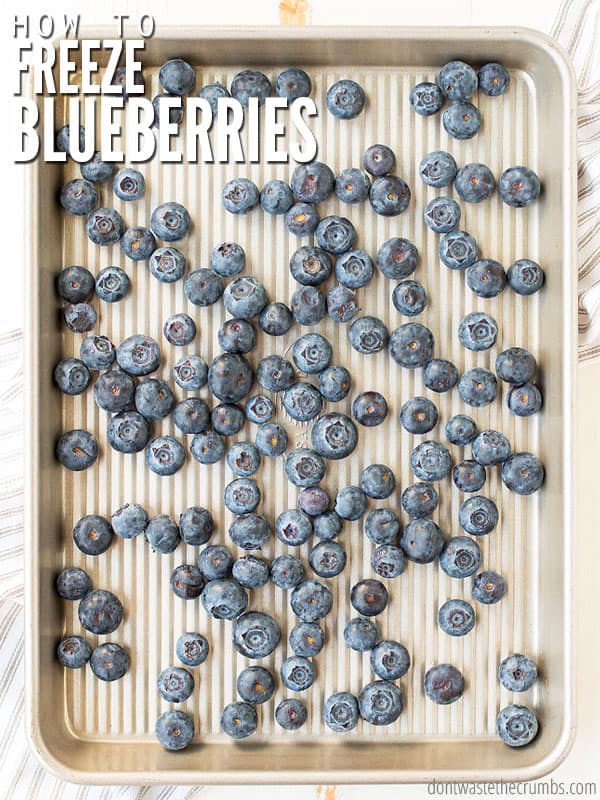 My dad has a video of my son eating blueberries hand over fist when he was just 9 months old. He loved them so much, he literally couldn't stop eating them!
I feel the same way about blueberries, and can't help but fill my cart when they're on sale in the peak of blueberry season. The kids can eat as much as they want, but I also make sure to put some up so we can enjoy blueberries long after the season has ended.
My go-to method for preserving blueberries is freezing them, so I want to show you my step-by-step tutorial for how to freeze blueberries!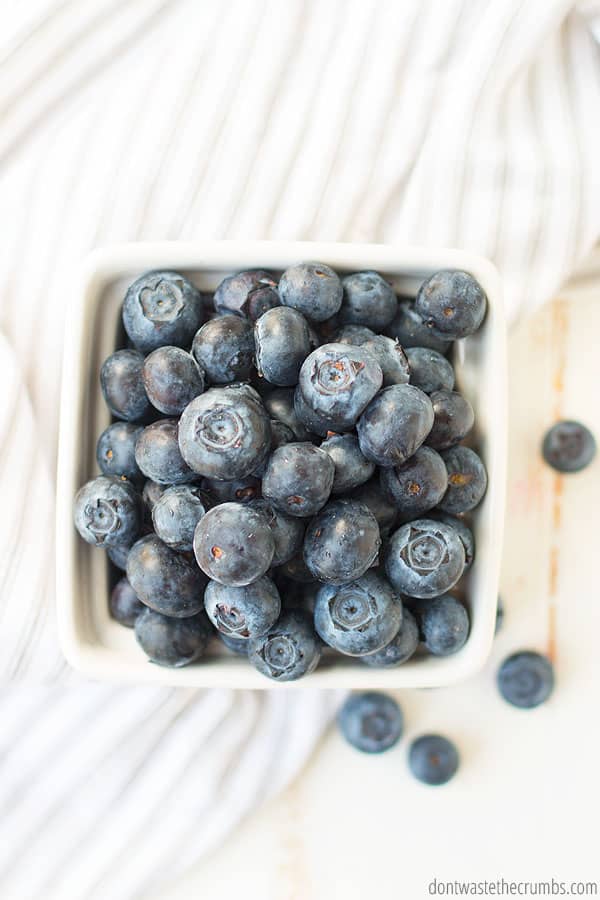 How to Freeze Blueberries
We'll use a similar process that we use for how to freeze strawberries for freezing blueberries. The only difference is that we don't have to cut the blueberries ahead of time!
Step 1: Before freezing blueberries, wash them!
Every year the Environmental Working Group (EWG) publishes a list of the fruits and vegetables that contain the most pesticide residue, called the Dirty Dozen. Although blueberries are not on this list, it's still a good idea to wash your blueberries.
Use one of these homemade fruit and veggie wash recipes to save money versus expensive pre-made produce cleaners at the store.
Once you've washed the blueberries, make sure they're completely dry using a couple of paper towels or a kitchen towel.
Step 2: Prepare the blueberries for the freezer.
We don't want the blueberries to freeze in one large clump, so we're using a technique called flash freezing.
To flash freeze blueberries, spread them on a cookie sheet (I have these sheet pans) in a single layer. It's okay if they touch, but you don't want any blueberries on top of each other.
You normally don't need to line the cookie sheet with parchment paper or silicone mats (I have this set) when you're freezing blueberries, but if you find that it's really hard to get them off the sheet pan, you can line the pan next time.
Step 3: Freezing fresh blueberries.
Place the entire cookie sheet in your freezer for at least an hour.
Blueberries aren't big to begin with, so it shouldn't take much longer than an hour for the berries to freeze through UNLESS your freezer is already pretty full. If that's the case, let the blueberries sit in the freezer for 2-4 hours.
Note: Use this set of cooling racks to stack multiple sheet pans on top of each other and maximize your freezer space! This lets you store vertically and freeze a lot of blueberries at once.
Step 4: Storing frozen blueberries.
After the blueberries are frozen through, transfer the frozen berries from the baking sheet and store them in a freezer-safe container.
Personally, I like to use gallon plastic bags, and I'll re-use them multiple times until they don't seal anymore, or until they have a hole.
If you're concerned about freezer burn (and here's the truth about freezer burn), you'll want to double wrap your blueberries. That could mean two plastic freezer bags (maybe a couple of quart bags put inside a gallon bag) or it could be one bag placed inside a container. Whatever works best for you!
Once wrapped well, your frozen berries will last 6 months or more in the freezer.
Did you know you can freeze blueberries?
A lot of people don't know that you can freeze blueberries, but you can! My favorite part about freezing them is that you can use frozen blueberries instead of fresh in almost every blueberry recipe!
How to Freeze Blueberries Without Getting Mushy
This is the only downside to freezing blueberries – they will get mushy when they thaw. Unfortunately, that's just the way it is.
Remember though, that you can use frozen blueberries instead of fresh in most baked blueberry dessert recipes. In baked goods, frozen blueberries and fresh blueberries look the same!
Does it matter when you freeze blueberries?
In my experience, no. You can freeze them fresh off the bush when you've come home from blueberry picking or after they've been in your fridge for a few days.
You do, however, want to make sure that you freeze the blueberries BEFORE they start to go bad in the fridge. At the soonest sign that the blueberries are going bad (getting smaller, mushy, or wrinkly), pop them in the freezer!
How to Freeze Blueberries (and Strawberries) for Smoothies
The flash freezing method above works perfectly for freezing blueberries for smoothies. When you make your smoothie, just grab a scoop or two from the bag and toss them in the blender!
(I have a Blendtec blender and it blends up frozen blueberries and strawberries perfectly smooth, every time!)
Just remember to not let your bag of frozen blueberries sit at room temperature, otherwise, they'll start to thaw. Then when you re-freeze the blueberries, they'll freeze in one big clump!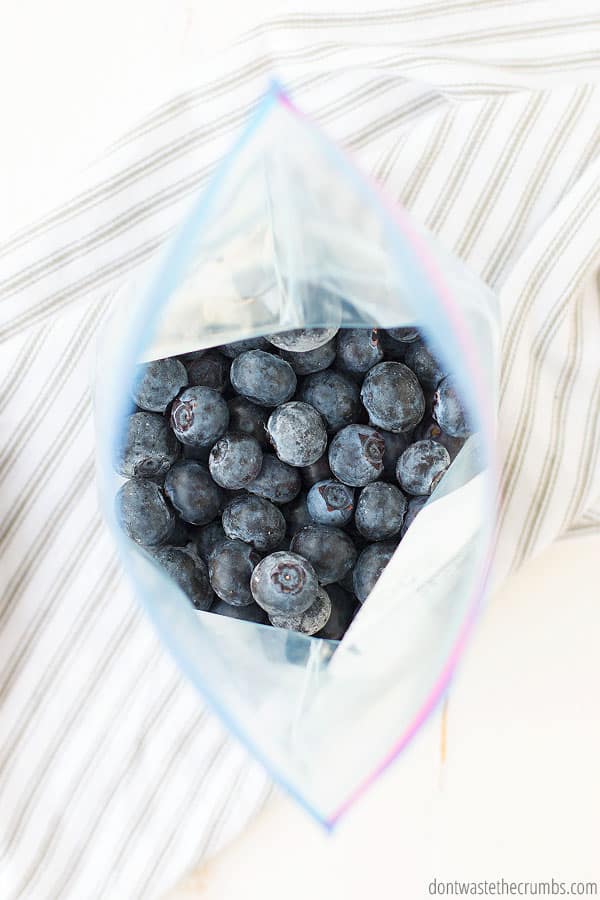 Favorite Blueberry Desserts:
Use up your frozen blueberries in these delicious and healthy blueberry recipes: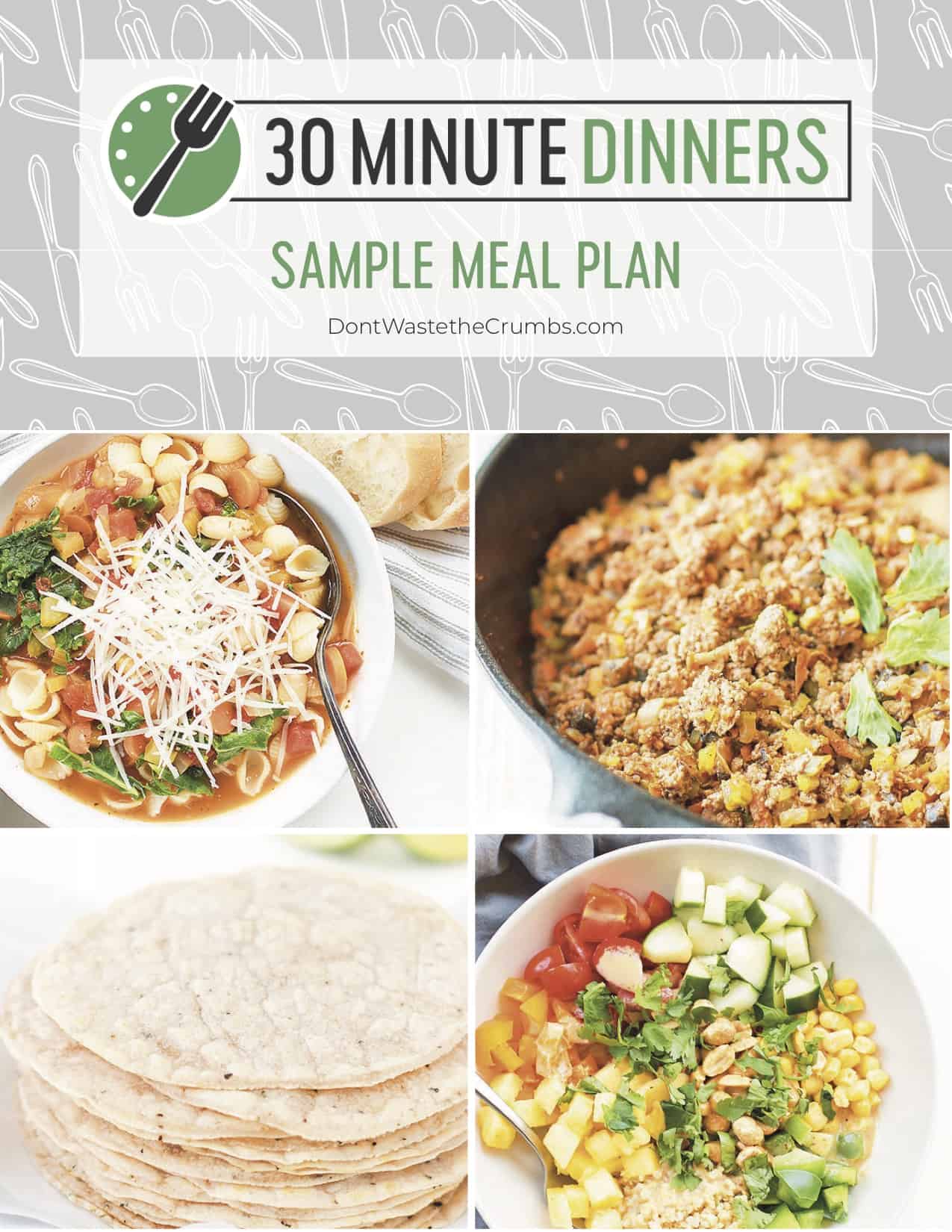 30 Minute Dinners Sample Meal Plan
Sign up to get instant access to my
30 Minute Dinners Sample Meal Plan
, complete with recipes and step-by-step instructions!