Learn How to Make a Meal Prep List for the week based on your weekly or monthly meal plan! Helps you to stay organized in the kitchen, and saves time & money!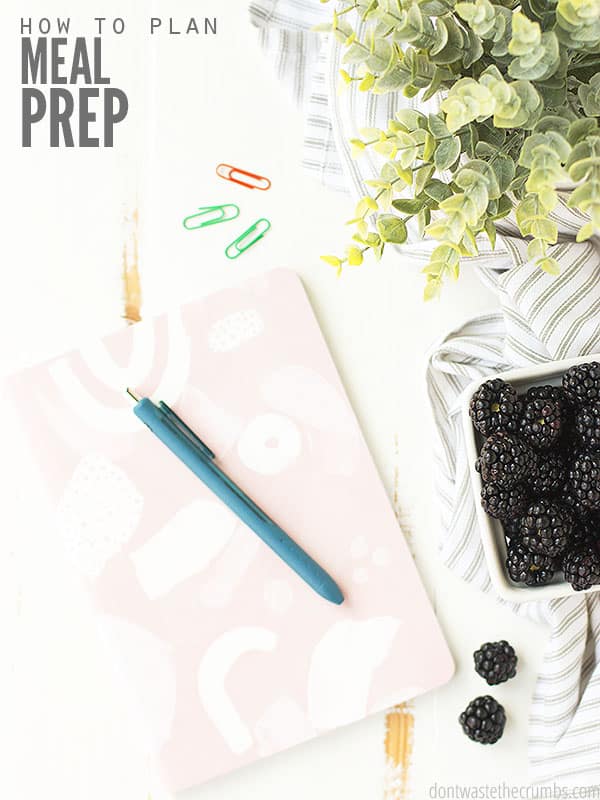 Once upon a time, I had THE busiest week of my life.
Move aside wedding planning and bringing home baby #2. The combination of helping to launch a friend's ebook, starting our first year of homeschool, writing five posts for my own blog, and fine-tuning experimental recipes – all while fulfilling the responsibilities of wife, mother, chef, chauffeur, maid AND laundry service… Folks, the whole family was lucky to survive.
While it would be bliss to never have another week like that again, I learned a very valuable lesson that has helped me so much in the past two weeks that I would never ask for a re-do. And it's on a topic that I should be a veteran on – meal planning!
Can you believe that in the 20 months that I was diligently meal planning, I had skipped the most important step? A step that is so small that it took a week of complete drowning to realize it was missing!
Step aside meals and scoot on over, grocery list. Make some room for the meal prep list!
What is a Meal Prep List?
The meal prep list is exactly what it sounds like: a list of everything you need to do in the kitchen to serve the breakfast, lunches, and dinners you just planned out, organized (hopefully) according to the meals for the week.
Does it sound like a waste of time? Just one more "thing to do" that doesn't really do any good?
Let me assure you – this list is a lifesaver.
What are the Benefits of Making a Meal Prep List?
After implementing this list for two weeks in my kitchen, I've come up with the following benefits. It:
Eliminates the "what can I do now?" time in the kitchen
Offers opportunities for the kids to help and serve
Increases productivity while working, which means….
It reduces the overall amount of time spent in the kitchen each week
So there are fewer dishes to wash
And less time spent cleaning
With more time spent with the family.
It takes away the feeling of "always being in the kitchen"
And brings joy back into the kitchen (because I'm not "always" there)
Just to be fair, there is a list of downsides too:
It takes 4 minutes to write.
Wow, seriously? The pros definitely outweigh the cons, and I can honestly say that I've saved those 4 minutes it took to plan at least five times over again each week!
Why Should I Make a Meal Prep Plan?
Like most families, we have a schedule each week to help us stay on track with school, chores, appointments, and the like. Included in our schedule are specific times to work in the kitchen each day.
Answer me this: how many times have you had this conversation with yourself?
Wow, cutting those carrots didn't take me as long as I thought it would. And I even washed the dishes too, awesome! Hmm…if everyone else is busy and I'm in here already with an extra minute, I guess I'll do some other prep work too. Let's see here… What can I do for dinner tomorrow? Let me dig out my meal plan. Wait a sec, I need to cut carrots?! Didn't I just do that? And didn't I just wash the dishes and put them away? What was the point of that when I needed them again?! Geez, I don't know if I really want to do those carrots after all…
There are only two outcomes to this scenario: a) You don't chop the carrots, OR b) You chop the carrots and re-wash the dishes. Again. And wipe down the counter. Again.
Neither of those outcomes is ideal, and both could be avoided if you had a meal prep list.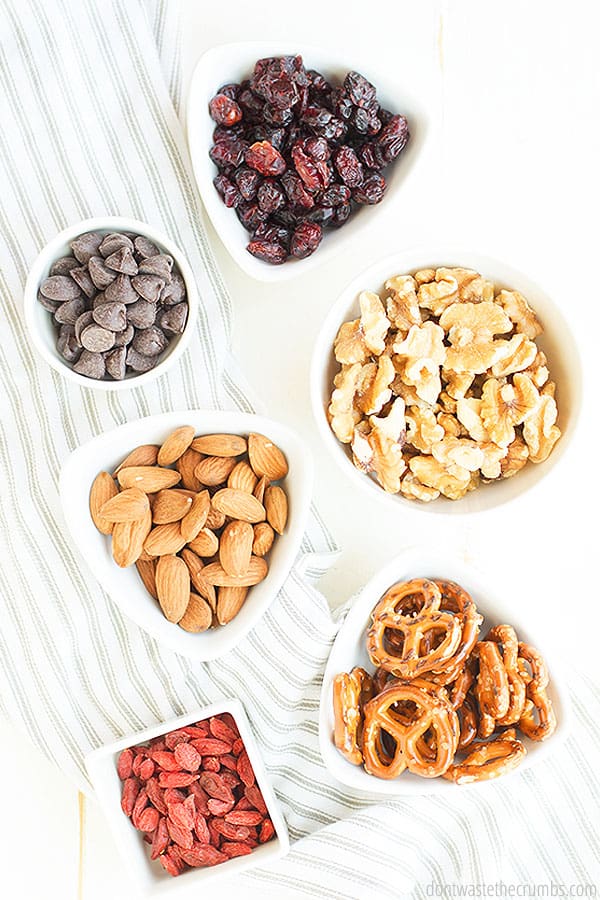 How to Make a Meal Prep Plan
Making a meal prep list is as simple as looking over your meal plan and writing down what needs to get done for each delicious recipe, according to the day. This slight bit of organization helps to keep you prioritized when it comes to time spent in the kitchen.
If you have a few minutes, does it benefit you more to have dinner completely prepared for tonight, or extra carrots for Saturday? Having dinner ready for tonight wins out because it releases some of the "still have to do this" for the day, plus you'll likely have other opportunities to cut carrots later. Dinner for tonight can't wait for Friday!
Tomato basil soup for tonight: Chop onions & garlic, pull down canned tomatoes, chicken stock, & basil; thaw butter; bread is already done.
Tuesday: Make buns, prepare water for noodles, shred cheeses, set carrots in pan w/butter.
Wednesday: Make breadcrumbs for pork chops, pull down canned green beans, wash lettuce.
Thursday: Cut squash, measure the brown rice and water, pound out the chicken.
Friday: Make the trail mix, measure out the dried fruit.
Saturday: Make pizza dough, shred cheese, slice pepperoni, thaw and dice peppers.
Breakfast: Egg Muffins are already baked, slice two apples. Make daily smoothies.
Lunches: Make trail mix, make four granola bars, and slice carrots.
TIME! 3:25pm.
So with a meal plan that includes ALL seven days and three meals for each day, it took four minutes to make this list.
Four minutes to save 30 minutes, save money, AND my sanity? Yes please and thank you!
I bet after a couple of rounds, this list could go even faster too!
Looking at my list, there are things that can be easily done ahead of time (sometimes even in big batches): chopping, buns, shredding cheese, making breadcrumbs, washing lettuce, etc. Also things like making overnight oats and black beans for example.
With it all in front of me, I can take a quick glance and do what I can with the time I have:
Only have a minute? Stick a pot under the sink to fill it with water. Open the tomatoes.
Cutting board already out? Chop some apples.
Kids need something to do? Have them make some trail mix.
No errands to run? Make the buns and set the timer.
Waiting for dinner to finish up? Make a double batch of smoothies.
The Bottom Line on Making a Meal Prep Plan
This method has cut my kitchen time down to an average of only one hour each day with the bonus of having dinner ready before lunch…That alone is worth the time of making a kitchen prep list!
More on Meal Planning and Prep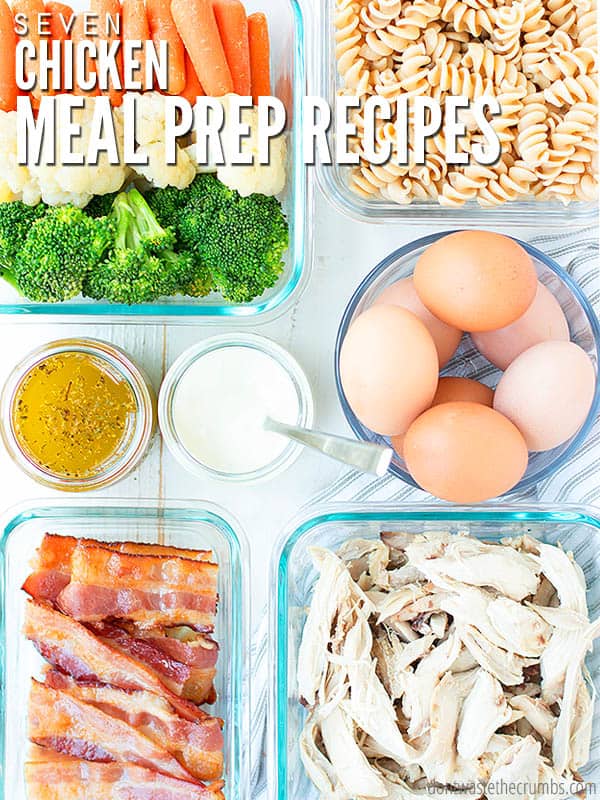 Chicken Meal Prep Plan
Sign up to get instant access to my Chicken Meal Prep Plan, complete with recipes and shopping list!
How do you save time in the kitchen? Share your ideas in the comments!