A couple months ago we were camping and while I normally LOVE campfire potatoes, I just wasn't feeling it.
My normal go-to veggie is corn on the cob, but corn isn't in season in February and I didn't want it bad enough to buy it frozen.
We could have done salad, but that meant buying dressing too (since I didn't bring any from home) and quite frankly, I can't bring myself to buy salad dressing when I know the nasty stuff they're made of.
Being the middle of Winter in Oregon, my choices weren't exactly grandiose. I eventually settled on broccoli, but really didn't have the slightest idea how I was going to cook it.
What began as an impromptu experiment with my cast iron skillet and a couple heads of broccoli turned into THE MOST delicious side dish I think I've ever made.
Here's how I know it was a winner:
That first night, our friend Blake and his family (who also have a blog) said OUT LOUD, "Wow Tiff, this broccoli is really good!"
Hmmm…. "good" and "broccoli" together in the same sentence? Could I be dreaming?!
And then a couple weeks later, my daughter (the picky 5 year-old) saw broccoli on the counter and said to me, "Mom, can you make the broccoli with the brown stuff on it? You know, the brown stuff from the pan?"
A child requesting broccoli? Has the world gone nuts?!
Finally, just last week as we were getting ready to cook dinner for my parents, my daughter snuck up to me and asked if I was going to cook the asparagus the same way I cooked broccoli. I told her yes, and she did a fist pump with a "YES!".
Folks, to say this Easy 10 Minute Pan-Seared Broccoli recipe has revolutionized our world is truly an understatement!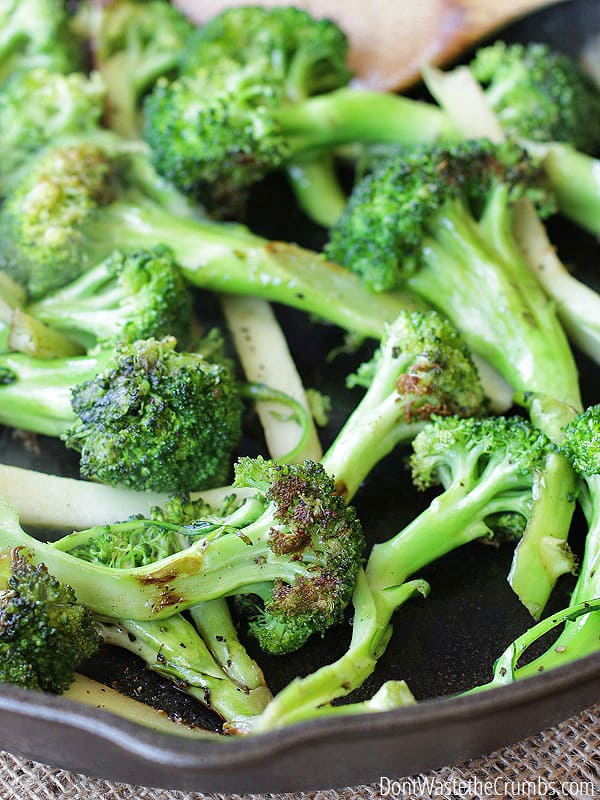 After making this recipe over and over (and over) again, I think there are two keys that make this recipe a winner: You use up the ENTIRE head of broccoli and it's ready in less than 10 minutes.
So many recipes call for broccoli florets, but then you're left wondering what to do with the stems. Plus, broccoli crowns tend to be more expensive than full heads of broccoli. Why bother paying more for less food when you can pay less and use it all up!
The fact that Easy 10 Minute Pan-Seared Broccoli is ready in less than 10 minutes (and is practically hands-off) makes it perfect for any meal. Seriously.
And it tastes SO much better than plain steamed broccoli. It's like the deep flavor of roasted broccoli, without having to heat up the oven and the house!

Easy 10 Minute Pan-Seared Broccoli
Ingredients
2 Tbsp olive oil
2 full heads broccoli (stems too, not just the crown)
½-1 tsp salt
¼-1/2 tsp pepper
Instructions
In a cast iron skillet or heavy-bottom pan, heat olive oil over medium-low heat for 2-3 minutes.
Meanwhile, prepare the broccoli by cutting entire head of broccoli in half. Laying the flat side down, cut off each floret from the base of the floret all the way down to the bottom of the stem.
When the oil is hot, add all the broccoli to the pan, arranging so that as many pieces as possible are touching the bottom of the pan. Season with ½ tsp salt plus pepper to taste and allow to cook for 5 minutes, undisturbed.
After 5 minutes, stir and rearrange the broccoli so that the sides that were down are now facing up. Season again with salt and pepper and cover with a lid. Allow to cook for 3 more minutes.
Stir before serving. Best when served hot.
Additional Recipe Notes
The key to producing that delicious, perfect brown crust is not to stir the broccoli during that first 5 minutes. So don't stir it!
I recommend using a cast iron skillet (which means you can use it over an open fire OR on the grill too!), but you can use any heavy-bottomed pan as well.
Cost Breakdown
The cost of broccoli varies greatly from region to region, so the key to keeping this dish affordable is to buy broccoli when you can get full crowns for about 50¢ each. Allow one crown for serving two people.
We also love to eat oven roasted broccoli too! Or pair with this easy Instant Pot beef and broccoli.
Does your family have a favorite way to prepare their favorite vegetable? Share your ideas with us in the comments!