Are you spending too much money on food? I have a list of easy cheap meals. Delicious, healthy meals that feed the average family of four for just $50 a week! Don't forget to try out my One Week $50 Aldi Meal Plan and How to Meal Plan and Make it Work!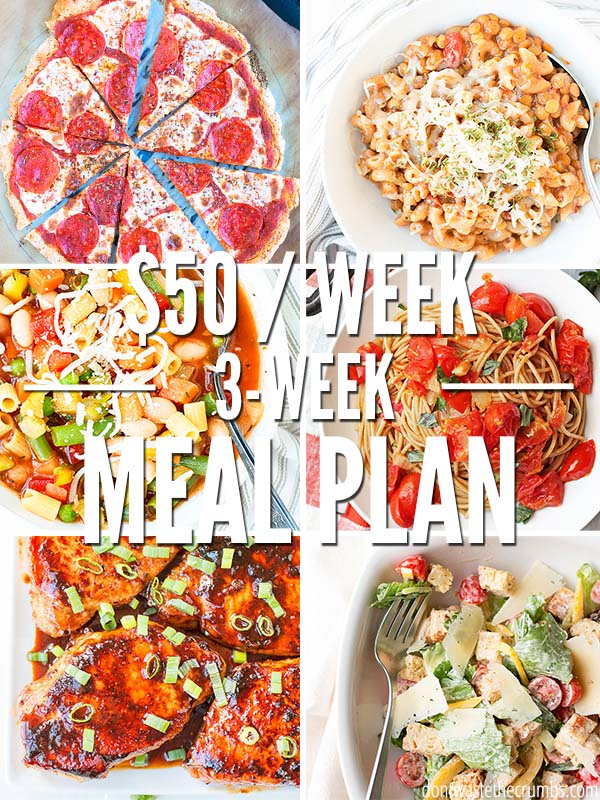 One time I blew our November budget out of the water. And NOT in a good way.
We were over by $120, over a third of our overall budget for the month. Looking back over what we bought, the only thing that stands out to me is that we bought lots of things in bulk. I blame the lure of Costco.
Buying in bulk is an EXCELLENT way to save money, but when you're on a budget, just a few bulk items can eat up a large part of the pot. Sometimes it's best to buy smaller portions, even if it's more per ounce.
I knew I had to come up with cheap meals for our next meal plan.
Planning for Budget-Friendly Meals
Since money doesn't grow on trees, that $120 we overspent had to come out of somewhere. The only logical place would be our grocery budget for December. So for the next three weeks, our real food budget was only $150.
For the fellow math nerds:
$330/month – $120 overage = $210
$210 / 4 weeks = $52.50/week
$52.50/week * 3 weeks = $157.50
I'm rounding down.
The best way (and ONLY way) to accomplish this aggressive goal is to eat out of the kitchen as much as possible.
An impromptu pantry challenge, if you will.
If you take a look at what we currently have in our kitchen, you'd see that we have a lot of food. Much of it is what I call "random" food ingredients:
barley
oatmeal
wheat
canned pumpkin
etc
By itself, it looks like nothing grand. In most cases, it needs something else in order to be considered a "healthy meal."
Except this month, that "something else" needs to come from the kitchen, not the store. In order to effectively, and efficiently, turn our random food into meals, I have to write a really awesome meal plan.
So here it is, in all its glory and awesomeness, although it's subject to change. With the exception of some fresh fruits and vegetables, I have everything needed to make everything below. This lets us push out dinner if there happen to be extra leftovers in the fridge for whatever reason.
There are no formal breakfasts or lunches planned, so we'll have lots of "snacky" breakfasts and lunches where random slices of who-knows-what will get wrapped or dipped or blended and magically become a meal.
Cheap Meals for $50/week
A note on these cheap dinners:
This plan mostly shops from the pantry and freezer. Additional items were purchased costing me about $50 a week. Prices will vary per region and if everything must be bought it may cost you more.
Many of these recipes use leftovers or a cook-once-eat-twice mentality. Keep that in mind if you switch anything out.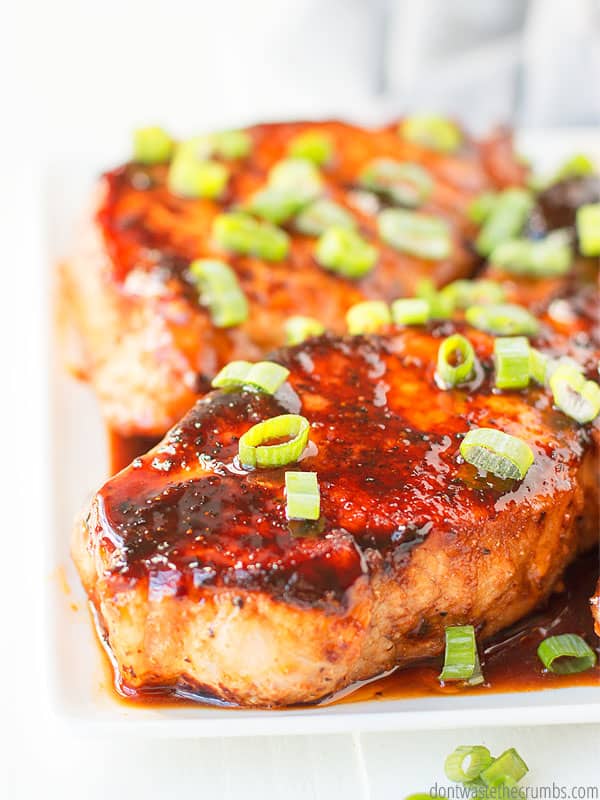 Cheap Meals: Week 1
(S) Spinach Salad with Man Bread
(M) Grilled Cheese with Veggie Sticks and Ranch
(T) Maple Glazed Pork Chops with Crispy Potato Wedges and Sautéed Green Beans
(W) Spaghetti with Side Salad with Greek Dressing
(T) Hearty Minestrone Soup (can 2x and freeze for Week 3)
(F) Homemade Pizza
(S) Baked Greek Chicken with Instant Pot Steamed Veggies (2x chicken for Week 2)
Cheap Meals: Week 2
(S) Cheesy-Mexi Lentils over Macaroni
(M) Greek Chicken Pitas with Hummus and Veggie Sticks
(T) Tomato Basil Soup, Sweet Potato Buttermilk Bread
(W) Savory Pasta with Bacon, Onions, and Greens
(T) Homemade Pizza
(F) Weeknight Vegetable Stir Fry
(S) Grilled Sandwiches with Crispy Potato Wedges
Cheap Meals: Week 3
(S) Panzanella Salad
(M) Chicken Tacos, Southwestern Corn, Coconut Rice & Homemade Tortillas
(T) Sheet Pan Sausage and Peppers and Onions and Mushrooms
(W) Spaghetti with Side Salads & Ranch Dressing (2x for Friday Pizza)
(T) Minestrone Soup (from Week 1 or Fresh)
(F) Homemade Buffalo Chicken Pizza
(S) Loaded Baked Potatoes
By the way, having a severely restricted budget isn't the only hurdle to overcome this month. Coming home to an empty kitchen after vacation is no fun, so I'm doubling a few recipes to have some meals ready to go in the freezer.
My goal is to have three dinners that require very minimal work to become hot meals. Not only does this appease the hungry masses, but it buys me a few days of being before having to grocery shop. It's kinda like washing your underwear before you come home.
FAQs for Budget Meals
What's a good lazy dinner?
How do you cook on a budget?
Are You Looking for Another $50 Meal Plan?
The menu above uses leftovers and doesn't include breakfast or lunch, but have no fear! I have two more $50 meal plans that include three square meals every day and do NOT include leftovers.
More Healthy Meal Plans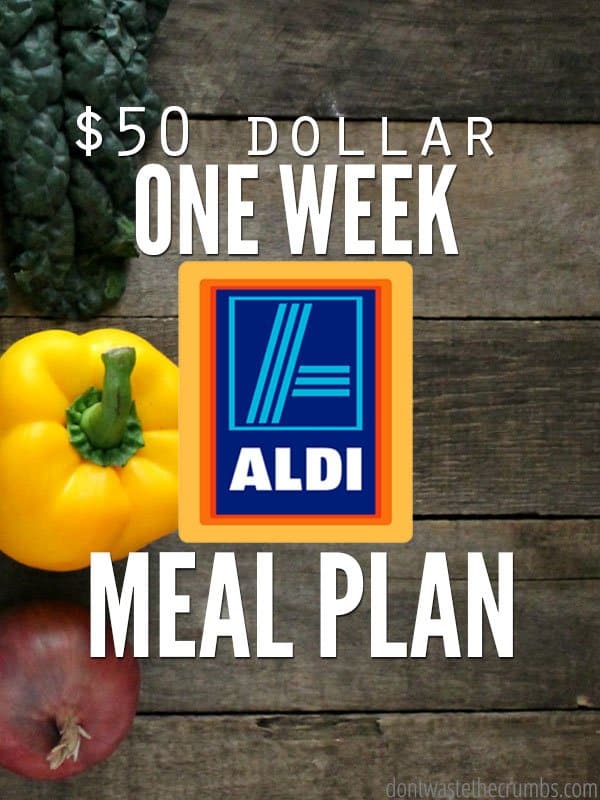 $50 ALDI Meal Plan
Sign up to get instant access to my
$50 ALDI Meal Plan
, complete with recipes and shopping list!