On a budget? Learn how to grocery shop once a month with this helpful guide! I share tips and tricks that will save you money while shopping and meal planning.
Everything You Need to Know About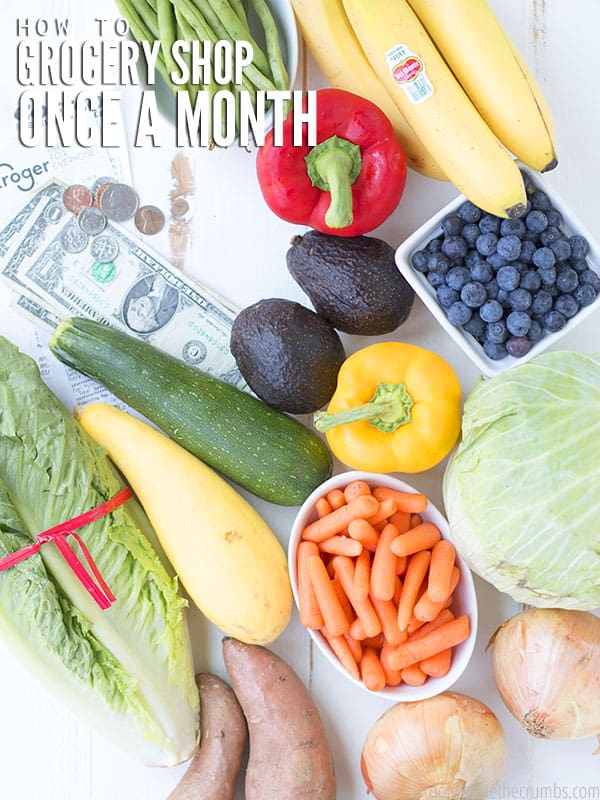 Sometimes feeding a family of four healthy food makes me feel like I'm constantly in the grocery store.
More bananas, more apples, more spinach, more butter… (darn those healthy chocolate chip cookies!).
But I also know that staying out of the grocery store is a great way to save money on food. Back when we were first learning how to eat healthy food on a budget, I made monthly meal plans and we grocery shopped just once a month!
Our shopping has changed a little bit, but I know that many of you might want to know how to grocery shop once a month – whether to save time, or money, or both!
So here's my easy 8-step method for once a month grocery shopping!
How to Grocery Shop Once a Month
1 – Start with a monthly meal plan.
I will always be an advocate for planning first, AND THEN shopping, so I recommend starting with a one-month meal plan before you leave the house.
You can follow my quick tutorial on how to meal plan once a month here, or if you really need the hand-holding, you can get my course, Meal Planning Bootcamp. You can master my easy 5-step meal planning process in less than a week and start racking up the grocery savings immediately!
2 – Review your meal plan.
Specifically, make sure the meals in that first week are using produce that is most perishable, and meals later in the month are using produce that is less perishable or frozen.
3 – Review each recipe and write down EVERYTHING you need, including the quantity.
Do this for ALL breakfasts, lunches, dinners, snacks, and desserts. Also, double-check your list so you know you aren't missing anything when you go shopping.
(If you don't know how to plan for breakfasts or lunches, I teach that too in my course Meal Planning Bootcamp!)
4 – Shop your kitchen.
I recommend shopping in your kitchen before you even make your monthly meal plan, but it's important to repeat this step here too. You certainly don't want to buy a month's worth of peanut butter only to find several jars already in the pantry!
And you definitely don't want to find a bag of wilted spinach shoved in the back of the fridge at the end of the month when you could have used that instead of the new head of romaine that's on your list!
5 – As you find what you need in your kitchen, cross it off your list.
With what's left on your list, see if you can substitute with what you have in your kitchen.
Be willing to freely swap things around. Some things won't even be noticeable, like using different onions, or a different potato, or a different squash!
6 – Decide when you're going shopping.
I don't mean the day of the week, but rather decide if you're shopping ONLY once for the whole month, or if you're going to do a mid-month trip for perishables.
Both methods work well, but if you're doing a mid-month trip for things like milk and lettuce, you won't need to buy it at the beginning of the month.
7 – Go shopping!
Cross things off as you buy them and check your list before you leave the store, just to make sure you didn't miss anything. This is a great job for your little helpers, if you have them, along with these other tips and tricks for keeping the kids busy while you SAVE.
Also, give yourself plenty of time so you're not rushed and accidentally forget important things on your list.
8 – Unload the car and put everything away.
Make sure perishable items don't get hidden in the back of the fridge!
Need other Ideas for Saving Money on Groceries? Check these out:
Meal Planning Made Easy
Sign up to join our FREE
8 Day Meal Planning Challenge
! Start anytime and get access to lesson videos, worksheets, and an online community.