On a tight budget? Learn how to make a grocery list for a month with this helpful guide! I share tips and tricks that will save you money while shopping and meal planning.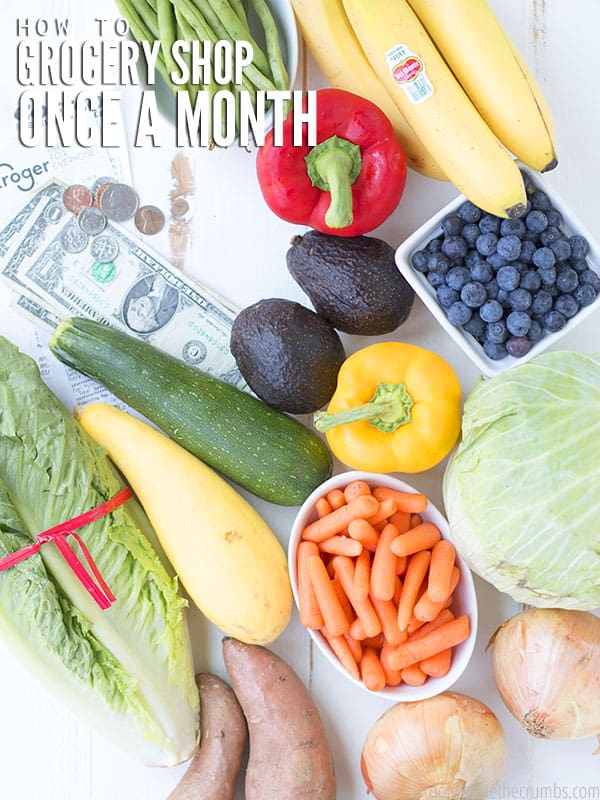 Buying healthy food for a whole family makes me feel like I'm constantly in the grocery store.
More bananas, more apples, more spinach, more butter… (darn those Healthy Chocolate Chip Cookies!).
But I also know that fewer trips to the grocery store are the best way to save money on food. Back when we were first learning how to eat real food on a budget, I made monthly meal plans and we only went to the grocery store for our monthly grocery shopping trip.
Our shopping has changed a little bit, but I know that learning how to grocery shop once a month is incredibly beneficial – whether to save time, money, or both!
Here's my easy 8-step method for creating a monthly grocery list that fits YOUR family!
How to Create a Basic Grocery List for a Month
1 – START WITH A MONTHLY MEAL PLAN.
I will always be an advocate for planning first AND THEN shopping, so I recommend starting with a one-month meal plan before you leave the house.
You can follow my quick tutorial on how to meal plan once a month here, or if you need the hand-holding, you can get my course, Meal Planning Bootcamp. You can master my easy 5-step meal planning process in less than a week and start racking up the grocery savings immediately!
2 – REVIEW YOUR MENU PLAN.
Specifically, make sure the meals in that first-week use produce that are most perishable and meals later in the month use less perishable or frozen produce.
3 – REVIEW EACH RECIPE AND WRITE DOWN EVERYTHING YOU NEED, INCLUDING THE QUANTITY.
Do this for ALL breakfasts, lunches, dinners, snacks, and desserts. Also, double-check your list so you know you aren't missing anything when you go shopping.
(If you don't know how to plan for breakfasts or lunches, I teach that too in my course Meal Planning Bootcamp!)
4 – SHOP YOUR KITCHEN.
I recommend shopping in your kitchen before you even make your monthly plan, but it's important to repeat this step here too. You certainly don't want to buy a month's worth of peanut butter only to find several jars already in the pantry!
And you definitely don't want to find a bag of wilted spinach shoved in the back of the fridge at the end of the month when you could have used that instead of the new head of romaine on your list!
5 – AS YOU FIND WHAT YOU NEED IN YOUR KITCHEN, CROSS IT OFF YOUR LIST.
With what's left on your essential grocery list, see if you can substitute what you have in your kitchen.
Be willing to freely swap things around. Some things won't even be noticeable, like using different onions, a different potato, or a different squash!
6 – DECIDE WHEN YOU'RE GOING SHOPPING.
I don't mean the day of the week, but rather decide if you're shopping ONLY once for the whole month or if you'll make a mid-month trip for perishables.
Both methods work well, but if you're making a mid-month trip for things like milk and lettuce, you won't need to buy them at the beginning of the month.
7 – GO SHOPPING!
Cross things off as you buy them, and check your list before you leave the store just to make sure you didn't miss anything. This is a great job for your little helpers, if you have them, along with these other tips and tricks for keeping the kids busy while you SAVE.
Also, give yourself plenty of time so you're not rushed and accidentally forget important things on your list.
8 – UNLOAD THE CAR AND PUT EVERYTHING AWAY.
Make sure perishable items don't get hidden in the back of the fridge! Keeping your kitchen organized is an important way to save time in the kitchen.
The Benefits of Creating a Monthly Grocery List
Save Time and Money: Plan your grocery needs for a month to save trips to the store and avoid overspending.
Enjoy Freshness and Variety: With careful planning, you can still enjoy fresh vegetables and fruit throughout the month.
Take Advantage of Bulk Purchases: Buy pantry items in bulk to stretch your budget.
Cater to Dietary Needs: Plan for specific dietary requirements or health goals to ensure you have the right ingredients on hand.
Reduce Stress and Decision Fatigue: With a well-organized grocery shopping list, meal planning becomes easier and less stressful.
Embrace Creativity and New Recipes: Explore new delicious meals with the freedom of planning ahead.
What should be on my monthly grocery list?
In my experience, there is no one size fits all master shopping list that works for everyone. Families have a wide variety of dietary needs and preferences. Plus our schedules are different, or lifestyles vary, and there's a wide variety of factors that make it hard to pin down a specific list for all.
However, I know that you're busy and a master list could be helpful! Here's a suggestion for pantry staple foods that fit a real food budget. I buy these items on a nearly monthly basis unless I can find cheaper ones in bulk.
Shelf Stable
Rice (white rice or brown rice)
Flour (or whole grains)
Beans (canned or dry)
Popcorn
Broths (chicken or vegetable)
Pasta
Pasta sauce
Condiments (unless you make your own)
Salad dressings
Spices and seasonings
Honey
Frozen
Mixed veggies
Broccoli
Corn
Cauliflower
Green beans
Peas and carrots
Blueberries
Fresh foods that can be frozen if needed to last longer
Eggs
Cheese
Yogurt
Fruit (strawberries, bananas, peaches, pineapple, etc)
Bell peppers
Onions
Meats (including lunch meat)
Bread
FAQs
Is it possible to create a cheap grocery list while still buying fresh produce?
Absolutely! Look for seasonal fresh fruits and vegetables, shop at your local grocery store for deals, and consider frozen options with a long shelf life, like frozen fruit and vegetables.
What are some budget-friendly protein options to include in my grocery list?
Fresh meat like ground beef, chicken thighs, and chicken breasts are affordable choices. Buying in bulk or opting for store brands can also save you money.
Are frozen fruits and vegetables as nutritious as fresh ones?
Yes, frozen produce is often harvested at its peak and retains its nutritional value. It's a great way to enjoy affordable and nutritious options, especially when fresh fruits or vegetables are out of season or expensive.
How can I reduce food waste and save money?
How can I make the most of my grocery budget with limited funds?
Shop strategically and consider generic brands or store brands for affordable alternatives. Also, take advantage of discounts, coupons, and cashback apps to maximize your savings.
Create Monthly Grocery List: Final Thoughts
Creating a budget grocery list for one month is a savvy strategy that can work wonders for your wallet, meal planning, and shopping routine. By taking the time to craft a well-planned grocery list, you'll unlock a world of benefits. Try out some of these tips, and let me know how it goes in the comments below!
More Grocery Shopping Tips
Meal Planning Made Easy
Sign up to join our FREE
8 Day Meal Planning Challenge
! Start anytime and get access to lesson videos, worksheets, and an online community.