Grocery shopping can become a hassle when you are busy. That's when grocery delivery services come in to save the day! This is my honest review of some of the most popular retailers. Read my other reviews on online grocery shopping and Farmbox Direct.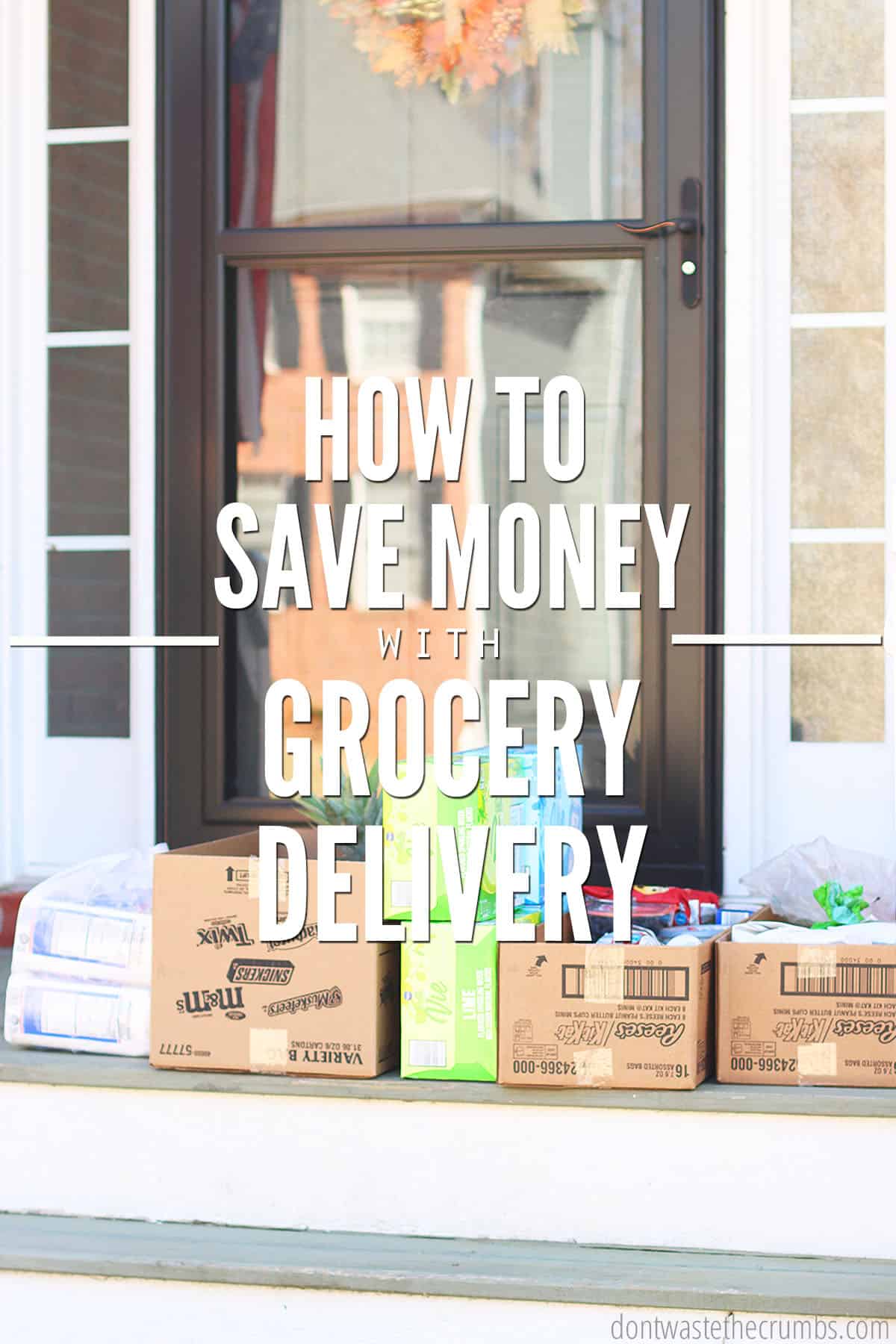 Everything You Need to Know About Grocery Delivery Services in 2022
Grocery delivery services can be an incredible tool for busy families, but is it a good idea for those who are working within a real food budget?
Of course, we'd all love the convenience of not going to the grocery store, but all conveniences come with a cost. When you have a food budget, it's important to do your research and crunch the numbers to see if this convenience is costing you MORE money than if you had gone shopping yourself.
I've tested a few different grocery delivery services, and here's how I think you can strike balance between the two, taking advantage of the convenience AND saving money at the same time. Let's see which is the best grocery delivery services offer!
Saving Money Using Grocery Delivery Services
Instacart is probably the most well-known grocery delivery service, but Shipt and DoorDash offer grocery delivery too.
In fact, most grocery stores DON'T offer their own personal shoppers and delivery service – using their own vehicles and their own drivers – but use one of the above services instead.
So essentially when you choose "grocery delivery" at ALDI or Kroger or Costco or Safeway, Instacart is the company that shows up at your front door.
My Experience Using Kroger Instacart Delivery
Anytime I order groceries online, I price compare to similar stores to make sure I'm getting the best deal possible. The same applied when I was using Kroger's grocery delivery services. I had one tab open for Kroger, one tab open for Walmart, and another tab open for Instacart.
I added the same item to all three carts and I was VERY surprised to see who had the best deals between the three shops!
First, let me break down the fees associated with Kroger delivery – shopping at Kroger.com – and fulfilled via Instacart.
Delivery Fee: $9.95
Delivery Tip: $2 (adjustable)
Total: $11.95
That means that unless you are using some type of promotion that allows free shipping, you're paying a minimum of $11.95 just for the convenience of having your groceries delivered.
This does NOT take into account the possible higher cost of groceries when using grocery delivery (more on that in a minute).
Next, let me share the items I put into each cart:
1 Italian loaf of bread
20 ct tortillas
1 bag of coleslaw
1 lemon
1 lb medium shrimp
1 bunch cilantro
1 bunch green onion
1 mango
1 head red cabbage
1 bunch radish
1 lime
1 lb asparagus
All together, these items cost $24.40 when I made my purchase at Kroger.com.
My Experience Using Walmart Grocery Delivery
Walmart grocery delivery is similar to Kroger, in that you "shop" at Walmart.com but Instacart is the company that actually brings your groceries to your home from Walmart stores.
Delivery Fee: $9.99
Service Fee: $3 (reduced to $1 if you spend $75+)
Delivery Tip: $2 (adjustable)
Total: $14.99
Just like Kroger, you are going to spend nearly $15 for the convenience of having your groceries delivered to you versus going to the store and shopping yourself.
My total for the same items I put in my Kroger cart came to $23.12.
My Experience Using Instacart Grocery Delivery Services
Delivery Fee: $7.95
Delivery Tip: $7 (not adjustable)
Total $14.95
As you can see, there's a trend. Using grocery delivery – regardless of what store you use – will come with a delivery fee and required delivery tip. If you use Instacart, your fees will be at least $14.95.
Note: You may get around the delivery fee if you're a new customer or if a store is running a promotion, but it's best to assume that you will have to pay the fee if you're calculating whether or not it's worth the cost to use the service.
My total for the same list of groceries I put in my Kroger.com cart and my Walmart.com cart came to $24.75.
My Experience Using Amazon Fresh Store
If you thought getting your pantry staples from Prime Pantry was cool, Amazon kicks it up a notch with Amazon Fresh, you can have fresh produce and groceries delivered to your door!
This perk is only available in select areas (you can see if there's availability in your zip code here), but you can see what types of items are available on this page.
They have weekly deals, for more savings! If they deliver to your area, Prime Fresh could have competitive prices to your grocery store!
What makes Amazon Fresh worth it though in my opinion, is that there are no other fees involved. If you're already paying for your yearly Amazon Prime membership (or using the free 30-day trial), then why pay the extra fees by shopping elsewhere?
Update: It looks like Amazon has recently changed the terms to a free 30-day trial before a monthly charge. I still think it's worth trying for the free 30 days if you enjoy the convenience of food delivery. After the trial period, it's worth breaking down the cost of food on Amazon + the monthly charge, and then comparing this to other online grocery delivery sites.
Best Options for Home Grocery Delivery
Let me summarize the totals for each of the three carts I was shopping from:
Kroger: $24.40 (groceries) + $11.95 (fees) = $36.35
Walmart: $23.12 (groceries) + $14.99 (fees) = $38.11
Instacart.com (shopping from Kroger): $24.75 (groceries) + $14.95 (fees) = $39.70
The totals completely surprised me!
The cost of groceries alone was cheapest at Walmart, but there was only a difference of $1.63 between the most affordable and most expensive store.
Walmart's fees were higher, which allowed Kroger.com to sneak in and take the victory with the smallest total of $36.35, $3.35 less than the most expensive option of shopping at Instacart.com and choosing Kroger as my store to shop at.
Before You Use Costco Grocery Delivery…
I can't possibly test grocery delivery for every store, but I do want to share some things I found during my research.
First, some stores raise their prices when you shop online versus if you shop in the store. I'm not a current Costco member, but my friend Katie experienced this when she recently used Costco's grocery delivery, which is fulfilled by Instacart.
Using an imaginary shopping list as an example, let's say she bought apples, coffee, and oatmeal. If she went to Costco, the prices would be $8.99, $10.99, and $7.99 respectively. But when she shops online via Instacart, the prices for each item are $9.99, $11.99, and $8.99 – a full $1 more for EACH item.
I saw a similar warning in a pop-up when I tried to order Target groceries through DoorDash. The warning specifically said, "Prices are higher than in-store prices for this location." Also, any in-store promotions did not apply to grocery delivery.
This isn't the case for every store, but it IS the case for some, which means you either need to be familiar with the store prices already or physically visit the store at least once or twice to get a good idea of what items typically cost and then compare those prices to what's listed online.
No Cook Meal Plan
Sign up to get instant access to my
No Cook Meal Plan
, complete with recipes and shopping list!
Pros of Using Home Delivery for Groceries
No impulse buying
Easy to get everything on your list
Don't have to get dressed to go shopping
Don't have to use gas to get to the store
Can have multiple stores delivered at one time
Cons to Home Grocery Delivery Services
Have to make sure your list is 100% complete because you won't be reminded by walking by items in the store.
You CANNOT use loyalty cards, paper coupons, or digital coupons when you use grocery delivery.
It costs $12-15 per delivery. For a weekly trip, that comes out to $624 for one year – in fees alone.
Not all services are available in all areas.
Update for this week, just to let you know that there are some drawbacks that can happen with grocery delivery. Here is my experience from this past week. I received:
wrong butter (salted, instead of unsalted)
a tomato (didn't order, LOL)
5 text messages about out-of-stock foods and what to do about them while I was in a meeting at the kid's school (good that they ask… bad that they ask…)
And some prices online were more expensive than in-store (saw price in sales ad)
Plus they didn't have items I knew were available (coconut milk)
How to Save Money Using the Best Grocery Delivery Service
Sign up as a new user (free delivery for DoorDash)
Refer Friends (you earn rewards that off-set the cost of your grocery delivery)
Choose "no rush" at checkout to save $2
Met the minimum required for free shipping (if available). Consider stocking up on a few non-perishable items that you eat often, like canned tomatoes or pasta or cereal, or ask a neighbor if they need anything.
Sign-up for a yearly membership, if you'll use the service often enough to pay for it (crunch the numbers first!)
Choose a delivery time that costs less. I was able to save a couple of dollars by choosing a very early delivery time frame. No one has to be present for the delivery, so you can save a little bit in fees there.
Final Thoughts on Grocery Home Delivery
I enjoyed using grocery home delivery. It was VERY convenient, especially for large orders, and it was one less thing to do on a weekend. I placed my order over the course of a couple of days, set my delivery for early Saturday morning, and woke to groceries on my porch. It was nice knowing I didn't have to go shopping that day!
I intentionally used grocery delivery for a very large order as I was getting ready to shoot MANY pictures for the blog. If I use the service again, I'd likely only use it for this purpose. I don't plan on using grocery delivery as a normal weekly service.
I love the idea of shopping online, but I think using grocery pick-up is the better option. You can use loyalty cards, paper coupons, and digital coupons at almost every store. Plus most stores offer grocery pick-up for free, so you aren't paying delivery fees or delivery tips.
More Honest Reviews