I've had my eye on making natural deodorant every since we stopped using shampoo.
But for one reason or another, it didn't make it to the top of the to-do list.
Plus for a long time I didn't wear any deodorant at all… and if I wasn't wearing it, then why bother make it?
It's a lot like our case for not wearing sunscreen. The temperatures where we used to live were mild year round. It rarely got above 75F and when it did, I wasn't doing anything that warranted the need to wear deodorant.
Come to think about it, about the only time I did wear deodorant was when Mr. Crumbs and I went out on a date. I didn't really NEED it, but I used it more as a precaution. I certainly didn't want to be stinky while on a date!
Considering both the cool daily temperatures and the infrequency of wearing deodorant, it's no wonder making my own deodorant was low on the priority list. Instead, I focused my time and energy into making items that we did use on a daily basis, like homemade toothpaste.
And then we moved to Hotlanta.
Living in the land of humidity and hot summers, I now make homemade sunscreen and fully understand why people wear deodorant!
As if the timing couldn't be more perfect, the makers of my favorite all-natural soap recently sent me the latest addition to their shop: natural deodorant.
After 2 years of trial and testing to perfect their formula, they asked me to give a natural deodorant review and share with you my honest thoughts!
Harmful Ingredients in Typical Deodorant
Before I jump into my natural deodorant review, let's get a baseline when it comes to sweating and the stuff we use under our arms to control it.
Sweating is a normal and natural way for the body to control its temperature and cool itself off.
On its own, sweat doesn't stink. It's not until our sweat comes in contact with the bacteria that live on and under our skin that a stinky smell is created.
With that said, here's the difference between deodorant and antiperspirant:
Deodorant is designed to make the armpit area less bacteria friendly, usually with an acid (like baking soda) and/or salt. You still sweat with deodorant, but you shouldn't stink.
Antiperspirant is designed to temporarily plug the sweat ducts of the skin, usually using some variation of aluminum to reduce the flow of sweat. You won't "sweat" with antiperspirant, and you shouldn't stink either.
Just like avoiding harmful ingredients in shampoo, there are harmful ingredients in some deodorants and antiperspirants that we should avoid too, with aluminum at the top of the list.
The U.S. Library of Medicine National Institute of Health has found that aluminum mimics estrogen in the body, is capable of causing alterations to our DNA and can even help to promote the growth of breast cancer cells.
That's certainly not something I want to put on my body – or on anyone else in my family – if I can help it!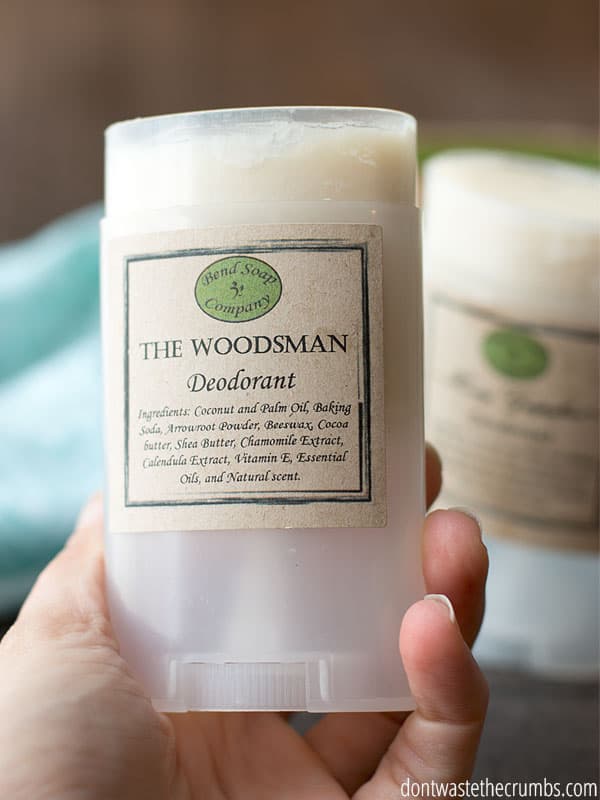 Non-toxic Ingredients in Natural Deodorant
Opposed to the list of unknown and potentially toxic ingredients found in typical deodorant, here's what's listed on the label for Bend Soap Company natural deodorant:
Coconut and palm oil, baking soda, arrowroot powder, beeswax, cocoa powder, shea butter, chamomile extract, calendula extract, vitamin E, essential oils and natural scent.
Baking soda and arrowroot powder are the key ingredients in this natural deodorant, which help to absorb and neutralize the bacteria that contribute to body odor. For those sensitive to baking soda, there's a baking soda free natural deodorant available too!
The butters and oils nourish the skin while aiding with the application process of baking soda. The extracts and essential oils both sooth and offer a light scent.
All the ingredients are 100% natural, non-toxic and can I just say that I love the fact that I have 8 of these 12 ingredients currently in my DIY cabinet?!
The Transition to Natural Deodorant
You'd think that switching to natural deodorant would be as easy as stopping the old kind and using the new one, but unfortunately it's not that simple.
Over the course of time, conventional deodorant can change your body's bacteria, so when we stop using it, we stink more.
Naturally, if you stop using conventional deodorant and start using natural deodorant, you're going to think that the natural deodorant doesn't work. But that's not true.
The initial stink is your body detoxing from the repeated and long-term use of conventional deodorant. Some people even get a rash. It's a transition period, so to speak.
The length of transition is different for each person, but it typically lasts 1-2 weeks. There are a few ways to mitigate the transition period, including an armpit detox.
Bend Soap Company Natural Deodorant Review
I started using Bend Soap Company's natural deodorant on and off for the first couple of weeks. It was early spring with cooler temperatures and I wasn't sweating much and didn't want to use something to combat stink if I wasn't even stinky in the first place.
Then as spring kicked into full gear and temperatures got warmer, I used it on a regular basis.
My first full week of using the natural deodorant was the transition period. I paid attention, knowing I'd share my experience in this natural deodorant review, and the best way I can describe it you start the day as you normally would when you use deodorant. Except as the day goes on, you start to wonder if you forgot to put it on in the first place.
Because I wasn't using deodorant often in the first place (because of where we used to live and just coming out of winter), I didn't notice a smell until at least after lunch.
I never smelled bad enough where someone else would notice, so I just plowed through that week without any specific detoxing or any other major intervention.
If I knew we had something planned on a particular day, I made sure to shower closer to when we'd have to leave the house (as opposed to first thing in the morning for a date night) and wear clothes that provided air circulation. This seemed to help during that first week.
Then by week 2, I started noticing that the stink was less strong and less frequent. By week 3, the stink was gone. And the more I used it, the better it got.
Natural Deodorant Review – What You Should Know
If you're used to using an antiperspirant, using a deodorant is a different experience.
You won't be 100% dry. You might experience a little bit of moisture by the time dinner comes. Your experience will depend on your level of activity, how warm the temperatures are and how your body normally reacts to them.
But if you're using a good natural deodorant, you won't stink.
And in the many, many weeks I've been testing natural deodorant, my clothes never got wet. Not once.
I've been using Bend Soap Company's natural deodorant now for 3 full months and I can honestly say I won't go back to conventional deodorant!
Natural Deodorant Review – Best Tips for Application
Here's what I've learned these past few months that will help you get the most out of this natural deodorant review:
Less is more. 2-3 good swipes is all it takes to cover the area with a thin layer of deodorant.
Be gentle with the deodorant. The texture is creamier than conventional deodorant so if you push hard as you apply, you'll end up using way more than you need to.
Be prepared to detox. I didn't think there was much for me to detox since we eat pretty healthy and exercise regularly, but it happened anyway.
Shaving changes the application texture slightly. It's easier to apply natural deodorant to freshly shaven underarms, but it's still easy enough to apply on days 2-3 of stubble. The longer your hair, the more deodorant applies clumpy, as opposed to smooth. When I notice this change, I take it as my cue to shave!
Shaving doesn't change the effectiveness. Regardless of freshly shaven or a couple of days of stubble, the natural deodorant worked like a charm!
Cost of Natural Deodorant
I'm three months into my natural deodorant review and I have used about half of the stick.
I didn't use it on a daily basis at first, and even now I use it on average 5 out of the 7 days each week. The only reason I don't use it was because I either forget, or know we'll be at the pool most of the day anyway.
So I think it's fair to say that one stick would last about 2 months if it's used daily.
One bar of Bend Soap Company's natural deodorant costs $6.95. It's a little pricier than if you bought conventional deodorant off store shelves, but it actually costs less per ounce than many of the most popular natural deodorants on the market. Plus for me, it's worth the small price increase for avoiding toxic chemicals and potentially changing my DNA!
Natural Deodorant Review – The Bottom Line
In the end, I highly recommend Bend Soap Company natural deodorant and as if 3 months of testing hadn't already convinced me, this past weekend did.
It was 90+ degrees and I wore a sundress to the pool with my family. After a few hours there, we went home to prep a dish to take to a friends for dinner. At 3:30 pm, I was hovering over an incredibly hot stove and sweating all over like I was in the midst of a marathon. Our west-facing kitchen and gas burner was no match for the air conditioning!
Sweat aside – I wasn't stinking! I made sure to check so I wouldn't be embarrassed when we arrived, but sure enough, there was not an ounce of stink under my arms!
Have you ever tried using a natural deodorant before? What was your experience?