An apple cider vinegar detox elixir to drink daily to improve digestion & increase energy. An easy way to improve your health from the inside out! Using simple ingredients you already have in your kitchen, it's a great way to keep healthy during winter!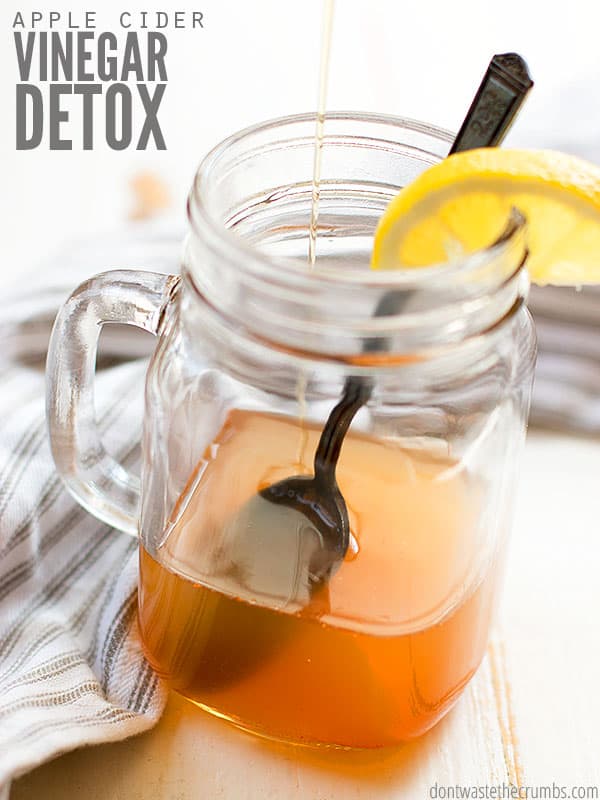 I don't know about you, but after indulging in cookies over the holidays, I'm always in need of a good "clean up" to my digestive system.
Do ya know what I mean?
There are a few home remedies to choose from to clear out my tracks:
A water fast (a little hard core for me, but my husband has done a few)
A smoothie fast (doable but not my favorite)
A detox smoothie (effective but not something I need everyday)
A simple apple cider vinegar detox elixir (this I can do!)
I'm all about a simple with-ingredients-I-already-have-on-hand kind of recipe. And let me tell you. This really works!
What does an apple cider vinegar detox do?
Apple cider vinegar is very helpful for the digestive system. Plus, it can help with other areas of your body! According to this article, there are many health benefits of apple cider vinegar, including:
losing weight
assisting with blood glucose and blood sugar levels
benefiting heart health
reducing high cholesterol
boosting metabolism
flushing toxins
reducing bloating
boosting the immune system
helping with acid reflux
Now you can just drink ACV and gain all these benefits. OR you can pair it with some other powerhouse ingredients from your kitchen to really kick the cleansing into high gear.
Simple Ingredients for ACV Elixir
You need 5 easy to find ingredients, that are most likely already in your kitchen, to make apple cider vinegar detox elixir. Used individually they aid the body in many ways. Used together they create a power shot to help set your body straight.
When to Drink Apple Cider Vinegar Detox Drink
Take this before every meal for a few weeks to jump-start your system on a detox. Then, cut back to just before breakfast.
Drinking in the morning will allow you to absorb the nutrients quickly and get your digestive system moving.
Are there side effects to an apple cider vinegar detox?
In my personal experience, I have felt dizziness and fatigue when doing a detox. This happened when I drank a bentonite clay detox smoothie AND a detox bath on the same day.
A detox can deplete the body of needed minerals. It's best to take it slow and pair with a healthy diet to keep your nutrients in balance.
That being said, you could feel the detox if you take too much at one time or try multiple detox methods at the same time.
Before starting any type of detox for health benefits, you should check with your doctor and seek professional medical advice.
Apple Cider Vinegar Drink Recipe Tips
Use warm water to make it easier to drink and help melt the honey.
This recipe makes a shot of elixir. However, if you prefer to sip and like the flavors, fill your glass with water and enjoy!
Make a triple batch that lasts a few days. Prepping it ahead makes it readily available to drink it consistently. Mix it in a mason jar (like this one) and store it in the refrigerator. Shake well before pouring a serving.
Don't be afraid of the cayenne pepper. It goes down quick!
There's nothing better than feeling well, and making an apple cider vinegar detox elixir is a great small step to take for better health!
Where to Buy Apple Cider Vinegar
You want to look for apple cider vinegar with the mother. (These are the active cultures that make the ACV work!) Most grocery stores will carry it.
You can also buy Bragg's Apple Cider Vinegar here or you can even make your own homemade apple cider vinegar and it won't cost you a penny!
Local raw honey gives you the best benefits, especially if you suffer from seasonal allergies. Check out your farmer's market for the best prices. If you can't find it local try Amazon.
More Ways to Use Apple Cider Vinegar
Facial Toning: Mix 1 Tbsp apple cider vinegar with 1 – 3/4 cup water. I use this after using this natural make-up remover.
Manage Seasonal Allergies: Similar to treating a sinus infection with apple cider vinegar, mix 1 tsp with 2-3 Tbsp water, gargle for 30 seconds and swallow. Repeat twice daily, or up to four times for more severe allergies.
Rid Croup: My son had a strange cough that included no other symptoms. We waited for a week to see if the cough would go away, but it didn't. It was harsh, loud and often. We gave him the same remedy as the sinus infection and his cough had reduced significantly within one day and was completely gone within three.
Remove Moles: I know this sounds crazy, but it really works! You can read how my husband removed a mole from the side of his face using ACV.
Bug Repellent: I have recipes to make bug repellent with essential oils and bug repellent without essential oils. Yet, some readers have even suggested that drinking just 1 teaspoon of apple cider vinegar on a daily basis has kept bugs away too!
Homemade Conditioner: Just 1 tablespoon of ACV and warm water can replace your typical conditioner. Not only does it work, but this will save you TONS of money too! Read the full tutorial on homemade conditioner here.
5 Days to DIY Natural Living
Being healthy isn't just what goes IN your body, it's what goes ON your body too. Download my free guide 5 Days to DIY Natural Living to learn how to save money while getting rid of harmful toxins throughout your home.
Simple Apple Cider Vinegar Detox Elixir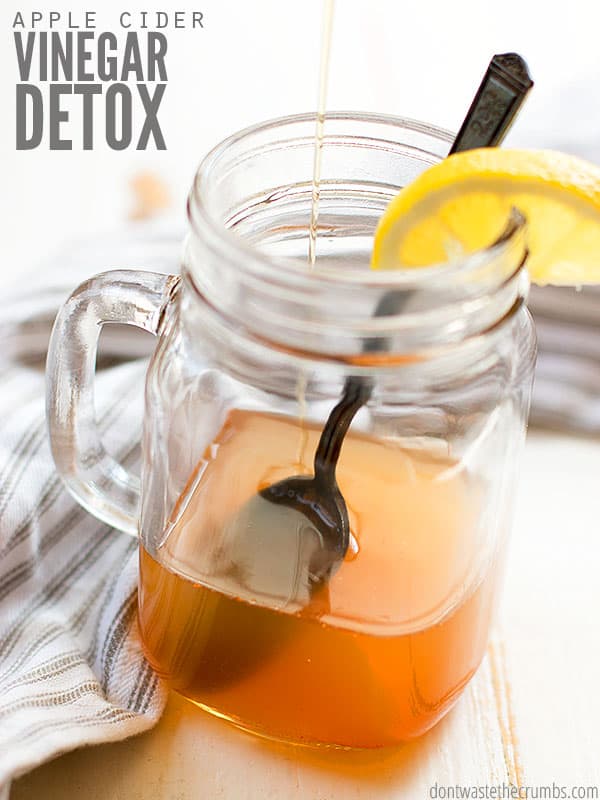 An apple cider vinegar detox elixir to drink daily to improve digestion & increase energy. An easy way to improve your health from the inside out!
Author: Tiffany
Prep Time:

5 mins

Cook Time:

0 mins

Total Time:

5 minutes

Yield:

1.5 oz

1

x
Category:

Beverage

Method:

Bowl

Cuisine:

American
1 Tbsp

raw apple cider vinegar

1 Tbsp

fresh lemon juice (about

1

–

2

wedges)

¼ tsp

ginger

1 Tbsp

raw honey
Dash cayenne pepper (seriously just a dash!)
Instructions
Mix ingredients in a glass or small jar and add about an ounce of warm water. Drink all at once before eating in the morning.