Try this Detox Bath recipe for the ultimate way to alleviate stress. Dry brushing, salt, and clay create the most relaxing and effective detox. Add to your self-care routine this DIY Salt Scrub and Exfoliating Body Wash for a daily detoxifying experience.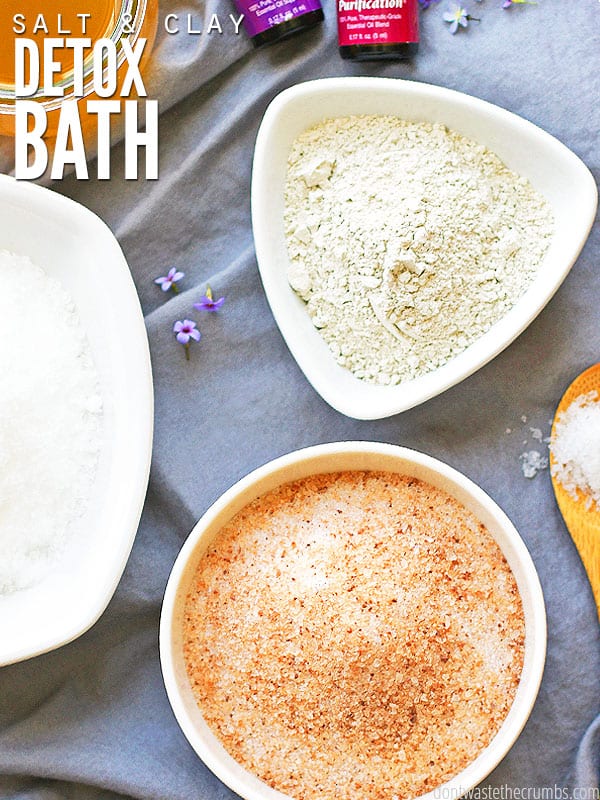 I've experienced some stressful times in my life.
Between leaving my widowed dad back in 2015 and moving across the entire country, and then living in a one-bedroom apartment for three months in WINTER (<- didn't exist in California) and not knowing where we'd live until 2 weeks before our lease was up…
Well, stressful is a bit of an understatement.
I know I'm not the only one. You've moved 18 times in 20 years, have lost jobs, homes, and bitten off more than you can chew. Couple this with how we as a society tend to cope with stress (i.e. not exercising regularly, overeating and choosing junk food over healthy food) and it doesn't take long before it makes a serious impact on our body.
Well, I have a secret weapon my friends – a detox bath.
Why Should We Take a Detox Bath?
I'm not trying to be melodramatic, but we live in a toxic world. There are pollutants in the air, toxins in our food and plastic in our face wash. Every day our bodies are hit with stress and toxins from all over the place. We can be careful in our own home, but all bets are off as soon as you step outside.
Just like drinking a detox smoothie, taking a detox bath is a simple yet effective way to help our body eliminate the toxins it accumulates. They're incredibly easy to make and the benefits range from soft skin, to improved muscle and nerve function, to alleviating symptoms related to chronic illness and aches and pains.
Plus it's a great way to take care of YOU! You wear so many hats and are responsible for so many things – taking care of yourself means being able to take better care of those you love.
How to Take the Ultimate Detox Bath
Ultimate Detox Bath Supplies
Although I haven't tested them, some people use apple cider vinegar, sea salt, ginger baths, or a few drops of eucalyptus oil for detox as well.
** Note: I love Plant Therapy essential oils. You can find their shop here.
Method for Taking the Ultimate Detox Bath
This whole process takes less than an hour. Consider this to be your time to care for yourself. Turn off your phone and unwind. Here you go!
Drink a glass of water.
Run a hot bath. Fill the tub up as high as needed to immerse as much of your body as you can.
Meanwhile, combine the salt(s), clay, and optional essential oils in a glass bowl. Mix thoroughly with a non-metal spoon. Set aside.
While the bath continues to fill, dry brush your body. This can take anywhere from 5-10 minutes, so be mindful of the water filling up the tub!
When the hot water is just about ready, pour the salt/clay mixture evenly throughout the tub. Get in the tub and while standing, use your feet to gently dissolve the mixture.
Immerse as much of your body in the tub as you possibly can and soak for 20 – 45 minutes, depending on your personal comfort level.
When you're done, dry off and have another glass of drinking water. Some people like to moisturize with coconut oil afterward

.
What Can I Expect After My Detox Bath?
When I finished my first detox bath, I felt SO GOOD! It was such a relaxing bath. In fact, I was more relaxed than I had ever been and could have fallen asleep on the spot. My husband took the same bath and he had the opposite effect – he couldn't fall asleep for hours!
Since every person will react differently, I recommend doing this on a Friday or Saturday night when you don't have to be up crazy early the next day, just in case you're more alert than relaxed.
He also felt lightheaded after his bath, whereas I didn't after mine. Again, it's totally normal, but it's best to just relax while you drink that second glass of water. Keeping yourself hydrated is the best way to assist your body in the detox process and the lightheadedness will subside within a few minutes.
Note: I get asked all the time about the warning label on Redmond Clay. If you've ever wondered about Proposition 65 or lead warnings on Redmond Clay, take a look at this information!
How Do Epsom Salt and Bentonite Clay Detox?
Salts:

Epsom salt

contains magnesium and

Redmond Bath Salt

contains 60+ minerals, with healing properties, that your body absorbs as you are immersed in the water.

Redmond Clay:

Bentonite clay

is highly regarded for its ability to absorb and draw out harmful toxins from the body. It's what helps to heal bug bites and stings on direct application, so think of this as a large-scale, slightly diluted application to your whole body.

Water:

Starting with a hot bath is what initially brings toxins to the surface of the skin. As the water cools to a warm bath, it pulls toxins from the body via osmosis.
How to Dry Brush Before a Detox Bath
Dry brushing is the act of taking a semi-stiff bristled brush and brushing your skin. It sounds weird, but it really makes a difference and it helps to exfoliate dry skin and unclog pores so the body can better eliminate toxins through the skin.
Choose a dry brush

with natural bristles if at all possible, and one with a handle so you can reach your back and other difficult to reach places without contorting your body.

Here's a dry brush that I use

,

here's a delicate brush designed for the face

,

and here's a great deal for a dry brush combo!

To dry brush,

take your clothes off,

and stand in the shower. Using long strokes, start at your feet and brush towards your heart. You should brush each area of your body a few times (I do it 5-6 times) and overlap sections as you move to another section.
Your skin will turn light pink as you brush, which is the goal. Brush lighter or use fewer strokes if your skin turns dark pink or red. You should also use fewer

strokes in sensitive areas of the body and overall if it feels too harsh. Your skin will adjust the more often you dry brush.
Detox side effects are totally a real thing
When testing various detox bath combinations, I bathed for two days in a row WHILE testing the detox smoothie recipe.
BIG MISTAKE.
I spent the entire next day on the sofa watching nature shows and Worst Cooks in America on Netflix with my son. My nausea and raging headache were so bad that I seriously thought I caught the stomach bug he had – that is, until normalcy returned as I was making dinner.
It wasn't until I started thinking back to what I had done differently in the past couple of days that I realized they were side effects from the detox baths!
Take it slow with detox baths with these tips:
Start with just one 20 minute detox bath, once a week

. If you don't experience any negative side effects, add 10 minutes to your next bath. Gradually work your way up to a full 45-minute

bath, and over time you can increase how often you take them too.
If you do experience side effects, try eliminating the bath altogether and just dry brush daily for a couple of weeks. Then add a 20-minute Epsom

salt bath with just the salt. Then add the clay. Next, increase the time. Then increase the frequency.

There's no right or wrong way to take a detox bath

, and it can be customized to fit you wherever you are in your natural living journey!
More Natural Ways to Detox
Do you take detox baths? What's your best tip to share with readers?