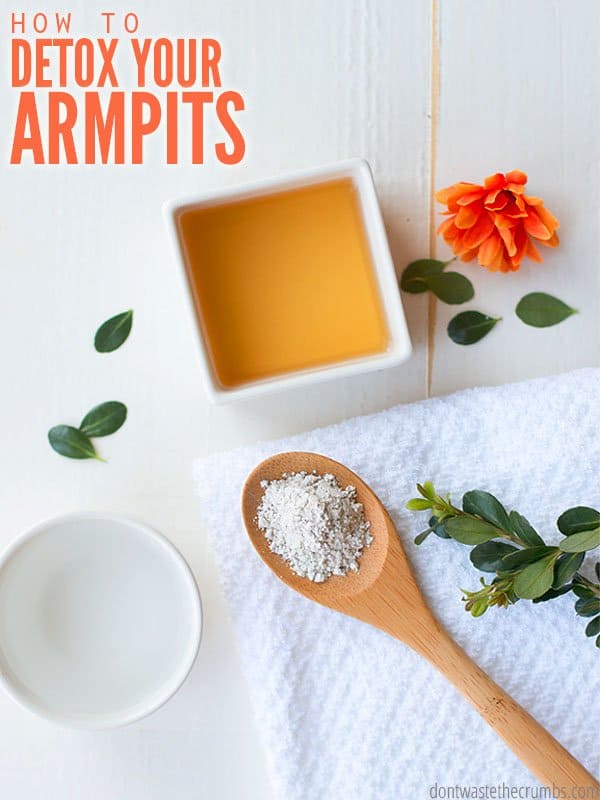 Today's post is dedicated to something super exciting – your armpits.
Why in the world would I write about detoxifying your armpits?
Because not too long ago, while cuddling before bed, my husband said to me, "Why do you smell like an Italian sub?"
You guys, we've been married for over 11 years and have two children. Needless to say, there are very few things that would cause me embarrassment in front of my husband.
But at that particular moment, I WAS ABSOLUTELY MORTIFIED!
I had been struggling with stinky armpits for several weeks, but hadn't figured out the cause yet. And honestly, I didn't think it was *that bad*…
WRONG.
It was awful. There's no polite way to say it, but I STUNK!
I was clueless as to why I smelled so bad, but I knew I had to do something about it.
I dug up a few articles about detoxing your armpits and decided to give it a shot.
And you know what, it worked!
We've actually talked about detoxifying a few times already… I shared how to make the ultimate detox bath, a super simple detoxifying salt scrub, how to make a simple detox face mask with charcoal, my favorite detox smoothie and the ever popular apple cider vinegar detox elixir.
But we've never talked about an armpit detox and the idea is very "crunchy granola" to me… am I the only one?
I'm betting not, so let's talk about the legit reasons why you should consider detoxing your armpits.
1. You stink.
Okay, okay. This isn't scientific, but it's valid. If your deodorant isn't working like it used to, or your armpits smell foul and you have no idea why, it's time to detox.
2. The junk in your deodorant.
Identifying and getting rid of the junk in our healthy and beauty products (in a baby-step way) is the whole point of my book Kinda Crunchy. I highly recommend it if you're new to natural living and are ready to make serious changes, without getting overwhelmed.
But the fact that there is junk in our deodorant isn't new news. Some of these things can really do some damage to our bodies. Just a few of the ingredients include:
Aluminum – linked to breast cancer according to this article, and possibly linked to Alzheimer's according to this article (although more studies are needed)
Parabens – one of the top 2 ingredients to avoid in shampoo for good reason – it mimics estrogen in the human body
Phthalates – this just so happens to be the second ingredient to avoid in shampoo, because they are endocrine disruptors as well (i.e. they mess up how your body makes, receives and processes hormones)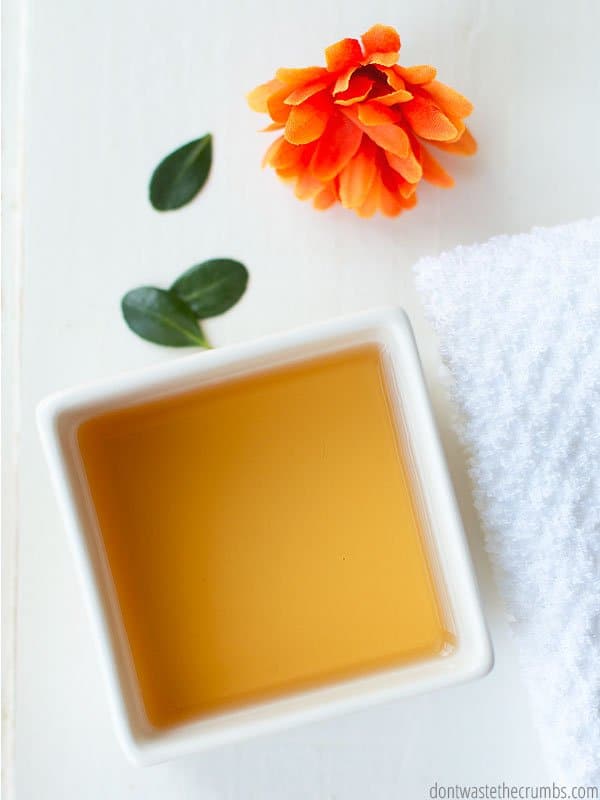 This isn't an all inclusive list of course – I've written about the icky stuff in deodorant before.
3. You're switching to a natural deodorant.
I made the switch to an all-natural deodorant a couple years ago (I shared my experience and review here), and the transition for me wasn't a big deal. But that's because I'm not a big stinky sweat-er in general.
But I know many people who can't even check the mail without deodorant.
Using deodorant changes your body's bacteria over time, which is why when you stop using it, you stink more.
That's also why when you switch to a natural deodorant, you think it doesn't work. That's not true though.
The initial stink is your body detoxing from the long-term, repeated use of conventional deodorant. Like washing your hair without shampoo, there's a transition period. This is where doing an armpit detox can help that transition period move along a bit quicker.
Remember how I mentioned earlier that my husband said my armpits smelled like an Italian sub?
The very next day, I did this armpit detox before I went to bed. The next day, the stink was gone.
Again, not scientific, but I'd whole-heartedly refer this process to my friends and I'd do it again in a heartbeat.
Because really, do you WANT to smell like a sub?
How to Detox Your Armpits
Armpit Detox Ingredients
Armpit Detox Method
In the palm of your hand, mix the bentonite clay and the water until you get the consistency of Greek yogurt. You don't want it runny, but you don't want it super thick either.
Spread in an even layer over your armpits and let it sit for 5-15 minutes. Bentonite clay is known to draw impurities from within the skin, so it's normal for the area to turn red. This shouldn't hurt at all, but the armpits can be sensitive, so if it does, remove the clay ASAP.
Wash off the clay in the shower, or with a wet, warm washcloth.
If desired, you can swipe your armpits with apple cider vinegar using cotton balls or a second washcloth. ACV is known to neutralize bad bacteria that may be causing the stink, but it's also a mild acid. I don't recommend doing this if you have sensitive skin.
Repeat the detox daily, or as needed, to keep the stink at bay or as you are switching to natural deodorant.
So what do you think about an armpit detox – too weird? Or totally normal? Has there every been a time when you stunk and you couldn't figure out why? Share your experiences in the comments!