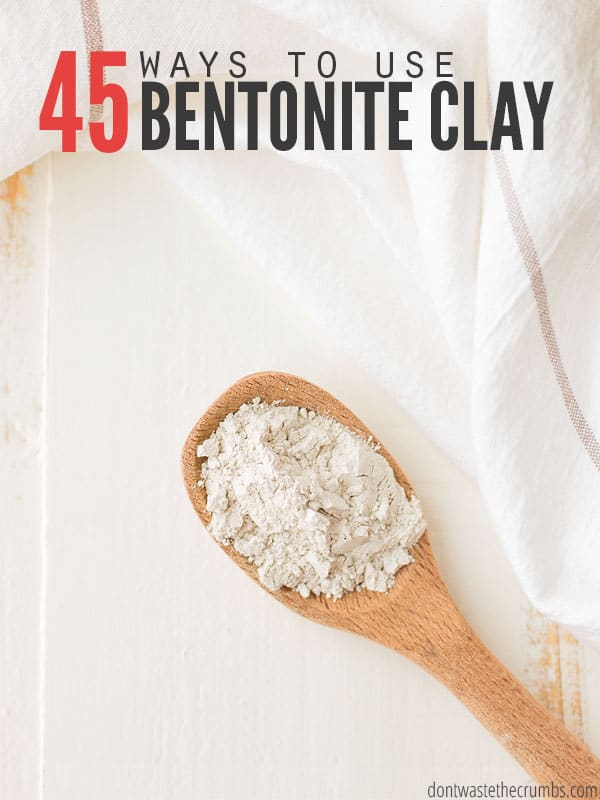 One of the very first natural living baby steps I ever took was making homemade toothpaste.
The only reason I did it was because we had switched from over-the-counter toothpastes (filled with fluoride and harmful foaming agents) to bentonite clay-based Earthpaste and we had ran out. I was so bent on using a natural toothpaste, that I threw away all the other toothpastes and didn't have a single tube of anything else in the house!
That first attempt was an experiment really, because I didn't even know you COULD make your own toothpaste.
I've learned a lot since then though, including tons of other ways to use bentonite clay. In fact, if I were stranded on an island and could only bring one natural living item with me, it would be bentonite clay.
I know this is a bold statement considering the arsenal of supplies in my natural living cabinet, but it's so true. Anytime someone in the family has an ailment of any kind, we immediately wonder whether or not we can use bentonite clay to take care of it. And a lot of the times, we can!
While I've written about some of the beneficial properties of bentonite clay, I realize that I haven't written much about the clay itself. And true to my philosophy, I believe it's important to know WHY you're using something, not just how.
Before You Use Bentonite Clay
There are two most commonly available types of bentonite clay: sodium bentonite clay or calcium bentonite clay.
According to Mountain Rose Herbs, both types of clay come from deposits of aged volcanic ash. They also both draw in toxins, heavy metals and impurities from the body. How they both do this amazing feat though, is different.
Sodium Bentonite Clay
Sodium bentonite clay draws in toxins through absorption (note the AB). When it becomes wet, it's like a crazy powerful sponge, absorbing harmful bacteria from the body.
As sodium bentonite clay absorbs impurities, it leaves behind sodium in its place. This sodium is a natural electrolyte, helping the body hydrate.
Calcium Bentonite Clay
Calcium bentonite clay draws in toxins through adsorption (note the AD). When it becomes wet, it acts like a magnet, possessing a really strong electrical charge. So strong that it can remove fluoride from water! This charge makes the bond between the clay and impurities more effective.
As calcium bentonite clay attracts impurities, it leaves behind calcium. This calcium, along with many other trace minerals like magnesium, sodium and potassium, is ideal for remineralizing.
According to Bulk Herb Store, calcium bentonite clay is more alkaline than sodium bentonite clay, also making it helpful for balancing the body's gut bacteria.
Which Clay Should You Use?
If you have a very specific goal, like JUST detoxing or JUST remineralizing, then you should pick the appropriate clay.
BUT, if you're a multi-purpose type of person like me and want to have options and don't want to be stuck with one type of clay when you wish you had another, I recommend Redmond Clay.
While most bentonite clays are high in either sodium OR calcium, but Redmond Clay comes from a unique deposit that is high in BOTH.
This means you can stash Redmond Clay in your natural remedy cabinet and it will pull all sorts of double and triple duties for you (with more specifics on that below).
I order Redmond Clay from here and love that I can buy just one tub to cover a multitude of ailments, rather than having a ton of different items in the cabinet. And we must not forget that Redmond Clay is 100% natural, so we're kicking germ butt and healing naturally!
Ways to Use Bentonite Clay Internally
You can do your body some serious good by using bentonite clay internally, but there's a better way to do it than just licking a spoon. The three main ways you can take bentonite clay internally are:
In a Capsule
This is probably the most convenient method since you can take it anytime, anywhere without thinking twice or even tasting it. Redmond Clay used to make three different versions of capsules (Daily Detox, Mineral Support and Stomach Health), but they're all the same thing. Don't give too much weight to the nomenclature and aim for about $15 for 120 capsules. (This is the best deal on Amazon.)
Via Clay Water
To make clay water, mix 1 teaspoon of Redmond Clay with 8 ounces of water. You can either drink it as is, or let the clay settle and drink the water off the top.
I've tried this method and either I'm a wimp or I didn't do it right, but I had a hard time getting past the taste. Many people swear by it though, and since I buy Redmond Clay in a tub, this option means buying less items overall and possibly even saving money by buying clay in bulk (more on that below too). Although if I wanted to make it a bit easier on myself, I guess I could encapsulate them myself using empty vegetable-based capsules. Something to think about.
In a Smoothie
I'm a HUGE fan of smoothies (which explains why I wrote a book about them!), which explains why this is my personal favorite way to use bentonite clay internally.
You can either add 1 teaspoon to your favorite smoothie OR mix up an amazing detox smoothie that's packed with other super healthy foods (like ginger and kale and berries) that help get rid of the junk from your body.
What kind of internal ailments can you use bentonite clay for? Check them out:
System Internal Detox
Neutralize Heartburn
Combat Acid Reflux
Calm Upset Stomachs
Alleviate Constipation
Help with Irritable Bowel Syndrome (IBS)
Boost Immunity (source)
Alleviate Common Stomach Bugs (source)
Reduce Vomiting in Pets
Muscle Recovery
Balance the Body's pH
Boost Benefits of Probiotics
Alleviate Leg Cramps
Ways to Use Bentonite Clay Externally
You can pull some magical healing tricks when you use Redmond clay externally. Luckily, there is just one main way to use it, with two minor options.
Put it on Thick As a Poultice
To apply a clay poultice, place a thick layer (¼ to 1 inch thick) over the affected area. Leave on the area as long as desired, but it's best to wash it off before it dries completely because of the strong adsorption (magnet) powers. If you want to leave the poultice on the area overnight, wrap with cheese cloth or plastic wrap and the clay won't dry out.
Put it on Thin
Anything less than 1/4 inch thick is considered thin, and the same method applies as with a thick poultice. Since a thin layer dries much quicker than a thick layer, I personally tend to wait until it has just dried before washing off.
Here are tons of ways you can use bentonite clay externally:
Maintain Healthy Skin
Rashes
Achy Joints
Cuts
Bruises
Scrapes
Burns
Boils
Tick Bites/Mosquito Bites
Bee Stings/Wasp Stings
Mastitis
Blisters
Itching Due to Shingles/Chicken Pox/Eczema
Poison Ivy/Poison Oak
Inflamed Cysts
Sunburn
Chapped, Dry Skin
Canker Sores
Psoriasis
Eczema
Rosacea
Ingrown Hairs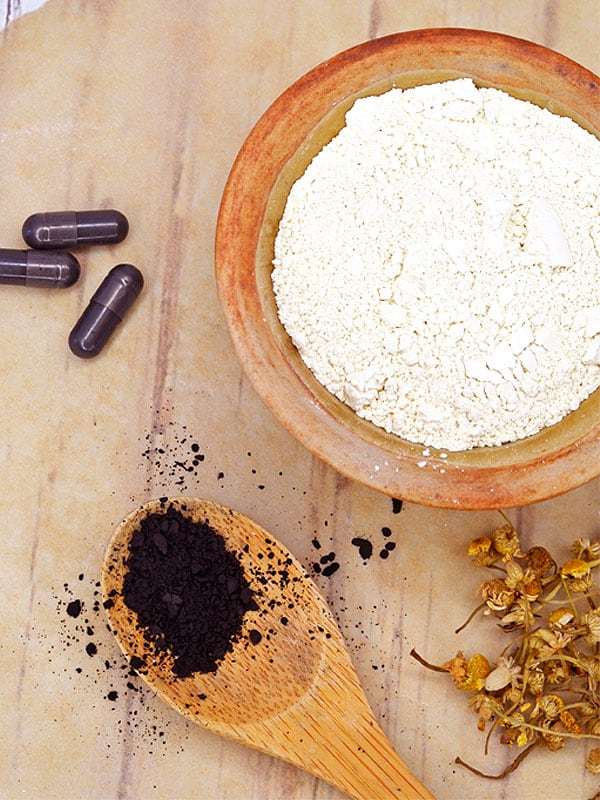 What Else Can You Use Bentonite Clay For?
As families look for ways to heal naturally, home remedies that use bentonite clay are becoming more common. Here are some of my favorites, along with specific recipes/tutorials to help.
Lastly, one of the most common questions I get about Redmond Clay is in regards to the warning label. If you've ever wondered about the Proposition 65 or lead warnings on Redmond Clay, here's a great explanation!
Where to Buy Redmond Clay?
I usually order the 10 oz tubs here and that's been working for my family so far, but as the kids get older and I learn more about natural remedies, I'll start buying 6 lbs of clay in bulk and save over 50%.
I also have at least one tube of hydrated clay on hand, usually for convenience when we're travelling or moving. I've also been known to use this in lieu of homemade toothpaste when we run out and I haven't had a chance to make more!
How else do you use bentonite clay?
Disclosure:  This post is sponsored by Redmond Clay. I've been using Redmond Clay products in my home for a long time now, and long before this blog was born. As always, I would never recommend anything on Crumbs that I wouldn't recommend to a close friend or neighbor, and all opinions here are my own.