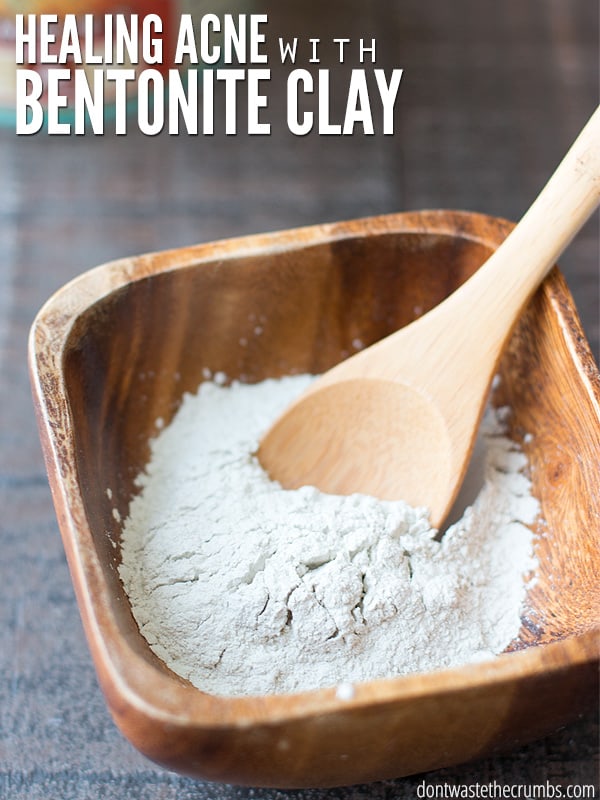 We've been using bentonite clay in our home for a couple of years now, with homemade toothpaste being the recipe I make most often.
We use it to help us detox too – internally through a detox smoothie and externally via a detox bath.
Most recently though, I've been healing acne with bentonite clay.
I've struggled with acne for as long as I can remember and wrote extensively about my attempt at healing acne.
I still use that same routine and it's so great for my skin, but that doesn't mean my skin doesn't ever break out.
During certain times of the month, when the seasons change or when I'm under a great deal of stress, my body is at war and my skin is the battlefield.
My weapon of choice: bentonite clay.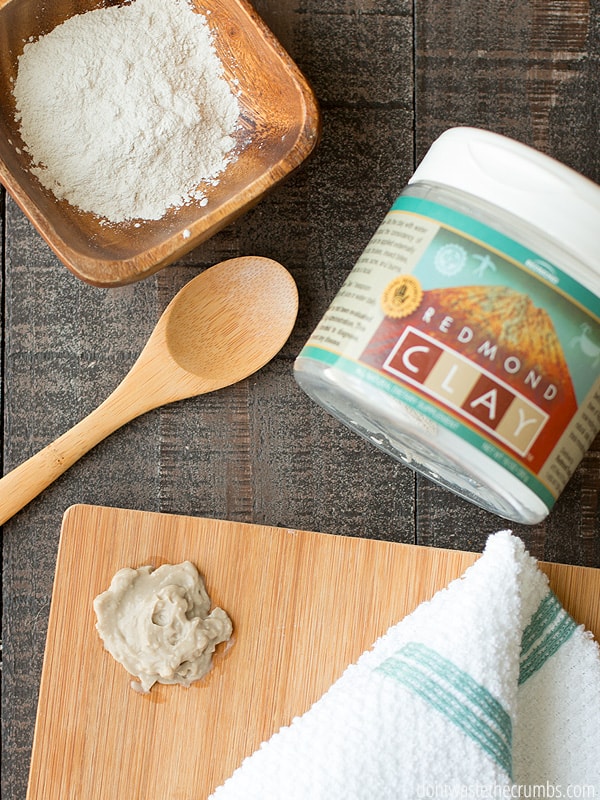 I make it a point to wear a bentonite clay face mask every few days as part of my normal daily routine. Most of the time this works well enough to make it through the week or so when my internal battles surface.
But this past summer was a perfect storm.
I was stressed, my hormones were raging and I was sweating like a pig here in Hotlanta. My skin was awful and the normal routine wasn't cutting it.
Remembering that bentonite clay is known to pull the impurities from the body in two ways – through absorption and adsorption – I upped my dosage and created a new emergency routine. A way to use bentonite clay to heal acne breakouts FAST.
How to Heal Acne with Bentonite Clay
1. Undo any recent changes you've made to your routine.
New face soap? New lotion? New scent of your tried-and-true skin toner? What about new laundry detergent?
If you've made any changes to your skin routine – including anything that touches your skin (like the soap you use to wash your clothes) – undo those changes.
When my skin was under attack, I remembered that I had recently switched the scent of soap I used. Since that was the only change I had made, I knew that my skin was reacting to the fragrance in the soap.
Go back to whatever you were using before while you get your skin under control. You can return these items for a refund, find another purpose for them or save them to try again later, but for now, put them on the back shelf and stick to the products you know.
As for that offending bar of soap, I took it and designated it as "kids soap" and put it in their bathroom.
2. Keep things simple.
It's natural to want to reach for acne-healing-this or skin-clearing-that when you're having a breakout, but it ends up doing more harm than good to your skin.
Instead, you want to keep things simple: wash, exfoliate, moisturize. Repeat morning and night, but also after excess sweating and/or when you no longer need make-up on.
My normal skincare routine for acne includes goat milk soap for cleansing and coconut oil for moisturizing. During a breakout, I switch to plain coconut oil. If coconut oil doesn't agree with your skin, consider sweet almond oil, jojoba oil or argon oil.
3. Apply a bentonite clay mask liberally, and often.
I already mentioned that I incorporate bentonite clay in my normal skin routine (here's the brand I use), but when I'm in the midst of a breakout, I use a mask at least twice a day, sometimes even three times!
Typically I'll cover my entire face with a bentonite clay mask at night. I apply a medium layer and leave it on for 10-15 minutes before washing it off.
In order to prevent my skin from over-drying, I apply a slightly thinner layer on just the problem areas at other times of the day. Usually this happens in the morning before I shower, and again late afternoon.
Depending on your schedule, you might use bentonite clay after work or whenever you wash off your make-up, or during nap time or during a lunch break.
How to Make a Bentonite Clay Mask:
Combine ½ tablespoon of bentonite clay with enough water to form a paste that resembles mud. You can do this in your hand or in a bowl, and you can add more water if you prefer a slightly thinner texture.
If you make too much, store the extra mud it in a glass jar for the next time. In fact, you can make a slightly larger batch of this the first time so that it's ready to go for the next several days.
I use Redmond Clay's bentonite clay every time I make a mask, but if you prefer to buy it ready to go, they offer facial mud. It's the same bentonite clay and water, but it's mixed for you and in an easy-to-use tube that is much easier to pack and share with other members of the family.
Here's how I know bentonite clay works: I went to my hair dresser while my skin was in the midst of battle and as she was washing my hair, I was telling her about how I quit using over the counter acne medicines because they didn't work. I explained that I was using a natural soap and bentonite clay instead.
She said, "You're having a BAD skin week? Are you sure? Your skin looks great! Whatever you're doing, keep it up!!"
I attribute my skin to bentonite clay. Thanks to these simple steps, when my skin flares up, it takes just 2 days for it to heal. Compare that to what would normally take a full week!
Do you love bentonite clay as much as I do? What's your favorite way to use it?
Disclosure: This post is sponsored by Redmond Clay. Obviously, I love Redmond Clay and have been using their products in my home long before this blog was born. As always, I would never recommend anything on Crumbs that I wouldn't recommend to a close friend or neighbor, and all opinions here are my own. If you have reservations about their labeling, check out the information here.