I love to bake. I especially love to bake desserts.
Cookies, brownies, cakes, pies… I'm not picky. I'll happily bake them and promptly eat them any day of the week. I'm sure y'all understand.
But if there's anything I despise about baking – I mean, the absolute WORST part of all – is running out of something when I'm in the middle of a recipe.
If you've ever wanted to see a grown woman have a nuclear meltdown over something as trivial as baking soda, come join in me in the kitchen. (And bring an apron!)
I'm inviting you to join me because if I'm having a meltdown, it means I need someone to talk be back to sanity.
And the apron is so you can help me figure out how to keep on baking despite running out of baking soda… or not having cake flour or not being able to find the cream of tartar (even though know I KNOW there's at least three containers in there somewhere…).
Since running out of ingredients totally and utterly stinks – especially in the midst of baking – I'm here to offer hope.
And some solutions.
14 Easy Baking Hacks for the Home Baker
Tip: You might want to print this page and tape it to the inside of your spice cabinet or pantry or any other place that would be handy to know how to make pastry flour or substitute baking soda for baking powder!
(1) Cake Flour
Measure 1 cup of all-purpose flour. Scoop 2 tablespoons of flour OUT and replace with 2 Tablespoons of cornstarch. Sift flour and cornstarch together 5 times. Makes 1 cup.
Note: Arrowroot works as a substitution, but your item will bake more quickly and the resulting texture will be different. For best results, use cornstarch. Recipe adapted from Joy the Baker.
(2) Pastry Flour
Combine 1 1/3 cups of all-purpose flour with 2/3 cups of cake flour. Makes 2 cups.
Adapted from Joy of Baking.
(3) Self-Rising Flour
Combine 1 cup of all-purpose flour with 1 1/2 teaspoons of baking powder and 1/4 teaspoon of salt. Adapted from Joy of Baking.
Note: Because self-rising flour contains both baking powder AND salt, use only in recipes that specifically call for self-rising flour.
(4) Bread Flour
Combine 1 cup of all-purpose flour with 1 tablespoon of vital wheat gluten.
(5) All-Purpose Flour
Essentially, all-purpose flour is whole grain flour sifted to remove the outer portions of the grain. If you run out but still have whole grain flour, make your own all-purpose flour.
(6) Oat Flour
This is an easy way to stretch flour if you're starting to run out. It's easy (and frugal) to make your own oat flour. Depending on the recipe, you can substitute up to 1/4 of the flour without anyone noticing the difference!
As a rule of thumb, goods that bake up (like cake) should use less. Goods that don't (brownies, cookies, etc.) can use more.
(7) Powdered Sugar
Measure 1 cup of granulated sugar in a blender or food processor. Process until very, very fine and powdery smooth. Use immediately.
Note: This method works for almost every type of granulated sugar out there, including coconut sugar and turbinado sugar.
(8) Brown Sugar
Combine 1 cup of granulated sugar with 2 tablespoons of molasses.
Tip: I stopped buying brown sugar altogether thanks to this little hack. It's easy to halve, and in recipes that use less than 1/2 cup of brown sugar, I just use granulated sugar instead!
(9) Baking Soda
Replace 1 teaspoon of baking soda with 2 teaspoons of double-acting baking powder.
Note: Be sure to use aluminum-free baking powder to avoid the bitter taste of baking powder.
(10) Baking Powder
Combine 1/4 teaspoon of baking soda plus a rounded 1/2 teaspoon of cream of tartar. Makes approximately 1 teaspoon.
(11) Cream of Tartar
Replace 1/2 tsp of cream of tartar with 1 teaspoon of lemon juice or distilled vinegar.
(12) Buttermilk
Find hope in these 10 different ways to make buttermilk. I'm sure you've got everything you need to pull at least one of them off!
(13) Unsweetened Baking Chocolate
For one ounce of unsweetened baking chocolate, mix 3 tablespoons of natural cocoa (not Dutch processed) with melted unsalted butter.
(14) Sweetened Condensed Milk
If you run out, you can make homemade sweetened condensed milk with just two ingredients AND use just about any sweetener you want. Plus you can make dairy-free sweetened condensed milk too.
Heads up, this one takes a little bit to make!
More Baking Tips & Tricks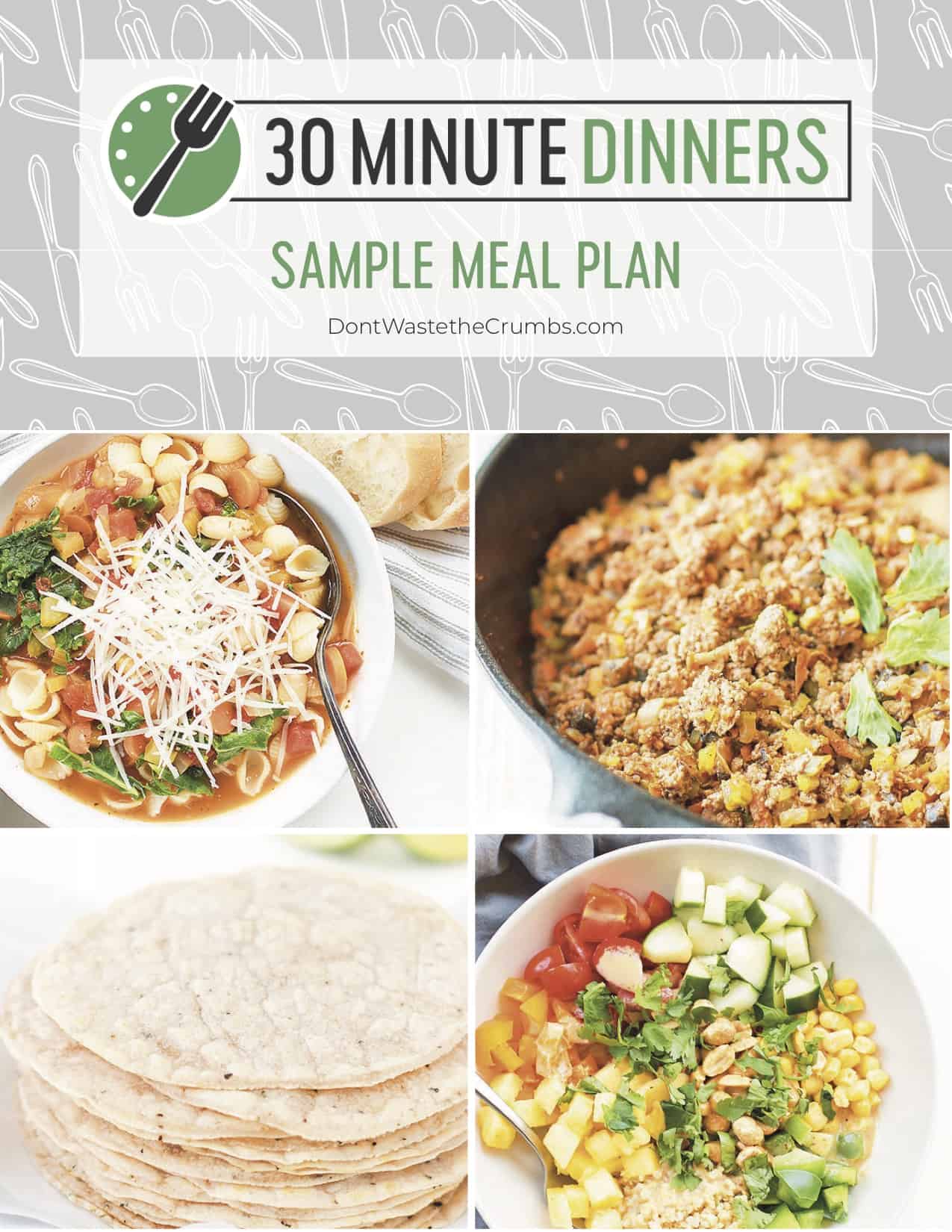 30 Minute Dinners Sample Meal Plan
Sign up to get instant access to my 30 Minute Dinners Sample Meal Plan, complete with recipes and step-by-step instructions!
Disclaimer: This post contains affiliate links. By making a purchase through those links, I will earn commission that helps to keep the lights on in the Crumbs house – with no additional cost to you. Thank you for supporting Crumbs in this way. Read my full disclosure statement here.