Everything You Need to Know About DIY: Flour Shaker
Once upon a time this past summer when I should have been doing something productive, I was staring at a lady in a red dress on YouTube watching her make dinner rolls.
This was back when I was looking for an awesome dinner roll recipe, before I came up with my own instead. I honestly can't tell you much about her recipe, because I was totally mesmorized by this awesome jar of flour she kept shaking onto her work surface.
Y'all. I stood there in my kitchen and STARED at that flour shaker for the entire 4 minute video. That's like, an eternity in YouTube terms!
And the fact that I couldn't take my eyes away meant I had to have one for myself.
Oh yes, yes I did.
The fact that I needed a flour shaker never occurred to me before that video, as I always thought reaching into the big tub of flour and grabbing a handful was sufficient enough.
That is until I started realizing how much flour I actually used while "lightly dusting my work surface" and seeing how my over-flouring of the counter was effecting the quality of my baked goods.
Seeing that flour shaker was a light bulb moment for me. Not only did I know it would help me ration my dusting flour a bit better (folks, it was getting out of control), but it look liked it worked!
So I created one a couple weeks later, gave it a good and thorough test run and let me tell you – this thing is awesome. I don't know how I have been baking bread for so long with out one!
What excites me even more though is that anyone can make one with items already at home. A jar, a nail and something to whack it with and you're good to go!
Being efficient with ingredients means being a better steward of my grocery budget, and it's one way we're ale to keep ours in check so well. But coming up with a homemade kitchen gadget to help you do this? And that gadget not costing a dime?!
Brilliant.
DIY: Flour Shaker
Supplies
one glass jar with a lid (either 8oz jars or 16oz jars work best and for cost-effectiveness, I suggest using a lid that's lost its seal)
one nail
hammer
clothespin or pliers (optional)
Method
Place the jar lid on a soft surface, safe for driving a pointy nail in to. (I sat down and did this on my carpet.) Using either a clothespin, pliers or your fingers, hold the nail very still and hammer it through the lid.
Tip: If you want to create a pattern or a design on your lid, make small dots using a sharpie first. Then carefully hold the nail on the dot. Note that not holding the nail still will cause tiny scratches on the lid. I'm sure it's not a big deal if you're making this for yourself, but it's something to consider if it's going to be a gift.
Keep hammering the nail until it goes all the way through the lid.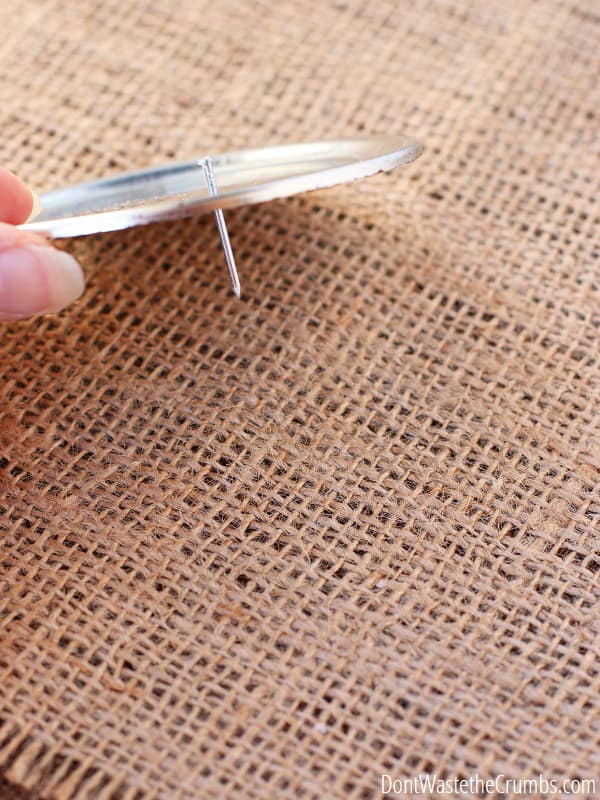 Holding the nail with your finger, move it around in a circular motion to make the hole bigger to desired size.
Tip: I only had these tiny nails at home and had to move the nail around quite a bit to make a sizeable hole. I'd recommend using a larger nail if you have one to start with so you don't have to work as hard in this step. OR, you can use a small nail to make the initial hole, then hammer a larger nail through the small hole to make it bigger.
Repeat these two steps all over the lid, as methodically or randomly as you choose.
The key to a great flour shaker is plenty of holes for air circulation, so I personally would recommend at least 15 holes (if you're using small nails) and making at least 4-5 of these holes as close to the edge as possible, evenly spacing them around the lid.
You can see that I made 12 holes in this lid, but after testing in the kitchen over Thanksgiving (which was SO much fun!), I ended up adding a few more holes.
Fill 1/4 to 1/2 full with all-purpose flour and you're good to go!
Cost Breakdown
Since you likely have a nail (or something similar) and a hammer (or something similar) in your home, the only true cost of this DIY is the jar itself. I've found a case of jars locally at Walmart for around $10, or you can buy them on Amazon for a little bit more (8oz jars or 16oz jars).
I suggest checking local thrift stores and Goodwill first, especially since you don't need a lid with a new seal. Our local store sells glass jars for 50¢, making this a super cool gift for a fellow real foodie that you can make for less than $1!
Much better than the $5 (at least) you'll spend in a high-end kitchen gadget store.
Tip: If you're not sure how to gift this, consider teaming it up with a non-stick baking mat (which happens to be one of my affordable kitchen gadget recommendations) for a simple and fun gift. Those mats tend to come in packs of either two or three and you can divide to gift multiple people. If that's the extent of your budget, add a recipe card with your favorite baked recipe on it. If you have a few extra bucks, add a baking magazine and/or give the gift of the subscription too!
Here's a little it of baking trivia for you: Do you know the difference between a flour shaker and a flour sifter?
A flour shaker is what you see above. A container filled with flour that you use to shake onto a surface. The end result is just enough flour on your counter to get the job done without over-flouring your baked goods (or wasting the flour in the first place).
A flour sifter is a container that has a handle and crank that passes a blade across a screen, pushing the flour through as it rotates. The end result is aerated flour.
Just a little fun baking tid bit for you to contribute to the water cooler this week.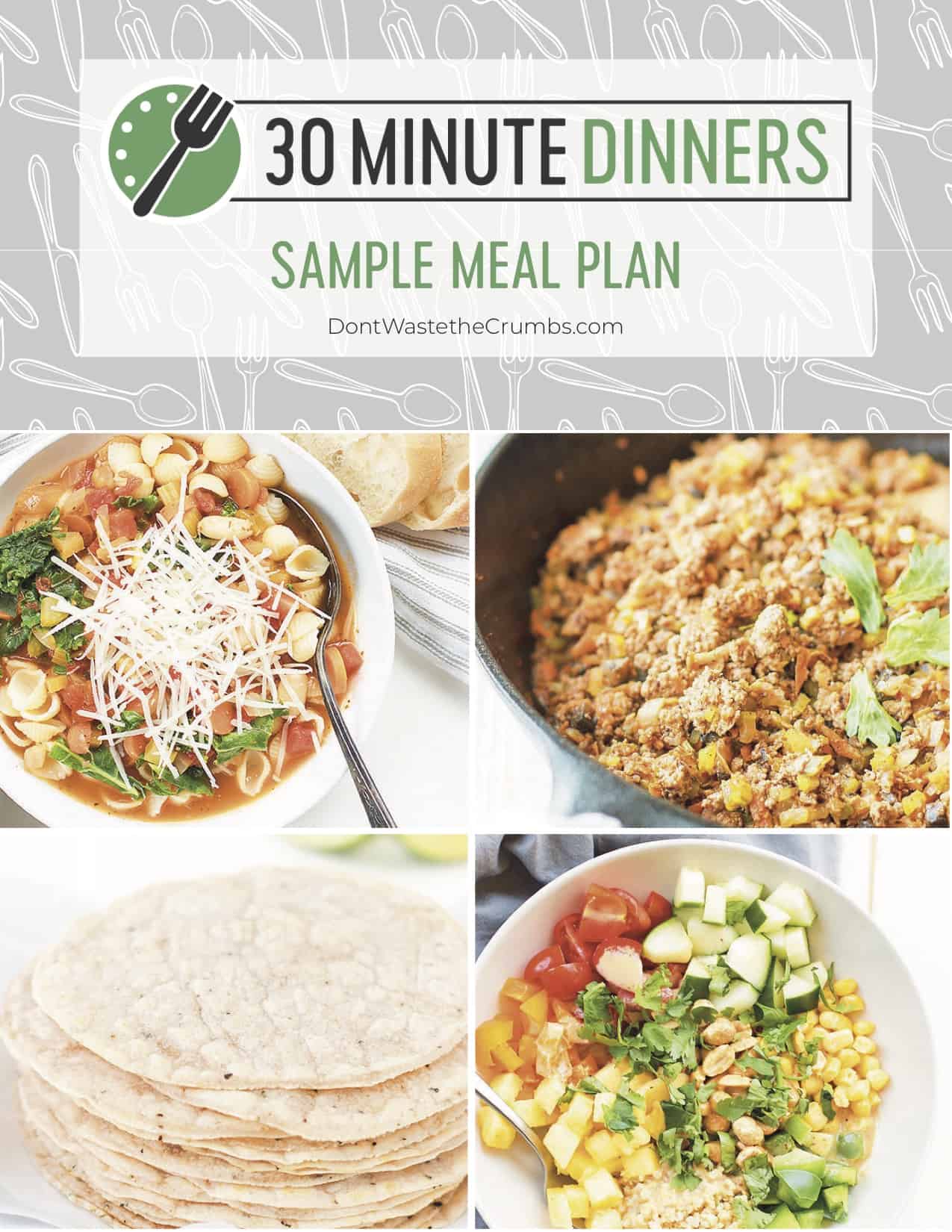 30 Minute Dinners Sample Meal Plan
Sign up to get instant access to my
30 Minute Dinners Sample Meal Plan
, complete with recipes and step-by-step instructions!
Do you own a flour shaker? What about a flour sifter? Do you like them? Use them? Tell me in the comments!