Who knew that watching a lady on YouTube shaking flour from a jar onto her work surface could be so captivating? Believe it or not, that's how I discovered the brilliance of the flour shaker. The DIY flour shaker has since become a must-have gadget in my kitchen, especially when I'm baking.
When I'm making bread, biscuits, cookies, cakes, and many desserts, there's often a step that says "Lightly dust your work surface with flour". Typically, I would scoop a small amount of flour from my tub and sprinkle it on the counter.
Little did I know there was a better way!
What is a Flour Shaker Used For?
I was surprised to realize just how much flour I was wasting by "lightly dusting" my work surface straight from the tub. Moreover, my over-flouring was affecting the quality of my baked goods.
Flour shakers make cooking easier because I can easily dust my counter and cake pans without wasting flour! It helps me ration the dusting flour better, which means saving more money on my grocery budget. The best part is, you can make one yourself, at home, without spending a dime!
How to Make a Flour Shaker
Making a flour shaker is as easy as pie crust. Here's what you'll need:
Supplies
One nail
Hammer
Clothespins or pliers (optional)
Method
Creating the Lid: Set the jar lid on a soft surface safe enough to hammer a nail into. Hold the nail very still with either a clothespin, pliers, or your fingers, and hammer it through the lid.
Tip: If you want to create a pattern on your lid, use a sharpie to make small dots first. Carefully hold the nail on the dot while hammering. This will help avoid accidental scratches on the lid.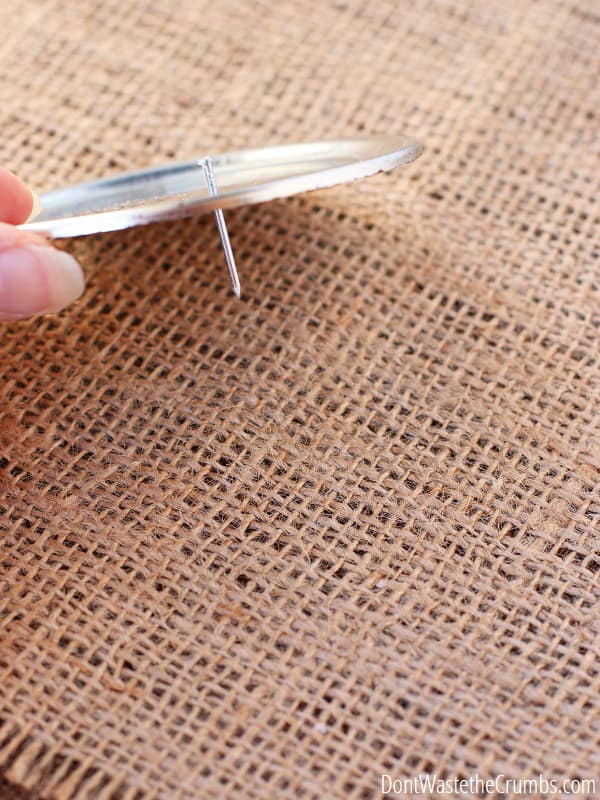 Increasing the Hole Size: After you've hammered the nail through, move it around in a circular motion to make the hole bigger.
Tip: If you only have small nails at home, you might have to work a bit harder to increase the hole size. If you have larger nails, use those, or you can make an initial hole with a small nail and then hammer a larger nail through it.
Repeat the Process: Continue these steps all over the lid. The key to a great flour shaker is plenty of holes for air circulation. I recommend at least 15 holes if you're using small nails, and ensure to space at least 4-5 of these holes evenly around the lid edge.
Fill It Up: Fill the jar ¼ to ½ full with all-purpose flour, and you're good to go!
How Much Does a DIY Flour Shaker Cost?
The only cost of this DIY project is the jar itself, assuming you already have a nail and a hammer. You can get a case of jars at Walmart for about $10, or Amazon offers them for a bit more.
I suggest checking local thrift stores and Goodwill first. They often sell glass jars for as low as 50¢. This way, you can make a thoughtful and handy gift for your foodie friend for less than $1! It's a steal compared to the $5 or more you'll spend in a high-end kitchen gadget store.
Another option is to reuse a pickle jar or something of a similar size. Here's a great method for removing the labels from old jars.
Flour Shaker vs. Flour Sifter
Do you know the difference between a flour shaker and a flour sifter? A flour shaker, like the one above, is a container filled with flour that you use to dust a surface. It gives you just the right amount of flour to get the job done without over-flouring your counter or wasting flour.
A flour sifter, on the other hand, is a stainless steel container with a handle and crank that moves a blade across a fine mesh screen, pushing the flour through as it rotates. The result is aerated flour that reduces lumps and gives you a more accurate measure of flour.
Ways to Use a Flour Duster
Do you know when you need to lightly dust your favorite blueberry muffins with sugar? This same style of flour shaker can be used as a sugar shaker as well! Use the sugar shaker so you don't sprinkle too much!
A powdered sugar shaker is perfect for sprinkling Homemade Powdered Sugar (also called icing sugar) on Chocolate Waffles and French toast. And don't forget a cinnamon sugar shaker works great for making the perfect cinnamon toast!
Frequently Asked Questions
Can I use any jar to make a flour shaker?
Is a DIY flour shaker as efficient as a store-bought one?
A DIY flour shaker can be just as effective as a store-bought one. Plus, you have the added advantage of customizing it to suit your preferences.
Where can I find cheap jars for making flour shakers?
Try checking local thrift stores and Goodwill. They often have glass jars at super low prices.
Other Kitchen Hacks You Might Like
Meal Planning Made Easy
Sign up to join our FREE
8 Day Meal Planning Challenge
! Start anytime and get access to lesson videos, worksheets, and an online community.