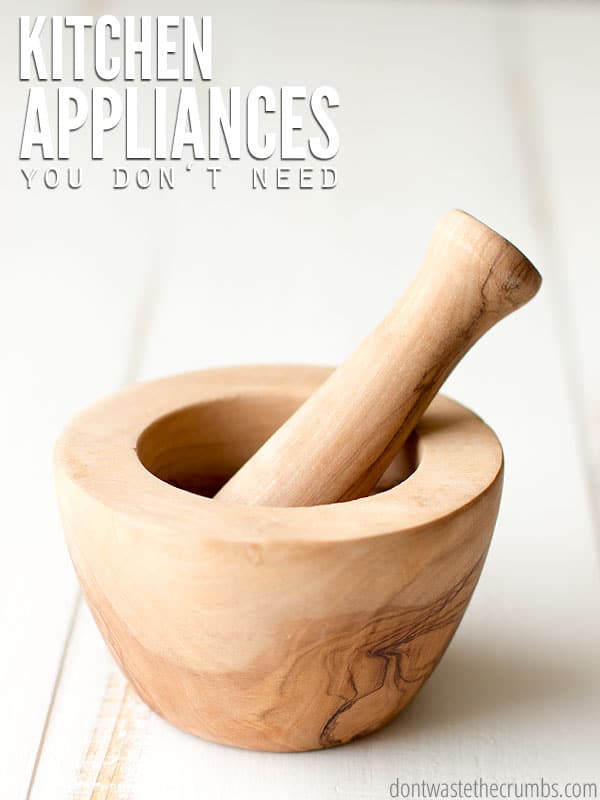 By default, eating real food means spending a lot of time in the kitchen. There's making a meal plan, prepping the food, cooking the food and then cleaning up the mess(es) you've made.
All of those can take up a big portion of time. Thankfully there are several kitchen gadgets that make our lives much easier these days!
And many kitchen appliances you DON'T need!
There have been a lot of kitchen appliances that have come and gone in my kitchen over the years. Some were gifts, some were randomly purchased because they looked cool (pre-budget days!) and some appeared to be useful but for one reason or another, didn't work for us.
The list of kitchen appliances I don't need may look different from the list of kitchen appliances YOU don't need.
Whatever kitchen gadget or tool I buy, I want it to serve more than one purpose with the intention of using it often. After applying KonMari to my kitchen, there's no room for clutter or appliances I don't love and use.
And there's no room in the budget to buy kitchen appliances you don't need!
Kitchen Appliances You Don't Need
1. Yogurt Maker
I make my own yogurt, but I don't need a yogurt maker to do it – I make homemade yogurt with a heating pad!
You can also make homemade yogurt with a slow cooker, a big cooler or even the oven. Personally, I've found keeping the yogurt on the counter in plain sight means not forgetting about it.
Plus a yogurt maker can really only be used for one function, and I don't have the space for that.
2. Cherry Pitter
Similar to a lemon juicer or a garlic press, a cherry pitter is a one-use wonder. Unless you buy cherries frequently or in bulk to store away, a cherry pitter is not the most useful item to keep around.
Instead, I remove the pits of cherries this way. I've also seen a video of removing the pit with a paper clip!
3. Bread Machine
Compared to over $3 per loaf at the store, one loaf of no-knead artisan bread costs 69¢ to make. While we make homemade bread to save money, I've never used a bread machine to do it!
Working with yeast can be daunting, so I wrote a beginner's guide to working with yeast to help you out. And if you made it past the yeast stage but still having issues, use my bread troubleshooting guide.
Both of these resources will show you that you don't need a bread machine to make delicious homemade bread. If by chance you already have a bread machine and are looking to get rid of it, here's how to convert bread machine recipes to traditional recipes.
Tip: If you're new to baking bread, I recommend either no-knead artisan bread or man bread. Both are really easy and forgiving recipes!
4. Pastry Cutter
The necessity of the pastry cutter is debatable. I used to have one, but it sat unused in my kitchen cabinet for well over a year.
I found a way to make my homemade dinner biscuits light and fluffy without one and couldn't see the point in dirtying another dish when my method worked just fine.
On the other hand, I've heard of people using a pastry cutter for much more than cutting in the fat. You can use it to chop vegetables, cut boiled eggs, break up salmon and tuna for salads and keeping ground beef from sticking together when browning.
At the same time, a knife, fork and spatula can be used for these things too.
When it comes to adding butter or coconut oil to your baked goods, you can use two knives, your hands, a mixer or even a cheese grater to cut in the fat – none of which require another kitchen utensil.
5. Zester
I used to own a zester too, but I wasn't able to get it to work properly for me. Like the pastry cutter, it sat unused in my kitchen cabinet until the fateful day it was donated.
My preferred method for zesting is to use a knife to slice off the zest and then chop it up on a cutting board.
A cheese grater also works well and here you have the option for choosing a larger zest (great for 3-ingredient key lime pie) or a smaller zest (ideal in triple chocolate almond biscotti).
6. Baby Food Maker
I'm well past the baby food stage in my home, but I found that a baby food maker was one kitchen appliance that I really didn't need.
It's easy enough to boil, roast, or steam baby's food and then mash it up with a fork in a bowl. Simple, effective and it doesn't take up extra space.
When my kids were little, I made baby food using a small food processor and my blender – two appliances I was already using for other things anyway.
7. Rice Cooker
Ok, don't slay me on this one. I really don't like using a rice cooker!
There are many people that LOVE their rice cookers and use them for more than just rice (quinoa and steamed veggies are popular!). But I can just as easily use my stove top to cook rice and not find room to store another appliance.
Kitchen Appliances That I DO Need
My list of kitchen appliances you don't need wouldn't be complete unless I shared what I thought you DO need.
These appliances are the ones that I use on a weekly, if not daily, basis. I didn't have these with me when we lived in an apartment for three months without any of our normal kitchen tools and cooking real food from scratch was VERY difficult and VERY expensive.
The happiest day I can recall as a home chef was the day we moved again and unpacked my favorite kitchen appliances!
Dehydrator. I use a dehydrator most often in the summer to preserve fruit for winter or for making homemade protein bars. The kids LOVE to snack on dehydrated bananas!
High-powered Blender. To say I love my Blendtec is an understatement. It's funny how we ended up choosing a Blendtec, but I don't regret the purchase one bit. I use my blender at least once a day and it never fails me! (Here's over 45 uses!
Stand Mixer. For our weekly family pizza nights, for homemade bread, making granola bars, cutting the fat in biscuits and all sorts of other things (like cookies and cakes), my stand mixer is a kitchen staple.
Immersion Blender. I can use use my Blendtec for hot soups and purees, but I'm not the best pour-er so an immersion blender works better for me. Plus it makes homemade mayonnaise that never fails.
Pizza Stone. You might have an extensive DVD collection, but we invested in pizza gear. We use our pizza stone (and pizza peel) every Friday for homemade pizza and also when we make our favorite sandwich bread.
Slow cooker. From making broth, to beans, to whole chickens, my slow cooker is one of my most frequently used kitchen appliances. I especially love it in summer when we are busy and to cut down on the heat in the kitchen.
Kitchen Appliances I MIGHT Buy
One appliance I've thought about adding to my kitchen is the Instant Pot. It's a 7-in-1 appliance that takes the place of a pressure cooker, slow cooker, rice cooker, sauté/browning pan, steamer, yogurt maker, and stock pot warmer.
I admit, the fact that it can be used for a variety of purposes is very impressive! I've never used one, but I've heard great things and it's definitely worth looking into. If I make the splurge though, I'd definitely get rid of the slow cooker. No point in having two appliances that do the same thing!
Update: I bought an Instant Pot! I went with this one and I LOVE it! Here's 20 things to know before you buy and how it saves you money! Search "Instant Pot" on the blog to find all my recipes!
I've also considered getting a microplane, which would both zest and grind whole spices like nutmeg. But I've never bought whole nutmeg before and my current knife method is working for zesting, so I'll just wait it out for now.
Whatever makes it on your list of appliances you DON'T need is completely up to you. We all have different cooking styles and preferences and we can't compare apples to apples.
But use this list and the ideas behind it to determine how to best use your appliances to your advantage. Kitchen appliances are designed to make our lives easier, but not at the expense of wasted space and wasted money!
What would you add or remove from this list of appliances you don't need?