How to make bread machine recipes by hand: a simple conversion "recipe" of sorts for those of us who don't have room in our kitchens for another gadget. Impress guests with delicious homemade bread!
Want to impress your family? Bake fresh bread.
Boy, will they be impressed when you pull a freshly baked loaf of Man Bread out of your oven!
I'll be the first to admit that bread baking can be scary. As a whole, society's confidence in the art of bread making has diminished over time. It's as if the invention of the bread machine somehow made our own hand-kneaded bread inferior quality.
Yet, bread is one of the best foods to make from scratch. It saves you money and doesn't have to take up too much of your time. Plus, homemade bread is much healthier for you than store-bought!
Can you make a bread machine recipe by hand?
My parents owned a bread machine so when I was growing up, I had never seen it made by hand. In fact, for a while, I really thought that you had to own the machine in order to do it yourself.
Thankfully this is not true and it is quite easy to make any bread recipe by hand. Even if it is written for a bread machine.
Bread Machine Recipe Ingredients
Whether you follow a recipe for a bread maker or a traditional loaf, you need these basic ingredients.
Yeast. If you're a little nervous about yeast, you can read this post on the basics about yeast. Personally I prefer to use active dry yeast. Instant yeast can make the rise time vary from the recipe.
Water.

Your yeast needs warm water to work. Typically your water needs to be about 115 degrees. Warmer than room temperature, but not boiling.

Sugar.

You can use regular white sugar, turbinado, honey, or even maple syrup. If you're concerned about the sugar content of your bread, most of it is eaten by the yeast. Any sweetness in the bread comes from sugar or sweetener added later.

Flour.

All-purpose or bread flour will give you a "white bread" loaf. While whole wheat will give you the classic wheat bread. In terms of health, the less refined the better.

Oil.

Most bread recipes will call for some type of oil or butter. This helps with the flavor and the texture of the bread.

Salt.

Again, most bread recipes need a little bit of salt to draw out the flavor.
How to Make a Bread Machine Recipe by Hand
Follow these simple steps to make your favorite bread machine recipe by hand.
Combine yeast, water, and sugar in a bowl. Let it sit for 5-10 minutes until foamy (like beer).

Add ingredients (with anything very cold or very hot added last) and knead for 8-10 minutes. You can knead by hand or in a stand mixer. (I have this stand mixer and LOVE it. Plus, you can use these 'creative ways to use a stand mixer' to get the most out of your machine!)

Cover with a dishtowel and allow the dough to rise in a warm place until doubled in size, 1 to 1 ½ hours.

Turn out dough to a floured surface. Punch down bread to release air bubbles and separate into loaves.

Knead gently, 3-6 times, to redistribute yeast and shape into loaves.

Place loaves in oiled pans and cover with a dishtowel. Allow to rise in a warm place until doubled in size, approximately 1 hour.

Bake at 350F until the bottom of the loaves sound hollow when tapped, 30 minutes to 40 minutes.
How do you knead bread by hand?
Here are the basic steps:
Prep your work surface. Add a little flour to your kneading area so the dough doesn't stick.

Scrape your dough out of the bowl onto the work surface. Add a little flour on top. Your dough should be slightly sticky to work with.

Press down on the dough with the heels of your hands. Then grab the back end and fold over towards your body. And press into the dough again with the heels of your hands.

Give the dough a quarter turn and repeat step three. Add flour to the dough if the dough is sticky.

Press and turn your dough several times adding flour as needed. Repeat until dough is smooth and elastic.
It's a little hard to describe how to knead dough by hand. If that didn't make the most sense, follow the tutorial in this YouTube video.
Is there a trick to baking whole wheat bread?
Wheat bread traditionally needs a little bit more kneading to produce a less gritty texture. The bran in wheat also interferes with gluten, so it takes a little longer to rise. When you knead, make sure the dough becomes smooth and elastic. When the dough is rising, watch for the size of the dough rather than the timer.
One trick I like to use with baking whole wheat bread is to add dough conditioners.
Vital Wheat Gluten gives wheat bread a rise and helps combat the heaviness that comes with baking with whole wheat. It also helps with elasticity and texture.
Sunflower lecithin strengthens the gluten in the wheat, making whole wheat less crumbly. It also helps the dough to be less sticky.
What if my bread machine recipe calls for fruit or seeds?
Fruits, nuts, and seeds should be added towards the end of the kneading dough cycle so that they are not ground into meal during the process. Simply add fruits/seeds/nuts with 1-2 minutes left in the kneading process.
Here are my favorite traditional bread recipes for beginners: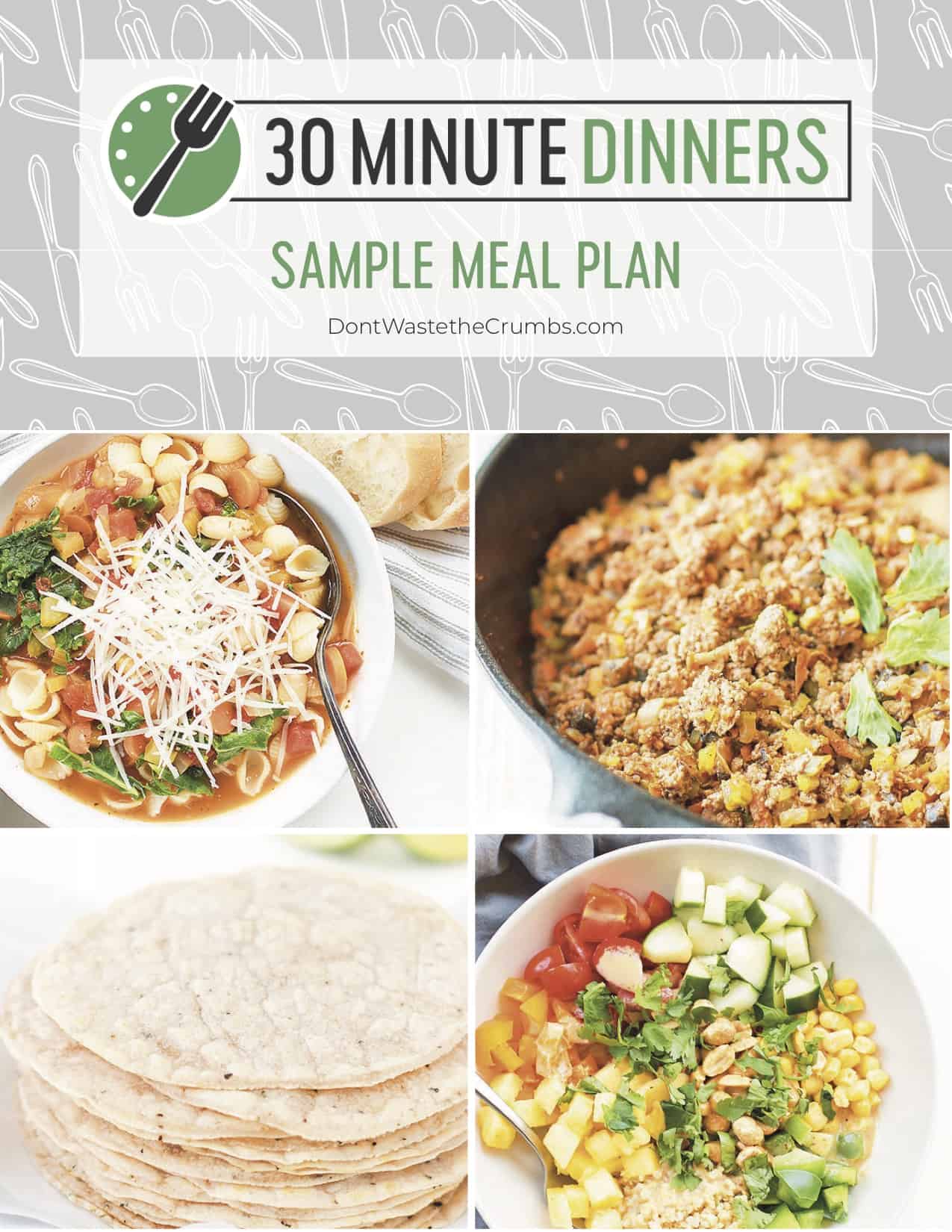 30 Minute Dinners Sample Meal Plan
Sign up to get instant access to my
30 Minute Dinners Sample Meal Plan
, complete with recipes and step-by-step instructions!