These cheap dinner ideas are big on taste, family-friendly, and budget-savvy! From vegetarian to mouthwatering meats, these healthy and frugal meats are top dollar in the taste department!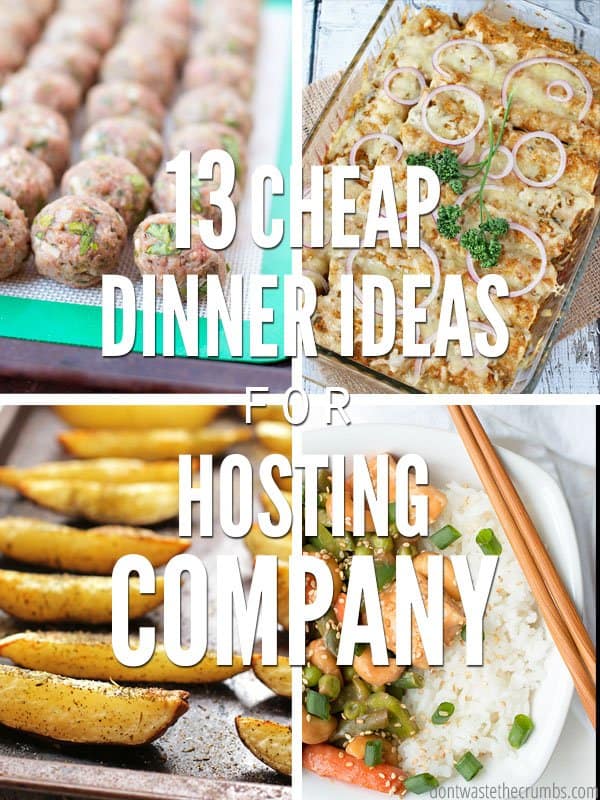 You may think it's impossible to host company and still stick to a budget. What if I told you that, in the past, we shopped, prepped, and cooked 40 meals for up to 9 people at a time, all within our $330/month grocery budget?
We did. And now I'm here to show you how to make the seemingly impossible happen for you, too.
13 Cheap Dinner Ideas for Company
I spent a lot of time honing my frugal grocery budget and developing my Grocery Budget Bootcamp program. Along the way, I developed a list of frugal, real food meals that my family loves, and shared them with the many friends and family who stop by the Crumbs residence.
I share them here with you.
Spaghetti and Meatballs
Our family's favorite hearty spaghetti sauce, along with these 15-minute Italian meatballs and whole-grain spaghetti, will win over your meat lovers and your pasta fanatics. We also had a simple dinner salad (greens, tomatoes, cucumbers, and carrots) with homemade ranch dressing and no-knead artisan bread.
Slow Cooker Pot Roast
As a general rule, chuck roasts are an inexpensive cut of meat. Anytime I find them marked down at Kroger, I buy at least two, and we usually come out with leftovers. All I had to do was pick up carrots (which we also used in garden salads) and potatoes (which we also used for "fries"), and dinner was done.
Burgers and Fries
It took me awhile, but I finally perfected the BEST burger recipe. With these homemade buns to top it off, your guests may never want to leave. I made oven-roasted potato wedges, sweet potato wedges, and another salad to make the meal whole. I also doubled the bun recipe so we'd have some for leftovers. In fact, these go over so well that doubling the entire recipe for leftovers may be your best idea of the day.
Whole Chicken on the Grill
This roasted whole chicken on the grill is a great crowd pleaser and a quick and simple meal that pairs well with corn on the cob and baked potatoes. And since you're roasting an entire chicken, you may even score some leftovers.
This cheap dinner idea can morph into tons of meals, too: add some shredded chicken into black bean and corn salsa tacos, homemade buffalo chicken pizza, or add a delicious marinade and serve it over rice.
Chicken & Spinach Enchiladas
After setting aside some of the chicken from the whole chicken, I took about 2 cups of diced chicken and made a pan of chicken and spinach enchiladas.
I also made a pan of sweet potato and black bean enchiladas while I was at it (because there can never be too many enchiladas!)
Tomato Soup & Grilled Cheese
This tomato soup and grilled cheese in the cast iron is a great twist on an old classic and the ultimate cheap dinner idea.
I made two batches of no-knead artisan bread since the flavor and texture are very similar to sourdough and makes for AMAZING grilled cheese sandwiches.
We "fancied" up the grilled cheese by having a few different cheese options – sharp cheddar, Monterey jack and/or habanero pepper jack cheese.
We also picked up a package of prosciutto from ALDI and put that on the grilled cheeses too – YUM!
Carnitas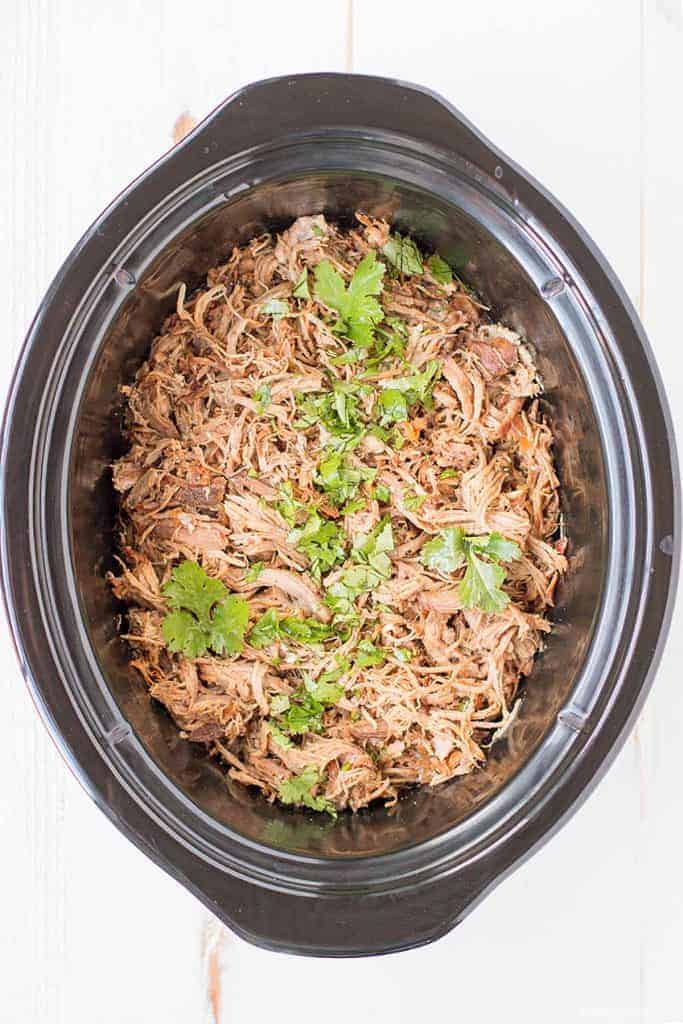 These carnitas are the perfect easy-cook meal after a long week. Just put the pork roast in the slow cooker in the morning and prep your toppings (i.e. lime crema, diced onion, diced tomato, shredded cheese, etc.) for an easy and crowd-pleasing meal.
Burrito Bowls
I intentionally bought a big roast the night I made carnitas because we used leftovers the next day for burrito bowls. I only had to make one thing for dinner – rice! Everything else was already prepped from the night before!
Jamaican Jerk Chicken
Keep your eye out for markdowns on quality meat for this delicious Jamaican jerk chicken. Add mango salsa, coconut rice and corn on the cob for a flavor explosion!
Roasted Red Pepper and Tomato Soup & Garlic Bread
Remember that tomato soup? Double it up and freeze it, and when you're ready, convert it to this delicious roasted red pepper and tomato soup!
I made a batch of crostini with this soup, and it was such a deliciously simple meal that everyone loved.
Baked Potato Bar
Need a landing pad for all those leftover toppings? A baked potato bar using sweet potatoes is a great way to use up leftover toppings.
If you don't have enough leftovers, crumbled bacon, sour cream, and green onions go a long way with making a simple meal very tasty!
Caesar Salad
This delicious and easy homemade Caesar dressing becomes the centerpiece of a main dish salad with panache.
My favorite part about Caesar is that you can start with a head of romaine lettuce, add leftover anything – chicken, steak, shrimp – and top it with the dressing and your main dish is complete! Pair with some mouthwatering zucchini muffins or easy homemade beer bread for a fantastic finish.
Oatmeal Cinnamon Waffles
I know this isn't dinner, but company has to eat breakfast too!
With every family that visits the Crumbs' home, I make a batch of cinnamon oatmeal waffles. These are usually consumed the next day too, and then we fill out the week with bacon, eggs, oatmeal, and/or smoothies. The waffles and smoothies are SUPER easy to prep thanks to my high powered blender and waffle maker!
There wasn't one set of visitors that didn't compliment these waffles!
The Basics of Budget Hosting
Want some extra tips on budget hosting? I love to share my insider budget advice with my readers!
Here are some fundamental concepts to maintaining a budget without sacrificing hospitality:
Meal plan. Start every visit with a meal plan, and follow these concepts for hosting company on a budget.
Compile a list of cheap dinner ideas. This post is packed with ideas. Hopefully, making these dishes will give you ideas for spin-offs! (If so, share them in the comments!)
Balance cheap meals with "treat" meals. As long as your budget balances overall, you can splurge here and there for you and your guests.
Check out my basic method for meal planning in this post.
If you have always wanted to stick to a budget, but struggle like so many others, I highly recommend my course Grocery Budget Bootcamp to help you learn how to get your grocery budget under control once and for all. I cover meal planning in-depth, as well as include worksheets to help you flesh it all out!
FAQs
What are cheap dinner ideas for family?
Each meal suggested above is budget and family friendly! Save even more money by purchasing meat on sale, using seasonal produce, and making your dishes from scratch. From breads to salad dressings, you will save time and get a healthier, more delicious dish by using pantry staples to create your own meals!
What is the cheapest dinner you can make?
Pantry staples such as rice and beans form a great base for budget-friendly meals. Save by using whole chickens and larger cuts of meat that you find on sale.
What are some quick dinner ideas?
Crockpot carnitas work wonderfully for a quick meal. Follow that up with burrito bowls, and a baked potato bar the next day, and you have 3 easy meals back-to-back that utilize some of the same ingredients!
More Budget-Friendly Ideas
5 days to save $75
Need to save money on real food? Download my free guide to saving $75 in 5 days using easy, practical baby steps.