Cheap dinner ideas that helped us host dinner 40 times in the past 90 days on a super low budget. Some vegetarian, some chicken, all healthy and frugal!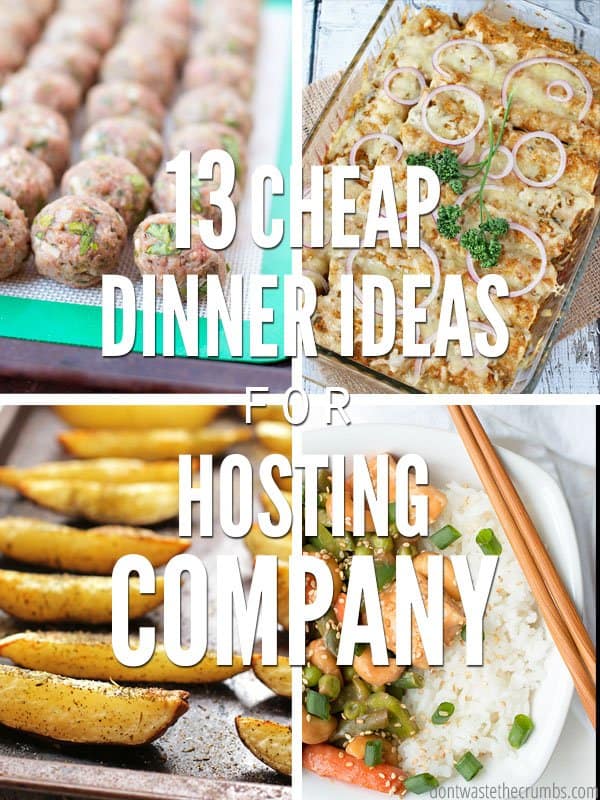 In the past 90 days, we've hosted 9 different sets of families in our home. NINE.
That equates to 40 meals shopped, prepped and cooked for up to 9 people at one time. All within our $330/month grocery budget.
How did we do it?
We started every visit with a meal plan, listed out a bunch of cheap dinner ideas, and then we tweaked from there.
Not every meal was "cheap" per se, but there's no way in the world we could feed so many people with so little money by dining on steak every night!
Instead, we sought a balance between hospitality and "treating" our guests, and making meals that use inexpensive ingredients in the first place.
I wrote about hosting company on a budget here, but the concept of treating meals vs. cheap meals is the same concept that I use when I make meal plans for my own family. When we're hosting company for a while, I apply the idea to both each individual meal AND to the meal plan for the visit as a whole.
Note: I wrote up my basic method for meal planning in this post, but I highly recommend my course Grocery Budget Bootcamp if you want to learn how to get your grocery budget under control once and for all. I cover meal planning in-depth, as well as include worksheets to help you flesh it all out!
I've been keeping track of what meals worked (as well as which ones didn't) and I want to share those with you in this post.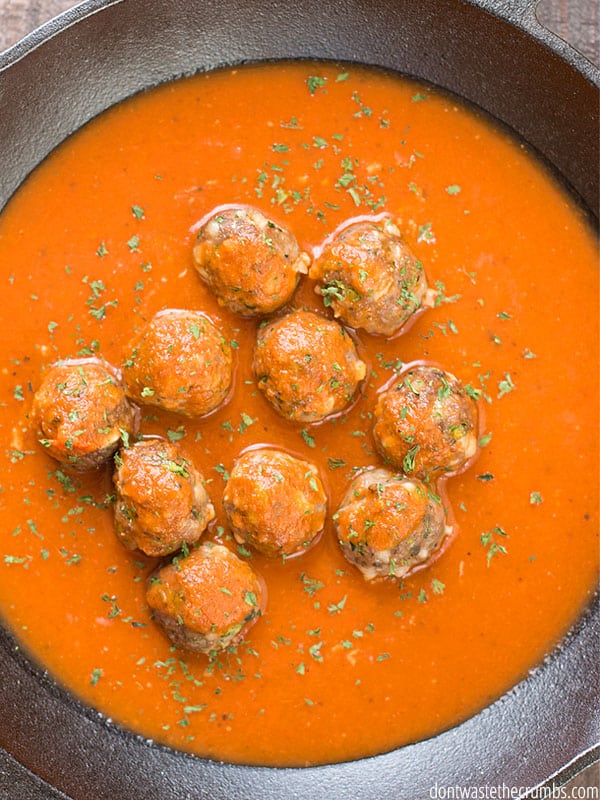 13 Cheap Dinner Ideas for Company
Spaghetti and Meatballs
Mr. Crumbs's dad is a "meat and potatoes" type of guy, but our budget can't afford meat for every night of their visit.
When I asked Mr. Crumbs about some of the meals he had as a kid, he mentioned spaghetti. When I suggested beefing up the meal with meatballs, he said it would be a winner.
I made my family's favorite hearty spaghetti sauce, these 15-minute Italian meatballs and served it over whole-grain spaghetti. We also had a simple dinner salad (greens, tomatoes, cucumbers, and carrots) with homemade ranch dressing and no-knead artisan bread.
Slow Cooker Pot Roast
This was another one of the meals we had with my husband's parents and it was definitely a "meat and potato" meal.
As a general rule, chuck roasts are an inexpensive cut of meat. Anytime I find them marked down at Kroger, I buy at least two. I had a big 7 pounder in our deep freeze from one of my clearance scavenger hunts and that made dinner plus enough for lunches too. All I had to do was pick up carrots (which we also used in garden salads) and potatoes (which we also used for "fries") and dinner was done.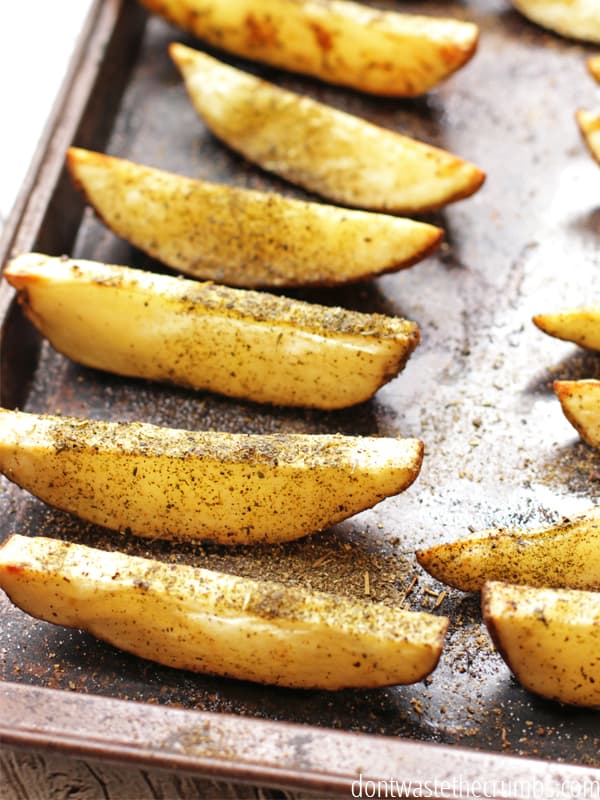 Burgers and Fries
I'm still working on an awesome homemade burger recipe, but slap anything between homemade buns and it's going to be amazing. I made oven-roasted potato wedges, sweet potato wedges, and another salad to make the meal whole. I also doubled the bun recipe so we'd have some for leftovers.
This went over so well with one set of company, that we did it again with a second set later in the summer. That time, I doubled the burgers so I would have enough leftover for lunches after the company left.
Update: I have perfected the BEST burger recipe! Find it HERE.
Whole Chicken on the Grill
My grandma is really easy to please, so we kept our meals with her simple. Early on we roasted a whole chicken on the grill. Along with corn on the cob and baked potatoes, this actually provided more than one dinner!
Chicken & Spinach Enchiladas
After setting aside some of the chicken from the whole chicken for Mr. Crumbs' lunches, I took about 2 cups of diced chicken and made a pan of chicken and spinach enchiladas.
I also made a pan of sweet potato and black bean enchiladas, which I will be sharing with you guys once it goes through another round of taste testing.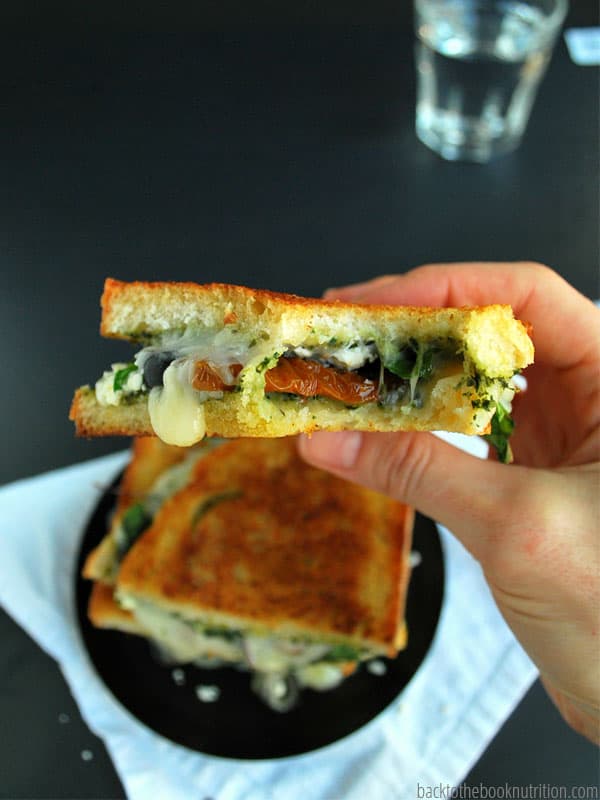 Tomato Soup & Grilled Cheese
Since we had two nights of chicken with my grandma, AND she is easy to please, we put tomato soup and grilled cheese in the cast iron on the menu.
I made two batches of no-knead artisan bread since the flavor and texture are very similar to sourdough and makes for AMAZING grilled cheese sandwiches.
We "fancied" up the grilled cheese by having a few different cheese options – sharp cheddar, Monterey jack and/or habanero pepper jack cheese.
We also picked up a package of prosciutto from ALDI and put that on the grilled cheeses too – YUM!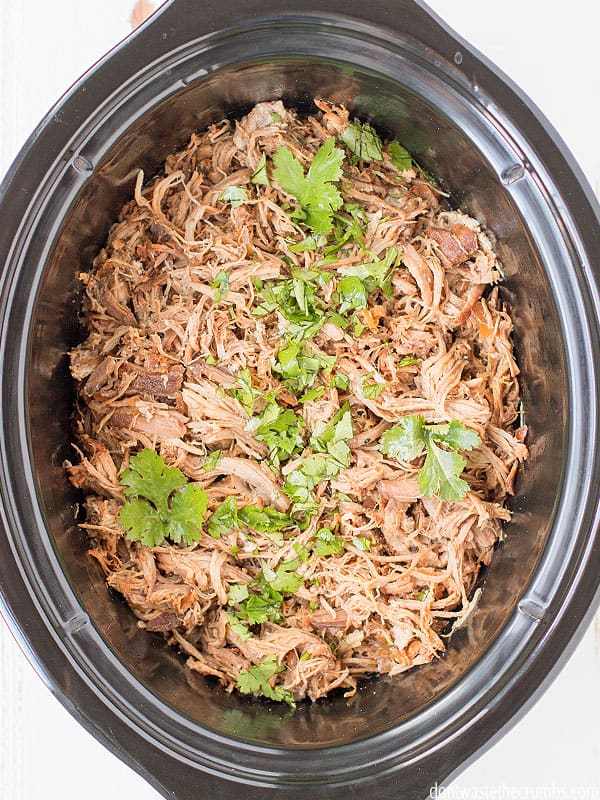 Carnitas
Mr. Crumbs' sister and her family visited us for one night, left their 2 kids with us for a week and then stayed with us 3 more nights before heading back home. We didn't change our meal plan with their kids here – I just made extras of what I had already planned.
But when they were back from their trip and Mr. Crumbs and I were exhausted from having 4 kids the whole week, I turned to my trusty favorite company recipe: carnitas.
I put the pork roast in the slow cooker in the morning and enlisted help in prepping the toppings (i.e. lime crema, diced onion, diced tomato, shredded cheese, etc.). By the time dinner came, we all feasted on pork tacos until we couldn't eat another bite.
Burrito Bowls
I intentionally bought a big roast the night I made carnitas because we used leftovers the next day for burrito bowls. I only had to make one thing for dinner – rice! Everything else was already prepped from the night before!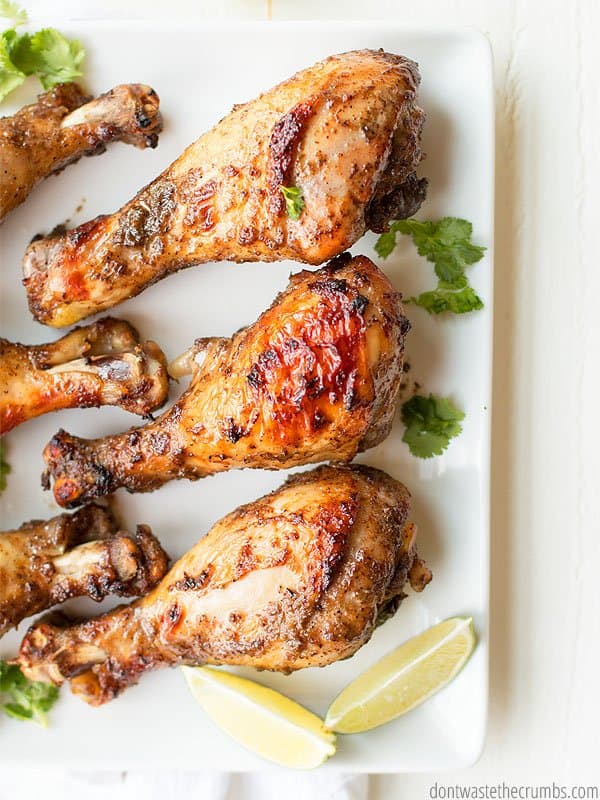 Jamaican Jerk Chicken
We've actually eaten Jamaican jerk chicken quite a few times this summer because it's easy to make and tastes so good. It's also cheap when you find quality meat marked down. I found drumsticks marked down earlier this year, so we fired up the grill when company came.
A couple times I served Jamaican jerk chicken with vegetables, but the best night was when I made mango salsa, coconut rice and corn on the cob. All of it together was a flavor explosion!
Roasted Red Pepper and Tomato Soup & Garlic Bread
Remember how I made tomato soup for my grandma? Well, I actually made a big batch and froze half of it for later. Then when we had another set of company and decided to serve soup, I used leftovers to make roasted red pepper and tomato soup!
I made a batch of crostini with this soup, and it was such a deliciously simple meal that everyone loved.
Baked Potato Bar
Before the summer got too hot, we hosted a baked potato bar with baked sweet potato for one set of company (I honestly don't remember who it was now!). We had this towards the end of the visit when we were able to use leftovers from previous meals as toppings for this one.
If you don't have enough leftovers, crumbled bacon, sour cream, and green onions go a long way with making a simple meal very tasty!
Caesar Salads
We made garden salads a few times, relying on my standard steakhouse mustard vinaigrette dressing. On other nights though, we made dinner "fancier" by making homemade Caesar dressing.
My favorite part about Caesar is that you can start with a head of romaine lettuce, add leftover anything – chicken, steak, shrimp – and top it with the dressing and you have a delicious main meal salad.
Oatmeal Cinnamon Waffles
I know this isn't dinner, but our company has to eat breakfast too!
With every family that visited, I made a batch of cinnamon oatmeal waffles. Those were usually consumed the next day too, and then we'd have bacon, eggs, oatmeal and/or smoothies for the rest of the trip. The waffles and smoothies were SUPER easy to prep thanks to my high powered blender and waffle maker!
There wasn't one set of visitors that didn't compliment these waffles!
What do you make for dinner when you're hosting company? How do you balance the cost of feeding more people, with your grocery budget? Share your tips and tricks in the comment section!