Make 21 healthy & easy chicken marinade recipes using 4 ingredients or less! Basics like lemon, soy sauce, honey & Worcestershire transform mundane into mouthwatering in a few easy minutes!
Do you ever grill chicken and get excited for that hot off the grill, charcoal flavor, only to be greeted with a mouthful of dry, bland chicken?
I've been there.
Thankfully, you can make a delicious chicken marinade (yes, even as flavorful as my Instant Pot Honey Garlic Chicken or Oven-Roasted Whole Chicken) using what you already have in the pantry!
There are two secrets to amazing chicken: 1) marinade ahead of time, and 2) choose the RIGHT marinade.
WHY MAKE YOUR OWN CHICKEN MARINADE?
It's easy to throw some naked chicken on the grill, or just buy a bottle at the store, so why bother making your own? Let me just tell you!
Easy. Making a marinade only takes a few extra minutes, and those ingredients give you A LOT of flavor.
Healthy. All of these homemade chicken marinades are made with FOUR OR LESS whole food ingredients. We were even able to use these marinades during our Whole30 challenge.
Utilizes pantry staples. Sure, you can go buy a fancy marinade, like this Primal Kitchen Marinade, but why bother when you can whip something up with what you have on hand?
Saves money. No trips to the store. No expensive sauces. Just basic ingredients. If you're familiar with my Grocery Budget Bootcamp, you know that budgeting for groceries is a top priority of mine.
THE BEST CHICKEN MARINADE FORMULA
The key to making the best chicken marinade is knowing how to create a good combination based on what you have.
Lucky for you, I found a "formula" that seems to do the trick every time:
Fat. Most flavors dissolve well in oil, but not so much when dissolved in water. When we use fat in a marinade, it permeates the meat better. It gets the flavor deep into the crevices so that every bite is tender, juicy, and flavorful.
Acid. Acid plays a dual role in tenderizing the meat by breaking down the proteins, but it also balances out the fat a bit and adds flavor.
Salt. Salt allows the fat and acid to more easily permeate the meat than only using oil and/or acid alone. Remember that SALT CAN BE FLAVOR (when it's the end of the month and there's no room for special ingredients).
Flavor. Here's a chance to add other spices, fresh herbs, or flavors to your marinade. Remember that sometimes FLAVOR IS SALT (I'm looking at you, soy sauce).
MARINADE FOR CHICKEN INSTRUCTIONS
CHICKEN MARINADE RATIOS
For every ONE POUND of meat, you need:
ONE ½ cup fat
ONE ½ cup acid
ONE ½ cups salt (OR one teaspoon/tablespoon, depending on the type of salt you use – more on that below)
ONE teaspoon/tablespoon flavor (depending on the flavor you choose – more on that below)
For example, one of my favorite chicken marinades is simply olive oil, honey, soy sauce (and maybe some garlic). If I were going to marinade ONE POUND of chicken breast, I would put the chicken into a bag or container and add:
ONE ½ cup of olive oil (fat)
ONE ½ cup of honey (acid)
ONE ½ cup of soy sauce (salt)
ONE Tbsp granulated garlic (flavor)
Pretty simple, right?
Here's another example. Let's say I have some pineapple juice in the fridge, leftover from making Healthy Hawaiian Roll Copycat Dinner Rolls, that needs to get used up. Here's how we can turn that into a chicken marinade:
ONE ½ cup olive oil (fat)
ONE ½ cup pineapple juice (acid)
ONE teaspoon salt (salt)
ONE teaspoon pepper (flavor)
SALT IN CHICKEN MARINADE RECIPES
It's important to consider how much salt you're using in chicken marinade recipes. We want to use SOME salt in order to tenderize and flavor the meat. However, we don't want to use so much salt that the meat itself tastes salty.
Here are the general rules of thumb I follow:
When you're using salt, use one teaspoon of salt for one pound of chicken breast.
If you're using salty liquid (like soy sauce), ½ cup for one pound of chicken and skip additional salt.
When you're using a spice blend that contains salt (like Homemade Taco Seasoning), use 1 tablespoon and skip the additional salt.
Note: Using these "rules," you can easily double or triple any chicken marinade and make a big batch!
EASY CHICKEN MARINADES USING PANTRY INGREDIENTS
Once I learned this formula and opened my pantry, I thought of MANY chicken marinade recipes using ingredients I already have! As long as you follow the rules of including fat, acid, salt, and flavor, you can experiment with lots of combinations.
I'll share a few flavor combinations that I came up with.
CHICKEN MARINADE RECIPE IDEAS
Chicken Fajita Marinade using Citrus
DELICIOUS GRILLED CHICKEN MARINADE WITH HOMEMADE SPICE BLENDS
You can make a delicious grilled chicken marinade using homemade spice blends you already keep on hand (or can easily whip up!). If you have a favorite spice mix that you're already using, chances are it will taste great in a chicken marinade recipe too!
Olive Oil + Buttermilk + Dry Ranch Salad Dressing Mix
Olive Oil + Apple Cider Vinegar + Dry Italian Salad Dressing Mix
Olive Oil + Red Wine Vinegar + Dry Greek Salad Dressing Mix
Olive Oil + Rice Vinegar + Dry Poultry Seasoning Mix
Olive Oil + Rice Vinegar + Chinese 5 Spice
CHICKEN WING MARINADE RECIPE USING CONDIMENTS
Check the refrigerator door for condiments to use in your next chicken wing marinade. Most of the sauces you already use for other purposes make perfect chicken marinade ingredients! Bonus points if you use up the last bit in a jar that has been lingering in the refrigerator for a while. We love these on wings and drumsticks!
GOOD CHICKEN MARINADE RECIPES THAT DON'T USE OLIVE OIL
If you're out of olive oil, try one of these marinades with coconut milk, which acts as the fat in the chicken marinade formula.
Coconut Milk + Lemon Juice + Salt
Coconut Milk + Lime + Curry
Coconut Milk + Pineapple Juice + Fish Sauce
Tip: Everything ends up in the same Ziploc bag or mixing bowl when you make marinades, so save yourself time and dishes by not rinsing out the measuring spoons!
CHICKEN MARINADE RECIPE TIPS
Marinate chicken for at least 30 minutes to one hour, but for best flavor, marinate for 4-6 hours. If you only have a bit of time, you can also poke holes I the chicken with a fork or a skewer to help the marinade soak in more quickly.
If leaving the marinade on overnight, try using a weaker acid like rice wine vinegar or honey, rather than a strong acid. Too much acid will break down the chicken and make for an unpleasant texture.
You can also make the marinade a day ahead of time, store it in an airtight container in the refrigerator, and just add it to the chicken 4-6 hours before you want to cook it.
Cook marinated chicken until it reaches an internal temperature of 160F, regardless of the marinade.
Don't skimp on liquid. It may seem like a lot, but all the liquid is necessary to thoroughly cover the chicken with liquid in order for the marinade to impart flavor to the meat.
Marinades are multi-purpose! They work well on whole chicken, boneless skinless chicken breasts or chicken tenders, chicken thighs with or without bones, chicken legs, chicken wings, or any variety of cuts.
Reserve some of the marinade and use it to baste the chicken during cooking for extra flavor.
SIDE DISHES TO SERVE WITH YOUR MARINATED CHICKEN
Once you've picked a chicken marinade flavor, you can find some yummy side dishes to complement it.
MARINADE FOR CHICKEN FAQS
Can I reuse chicken marinade?
According to the FDA, you CAN reuse marinade if you boil it first. However, it's probably best that you reserve some marinade to use as a sauce instead.
How long should you marinate chicken?
Marinate chicken for at least 30 minutes to one hour, but for best flavor, try 4-6 hours. You can marinate chicken overnight, but make sure to use a weaker acid so that the chicken does not start to break down and change in texture.
When do I marinate chicken?
Whether you're grilling, barbecuing, baking in the oven or rotisserie, frying, or putting in the slow cooker, marinades all work the same way! Simply mix the marinade and chicken in a large bag and let it sit before you cook the meat.
Should I add brown sugar to the chicken marinade?
No. If you want a sweeter flavor in your meat, choose a marinade with honey or maple syrup. Remember that these natural sweeteners will cook and create a glaze on your chicken!
What to put in a marinade for chicken?
As you can see from this post, you have lots of options! As long as you follow the formula for chicken marinades, and include fat, acid, salt, and flavor, you'll be able to come up with all sorts of combinations.
Can you freeze chicken marinade?
For sure! Put the chicken and the marinade in a freezer-safe bag and freeze for up to 6 months. I like to lay mine flat on a baking sheet while it's freezing so that it takes up less space in my freezer.
Other Chicken Recipes
Are you looking for other ways to jazz up your chicken? Try these recipes!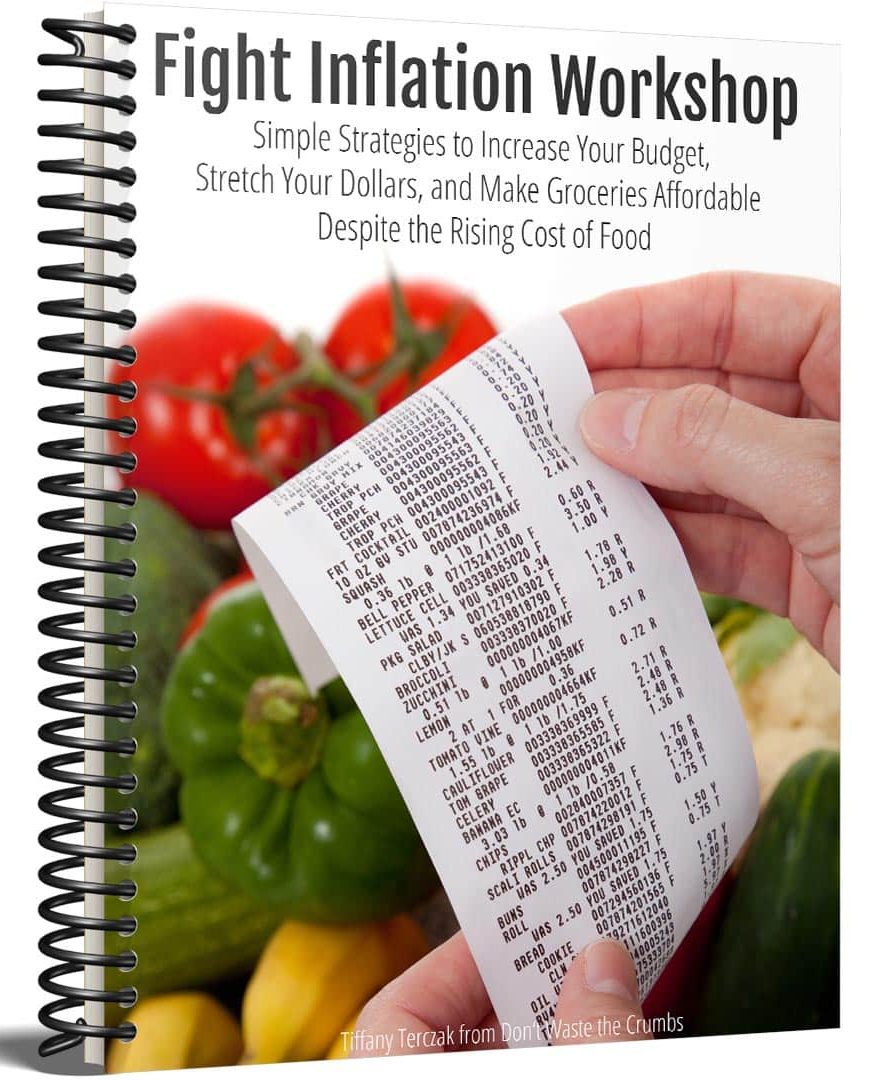 Fight Inflation Workshop
Sign up for my FREE
Fight Inflation Workshop
and learn simple strategies to save money, even with rising food costs!