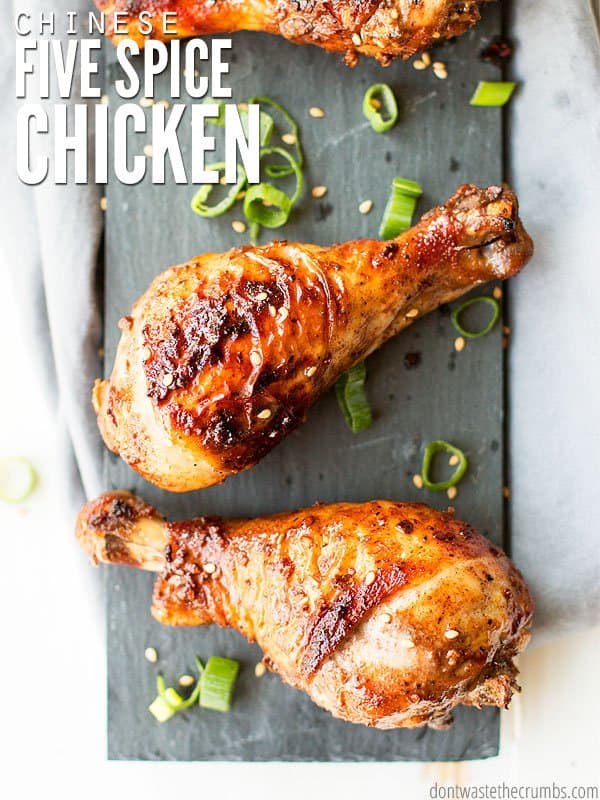 A couple months ago I was feeling like I was in a massive dinner rut. Every Sunday consisted of a boring whole roasted chicken on the grill with two boring side vegetables.
There's nothing wrong per se, with grilled chicken and vegetables, but I was ready for something else. It didn't have to be some crazy spectacular meal. It just had to be different.
I started experimenting with spices and struck gold on my first two attempts. The first was Jamaican jerk chicken. The second is this Chinese 5 spice chicken recipe.
A quick back story – I've WANTED to try Chinese 5 spice for a long time, but I've been very leery.
Eons ago I saw Chinese 5 spice on a store shelf and the price was outrageous for the teeny tiny bottle. I decided right then and there that my life was going just fine without ever having tried Chinese 5 spice, so there really wasn't a need to blow my grocery budget to try it now.
But then a few months ago I saw it again and the price tag was MUCH more budget-friendly. Maybe it's because we moved to Georgia from California? Maybe it's because Kroger has great deals on spices in general?
I don't know why and of course I don't remember the exact price now, but I do remember thinking, "Oh, is that it? It's no more than any of the other spices I buy. I think I'd like to give it a shot."
So I did.
If you've never had Chinese 5 spice before, prepare yourself for a flavor explosion. Literally.
The spice blend consists of five spices that individually can make or break a meal (ever had too much cloves in your pumpkin pie?). Here's the line-up:
Anise
Fennel
Cinnamon
Cloves
Black pepper
Now, anise and fennel are two spices I (personally) absolutely cannot stand on their own. They taste very similar to black licorice, and growing up, I was a red licorice gal.
In my experience, black licorice is like cilantro. You either love it, or hate it. I tried black licorice once, spit it out and knew I'd never eat it again.
My personal disdain for black licorice aside, there's something magical that happens when you mix anise and fennel with cinnamon, cloves and pepper. They actually taste GOOD!
Chinese 5 Spice Chicken
I think one of the reasons I like Chinese 5 spice chicken so much is because when you use this spice, it's the only spice you need (other than salt).
Sure, you can make some great tasting meals when you mix a few basic seasoning together. And as I teach in my course Grocery Budget Bootcamp, you can really save a lot of money by making your own spice blends at home. For example,
But remember now, I was in a DINNER RUT and part of this state means NOT being able to think clearly when you open the spice cabinet and put together something that tastes good.
You need creativity and the ability to connect the seasoning dots in your brain to make that happen. And if you could do either of these things, you wouldn't be in a dinner rut in the first place.
That's why you need Chinese 5 spice chicken. Zero creativity and zero seasoning skills required. Just open the container and dinner is done.
Well, almost done. I mean, you do have to actually USE the seasoning… which might mean adding a few other pantry staples into the mix so you don't get a big mouthful of anise or fennel (still a fear of mine – just keeping it real.).
Speaking of using, I've made this recipe a few times. Pictured are drumsticks I marinated and cooked fake grill style (a.k.a. in the oven).
My favorite though, was the night I rubbed the spice directly onto the skin of a spatchcock chicken.
Holy tastebuds batman – that was AMAZING!
So that's the Chinese 5 spice chicken recipe I'm sharing here.
I'll leave you with a few closing thoughts.
Don't pass up Chinese 5 spice at the grocery store (unless it's crazy expensive, and then buy this affordable option on Amazon or find it at a local ethnic store instead)
Don't be overwhelmed (or underwhelmed?) when you're stuck in a dinner rut.
Do make this Chinese 5 spice chicken.
I promise you won't regret it!
Watch How to Make Chinese 5 Spice Chicken
Chinese 5 Spice Chicken
Prep Time:

5 mins

Cook Time:

25 mins

Total Time:

30 minutes

Yield: Serves

4

1

x
Category:

Main meals

Method:

Bake

Cuisine:

Chinese
1

–

5

lb chicken, either whole or cut into parts (you can also use the equivalent of chicken pieces)

2 Tbsp

chopped garlic

2 Tbsp

hoisin sauce*

2 Tbsp

Chinese 5 Spice

2 Tbsp

soy sauce (we use liquid aminos)

1 tsp

sesame oil

1

" fresh ginger, roughly chopped (freeze any extra)
Instructions
Except for the chicken, add all ingredients to a food processor or blender and puree until you have a mostly smooth paste/marinade.
As a rub: smear the sauce under the skin and over the entire surface of the chicken
As a marinade: combine chicken and sauce in a plastic bag, remove the excess air, and let it sit in the fridge overnight, or at least 8 hours.
Cook chicken as desired.
If you have extra sauce, bring it to a boil and serve over the chicken (per FDA food safety guidelines). Do not re-use the sauce though.
Notes
* If you don't have Hoisin sauce, substitute 1 heaping Tbsp of oyster sauce OR fish sauce + 1 tsp molasses + 1 tsp honey.
Keywords: Chinese 5 spice chicken
Exclusive for Crumbs Readers
Sign up today and get a 10-14 lb turkey free in your first box!
Click this LINK to get the offer.
Butcher Box delivers grass-fed beef, pasture-raised and organic chicken, and heritage pork directly to your front door each month. You can read my honest review on Butcher Box here, and also my updated Butcher Box review here.
What do you make when you're in a dinner rut?