If you use any store-bought rubs or seasoning blends, chances are you're serving MSG for dinner.
I know it sounds gross, but the same additive most commonly associated with Chinese take-out can be found in our spices (listed as one of over 50+ different names) and can cause some pretty nasty side effects too!
We're taking lots of baby step towards better health this year – and saving money at the same time – and one of them is making our own seasonings. We already covered the most commonly used spice blends in cooking and baking, so today we're kicking off a summer grilling series by adding two spice blends designed especially for meat to the mix: Homemade Montreal Steak Seasoning and Homemade Montreal Chicken Seasoning.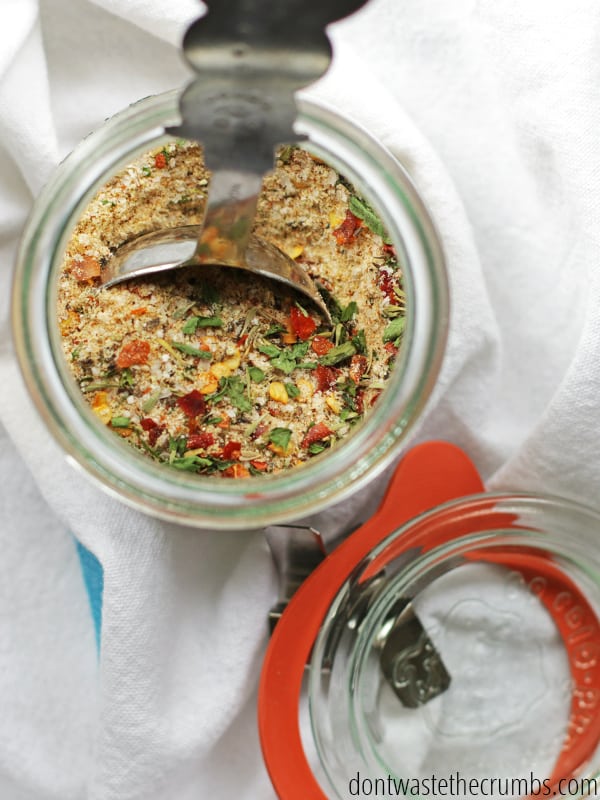 Do you have a Dutch oven? They are the quintessential all-in-one pot for meat. You can sear, sauté and fry. You can braise, poach and bake.
And you can do it in the oven, you can do it on the grill, you can do it over an open fire. Honestly, when it comes to cooking meat, you can't beat a Dutch oven!
Now… let's start seasoning!
Homemade Montreal Steak Seasoning
Montreal steak seasoning is the most commonly used blend in our kitchen. We put it on steaks (of course), but we also put it on potatoes, asparagus, broccoli, carrots… pretty much any vegetable we can get our hands on (and using a grilling basket helps to keep everything from falling through the grates). Steak seasoning adds such great flavor to so many different foods that few other blends can replicate.
But I'm REALLY not a fan of the MSG…
So I created my own copycat Montreal steak seasoning blend that I kid you not, tastes just like the real thing!
The two secret weapons? Coriander and big spices.
Coriander. This spice is often used interchangeably with cilantro, but we're using the seeds in this recipe to impart a spicy citrus taste that compliments the pungent garlic and onion!

Big spices. The size of the spices matters! If you want "flavor you can see," be sure to use

cracked

black pepper and garlic and onion

flakes

. Of course you can substitute granulated and still get a delicious seasoning, but if you really want to mimic the real thing, bigger pieces of spice are what you need!
Montreal Steak Seasoning
Ingredients
4 tsp coarse salt
1 Tbsp cracked pepper
1 Tbsp onion flakes
½ Tbsp crushed red pepper
½ Tbsp thyme
½ Tbsp rosemary
½ Tbsp coriander seed
½ Tbsp dill
1 tsp garlic flakes
Instructions
Combine ingredients in a glass jar and shake well to combine. If seasonings are whole, process in a blender or food processor so that they're still large, but not whole.
Homemade Montreal Chicken Seasoning
Despite the incredible versatility of steak seasoning, there one thing I don't use Montreal steak seasoning on: chicken.
Steaks are heavy and thick and can withstand the dark, robust flavor that steak seasoning is known for.
But it's just too much for chicken, in my opinion. Chicken is lighter in nature, so it needs a lighter spice to compliment.
This homemade Montreal chicken seasoning includes the same citrus flavor of coriander, but includes the lighter flavors of paprika, parsley and thyme – both very tasty with chicken!
By the way, the same tip of size applies here too. Pick "big" spices to see the flavor!
Montreal Chicken Seasoning
Ingredients
4 tsp coarse salt
4 tsp garlic flakes
3 tsp onion flakes
2 tsp cracked pepper
2 tsp parsley
2 tsp crushed red pepper
1 tsp coriander seeds
1 tsp paprika
1 tsp thyme
Instructions
Combine ingredients in a glass jar and shake well to combine. If seasonings are whole, process in a blender or food processor so that they're still large, but not whole.
Are you more of a rub person than a seasoning person?
Turn any seasoning into a rub by adding just a hint of liquid.
The most common ingredient is brown sugar, which is naturally moist from the molasses. Plus the sugar caramelizes as it cooks, creating a crust on the meat. You don't have to use sugar though – a tablespoon of olive oil will work too.
The key to seasoning with a rub is to a) lay it on thick and b) let it sit for several hours. Do both and your meat will be packed with flavor.
Or do you prefer marinades instead?
Adding 1/3 – 1/2 cup of oil and a bit of vinegar turns any seasoning mix into a marinade.
Mix up the oils and vinegar flavors to find your own favorite combinations for meat, poultry, pork and seafood. I like this marinade bottle because it has suggestions for a variety of oils and vinegar/acid right on the bottle!
Like rubs, the key to marinades is time. Be sure to let meat marinade for at least one hour, but the longer the better.
Tip: If you often find yourself short on time, make a batch of homemade Montreal steak seasoning and keep it in the pantry. When you get home from shopping, separate out your meat. Add a couple tablespoons of steak seasoning, a generous pour of oil and a splash of vinegar and seal it up for the freezer. When you pull the meat out to thaw, it'll marinade at the same time!
Start your grilling season off right with homemade spice blends!
Do you have a Dutch oven? What's your favorite way to use Montreal steak and chicken seasonings?
This post is sponsored by Mighty Nest. As always, I would never recommend anything on Crumbs that I wouldn't recommend to a close friend or neighbor, and all opinions here are my own.