Dehydrating dill is one of the easiest ways to enjoy fresh herbs all year round and save money on store-bought spices! Learn how to dry dill in this quick tutorial!
Dehydrating dill is a convenient way to have an endless supply of dried herbs right at your fingertips without making a trip to the grocery store. We all know purchasing store-bought herbs can be expensive. So, I set out on a mission to learn how to dry dill and other herbs at home!
I'll show you four different ways to dry dill that you can also apply to other herbs from your garden.
How to Dry Dill
Flavorful and Fresh
Imagine having access to the freshest and most flavorful herbs right in your own kitchen. By drying your own herbs at home, whether from your vegetable garden or freshly bought, you can capture their vibrant taste and herbal aroma, elevating the flavors of your dishes to a whole new level.
Customizable
Say goodbye to store-bought herb blends that never quite hit the mark. When you create your own dried herbs, you can customize and experiment based on your personal preferences. Handpick the herbs you love, create unique blends, and adjust the drying process to achieve the perfect level of flavor intensity.
Cost-effective
Let's talk about the perks of saving money while reducing waste. Drying your own herbs is a smart and cost-effective alternative to constantly buying pre-packaged ones from the store. It allows you to make the most of your garden or potted herbs, reducing unnecessary packaging and embracing a more sustainable lifestyle.
How to Harvest Dill
Harvesting dill is quite simple. Dill is easy to grow in your own garden bed or in containers. About 90 days after planting dill seeds, the dill plant is ready to harvest. You want to gather the dill weed before it flowers unless you plan on cultivating more dill seeds.
Once your plant has 4-5 small stems, harvest the dill sprigs by snipping the stem with scissors or pinching with your fingers. The older leaves tend to be at the bottom and those should be harvested first.
Now you can use the fresh dill leaves or dry them for future use. Drying dill in the dehydrator is my favorite method so I can make Homemade Ranch Dressing all year long!
What You Need for Drying Dill
food dehydrator (we have this one, but there are tips below the tutorial if you don't have one)
fresh dill
How to Dry Fresh Dill at Home Step-by-Step
Wash and Dry the Dill
Wash the dill and dry well with a clean paper towel or salad spinner. Separate the dill from the main stem by pinching off the smaller stems. You don't have to worry about breaking the dill fronds or being gentle here. Work over the counter, and you can dry any random dill sprigs that fall off.
Prep the Dehydrator Trays
Lay out the fresh dill sprigs in a single layer on a dehydrating tray. Use a liner if you have one. Otherwise, you can use parchment paper and line the tray with that. You just don't want to use the tray as-is. Otherwise, the small pieces of dill will fall through the cracks as they dry.
Set It, But Don't Forget It
Set your dehydrator to 95 degrees and allow the dill to dry for 4-6 hours. It won't take as long as fruit or vegetables do, so I don't recommend doing this before you leave for work. You don't have to be home the whole time, but maybe turn it on before running a few errands or starting dinner. Then you can check on it when you get home or before bed.
When the dehydrated dill crumbles easily between your fingers, it's done!
​Throw the Dill Into a Food Processor
Scoop it into a food processor (we have an all-in-one like this). It's best to work over the counter, as the little pieces of dill tend to grow wings and fly away. This way, if any plummet between the tray and the food processor, you can scoop them up and pour them in after the fact.
Run the food processor for 1-2 minutes until the dill is very fine. It's important not to skip this step. Otherwise, the dill will stick, and instead of being able to measure out what you need, you'll be pulling huge chunks of dill out of the container and using too much in your recipes.
Pour Your Freshly Made Dried Dill Into a Container
Measure the dill into a 4 oz glass jar or an airtight container (reuse if you can, and remove the label using this method) and store with your other spices, preferably in a dark place with no excess moisture. The jars pictured were gifted from family, but you can choose from several varieties on Amazon. The dill will last for up to a year.
OTHER METHODS FOR DRYING DILL
Wash and Dry Dill
Just like when using the food dehydrator, you'll want to wash and dry your fresh dill using a paper towel or salad spinner. It might seem silly to completely dry your dill before you dry your dill, but what we're attempting is to pull the moisture out of the inside of the leaves. The less moisture on the outside means your dill dries faster.
Oven Drying in a Traditional Oven or Toaster Oven
Line a baking sheet with parchment paper and place the washed and dried dill (minus the main stem) in a single layer on the baking sheet. Turn the oven on the lowest setting possible and check on the dill every 15 minutes.
To help you gauge the temperature of the oven, the light itself with the door closed will produce a temperature of around 80 degrees. If the lowest temperature of your oven is 200 degrees, I recommend cracking the door open with a wooden spoon.
Air Dry
Bundle fresh dill bunches by tying rubber bands around the base of the stems. Hang the dill upside down in a warm place. Air drying typically takes up to 2 weeks. Optionally, you can use a brown paper bag to protect the dill from dust. If you do this, cut holes in the bag to encourage good air circulation and prevent mildew.
Microwave Oven
Line a plate with two paper towels. Layer washed and dried dill (minus the main stem) on top of the paper towels, and then place two more on top of the dill. Microwave on high for 4 minutes. Test for dryness, adding additional time as needed.
How to Use Dried Dill
You can use freshly dried dill for a ton of different recipes, including:
Questions about How to Dry Dill Weed
Is it better to freeze or dehydrate dill? 
Nutritionally, there is no difference. I like to dry dill since it takes up less space and I like to use it in my own spice blends. But if you prefer the taste of fresh dill, you can see how to freeze dill using this tutorial.
What part of the dill do you dry? 
You can dry the leaves and the stems of the dill. Since removing all the tiny leaves is time-consuming, I like to dry them while attached to the stems. Then blend in a food processor to break up the large stems. 
How much dried dill for fresh dill?
You need 1 teaspoon of dried dill to replace 1 Tablespoon of fresh dill. 
How to Dry Dill
Drying your own dill is an easy way to take advantage of the entire plant and add the best flavor to your dishes. No matter which method you use, drying your own dill is a great way to capture the aromatic and flavorful essence of fresh dill and enjoy its benefits year-round! Try out one of these methods, and let me know how it worked out for you!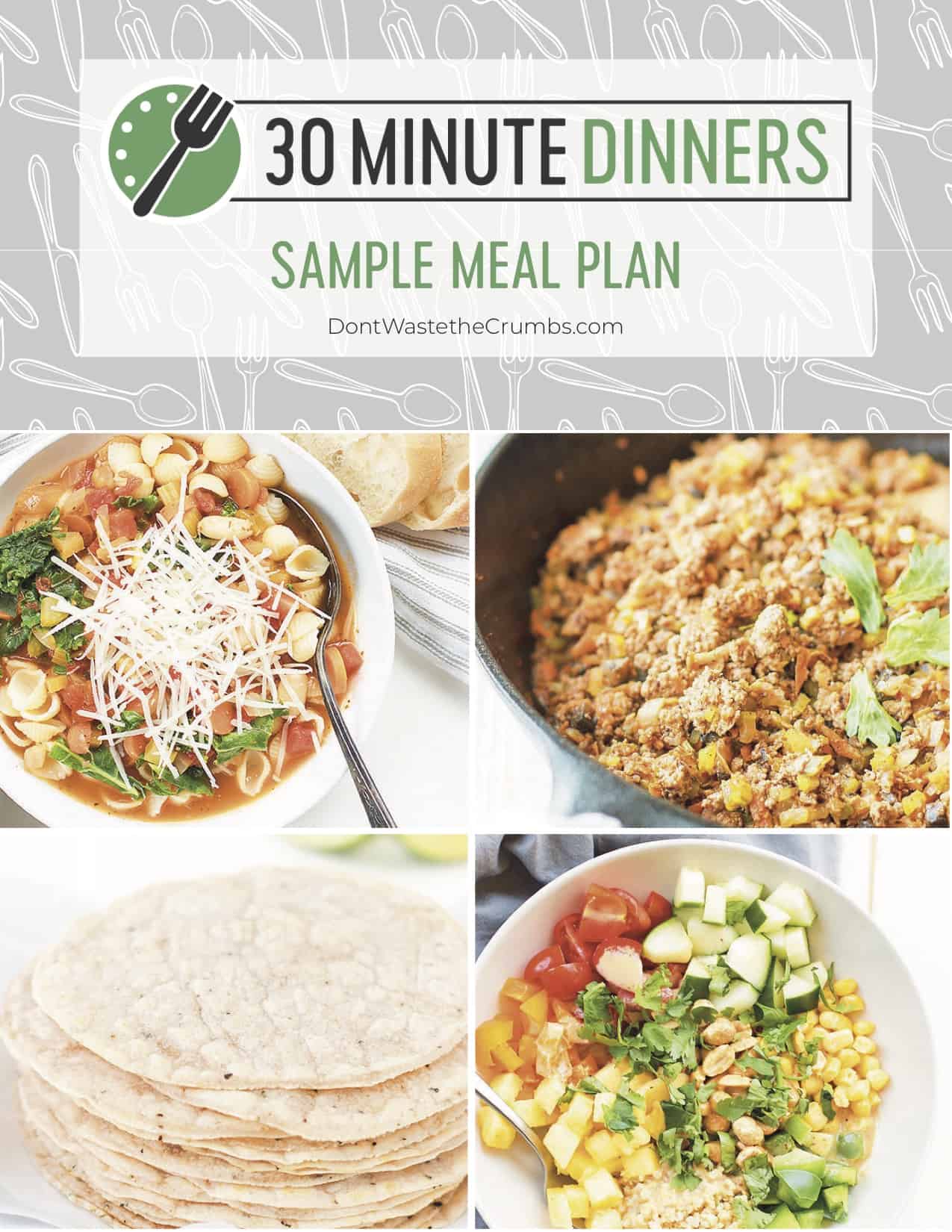 30 Minute Dinners Sample Meal Plan
Sign up to get instant access to my
30 Minute Dinners Sample Meal Plan
, complete with recipes and step-by-step instructions!