By far, the bulk of our grocery budget goes towards quality meat and produce. Whole grains and healthy fats are somewhere in the middle and at complete opposite end of the spectrum there's a teeny tiny amount allotted for spices.
I've been buying my spices at the local dollar store for quite some time, but without fail, there's always one spice I use on a regular basis that they never have. Anytime I want to make homemade ranch dressing, I'm essentially giving up any money I saved by making it myself because I'm spending an arm and a leg at the grocery store for a teeny tiny bottle of this one darn spice…
And then feel bad when I need to use a tablespoon because that means I've pretty much used the whole container.
Dried dill continues to be the thorn in my side. I need it for homemade ranch dressing, which really is a frugal (aside from the dill) and WAY delicious recipe. I use dill in potato salad and homemade pickles. I like it in herb olive oil bread too.
But buying it from the store at $4 for an itty bitty container (literally, one-third of an ounce) is just not feasible. Not if we want to have food to eat next week anyway!
Here's the kicker though – I just priced out a fresh bunch of dill at $2.
So one FRESH bunch of dill (about 15-20 sprigs) is $2, but buying half as much DRIED dill will cost me twice as much?
We must stop this madness!
Fresh dill is totally in season right now and if you enjoy dill as much as we do, it's time to get to work. Roll up your preservation sleeves and resist the temptation to put the whole bunch of dill into one batch of macaroni salad. Instead, let's dehydrate it and stock up for the rest of the year!
If you're feeling a bit uneasy about drying herbs, I get it. They're dainty and need to be handled with kid gloves, so to speak. But friends, it's really not that hard – I promise!
And don't give me the excuse that you don't have a dehydrator. That's what I have (and what you should add to your wish list), but you can use an oven, microwave or even fresh air to dry your own dill too.
There's only one key to remember in order to successfully dry herbs: low and slow.
How to Dehydrate Dill
Supplies
dehydrator (we have this one, but there's tips below the tutorial if you don't have one)
fresh dill
Method
Wash the dill and dry well. Separate the dill from the main stem by pinching off the the smaller stems. You don't have to worry about breaking the dill or being gentle here. Work over the counter and you'll be able to dry any random pieces of dill that fall off.
Lay out the dill pieces in a single layer on a dehydrating tray. Use a liner if you have one, otherwise you can use parchment paper and line the tray with that. You just don't want to use the tray as-is, otherwise the small pieces of dill will fall through the cracks as they dry.
Set your dehydrator to 95 degrees and allow the dill to dry for about 4-6 hours. It won't take as long as fruit or vegetables do, so I don't recommend doing this before you leave for work. You don't have to be home the whole time, but maybe turn it on before you run a few errands or before you start dinner. Then you can check on it when you get home, or before you go to bed.
When the drill crumbles easily between your fingers, it's done!
Scoop it into a food processor (we have an all-in-one like this). It's best to work over the counter, as the little pieces of dill tend to grow wings and fly away. This way if any plummet between the tray and food processor, you can scoop them up and pour them in after the fact.
Run the food processor for 1-2 minutes, until the dill is very, very fine. It's important not to skip this step, otherwise the dill will stick and instead of being able to measure out what you need, you'll be pulling huge chunks of dill out of the container and using too much in your recipes.
Measure the dill into a 4 oz glass jar (reuse if you can, and remove the icky label) and store with your other spices. The jars pictured above were gifted from family, but you can choose from several varieties on Amazon. The dill will last for up to a year.
Other Methods for Dehydrating Dill
Traditional Oven or Toaster Oven
Line a cookie sheet with parchment paper and place the washed and dried dill (minus the main stem) in a single layer. Turn the oven on the lowest setting possible and check on the dill every 15 minutes.
To help you gauge temperature on the oven, the light itself with the door closed will produce a temperature around 80 degrees. If the lowest temperature on your oven is 200 degrees, I recommend cracking the door open with a wooden spoon.
Sunlight
Bundle fresh dill by tying a rubber band around the base of the stems. Hang the dill upside down in a warm place for up to 2 weeks while the dill dries. Optionally, you can use a brown paper bag to protect the dill from dust. If you do this, be sure to cut holes in the bag to encourage air circulation and prevent mildew.
Microwave
Line a plate with two paper towels. Layer washed and dried dill (minus the main stem) on top of the paper towels, and then place two more on top of the dill. Microwave on high for 4 minutes. Test for dryness, adding additional time as needed.
Drying my own dill is not only an easy way to save money (upwards of $48 per year!), but it's also a way to stock higher quality spices in my cabinet. It's surprising that buying it fresh is more affordable, but even more surprising that I can make my own dried dill for half the cost in just a few hours of mostly hands-off work!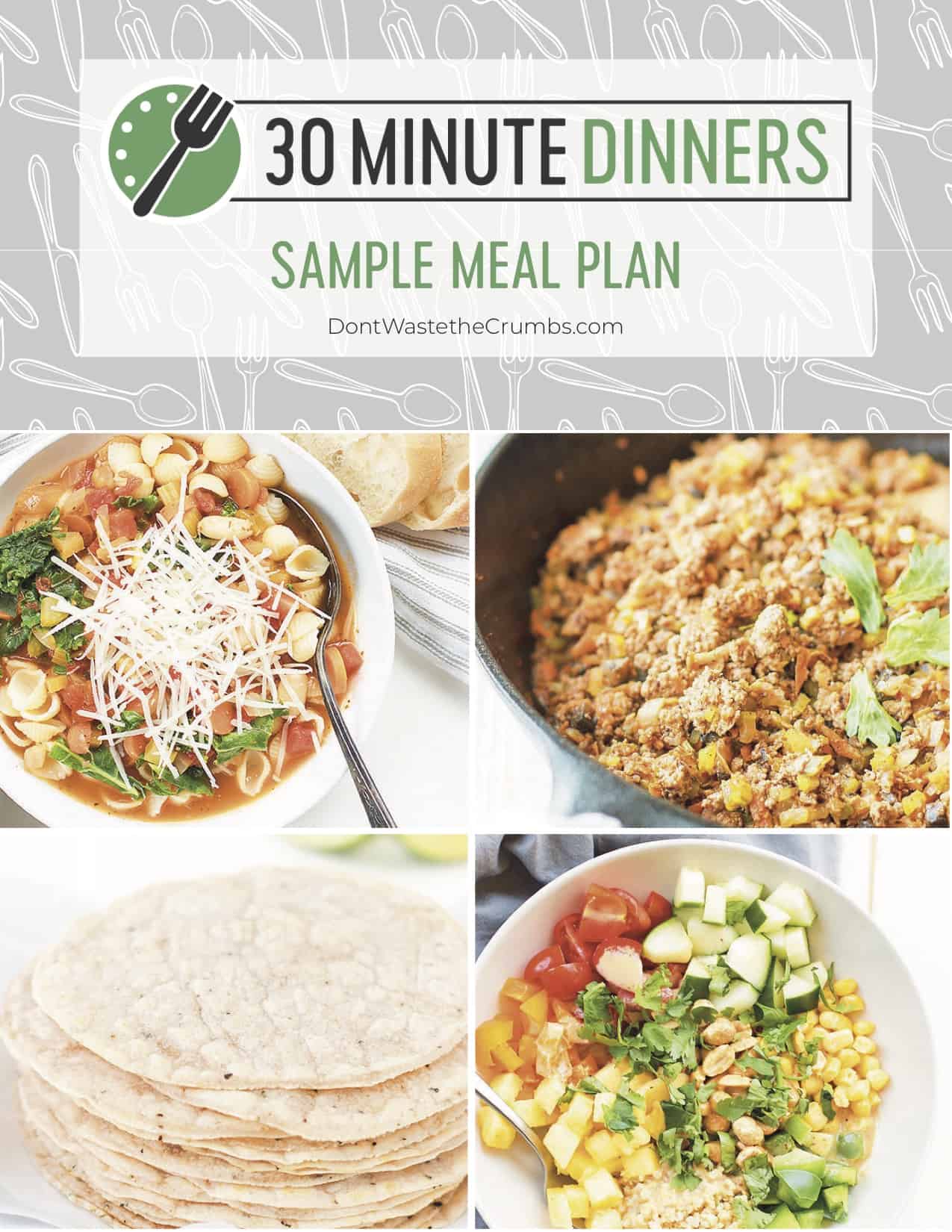 30 Minute Dinners Sample Meal Plan
Sign up to get instant access to my 30 Minute Dinners Sample Meal Plan, complete with recipes and step-by-step instructions!
Dill is such a fun spice – what's your favorite recipe that uses it? Have you ever tried drying your own dill before?