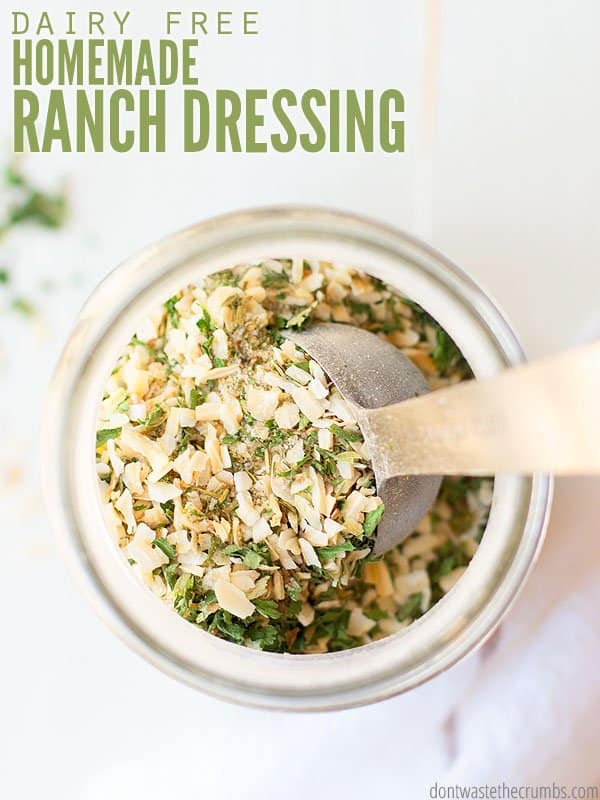 I've been making my own salad dressings for years… homemade Ceasar salad dressing and homemade Italian salad dressing and homemade Greek salad dressing and Thai peanut sauce and maple yogurt dressing and maple citrus vinaigrette have all found their way to our dinner table…
Until we started the Whole30.
A couple of those salad dressings are Whole30 approved, but most of them aren't. And for some reason I can't quite explain, the only dressing we truly wanted while on the Whole30 was ranch.
It took a few tries, but I created a super easy dairy free homemade ranch dressing that my family not only LOVES, but we prefer it over the ranch dressing we used to make!
I have to confess first though, that the spices for this recipe were inspired by Kate.
My friend Stacy showed on Instagram how she makes ranch dressing using Kate's recipe. That it was far better than anything other homemade ranch dressing recipe she'd ever made and had officially quit looking.
I trust Stacy, and while the homemade ranch dressing I used to make wasn't bad, it wasn't one that made my family look forward to salad night and ask for seconds.
So I took her advice, made the ranch seasoning dry mix and then stood there stumped. I couldn't use sour cream or yogurt to make the dressing!
I bought the newly-updated Whole30 book when we started this adventure and I have turned to it numerous times when I wasn't sure how to make a normal recipe suitable for the Whole30, and once again, the book came to my rescue. There was a recipe for homemade ranch dressing that was based off mayo!
Buying Whole30 approved mayo can get very expensive, very fast, and my own fail-proof homemade mayo is naturally Whole30 approved. It contains just four ingredients: eggs, salt, lemon juice and extra light olive oil.
Plus it's super easy, ready in less than two minutes and really is fail-proof – I've never had a batch turn out wrong and I made a quart of mayo every week… that's a lot of mayo!!
So I took the dry ranch seasoning along with my own homemade mayo recipe and tinkered from there to get the right amount of tang, spice and creaminess without sacrificing taste.
We ate a lot of seasonal waldorf salads in order to get the recipe just right, but once I did, we couldn't stop eating it. Even though we're no longer officially on the Whole30, I still make it this way because the whole family LOVES this dressing!
Let's break down what's included.
Dairy-free Homemade Ranch Dressing
Spices
All the spices in this recipe are dried spices and you probably have them in your spice cabinet already: minced onions, garlic powder, salt, parsley, dill, thyme and basil.
You can use fresh herbs if you want, or you can use essential oils** too. If you go with fresh herbs or essential oils, don't add them as directed below. (This recipe will make a big batch of seasoning mix).
Instead, prepare the seasoning mix (omitting your herb) and add fresh herb and/or essential oils directly to the single batch of dressing you're making.
Mayo
As I mentioned earlier, my fail-proof homemade mayo is hands down the route to go here. You can use store-bought, but it will cost more. Especially if you like this dressing as much as we do!
Vinegar
Ranch dressing is known for its tang, and while my homemade mayo has lemon juice, it doesn't quite get the job done. A little bit of red wine vinegar got the job done!
If you don't have red wine vinegar, you can use apple cider vinegar (here's how to make your own apple cider vinegar), but the taste won't quite be the same.
I wouldn't suggest substituting white vinegar for this recipe.
Coconut Cream
Coconut cream is a staple when you're on the Whole30, so it's no surprise that it's in dairy-free homemade ranch dressing too. We need the thick coconut cream from canned coconut milk here, not the liquid coconut milk that you can drink.
I like this brand and keep a can in the fridge to separate the cream from the water.
Dairy-free Milk
You don't need much of this and I often skip it, but a little bit of almond milk, coconut milk or even the coconut water from a can of coconut milk will thin the dressing a smidge so it's pourable.
If you're on a tight budget, I recommend making homemade almond milk or homemade coconut milk to help keep costs down. The Whole30 can be expensive!
How to Make this a Regular Homemade Ranch Dressing
If you're not dairy free, I still encourage you to try this homemade ranch dressing with mayonnaise. My husband HATES mayo and he LOVES this dressing – that speaks volumes right there!
However, you can make this homemade ranch dressing using sour cream or Greek yogurt (here's how to make homemade Greek yogurt).
Substituting for the mayo will change the taste and texture of the recipe a bit, so be sure to adjust the seasonings as desired.
How to Make Dairy-free Ranch Dip
One of the reasons I love this recipe is because is SO versatile!!
If you skip the coconut cream and dairy-free milk, you have homemade ranch dip – JUST LIKE THAT!
If you love this dairy-free homemade ranch dressing as much as we do, I suggest making a double or triple batch of the dry seasoning mix below and keeping it in a glass jar in the spice cabinet.
I like to re-use glass jars that I bought – like spaghetti jars or jelly jars or coconut oils jars – and remove the label using lemon essential oil**. It works every time and I can save money by NOT buying glass jars!
Also, if you're looking to make your own ranch dressing, chances are you'd like to make your own homemade taco seasoning and homemade poultry seasoning too. Enjoy!
** Since so many brands of essential oils are watered down or have chemicals added to enhance the smell, it's important to choose a brand where you know where the essential oil actually comes from – that's why I use Young Living essential oils.
Learn more about Young Living and why I chose them here. 
Dairy-free Homemade Ranch Dressing
Easy and healthy homemade ranch dressing made from from scratch. This recipe uses ingredients you already have, can be made without buttermilk and tastes better than Hidden Valley AND what you get at the restaurant! Whole30, Paleo and Keto approved – my whole family loves this dressing!
Author: Tiffany
Prep Time:

5 mins

Cook Time:

0 mins

Total Time:

5 mins

Yield:

8 oz

1

x
Category:

Sauces/Condiments

Method:

Bowl

Cuisine:

American
Dry Ranch Seasoning Mix
5 Tbsp

minced onions

2 Tbsp

dried parsley

1 Tbsp

garlic powder

4 tsp

salt

1 tsp

dried dill

1 tsp

dried thyme

1 tsp

dried basil
To Make the Dressing
1 cup

homemade mayo

1 Tbsp

red wine vinegar

1 Tbsp

coconut cream

1

–

3

tsp milk (dairy or non-dairy)
Instructions
Prepare the dry ranch seasoning mix by combining all the dry spices in a mason jar. Shake well.
Measure 2 Tbsp of the dry ranch seasoning mix into another jar.
Add the mayo, red wine vinegar and coconut cream and stir well. Thin by adding milk 1 teaspoon at a time and stirring well after each addition.
Store the seasoning mix in the spice cabinet and the dressing in the fridge!
Do you have a favorite salad dressing? I'd love to hear your idea in the comments!