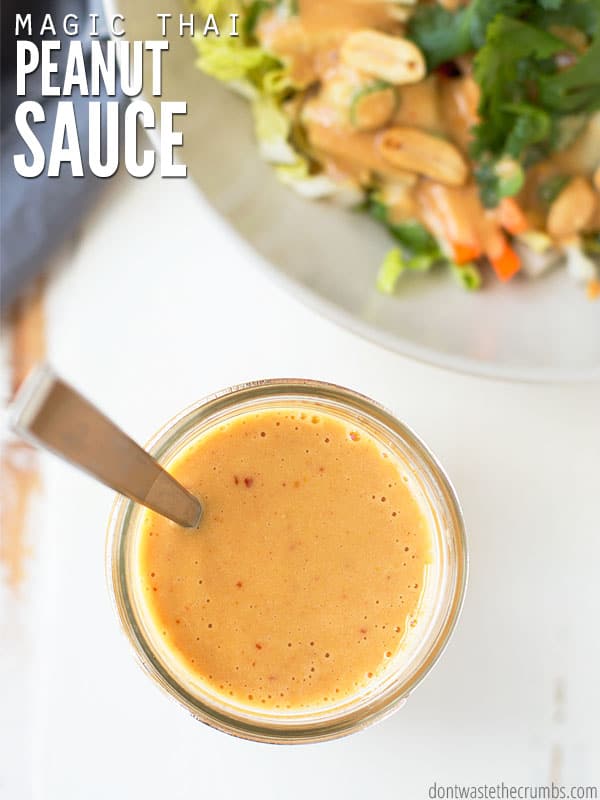 It never fails. Every year when the temperatures start to warm, I crave salads.
My Costco-copy sweet kale salad is really good, and so is panzanella salad with homemade Caesar dressing.
But this time I was craving something very specific: chicken salad with thai peanut sauce.
I think I put salad on our weekly meal plan for a couple months in order to get this thai peanut sauce just right, and I have no doubt my family was tired of eating my attempts.
But in my defense, if the sauce is the star of the show (which this magic thai peanut sauce DEFINITELY is), I don't want a mediocre sauce. I wanted a sauce so good you couldn't help but lick the spoon.
Thai Peanut Sauce
And I wanted a sauce that could double as a sauce OR a dressing.
You know the kind I'm talking about, right? Where it's thin enough to work into some crunchy vegetables and get solid coverage as a dressing, but thick enough to stand up to dunking spring rolls or chunks of grilled chicken.
Yeah, and I wanted a thai peanut sauce that would KNOCK YOUR SOCKS OFF too. I wanted to feel like there was a flavor explosion in my mouth with every bite.
I wanted peanut + tang + sweet + depth with every dip, every crunch, on every forkful of whatever I was eating.
And this is it!
Don't be fooled by the long list of ingredients. You stick it all in the blender and whip it up in about a minute. (I use this blender.)
And just for the record, every ingredient is necessary. I've tried reducing and subbing and the results were not nearly as good.
Avoid Food Waste!
One of the core principles I teach in Grocery Budget Bootcamp is to not waste anything, even if you only have a small amount.
Buying a whole of "something" only to use a portion is a big waste of money when you don't know what to do with the leftovers, so here are some ideas.
Put Magic Thai Peanut Sauce on a Salad
In case you're wondering, the salad pictured is called a Crunch Salad. Which is a fancy name for a bunch of crunchy vegetables chopped up in a bowl.
You can make your own Crunch Salad by starting with 4 cups of thinly sliced Napa cabbage (which is MUCH milder in flavor than typical green cabbage) and adding 4 more cups of crunchy vegetables. Some examples:
Matchstick carrots (use a julienne peeler to cut them quick!)
Bell pepper (I suggest red, orange or yellow for the mild flavors)
English cucumber (seeded)
Broccoli stems (buy the whole bunch and use the florets in easy homemade Alfredo sauce!)
Sliced Brussels sprouts
Matchstick radishes
Mix/match with what you have, what's on sale, what's in you garden and what your family likes. Once you top it with this thai peanut sauce, your people will forget they're eating a big bowl of vegetables.
And of course, feel free to top with chicken for a boost in protein.
Any chicken will do, but I recommend all-purpose slow cooker chicken, especially in the summer. All the benefits of having chicken ready for your favorite meals, without having to heat up the house!
Watch How to Make Our Thai Peanut Sauce:
Thai Peanut Sauce
Ingredients
¼ cup peanut butter
2 Tbsp rice vinegar
2 Tbsp lime juice (about 1½ limes)
3 Tbsp olive oil
1 Tbsp soy sauce (I use liquid aminos)
1 tsp salt
¼ tsp crushed red pepper
1" fresh ginger, sliced
1 Tbsp minced garlic (about 2-3 garlic cloves)
1 Tbsp sugar
2 Tbsp honey
¼ cup cilantro
Instructions
Add all the ingredients, except the cilantro, to the blender or food processor. Blend until all the ingredients are smooth and creamy.
Add the cilantro and pulse until the cilantro is in very small pieces.*
Use as a dressing on your favorite salad, or as a dipping sauce.
Notes
* If you're using this as a dressing for a salad, I personally preferred adding the cilantro to the salad instead of the dressing. The big chunks of cilantro really boost the flavor!
Adapted from Once Upon a Chef.
What type of salad do you crave, when the temperatures start to warm up? Leave your ideas in the comments below!