Learn how to cook shrimp perfectly every time, from raw or frozen, using the Instant Pot! Faster than an oven & you can cook with the shell for shrimp cocktail!
There's something fun and refreshing about shrimp, don't you think?
It's very different from Instant Pot honey garlic chicken and maple glazed pork chops and slow cooker beef ragu that are normally on our meal plans.
The only problem, though, is how to cook shrimp! There's a fine line between perfectly juicy and tender shrimp and tough and chewy shrimp.
When you're spending your hard-earned grocery dollars on shrimp – even when it's on sale – you surely don't want to waste it!
Let me show you my favorite method for cooking shrimp – the Instant Pot!
When you see how easy it is to cook shrimp in the Instant Pot, you're never going to go back to any other method!
You only need three things to make this work:
An Instant Pot.
I have this 8-quart Instant Pot and LOVE it. It's the perfect size for my family of 4.
My sister-in-law started with the 6-quart and she quickly outgrew it (she had a family of 4 at the time). I figured it was better to have some extra room, rather than not enough room, right? Besides, the bigger size means I'm able to cook more of our favorite healthy foods in batches and spend less time in the kitchen!
A steaming basket.
I have this steaming basket that fits perfectly inside my Instant Pot and I picked that one because it has a handle wrapped in silicone so you don't burn yourself taking it out of the pot.
Plus you don't have to clip or cut anything to make it fit and it's dishwasher safe. This brand offers baskets for the 3-quart, 6-quart, and 8-quart Instant Pots, so make sure you pick the right size for your Instant Pot.
A glass lid.
You can't use the Instant Pot lid, but odds are you have a lid that works!
If you have a cookware set – the kind that comes with a few different sizes of saucepans and a big stock pot like this set – the lid for the stock pot fits PERFECTLY on the 8-quart Instant Pot!
How to Cook Raw Shrimp in the Instant Pot
Here's how it works in three easy steps!
Add water to Instant Pot.
Put shrimp in the basket, put the steaming basket accessory in the Instant Pot, put the lid on the Instant Pot.
Press "steam" and set the timer for 5 minutes.
Crazy easy, right? I almost feel silly typing this up as a "how to cook shrimp" post, but hey – if I didn't know how to do this, odds are someone else didn't know how either!
How Long to Cook Shrimp in the Instant Pot
The cook time for shrimp will depend greatly on the size of your shrimp. I've written this recipe for large shrimp (approx 16-20 per pound) because that's what I usually buy.
For smaller shrimp, reduce the cook time to 3 minutes and watch the shrimp to prevent overcooking. Make note of the total cook time for the size shrimp you bought so you can set the timer correctly the next time.
How to Cook Frozen Shrimp in the Instant Pot
I don't recommend cooking shrimp from frozen. It adds a layer of complication to getting all of the shrimp to cook evenly through without overcooking any of them and they likely end up rubbery.
Instead, it's better to thaw the shrimp first.
Place your frozen shrimp in a sink full of warm water and it will thaw in under an hour, possibly faster depending on your shrimp. If possible, break up large clumps of frozen shrimp as they thaw.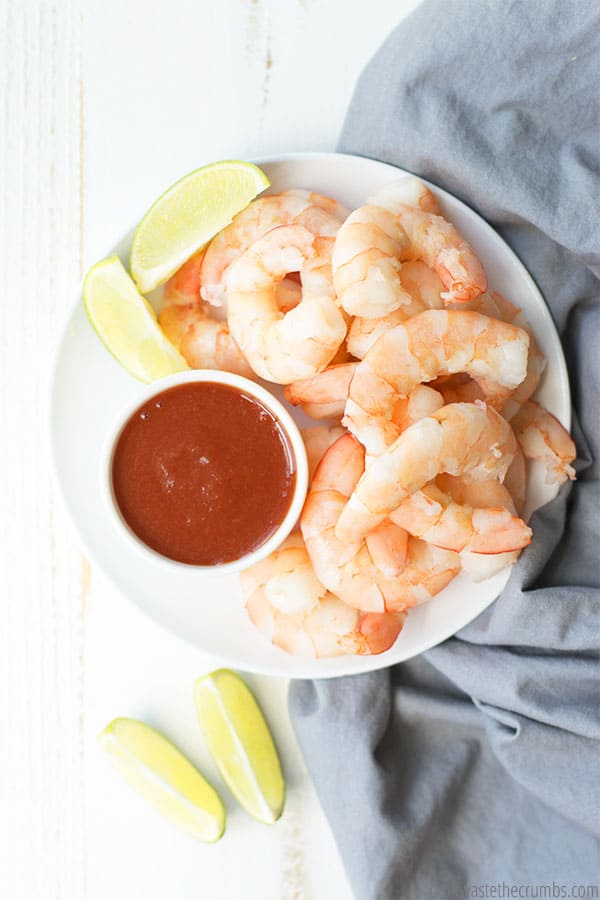 What to Cook Shrimp With?
I kept this recipe simple because I wanted you to have options. I didn't want to show you how to make Cajun shrimp recipe when you needed a recipe for Greek!
Here are easy ways to jazz up the flavor:
Add lemon slices or lime slices to the water.
Add lemon juice or lime juice to the water.
Marinade shrimp in lemon or lime juice + garlic powder + salt + pepper for 30-60 minutes before cooking.
Sprinkle Old Bay Seasoning on the shrimp before cooking.
Add minced garlic to the water
How to cook shrimp in the oven?
Set the oven to broil, and when it's preheated, place shrimp in a single layer on a baking sheet.
Toss with a drizzle of olive oil and desired spices and broil for 5 minutes.
Stir the shrimp and broil for additional time, as needed, until they're cooked through!
What to Serve Perfectly Cooked Instant Pot Shrimp with?
Here are some of my favorite (quick and easy!) recipes to add your shrimp to:
Instant Pot Steamed Shrimp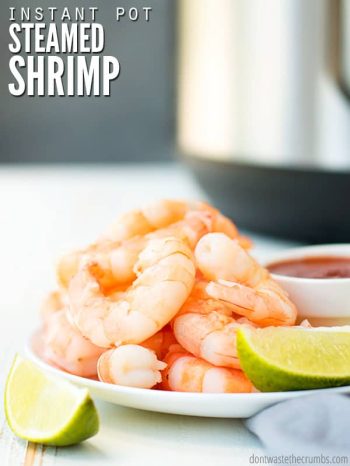 Learn how to cook shrimp perfectly every time, from raw or frozen, using the Instant Pot! Faster than an oven & cook with the shell for shrimp cocktail!
Author: Don't Waste the Crumbs
Prep Time:

5 mins

Cook Time:

5 mins

Total Time:

10 mins

Yield: Serves

4

-

6

1

x
Category:

Main Dish

Method:

Instant Pot

Cuisine:

American
1 cup

of water

1

–

2

pounds of shrimp
Lemon juice, lime juice, and/or Old Bay Seasoning, if desired (optional)
Instructions
Pour water into the Instant Pot. Place the shrimp in a steaming basket, place the steaming basket in the Instant Pot. Place a glass lid on top and press the "steam" function. If your Instant Pot automatically turns on the "keep warm" function, press the button to turn it off.
Set the kitchen timer for 5 minutes and let the shrimp steam, undisturbed.
When the timer goes off, check the shrimp. If your shrimp are small or medium, they may be done. The shrimp is considered done when they are pink and slightly curled. They do NOT need to be fully curled in order to be considered done. (In fact, if they're fully curled they're likely over-done.)
If you're cooking large shrimp, you will need to stir the shrimp and add an additional 4-5 minutes to the timer. Check the shrimp at 4 minutes and add 1-2 minutes, if needed.
Serve immediately or keep in the refrigerator for 3-4 days. Cooked shrimp can also be frozen for 3-6 months if wrapped well.
Keywords: How to cook shrimp
Have you ever cooked shrimp in the Instant Pot before? I promise – it's a game changer! What fun ways would you serve your steamed shrimp? I'd love for you to leave your recipe ideas in the comments below!