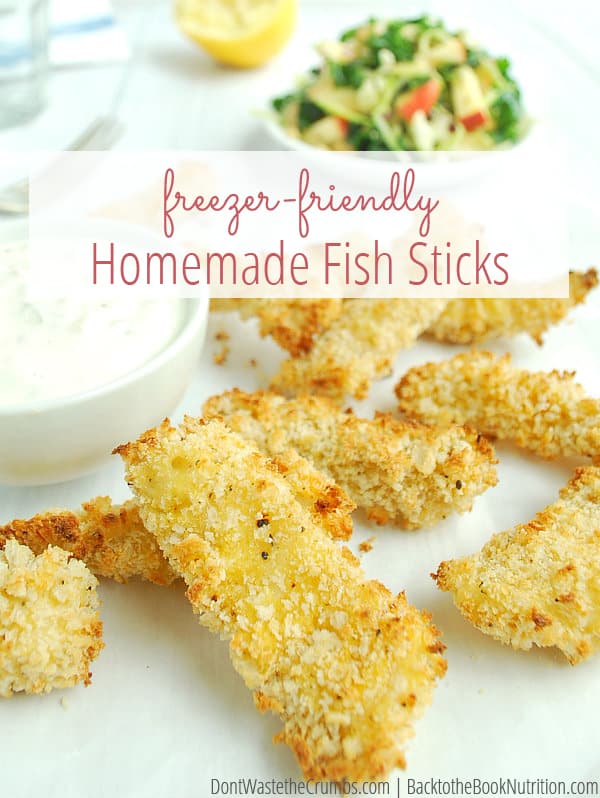 Summer's coming!
At our house, summer means lighter fare – things like smoothies, salads, and popsicles. Dinners are simpler as well.
Between the Houston heat and humidity, and less time indoors available for cooking, heavy and labor-intensive meals just don't make much sense during the summer months.
Simple and Healthy Summer Dinners
One of my kids' favorite summer dinners is baked fish sticks. The key to making fish sticks fit the fast and easy summer dinner mold is to make them ahead in large batches and freeze them. They do take a little time to batter and bake but, when it's time for dinner, you can just pop a tray into the oven for 10-12 minutes (no defrosting required!).
Plus, with wild caught fish and DIY Panko bread crumbs, this recipe is way healthier than what you'll find on the freezer aisle.
Consider the ingredient list from a leading brand of crunchy fish sticks (ingredients of particular concern red text):
MINCED ALASKA POLLOCK, ENRICHED BLEACHED WHEAT FLOUR (FLOUR, NIACIN, IRON, THIAMIN MONONITRATE, RIBOFLAVIN, FOLIC ACID), VEGETABLE OIL (COTTONSEED AND/OR SOYBEAN), WATER, YELLOW CORN FLOUR, LESS THAN 2% OF: SUGAR, DEXTROSE, SALT, WHEY, BAKING POWDER (BAKING SODA, SODIUM ALUMINUM PHOSPHATE), YEAST, ONION POWDER, NATURAL FLAVOR, SODIUM TRIPOLYPHOSPHATE (TO RETAIN FISH MOISTURE), TBHQ (TO PROTECT FLAVOR).
Compare that to ingredients in my Homemade Fish Sticks:
WILD CAUGHT ALASKAN COD, HOMEMADE PANKO BREAD CRUMBS (SOURDOUGH BREAD, DRIED HERBS), ALL PURPOSE FLOUR, EGGS, SEA SALT.
It's not surprising that fish sticks made with better quality ingredients cost more than highly processed and preserved store bought fish sticks, but they're actually more affordable than you might expect (scroll down for details).
Finally, you can finally feel good about serving fish sticks for dinner, and your kids will love you for it too!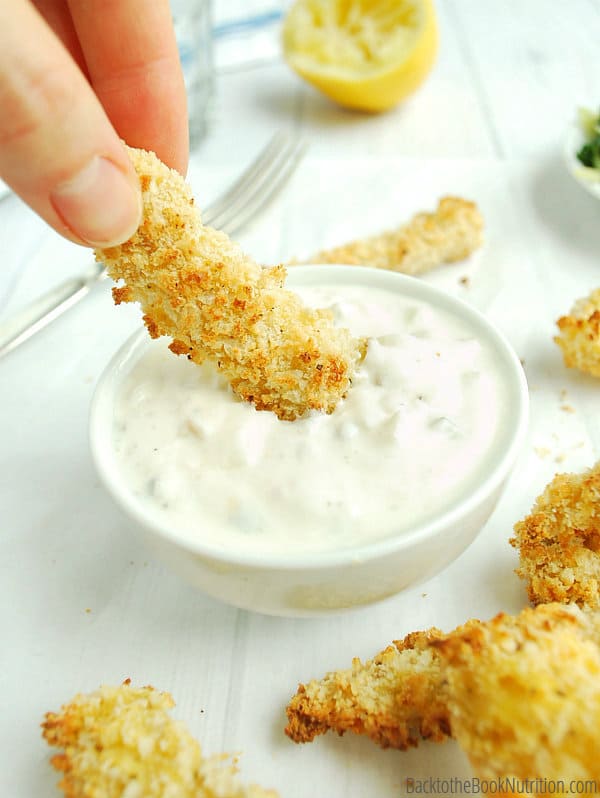 Wild Alaskan Cod – the Affordable Wild Caught Fish
I prefer wild Alaskan cod for making fish sticks because it's one of the cheapest varieties of wild caught fish, and because it has a somewhat firm texture and very mild flavor, making it perfect for this recipe. Trader Joe's sells it frozen for only $6.99 per pound – I've paid twice that for wild salmon before! 
For the batter, I use flour, egg, and my homemade seasoned Panko style bread crumbs  made from fresh sourdough. My main reason for making my own bread crumbs was to avoid the cheap vegetable oils commonly used in store bought Panko, but making your own bread crumbs also shaves a little money off the cost of this recipe. If you're willing to pay for them and aren't opposed to the soybean oil on the ingredient list, feel free to save yourself some prep time by buying prepared Panko crumbs.
Whether you buy or bake your bread crumbs, I would definitely recommend sticking to the Panko style crumbs since they have an ultra light texture that gives these fish sticks that classic, irresistible crisp! I serve them with our favorite summer slaw and buttered corn on the cob, and my kids are in heaven!
And if you like sandwiches, the leftovers make a great fish sandwich! Just store extra fish sticks in an airtight container in the fridge overnight, then give them a quick heat in the oven or toaster oven (350 degrees for 3-5 minutes). I love them on toasted sourdough with a little tartar sauce made with homemade mayo!

Homemade Fish Sticks (Freezer Friendly)
Author:
Back To The Book Nutrition
Ingredients
1 pound cod filets (defrosted if frozen)
1 cup all-purpose flour (place in shallow bowl)
4 large eggs, beaten (place in a 2nd shallow bowl)
1 heaping tsp sea salt
2½ cups store bought or homemade seasoned Panko bread crumbs (place with salt in a 3rd shallow bowl or gallon size plastic zipper bag)
melted ghee or avocado oil
Instructions
Preheat oven to 400 degrees.
Prepare 2 roasting pans, each with a wire cooling rack placed inside so fish can cook on top of rack, while any crumbs fall into the pan.
brush the racks lightly with melted ghee or avocado oil
Slice cod into 25-30 thin strips (mine were about ½" wide and 3-4" long). Pat dry with paper towels if needed.
Working in batches, dredge the cod strips in flour (1st bowl), then coat with egg (2nd bowl), then cover in Panko crumbs (3rd bowl).
Place breaded strips evenly around the wire racks inside the roasting pans.
Once all are breaded and on racks, bake for 8 minutes. Flip and bake on the other side for another 6 minutes, then transfer to the broiler for about a minute (just until some of the crumbs begin turning a darker brown). Watch these very closely to prevent burning.
Serve with fresh lemon for squeezing and/or tartar sauce for dipping.
Store left over fish sticks in an air tight container in the fridge for up to a few days. To reheat, place on wire racks in a 350 degree oven for about 15 minutes.
Additional Recipe Notes
For slicing the cod: The trick to getting perfectly smooth edges on your fish sticks is to slice the cod when still partially frozen (defrost in fridge for several hours before getting started). Slice them first, then start on the bread crumbs – your sliced fish will finish defrosting quickly on the counter while you work.
For freezing uncooked fish sticks: Place breaded fish sticks on a cookie sheet in the freezer until firm, then transfer to a freezer safe container for storage. To cook, preheat oven to 400 degrees. Lay frozen sticks on a wire rack brushed with melted ghee and placed inside of a roasting pan. Cook for about 20 minutes, turning halfway through. Broil for an additional 1 minute as above.
For freezing cooked fish sticks: Place fish sticks in a freezer safe container. To cook, preheat oven to 400 degrees. Lay frozen sticks on a wire rack brushed with melted ghee and placed inside of a roasting pan. Heat for 10-12 minutes or until heated through.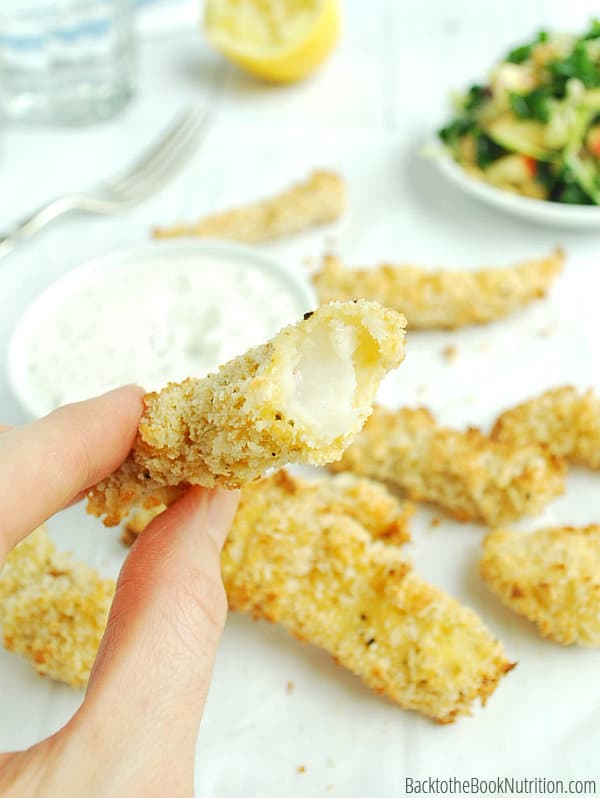 Cost Breakdown
Cod (TJs, wild caught, frozen):  $6.99
Flour: $0.08
Egg: $0.68
Sea Salt: $0.05
Homemade Panko crumbs: approximately $1 (if made with homemade sourdough bread)
Ghee: $0.02
Total: $8.82
The total cost breaks down to about $0.29 per fish stick, which is a little bit more than the $0.19 per stick for the leading brand of frozen fish sticks at the grocery store.
But remember the heavy metals, natural flavors, and unpronounceable preservatives in the ingredient list above? None of that is going into your kids' bodies with this recipe, and that's worth paying more for, in my opinion.
Note from Tiffany: I totally agree with Dena that the cost is worth avoiding those awful chemicals. But, if you're budget is super tight, all hope is not lost! Stock up when you find a good deal on wild fish – I've found it for $3.99! Better yet, go fishing yourself!
Plus, I guarantee you'll never get a store bought fish stick with a texture this light or a taste this fresh!
Have you made homemade fish sticks? What did you love most about them?