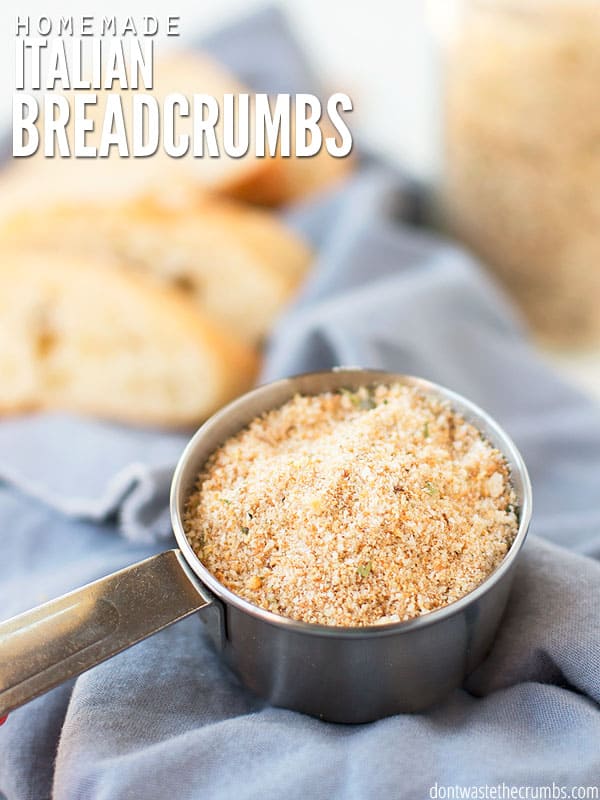 With all the bread we make in our house (man bread, no-knead artisan bread, rosemary olive oil bread… just to name a few), it drives me absolutely insane to have to buy breadcrumbs.
In case you're wondering why I would BUY them when it's so easy to make homemade Italian style breadcrumbs, well, I have two answers for you.
First, we very rarely ever have leftover bread. Every single person in the family loves the ends and the middles. I mean, they're homemade and covered with butter – how can you go wrong?
Second, I've never actually sat down and figured out how to make homemade breadcrumbs before. I used to think it took too much time and too much effort.
But I was so wrong!
Making homemade Italian style breadcrumbs is a lot like making homemade granola – a few prep steps and then setting the timer while the oven does the hard part.
It's SO incredibly easy, and I'm so happy to say that I'm never going to buy breadcrumbs again!
The more I can make at home from scratch (when it's worth my time!), the more I can save on my grocery budget. Just like I teach in my eCourse Grocery Budget Bootcamp.
Now, when it comes to working in the kitchen, I'm all about flexibility and making do with what you have. With that said, I have a tutorial that you can follow either frontwards OR backwards, depending on what type of bread you're starting with.
Two Myths to Making Seasoned Breadcrumbs
1. You need day-old bread.
Some breadcrumbs recipes start off by saying you need bread that's at least a day old. That's not true. You can use fresh bread to make breadcrumbs, and in fact, that's the only way I do it because my family will eat every last slice!
2. You need stale bread.
Some breadcrumbs recipes also say to start with stale bread. That's not true either. Using stale bread to make breadcrumbs will give you stale breadcrumbs. They simple won't taste good.
How then can you make homemade Italian bread crumbs using whatever bread you happen to have, whether it's fresh, seasoned or plain? Let me show you.
Homemade Italian Style Breadcrumbs

Bread
First, you need bread.
Obvious? Maybe. But if I don't say it, someone is going to call out the fact that you can't make breadcrumbs without bread, so let's just get that out of the way right.
Now, you can use whatever bread you have to make homemade breadcrumbs. You can use fresh bread, a few days old bread, loaves you've pulled frozen from the freezer… whatever you have. What you see pictured is leftover slices of baguette from Mr. Crumbs' birthday party (it was Greek themed, and we had Greek bruschetta).
Personally, I keep every last ounce of bread we have in a freezer-safe gallon bag in the freezer. Anytime I have a stray slice, a biscuit or a single homemade hamburger bun leftover, it goes into the bag. Even homemade tortillas and not quite fresh English muffins get tossed in there!
No matter what type of bread you're starting with, the goal is to have slightly hard bread.
That means, if you're starting with fresh bread, you'll need to toast it first.
If you have older bread that isn't as soft as freshly baked bread, you might not have to toast it at all.
The amount of toasting you have to do to the bread depends on how hard your bread is right now. You want bread that is hard enough that when you tap on it, your fingers don't bounce back.
Butter
All good things start with butter really, so the fact that we're using butter to help toast our bread here (and add flavor) shouldn't come as a surprise.
Italian Seasoning
This is what gives our breadcrumbs the "seasoning" flavor that you find on store-shelves, but you can omit this if you just want plain breadcrumbs too.
I've included my own recipe for homemade Italian seasoning in the recipe below, but you can substitute all the green spices with a blend if that's what you have. (Just be sure to still add the salt, onion, and garlic – those aren't green.)
One you toast the bread, you're going to pulse it with our spices in either a food processor or a blender.
I don't own a food processor anymore (we sold it when we moved across the country a couple years ago). But, I do own this high powered blender and it takes care of all of my blending AND food processing needs.
I prefer to pulse instead of blend because it allows for greater control of the size of breadcrumbs.
Do you want larger, panko style breadcrumbs? Pulse and stop when the breadcrumbs are a bit larger. It's hard to explain how big panko breadcrumbs should be, but chances are if you're making panko breadcrumbs, you already know what they should look like.
If you want fine breadcrumbs that most closely resemble the canisters of breadcrumbs you buy at the store, keep on pulsing. I still avoid blending entirely so I can control the finished result. But in general, you'll have to pulse a bit longer.
Once you've pulsed all the bread into the size and texture of homemade breadcrumbs you want, you have three choices.
1. Toast the breadcrumbs again until they're extra crispy.
Personally, I didn't do this step. I thought my breadcrumbs were crispy enough by the time I had put them in the blender and let them cool.
If you want yours to be extra crispy though, spread them on a large cookie sheet like this one, in a single layer, and toast for another 5-10 minutes. Stir frequently and keep a careful eye on the clock so the breadcrumbs don't burn.
Otherwise…
2. Use them.
There will plenty of people who read this recipe because they need breadcrumbs RIGHT THIS VERY MOMENT.
If that's you, you're good to go. Enjoy my friend!
If not…
3. Put them in a freezer-safe container and freeze them.
Store-bought breadcrumbs come with a bunch of preservatives and stuff that allow them to sit on the shelf for eternity and never go bad.
Your homemade breadcrumbs don't contain that junk, so it's best to store them in the freezer until you're ready to use them.
They'll keep up to a year if you freeze them the right way (here's my ultimate guide to freezing bread).
And if you can believe it, that's it! That's how you make homemade Italian style breadcrumbs. Now you know how easy they are to make, and neither of us have to buy them ever again!
Homemade Italian Style Breadcrumbs
Author: Tiffany
Prep Time:

5 mins

Cook Time:

25 mins

Total Time:

25 mins

Yield:

1

–

2

cups

1

x
Category:

Breads

Method:

Bake

Cuisine:

American
4 oz

bread (equivalent of

4

slices)

1/2 tsp

each: salt, parsley, pepper, garlic powder, onion powder, oregano and basil

1

–

2

Tbsp butter, room temperature
Instructions
Preheat the oven to 300F.
Meanwhile, very, very lightly butter the bread.
Place the bread butter side down on a large cookie sheet and toast in the oven for 10 minutes.
Using tongs, flip each piece of bread over and toast for another 10 minutes.
Place the bread and seasoning in a food processor or blender and pulse until the breadcrumbs are the desired size.
Remove the breadcrumbs and allow to cool before using. The breadcrumbs can be stored in a freezer-safe container for up to one year.
Keywords: Homemade Italian breadcrumbs
Do you make your own breadcrumbs? Do you have any certain seasonings that you like to add? Share your ideas in the comments below!