Easy & simple recipe for the best crispy homemade croutons! Customizable with seasonings, made with freshly baked bread from scratch, like artisan bread, or with a regular loaf.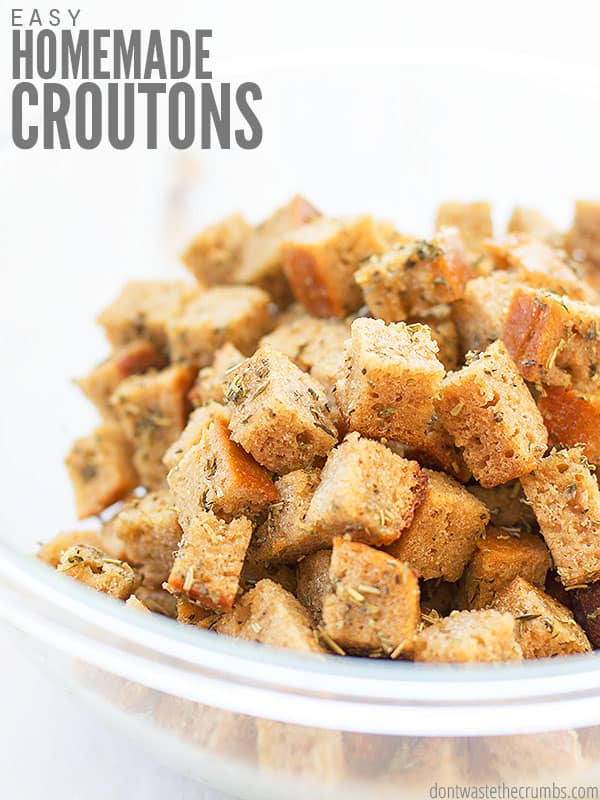 When I was a kid, I used to pick off the croutons of my salad and save them for last. I still do this, because honestly, croutons are the best part!
The truth is I haven't bought croutons in years, partly because they're not necessary, but also because they're not that healthy.
I do miss that delicious crunch though, so I figured out a way to make homemade croutons that are super easy, really good, and definitely healthy!
Best Homemade Croutons Recipe
These are the best homemade croutons for a few majorly big reasons:
They're crunchy – a must in my book!
You can use any type of bread – fresh or old.
They're allergy-friendly (just use allergy-friendly bread!).
They're seasoned with my homemade Italian seasoning blend – YUM!
While I sometimes use fresh bread to make homemade croutons, I usually use bread that's a couple of days old OR bread that came out of the oven a little less fluffy than we like.
Re-using bread to make homemade breadcrumbs or these homemade croutons is a great way to prevent food waste, and in turn, save money!
Simple Ingredients for Crispy Homemade Croutons from Scratch
The ingredient list for homemade croutons is pretty short and sweet:
Bread
Homemade Italian Seasoning (or other desired spice blend)
Salt + Pepper
Olive Oil
If you want spicy croutons, try homemade blackened seasoning! You could also use homemade poultry seasoning or even homemade Greek seasoning!
What are the best tasting croutons?
The best tasting croutons need two things: a good blend of spices, and a good crunch. This recipe has both!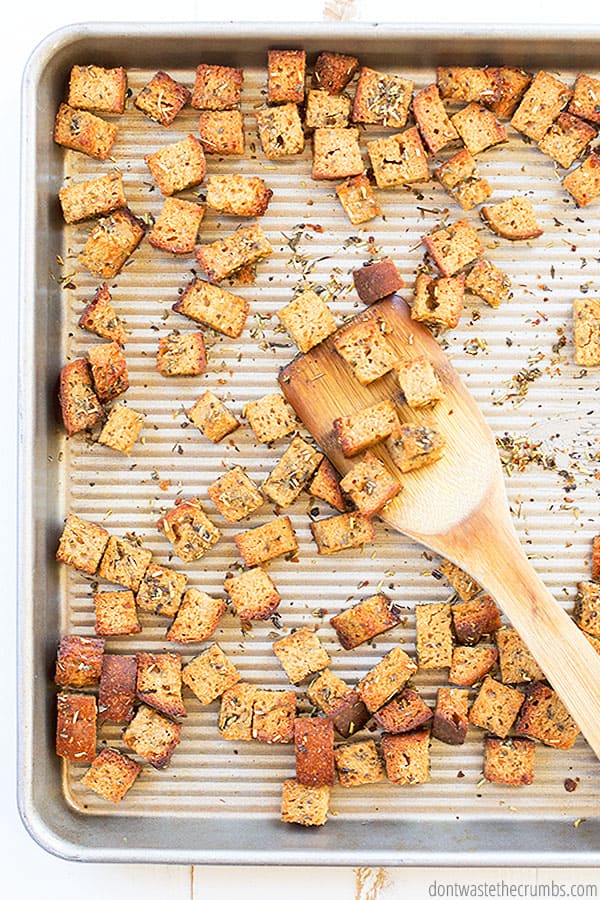 How to Make Croutons
Showing you how to make croutons is just as short as the ingredient list!
Cut or tear bread into bite-size pieces.
Toss with olive oil and seasonings
Bake until golden and crispy!
Can you make homemade croutons on the stovetop?
You can follow the same basic method, but skip tossing the oil with the bread. Instead, get the oil (or butter) hot in a cast-iron skillet (I have this 12" cast iron skillet) and toss in the seasoned bread. Cook, stirring often, until they're golden!
Worthy to note, Ina Garten uses olive oil and Pioneer Woman uses butter in the skillet.
How do you make croutons from scratch?
My recipe below shows you how, but if you TRULY want from-scratch croutons, you need homemade bread too.
For beginners, I recommend my no-knead overnight artisan bread or man bread. Both are very simple recipes.
If you can make sourdough, my einkorn sourdough loaf is delicious as croutons!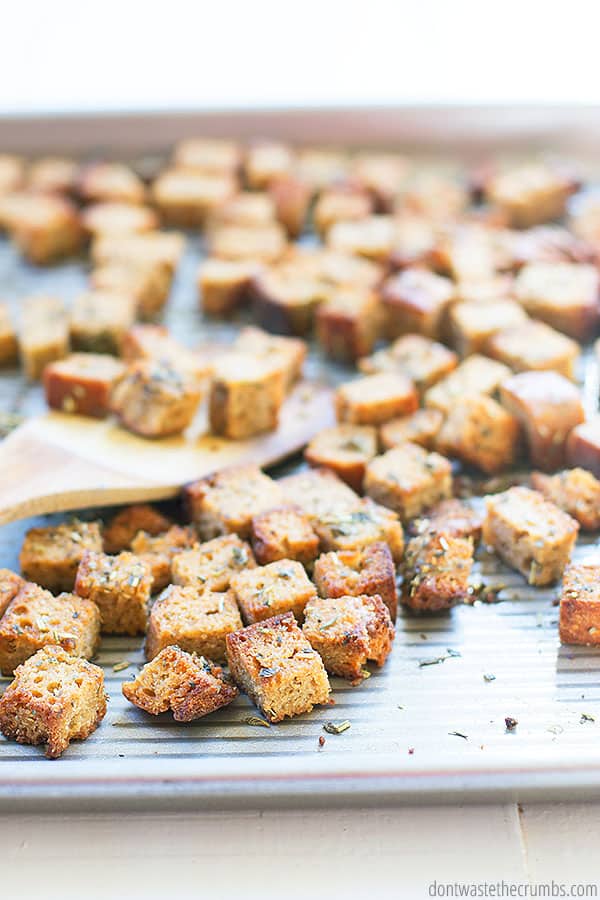 Do homemade croutons last long?
Homemade croutons will last a few days on the counter. You can also keep them in the fridge for a few days, or you can keep them in the freezer for several weeks.
What to serve homemade croutons with?
I like to serve homemade croutons with tomato basil soup or vegetarian chili, but they're (obviously) great on salads too! My kale caesar salad is a PERFECT match for croutons!
Other Easy Bread Recipes:
Easy Homemade Croutons
Easy & simple recipe for the best crispy homemade croutons! Customizable with seasonings, made with freshly baked bread from scratch or with a regular loaf.
Author: Tiffany
Prep Time:

10 mins

Cook Time:

15 mins

Total Time:

25 minutes

Yield:

2 cups

1

x
Category:

Breads

Method:

Oven

Cuisine:

American
½

loaf bread (fresh or leftover)

1 Tbsp

olive oil

1 Tbsp

Homemade Italian Seasoning

½ tsp

salt

½ tsp

pepper
Instructions
Preheat the oven to 375F.
Cut the bread into ½" to ¾" cubes and place in a large bowl.
Drizzle the bread with olive oil and sprinkle the seasoning blend, salt and pepper on top. Toss well until all of the bread cubes are coated.
Arrange the bread onto a baking sheet in a single layer. Bake for 15 to 20 minutes, or until golden brown, tossing halfway through.
Remove from the oven and let them cool completely before using on your favorite soups or salads!