Super easy Instant Pot vegetarian chili has sweet potatoes & is just a bit spicy. Slow cooker option included; serve over quinoa, potatoes or cornbread!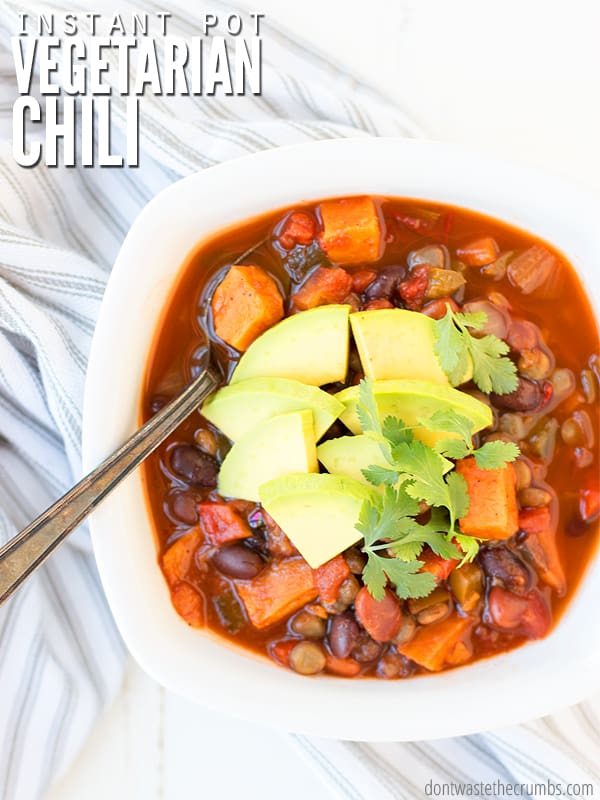 I think everyone should know how to make a good chili (both a regular chili, and a white chicken chili… and a pumpkin chili too).
Just like being able to bake a delicious loaf of bread, how to roast a whole chicken in the oven, and how to roast potatoes – we all need to know how to make a good, worthy-of-another-bowlful  chili recipe.
After trying no less than a dozen chili recipes, I think this vegetarian chili is the one you should print out and put in your recipe box.
I have to be honest though – I didn't originally set out to make a dozen chili recipes just to find you the perfect one.
Oh no! This originally started with my mother-in-law coming to visit.
She lives in Delaware, so her coming down to see us is a big deal.
My sister-in-law and her husband live 3 hours from us, so knowing her mom was so close, her and her family packed up and came down for the weekend too.
So basically, I had to come up with a really good – yet easy – meal to make for 10 people that wouldn't cost me an arm and a leg.
That's why I made chili.
I did some research ahead of time, trying to narrow down a chili recipe that would work for both my husband (who was vegan at the time) and the rest of us meat-eating people.
I found one I thought would work, made it, and it was DELICIOUS!!
It was so good in fact, that my husband – WHO IS A RECOVERING BEAN-HATER – had two bowlfuls!!
(Psst! If you have bean-haters in your family, you can probably win them over with these black bean brownies. Then try a dessert hummus, like chocolate hummus or cookie dough hummus or cake batter hummus. In a few weeks, they'll  ask for you to make these things all the time, and they won't even realize they're eating beans!)
The fact that my husband had two servings of CHILI – something he said he'd NEVER eat – meant this was a winner.
And I distinctly remember thinking at the time, "I should write this down. It's probably going to be really good, and I'm going to kick myself later if I don't write down what I did."
Did I write it down?
Nope.
A month later, when I was wanting to make chili again, I practically pulled out my hair trying to figure out which vegetarian chili recipe I made.
We ended up going through four different recipes, only to realize that none of them were THE RECIPE that we had that first time when company was visiting.
Two were bland. One was just okay. One had a weird flavor that I wouldn't wish on my enemies.
Honestly, it got to the point where my husband was like, "No more chili, okay? I think I'm over it."
I literally felt my hopes and dreams of serving a big pot of chili on a cool autumn day or rainy winter Sunday night, alongside a few slices of cast iron skillet cornbread slathered with butter, slipping through my fingers.
I waited a month before trying to find the best vegetarian chili one more time. I dug up my Google history. I looked up "vegetarian chili" and "sweet potato chili" and "Instant Pot chili," trying to duplicate the searching I did before our family came and visited so I could find THE RECIPE I made that night.
And then it hit me – I didn't make one recipe that night. I made TWO!
You see, as a foodie, very rarely do I ever make a recipe as-written. I'm often substituting for things I don't have, doubling spices or leaving steps out because I started making dinner too late… again.
It's both a blessing and a curse. I can make almost any recipe work in my kitchen, but I can't make it again unless I write it down!
Thankfully, my last attempt at a delicious Instant Pot vegetarian chili was spot on. It's hearty, filling, inexpensive and it can work with almost anything you have in your kitchen.
It also has a flavor depth to it, so it's not just a superficial chili recipe. It tastes complicated and worthy of savoring, but it doesn't call for any ingredients you can't find at your local grocery store.
It has just the right amount of spice, which is off-set with the sweet potato. In my opinion, it's the perfect chili to add to your cooking belt!
How to Make Vegetarian Chili
This vegetarian chili recipe has four main components:
Vegetables
Our base of vegetables includes onions, garlic, sweet potato and canned diced tomatoes.
The first time I made this I used fire roasted canned diced tomatoes, which really added a flavor punch. I recommend using those if you can, but plain canned diced tomatoes work too (that's what I used for these photos).
Peppers
We have a variety of peppers here, including green bell pepper, red bell pepper, poblano pepper, chipotle peppers (from a can) and jalapeno.
I recommend using all of these peppers, because they all add something different to the chili.
If you need to tone down the spice, pick jalapenos that aren't wrinkly and be sure to de-seed and remove the membranes of the jalapeno. Poblano peppers aren't spicy, so there's no worry there.
Spices
This blend of spices is unlike any other chili I've made, but it's absolutely KEY to making a good chili. I used chili powder, cumin, cayenne, cocoa powder, cinnamon, paprika and salt.
I know what you're thinking – cocoa powder and cinnamon in chili?!
Trust me here. If this slow cooker carnitas earns rave reviews every time and it contains cinnamon, you can put cinnamon and cocoa in your chili.
Beans
Most chili recipes use kidney beans, but I simply don't like them. So I don't use them!
Instead, I used a combination of black beans, pinto beans and lentils.
This is very flexible – use whatever beans you like!
Making this Instant Pot Vegetarian Chili Recipe in a Slow Cooker or Crockpot
I used my Instant Pot for this vegetarian chili recipe because I didn't start dinner until the afternoon. You could easily make this a slow cooker vegetarian chili or crockpot vegetarian chili though if you want!
As written, this chili produces just enough liquid to keep the beans and sweet potato whole as you stir. Liquid doesn't evaporate in an Instant Pot, but it does slightly in a slow cooker or crockpot.
If you go that route, you'll likely need to add more liquid. I suggest keeping 2 cups of chicken stock on hand, just in case you need to add some as the chili cooks throughout the day. (Here's how you can make chicken stock for free.)
Is vegetarian chili healthy?
Absolutely! And it's super flexible too. This is a great recipe to add those one or two carrots or celery ribs or even spinach or kale you have hanging out in the fridge. In the summer, zucchini and green beans would be wonderful, too.
I recommend keeping the base of spices and peppers the same, add the sweet potato and then go from there!
What should you serve with vegetarian chili?
We usually eat vegetarian chili with baked potatoes (here's how to make them SUPER fast) or baked sweet potatoes, but you could serve it over egg noodles or macaroni noodles (a la this pumpkin chili mac) or homemade biscuits or Instant Pot quinoa.
The classic cast iron skillet cornbread is always a winner, these cloud dinner rolls are really fluffy, and these sweet potato biscuits are especially amazing!
Another option is to consider the chili the base, and use tortilla chips or homemade sourdough or even no-knead overnight artisan bread.
Whatever you do though, don't forget your favorite chili toppings!
How long is the vegetarian chili good for?
When you have a lean grocery budget, you learn to judge whether foods are still good with the smell test, rather than a certain amount of days.
This chili lasted 5-6 days in our refrigerator, before I realized that we were "chili'd out" for now and the rest needed to be put up.
Can vegetarian chili be frozen?
Yes! As written below, this recipe makes a lot of chili for the four of us. I usually end up freezing a quart or so of chili for later. You can freeze in a jar (using these tips so your jar doesn't break!) or in a freezer-safe plastic bag.
For more freezer meal ideas, check out my One Hour Freezer Cooking session with Dump Dinners Meal Plan HERE.
Note that this chili recipe starts with beans that are already cooked.
I use my Instant Pot to cook dry beans in bulk because dry beans are cheaper than buying canned beans, and it's just so easy to do!
You can make beans in the slow cooker, too, but make sure you plan your week accordingly so the beans are done by the time you're ready to make chili.
I have this Instant Pot, and intentionally chose the 8 quart model so I could cook more in bulk (as opposed to a 6 quart model). The size of your Instant Pot doesn't matter though – as long as your food doesn't go above the max fill line, you can use any 8 quart recipe in a 6 quart Instant Pot, and visa versa.
If you haven't gotten on the Instant Pot wagon yet, consider how the Instant Pot can save you money AND time!!
And if you're new to cooking with the Instant Pot, be sure to check out this article on 20+ things to know before you buy an Instant Pot.  This post on how to convert your slow cooker recipes to an Instant Pot recipe is also helpful
If you choose to go the canned beans route, be sure to drain the beans and rinse them thoroughly three times before using them in the recipe!
Easy Instant Pot Vegetarian Chili
Author: Tiffany
Prep Time:

20 mins

Cook Time:

30 mins

Total Time:

50 minutes

Yield: serves

4

-6

1

x
Category:

Main

Method:

Instant pot

Cuisine:

American
1

onion, diced

1

green bell pepper, diced

1

red bell pepper, diced

2

poblano peppers, diced

1

jalapeño, finely diced

3

chipotle peppers, diced (from canned chipotle peppers)

1

lb sweet potato, cut into

½

pieces
(2) 15-oz cans diced tomatoes, with juices

4

garlic cloves

2 Tbsp

chili powder

1 Tbsp

paprika

1 Tbsp

salt

1 tsp

cumin

1 tsp

cayenne

2 tsp

cocoa powder

¼ tsp

cinnamon

2 cups

black beans, cooked (or one

15oz

can)

2 cups

pinto beans, cooked (or one

15oz

can)

2 cups

lentils, cooked
Optional Chili Toppings: diced avocado, cilantro, sour cream, shredded cheese, diced tomatoes
Instructions
Place all ingredients, except the beans and lentils and toppings, in the Instant Pot and stir.
Close the Instant Pot, turn the valve to "sealing" and press the "soup" button. Alternatively, cook on high pressure for 30 minutes.
When the timer beeps, let the pressure release naturally.
Add the beans, stir well and replace the lid for 2-3 minutes to warm the beans.
Top with your favorite toppings and enjoy!
Keywords: Instant Pot vegetarian chili
Do you have a favorite chili recipe? What's your combination of must-have spices? I'd love to hear how you make chili in your house!