Did you know that you can slow cook in the Instant Pot? You can! It's a quicker way to get your slow cooked favorites on the weeknight dinner table! Just follow these 8 tips and you'll be on your way to converting slow cooker to instant pot recipes like a pro!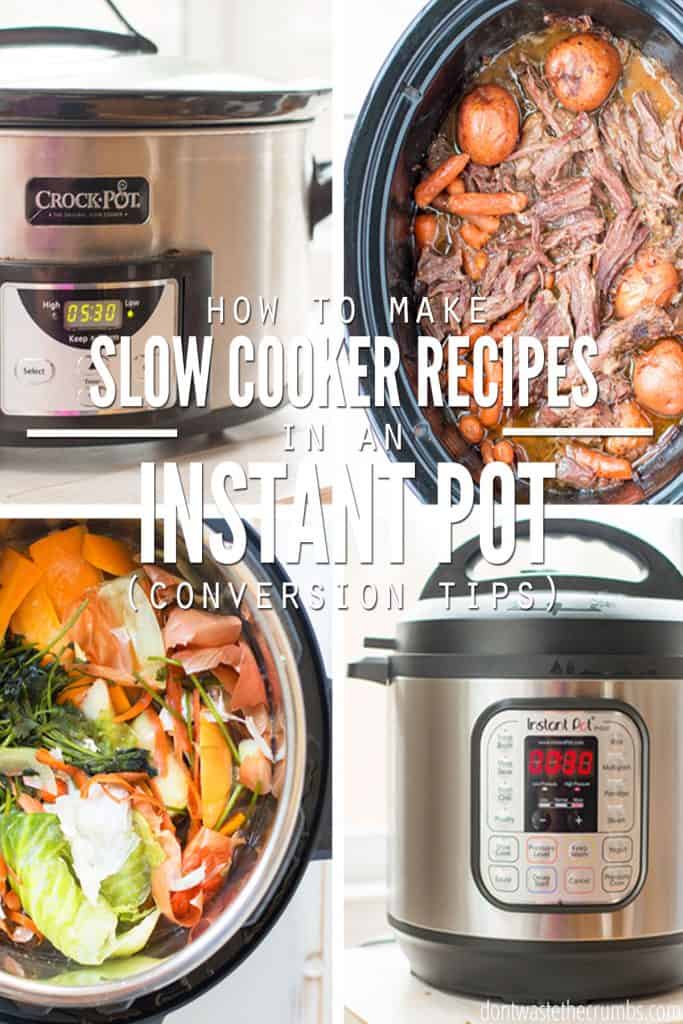 The slow cooker was invented in 1940, and there are TONS of really great slow cooker recipes out there.
However, the Instant Pot has given the slow cooker a run for its money, thanks to the fact that it cooks many meals faster and (in my opinion) better than the slow cooker. It also comes with the ability to do other cool things too, like make yogurt, sauté ground beef and prepare oatmeal entirely hands-free and save money!
But what about all those awesome slow cooker recipes? Do we ditch those in search of new favorite Instant Pot recipes instead? Nope!
With converting slow cooker recipes to Instant Pot recipes, you need to know two things:
How the Instant Pot works the way it works.
Why Instant Pot recipes work.
PS…If you're new to the Instant Pot in general, I suggest reading my 20+ Things to Know Before Buying an Instant Pot.
8 Tips on How to Make Slow Cooker Recipes in an Instant Pot
Tip #1: Adjust the Liquid Level
Every Instant Pot recipe must start with at least 1 cup of liquid. The liquid is required to prevent burn and to help the Instant Pot build pressure correctly.
Because the heating is so gradual in a slow cooker, the odds of something burning are slim BECAUSE enough juices from the food has been released by the time the slow cooker has reached its highest heating temperature.
Tip #2: The Instant Pot is designed to get really hot, really fast.
This means you have to START with liquid, otherwise your food will burn before it's had a chance to release any juices.
With that said, anytime you make a slow cooker recipe in an Instant Pot, you need to adjust the recipe so that you're starting with at least 1 cup of liquid. This might mean adding additional liquid in order to reach the minimum needed.
This additional liquid can be water, stock or the same liquid that the slow cooker recipe calls for (i.e. beer, apple juice, etc.) – it's your call. But make sure there's 1 cup of liquid at the bottom of your Instant Pot before you start cooking.
Tip #3: Natural Pressure Release vs. Quick Pressure Release
Anytime you make a recipe, the Instant Pot must build pressure, then cook your food, and then release the pressure. The pressure is typically released one of three ways:
Natural Pressure Release: this happens when the timer for the food goes off and you do nothing. The pressure will naturally release in about 10-15 minutes.
Timed Natural Pressure Release: This is where the timer for the food goes off, but you set a kitchen timer – usually for 5 or 10 minutes – AND THEN do a quick release.
Quick Pressure Release: This is when you manually turn the valve from "sealing" to "venting." It's like a switch, and doing so will immediately release the steam that's been building inside the Instant Pot.
The type of pressure release you choose for your slow cooker turned Instant Pot recipe matters, because anytime there is pressure inside the Instant Pot, your food is cooking.
That means, if you choose the natural pressure release, your food will cook for another 10-15 minutes. Granted, the temperature will gradually come down and the food will be cooking at a slower rate, but the food is still cooking nonetheless.
Tip #4: When you're cooking meat in the Instant Pot, the natural pressure release option is best.
This helps the meat to retain the juices and produces a better texture in the end. A perfect example of this would be my slow cooker carnitas. I would use the natural pressure release when making that recipe in the Instant Pot.
If you're making something that can overcook easily, like vegetables, you will want to choose the quick pressure release to avoid overcooking the food.
Tip #5: Slow Cooker Ingredients That Don't Work in the Instant Pot
Milk and most dairy products (like sour cream or cheese) don't work very well in the Instant Pot. The Instant Pot gets too hot, too fast for these foods and will likely cause a burn error.
Cornstarch or arrowroot powder should also be added after the pressure is released, for the same reason as dairy products.
Cream-based soups, like cream of mushroom or cream of broccoli soup, and it doesn't matter if they're homemade cream-of-soups or store-bought. These can be added to the recipe, just add them after the pressure release.
Other Ingredients to beware of:
If your slow cooker recipe calls for flouring and searing meat, skip the flour part and just sear the meat in a bit of oil in the Instant Pot. The flour will prevent your Instant Pot from correctly building pressure.
Tomato paste, don't mix it in with your liquids before cooking. Add it to the very top of your food, cook as directed, and then mix it in after the pressure release.
Wine, you will want to add it after the pressure release AND leave the lid off so that the alcohol burns off and the flavor deepens. The flavor of wine doesn't change under pressure, so the end result could be tart and likely undesirable.
Tip #6: Mixing Meat with Vegetables in the Instant Pot
Many slow cooker recipes have you put the vegetables in with the meat at the very beginning, and they all cook together. If you do this with the Instant Pot, you'll end up with mushy vegetables.
If you're starting with big cuts of meat (like slow cooker pot roast), here's a simple work-around to that problem:
Prepare the recipe as directed, leaving out the vegetables.
Set the Instant Pot to the desired setting and cook time, EXCEPT reduce the cook time by 10 minutes.
When the timer goes off, switch the valve for a quick pressure release.
When the steam is done releasing, add the vegetables. Reset the Instant Pot to the desired settings (same as before) and set the cook time for 10 minutes.
If you're starting with smaller cuts of meat, like a stew or soup (say no more than 1" chunks) you shouldn't run into the problem of mushy vegetables. You can add everything at the same time, at the beginning.
Tip #7: Cooking Meat in General
Most meat recipes take 6-10 hours in a slow cooker, but using the Instant Pot means having your meat ready in under an hour.
For red meat recipes, use the "meat" function on the Instant Pot. This will automatically set the control to "high" pressure and the time between 25 and 30 minutes.
For white meat recipes, use the "poultry" function. This will set the controls to "high" temperature as well, but the cooking time will be around 15 minutes.
If you have an older model and/or your Instant Pot doesn't have either "meat" nor "poultry" function, use the "manual" or "pressure cook" function and adjust the controls accordingly.
Tip #8: How Long to Set the Instant Pot Timer
Most models of the Instant Pot come with settings like that make cooking times and cooking pressure painless. But what if you're cooking something OTHER than what you have a button for?
Hip Pressure Cooking has a great online chart to help with cooking times, but you can also check some of your favorite bloggers' recipes! I personally test every recipe AT LEAST 3 times before publishing, so if I say brown rice takes 22 minutes, then set your timer to 22 minutes.
FAQs
More Instant Pot Recipes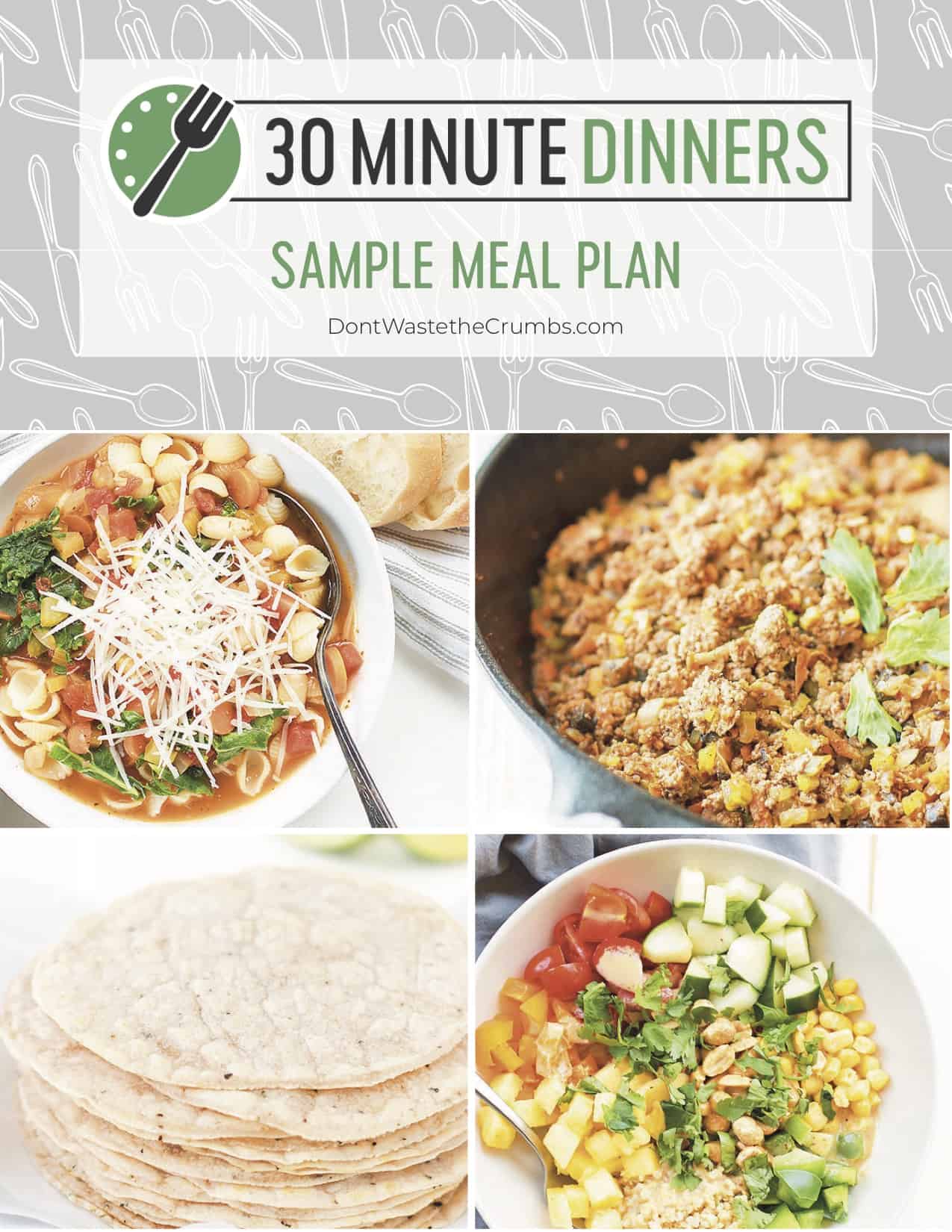 30 Minute Dinners Sample Meal Plan
Sign up to get instant access to my
30 Minute Dinners Sample Meal Plan
, complete with recipes and step-by-step instructions!