True story: The first thing I made in my Instant Pot was chicken stock (here's the tutorial).
The second thing I tried (← keyword) making in my Instant Pot was my classic pot roast. And it failed in so many, many ways!!
I got the burn error… I filled it too high… I didn't even turn the pressure valve!
I figure I'm not the first to make these Instant Pot mistakes, and I surely won't be the last. At least though, I can warn you ahead of time so you don't end up ruining dinner like I did!
As it turns out, you can't just dump your favorite slow cooker recipe into the Instant Pot and have it magically turn out.
Yes, some slow cooker recipes will work as-written for the Instant Pot, but not all of them do. I highly recommend using my conversion guide for making slow cooker recipes in the Instant Pot before you dive in.
If however, you do decide to ignore my advice and throw caution to the wind, you're going to want to know why your dinner didn't turn out and what you can do to fix it next time!
14 Common Instant Pot Mistakes (and how you can fix them)
1. You didn't turn the pressure valve to "sealing."
I've been using my Instant Pot faithfully for a few months now and I STILL make this mistake sometimes.
You know you've made this Instant Pot mistake when you're expecting to hear that whiz and whoosh of the pressure building in the Instant Pot… and don't.
Or when you wonder why the Instant Pot hasn't beeped yet although the cooking time has come and gone.
Solution: The fix is easy – make sure you turn the valve to sealing! It's easier said than done though, so I recommend including it as part of your Instant Pot routine: Put on the lid, close it shut and make sure the valve is set to sealing. Don't even move on to hitting any buttons until the valve is set correctly!
2. You didn't put the sealing ring back inside the lid.
I haven't done this one yet, but it's common. You made something with a strong aroma so you took out the ring to clean it… but it's still sitting on the kitchen counter drying rack.
Solution: As soon as you're done cleaning the Instant Pot sealing ring, hand dry it with a towel and replace it back into the lid. Then let the lid as a whole air out on the counter so the ring can thoroughly dry.
3. You didn't start with enough liquid.
Slow cookers don't get hot fast, which means there's plenty of time for the food to release juices to in turn cook the food.
The Instant Pot though, gets very hot, very fast. If there's not enough liquid in the Instant Pot in the first place, you'll either burn your food (and get a burn error) or pressure won't build correctly.
Solution: Always start with no less than 1 cup of liquid. The Instant Pot manual actually says to start with 1 ½ cups, but personally I've been okay with 1 cup. If you're making something like Instant Pot oatmeal, read the recipe carefully. The dry to wet ratios might seem off, but that's because you'll need the extra liquid to start out with.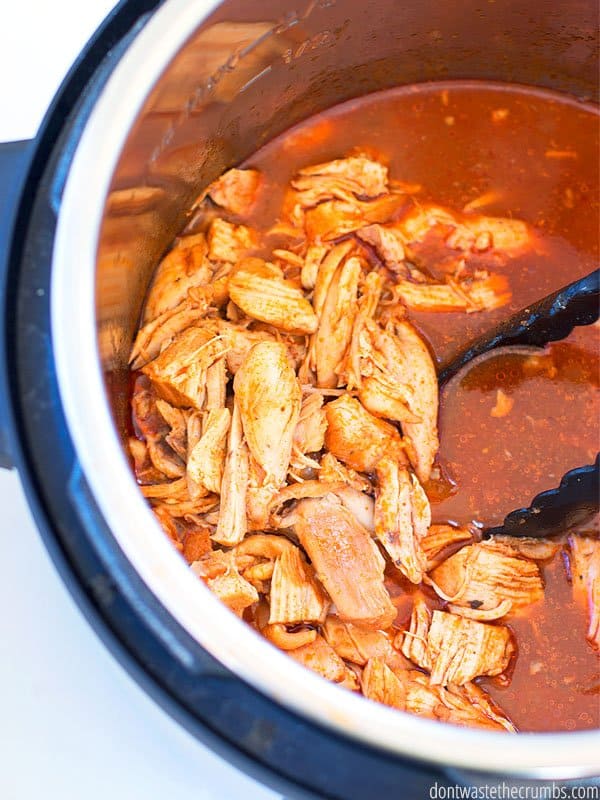 4. You started off with the wrong type of liquid.
This is the mistake I made with my slow cooker pot roast – I thought that starting with homemade cream of mushroom soup would work just fine.
WRONG!
There are a handful of ingredients you CANNOT put into the Instant Pot until your food is done cooking. You can read those ingredients on this post.
Solution: Pay attention to your recipe and don't assume that adding "liquid" ingredients will count as the liquid the Instant Pot needs to operate correctly. If you see a recipe that has "no-no" ingredient listed to add first, re-arrange them so you're adding them last (or risk ruining dinner!).
5. You filled the Instant Pot beyond the max fill line.
If you open the lid of your Instant Pot and see your meal splattered all over the place, you filled it too high.
If your Instant Pot won't build pressure, you might have filled it too high.
If you're making something that foams when it cooks (i.e. pasta, beans, grains), make sure you DO NOT fill it past the max fill line.
Solution: I'm assuming you already have quite the mess to clean up, so NEXT TIME, don't fill the pot past the max fill line. You can also use the natural pressure release so the foam has time to go back down after it's done cooking. If natural pressure release isn't an option, slowly turn the pressure release valve and if you see any foam at all, seal it again. Wait one minute, and try again.
6. You're cooking all types of foods at the same time.
Yes, it's possible to cook beef and broccoli and brown rice in your Instant Pot all at the same time. But you can't just throw it all in there and expect it to turn out ok.
Brown rice takes 22 minutes
Steak takes about 8 minutes
Broccoli takes as little as 0 minutes
If you tossed all these ingredients in there together, your rice would be done, but you'll have broccoli mush and beef shreds too!
Solution: Follow the directions for recipes carefully and start paying attention to the times it takes for certain items to cook. Make a cheat sheet if you have to, but learn the cooking times for some of the items you cook most often. Invest in a pot-in-pot steamer set so that you can add additional items to the pot as the cooking time wears on. If you are going to throw things together in the pot, make sure the cooking times are within a few minutes of each other.
7. You added no-no ingredients to the Instant Pot.
You cannot add cornstarch, arrowroot, potato starch or any similar flours or thickeners (including a roux) to the Instant Pot. You also cannot add tomato paste to the bottom of the Instant Pot (but you can add it on top of everything else).
Solution: Make your cornstarch slurry or roux and set it aside. When your food is done cooking in the Instant Pot, open the lid and set it aside. Press the "sauté" button and when the liquid starts to bubble, add your slurry/roux and whisk it in. The sauce will thicken just as you'd like!
8. You only took into account the cook time.
Remember that before the Instant Pot can cook your food, it must first come to pressure. It also has to come down from pressure when the food is done cooking, even if you use the quick pressure release method.
If you're only taking into account the actual cook time for the food, I promise your dinner will not be ready on time.
Solution: Read the recipe all the way through before starting. If there's no mention of the time it takes to come to pressure, double the cook time and assume that's how long it will take to come to pressure. If your Instant Pot isn't very full and/or there's plenty of space between the food for air to get by (i.e. stacked corn on the cob), you'll likely be overestimating. If your Instant Pot is very full and/or there's very little air circulation between your food (i.e. soup), then you might want to add a few more minutes. Always add 7 minutes for quick pressure release and at least 20 minutes for natural pressure release.
9. You started with a "difficult" recipe.
Nothing will deflate your hopes than making a "hard" recipe right out of the gates.
Before you jump into Instant Pot beef and broccoli, try something super easy like Instant Pot brown rice, Instant Pot chicken noodle soup or even Instant Pot BBQ chicken.
Get a few easy recipes under your belt so you can get to know your Instant Pot better and build your confidence!
Solution: If you're eyeing a recipe and you've never made the individual components yet, consider a different recipe OR changing the cooking technique so you're making some of it in the Instant Pot and some of it on the stove or oven (however you're used to cooking).
10. You aren't using the Instant Pot often enough!
Ever since I learned the Instant Pot can make chicken stock in under an hour, and perfectly cook dry beans in under an hour without having to soak them, I rarely use any other cooking method to prepare these foods.
Solution: As you make your meal plan each week (how to meal plan), choose 1-2 things you can make in the Instant Pot. You'll quickly gain confidence, learn how easy it truly is to operate AND you'll save time too!
11. You're using the wrong type of pressure release.
Just because the timer goes off, doesn't mean your food immediately stops cooking. The appliance is no longer actively generating heat, but your food is still hot and it's still sealed up inside the Instant Pot. Not using the quick pressure release could mean over-cooking your meal!
At the same time, some foods need that extra time to come out tender and delicious. Meat is one of those foods where it often (but not always) benefits from the natural pressure release method.
Solution: Pay attention to the type of pressure release the recipe calls for. Don't stray from the recipe until you're feeling confident in your Instant Pot skills!
12. You forgot to turn off the "warm" button.
Remember how I mentioned that the food still cooks even though the timer has beeped? Well, what's worse is having the "warm" button because the food is LITERALLY still cooking. Depending on when you hit the "go" button, your food could be very overcooked by the time you sat down for dinner!
Solution: Be cognizant of whether or not you actually need to use the "warm" button. I've found that just leaving the Instant Pot sealed is often enough to keep your food warm until serving time. If not, using the sauté button will quickly warm your food as well.
13. You used the "timer" button to set the cook time.
Most kitchen appliances have a "timer" button to set the cook time, so I can see how easy this Instant Pot mistake is. But as you're pressing buttons, remember that the cook time is automatically set depending on what cooking method you choose, and it's adjusted using the + or – buttons, NOT the timer button.
The timer button is used to delay the cook start time.
Solution: Don't get in the habit of pressing the "timer" button. Forget it's even there and you won't be tempted to press it. Then when you really do want to delay the start time, it will feel weird to press it (and you'll recognize this weirdness!).
14. You forgot to put the inner pot back in.
I know how it goes – you cooked dinner, you took out the pot to wash it and it's sitting upside down on the counter drying off… right next to the sealing ring, right?
Solution: Just like the sealing ring – as soon as you're done washing the inner pot, give it a quick towel dry and stick it in the Instant Pot to thoroughly finish drying.
Common Instant Pot Questions
I get asked a lot of questions about my Instant Pot, so here's a super quick FAQ:
What size Instant Pot do you have?
I have the 8 quart DUO 7 in 1 Instant Pot. I choose the larger Instant Pot for a few reasons.
My slow cooker is 6 quarts and can barely fit some of my favorite recipes.
Having the larger Instant Pot gives me more room to double recipes.
Cooking once and eating twice is key for saving time in the kitchen.
I'd rather have extra room, than not enough!
You also have to leave a certain amount of space in the pressure cooker when using it. There is a max fill line for liquids. And the general rule is to not fill the Instant Pot more than 2/3 full. The 8 quart gives me more room to cook.
One Instant Pot hack I learned is to use a 6 quart pot on top of an 8 quart pot to cook two elements of one meal. You can read how that works HERE.
How do you make slow cooker recipes into Instant Pot recipes?
I shared a really great tutorial / tips article on how convert slow cooker recipes to Instant Pot recipes HERE.
I haven't purchased an Instant Pot yet – is there anything I should know first?
YES! There's a good bit of info you should know before you buy the Instant Pot. None of it's bad, but it's definitely worthy to read before taking the plunge!! Read the article HERE.
Where do you keep all of your Instant Pot recipes?
You can find all my Instant Pot recipes HERE.
Can the Instant Pot save you money?
Yes!! I crunched the numbers and using common sense, came up with 6 ways the Instant Pot saves you money.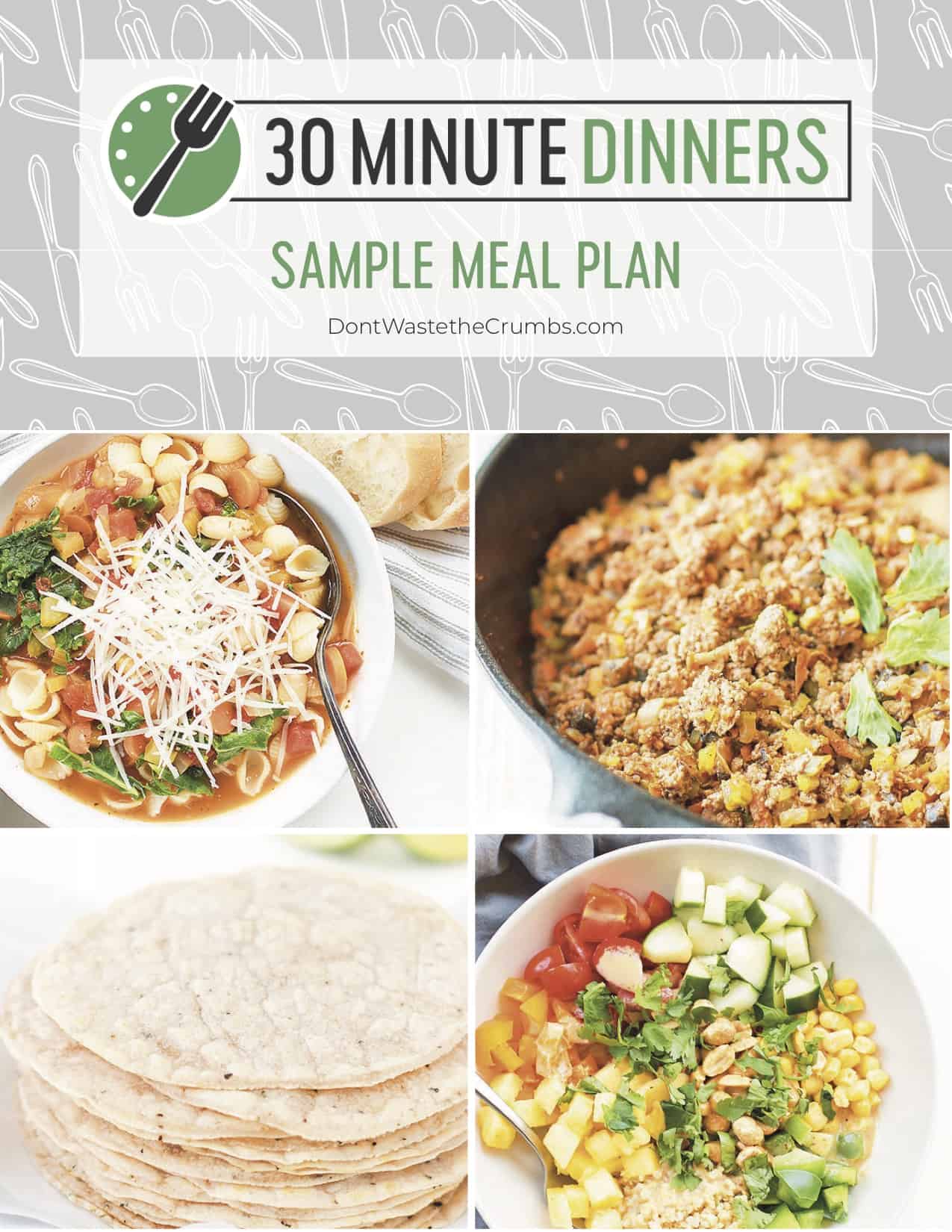 30 Minute Dinners Sample Meal Plan
Sign up to get instant access to my
30 Minute Dinners Sample Meal Plan
, complete with recipes and step-by-step instructions!
Have you made any Instant Pot mistakes so far? If so, what where they? What did you do to cause them? And what did you do to fix them? Share your experience in the comments below!