I know meal planning saves money. I know that if I just take 15 minutes to figure out what we're having for dinner for the next 7 days, the rest of my week goes SO MUCH SMOOTHER.
But I also know that sometimes, things don't always work out as planned.
That's why there's Instant Pot BBQ Chicken.
In my course Grocery Budget Bootcamp, I teach my students the importance of having a back-up plan.
We live in the REAL WORLD where schedules get busy and things come up at the last minute. But when you have a back-up plan, you can still save money and eat healthy without relying on the drive through.
That's where this Instant Pot BBQ Chicken comes into play. This dish is everything that a back-up plan should be:
Super fast – We know the Instant Pot gets dinner on the table fast, but depending on the type of chicken you use, dinner can be ready with 6 minutes of cooking time.
Super easy – You only REALLY need two ingredients – can it get any easier?
Super tasty – If your favorite BBQ sauce tastes good as good as my homemade BBQ sauce, then you can't go wrong!
If you've been reading this blog for any period of time, you know that I'm all about quick and easy.
Instant Pot BBQ chicken isn't any different – just two main ingredients and you're off to the races!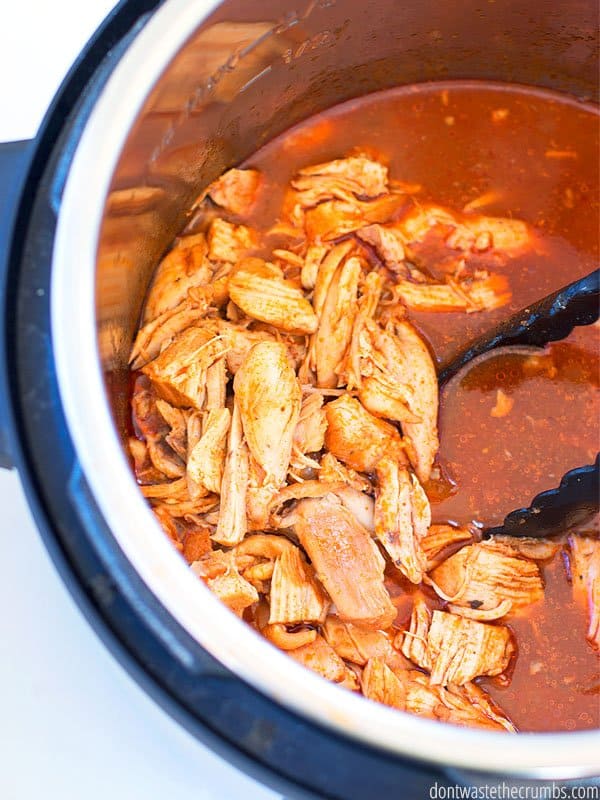 What to make with Instant Pot BBQ Chicken?
In case you're wondering what you should do with Instant Pot BBQ chicken – besides eat it – here's some of our favorite ways to serve it:
Sandwiches
Both Instant Pot BBQ chicken and my homemade bun recipe freeze well, which means BBQ chicken sandwiches for dinner now AND later.
Or you can go the grilled cheese route – a few slices of No-knead Artisan Bread (because it tastes similarly to sourdough), a scoop of BBQ chicken and a couple slices of cheddar? YUM.
Salads
Doesn't a BBQ chicken bacon ranch salad sound SO GOOD?! Use this recipe and use the BBQ chicken in the recipe below and you're done!
Or what if you make this salad, but wrap it up inside homemade tortillas?!
Pizza
If BBQ chicken pizza doesn't win you over, I don't know what will… pick your poison:
No matter which you pick, top with your favorite BBQ sauce, this Instant Pot BBQ chicken and cheese and BAM – dinner is done.
Can you make Instant Pot BBQ chicken with frozen chicken?
Y'all are my people. You and me? We get each other. That's why when you forget to take your chicken out to thaw the night before and you wonder if you can make this recipe using frozen chicken, I'm not judging. I got your back.
And yes, yes you can make Instant Pot BBQ chicken with frozen chicken! I'm including a time variation in the recipe just for you. 😉
What size Instant Pot do I have?
I have the Instant Pot 8-quart DUO, which might be overkill for this simple recipe, but it's perfect when I want to make a few pounds of beans at a time (hooray for batch cooking!).
On the fence about an Instant Pot? Here's what you should know before you buy.
Can you use a different cut of chicken?
Oh yes! I made this with both chicken breasts and the ever-wonderful budget-friendly chicken legs.
My one piece of advice is that no matter what cut of chicken you use, take the skin off. Cooking the skin in this recipe will make the sauce kind of greasy, and you don't want that.
Instead, save the chicken skin for homemade chicken stock (your choice, slow cooker chicken stock or Instant Pot chicken stock!)
I usually get my chicken from Costco since they tend to have great prices on organic chicken. But I've also tried chicken from Butcher Box and it was really good! It's a great option if you want organic pastured chicken and can't find it locally.
Exclusive for Crumbs Readers – Free essentials bundle!
Get 2 lbs of pork chops, up to 3 lbs of chicken breasts, and 2 lbs of ground beef for FREE in your first box!
Click this LINK to get the offer.
Butcher Box delivers grass-fed beef, pasture-raised and organic chicken, and heritage pork directly to your front door each month. You can read my honest review on Butcher Box here, and also my updated Butcher Box review here.
Instant Pot BBQ Chicken
This Instant Pot BBQ chicken recipe works with breasts, thighs, legs, thawed chicken, or frozen. It's never been easier to make shredded barbecue chicken!
Author: Tiffany
Prep Time:

5 mins

Cook Time:

15 mins

Total Time:

20 mins

Yield:

2 1/2

lbs

1

x
Category:

Main Meals

Method:

Instant Pot

Cuisine:

American
1 cup

your favorite BBQ sauce

2 Tbsp

apple cider vinegar (optional)

2 Tbsp

liquid aminos or soy sauce (optional)

2

–

2 1/2

lbs chicken (thawed or frozen), skin removed**

1

onion, sliced into rings (optional)
Instructions
Place ingredients in the Instant Pot in the order listed.
Close the Instant Pot and turn the sealing valve to "sealing."
Press "pressure cook" or "manual," make sure the pressure is set to "high" and adjust the timer to 15 minutes if using fresh chicken, or 25 minutes if using frozen chicken.
Let the pressure release naturally.
Remove the chicken from the Instant Pot and place on a plate. Shred the chicken with two forks and place the meat back into the pot, stirring with its juices.
Serve hot!
Notes
** I tested using chicken breasts and chicken legs and both were good. If you use chicken breasts, reduce the cook time to 6 minutes for fresh, 10 minutes frozen. If you do a combination of white and dark meat, use the time for dark meat as indicated in the recipe.
What's your favorite Plan B recipe for when dinner doesn't go according to plan?